Insider tips for Toledo, Cuenca & La Mancha Spain! 
Reading time: min | Published on:
Join us in our travels to the amazing La Mancha region in the heart of Spain!… We will start with the highlights of beautiful medieval Toledo! From here we will jump into the celebration of the San Isidro festival in Las Mesas, where we were hosted by our good friend Maria! With her as our local guide we stopped at various highlights and ended our trip in Cuenca!… Read all about our great experience and local tips to make the most on your journey through the land of Don Quixote!… 
Spain's La Mancha Region 
La Mancha is the natural and historical region in the heart of Spain and comprises the provinces of Albacete, Ciudad Real, Guadalajara, Toledo and Cuenca. On this trip we mostly focus on the latter 2 regions! The dry lands of La Mancha are well known for its wines (more on this later) and of course the setting for the adventures of the famous Don Quixote of La Mancha. When driving around the region you will see the many distinct windmills that the literary hero was 'fighting'. 
Highlights of Toledo
Toledo is a marvelous medieval city set on a hill overlooking the La Mancha plains. Obviously the city has many sites of interest, unfortunately most with slightly overvalued entrance fees. Therefore, do some research upfront, but in my opinion you do not need to visit that many churches & museums anyway! The key highlight of Toledo is to get lost in the maze of historic narrow covered medieval alleyways. Especially when avoiding the crowds you feel like being thrown back centuries into medieval times! 
Getting to Toledo
As Toledo is situated on a hill and has many narrow alleyways to navigate through, I advise to pack light for your stay. (Leave unnecessary belongings in your car, or pre-drop these at your hotel). 
Top Tip: Assuming you arrive by car, park at the free public 'Safont Parking' Which is opposite the Bus Station. 
From the Car park (and from various other sides of the city) you can take the convenient escalators up the hill! So even when you are not the most fit you do not have to climb all the way up! 

Creating your own Toledo walking tour
With those logistics out of the way, you are all set to discover Toledo! I advise to add the following key sights in your navigation and 'get lost' via the various alleyways connecting these!… 
Puerta Del Cambron

Mirador del puente

Puente de San Martin

Monasterio de San Juan

Sinagoga de Santa Maria

Iglesia Catedral Primada de Toledo

Alcazar de Toledo

Mezquita del Cristo de la Luz

Puerta de Bisagra

Of course there are many more sights to discover! However, these will give you a great walking tour past many more interesting shops, restaurants and museums. Remember, as said, in my opinion most entrance fees (especially for the churches, in Toledo and the wider La Mancha region) can be a bit overpriced, so do check if you feel it is worth your money before you enter. When in doubt stroll on!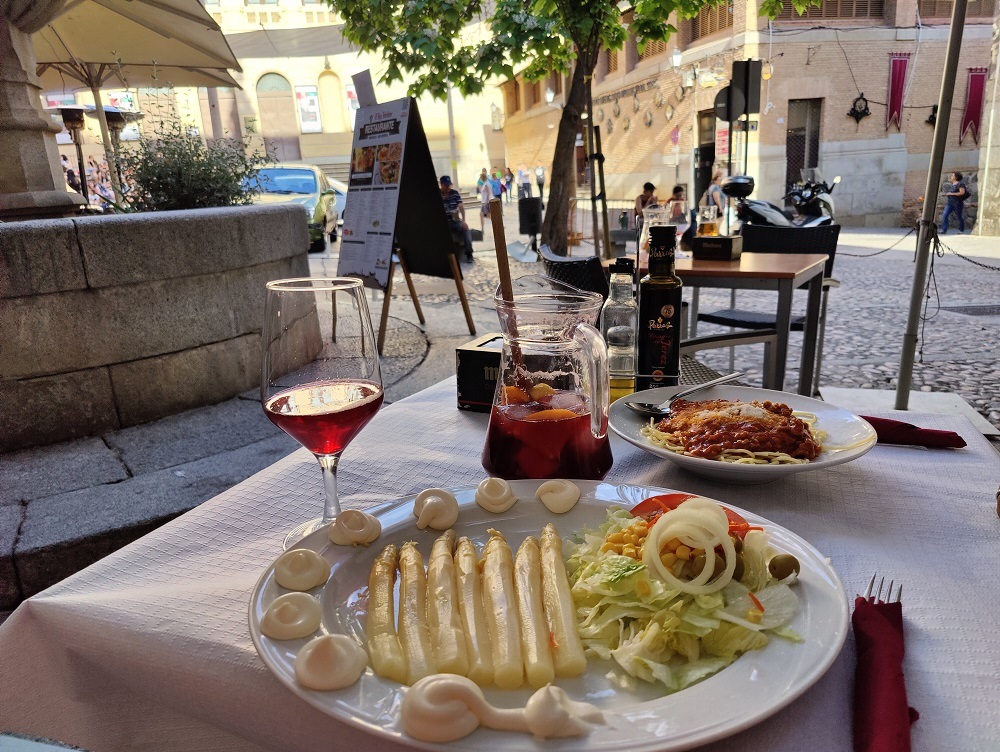 Top Tip: You can avoid the entrance fee for the Iglesia Catedral Primada de Toledo by entering via the 'back-entrance' (on the Calle Chapineria). This gives access to the prayer area 'only'. However, from here you do not have full access to the church but can see most of it. 
Top Tip: You can visit most sights in Toledo in a day, however it is nice to stay overnight, especially to beat the crowds in the morning and at night!
On top of the above, I like to emphasize a few key highlights and hidden gems that you must include in your Toledo itinerary!…
Churreria Chocolateria Santo Tome 27
How better to start your Spanish Toledo adventures, than with an early coffee and churro! The best place to enjoy these delights is the quaint Churreria at Santo Tome 27. It is only open in the early morning (until 11am). Bring cash as no cards are accepted. Say hi to the lovely lady that works here, who let me pay later (as I found out too late about this cash-only policy).
Hacienca del Cardenal
Hacienda del Cardenal is a beautiful spot for any meal or coffee! Found at the bottom of the hill next to one of Toledo's escalators. 
Puente de San Martín
A short stroll out of the city (and already part of the highlights listed above) make sure to check out Puente de San Martin. (Or the similarly beautiful Puente de Alcantara, on the other side of the city). The entire picture of the historic arching bridge over the Tagus river with the backdrop of the city is just spectacular!… 
Mirador Toledo
Only a short drive out of Toledo, the Mirador offers unparalleled views over the entire city!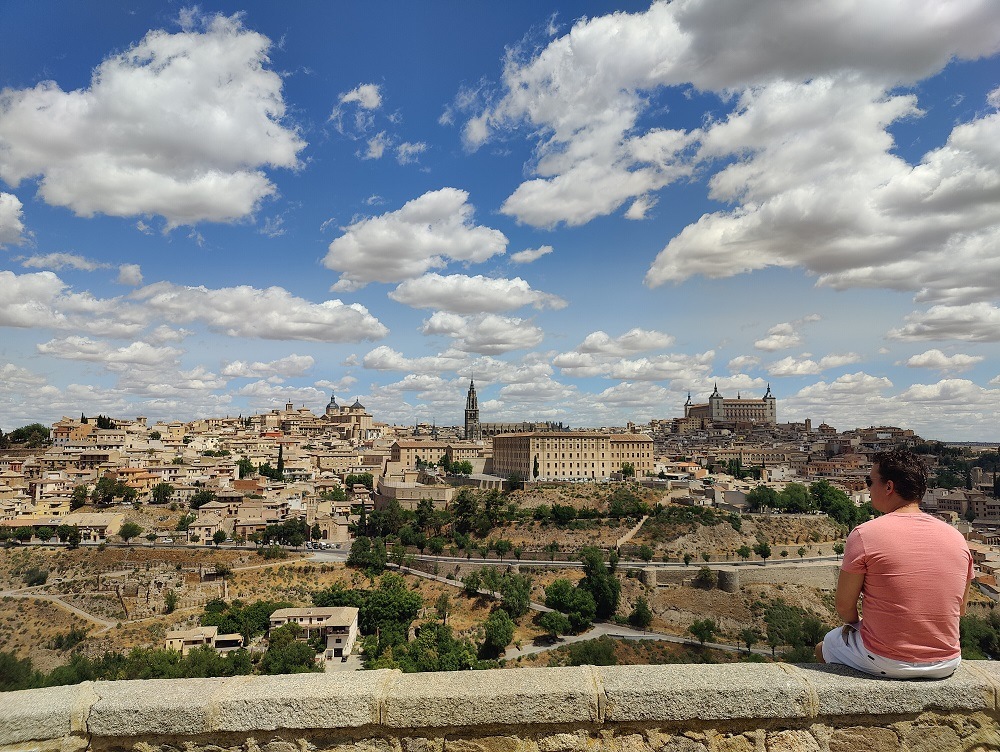 Celebrating the San Isidro festival in Las Mesas, La Mancha
San Isidro is the patron saint of Madrid and that of farmers. Given that La Mancha is an important farming region and San Isidro's miracles are connected with well-needed water in this dry region, the celebrations are a very important part of life. The San Isidro festivities date back to the 12th century and take place during mid May. 
Our friend Maria grew up in Las Mesas, and invited us to join the open-air celebrations in her village. Obviously a great opportunity to dive into (very) local heritage with a local guide to tour us around! The celebrations take place at a church in the middle of the La Mancha fields. This church only used for these yearly occurring festivities. Many people camp in the surrounding fields during this multi-day celebrations complete with music, dances, games and (very important) lots of drinking!…
How lovely and welcoming were the Las Mesas people and Maria's family, with an amazing paella lunch and later that night an invitation to a friend's barbecue at a friend's tent!… 
Most people speak limited English, making it a great occasion to catch-up on our rusty Spanish!… The free-flowing Sangria certainly helped here!… 
Other La Mancha highlights!
After a 'busy' day of drinking and celebrating we woke up in our Palacio Infante Don Juan, overlooking the Belmonte Castle. Today it was time to explore the wider La Mancha region. La Mancha is the largest delimited wine region, not only in Spain but in the whole of Europe. So how better than to further examine one of the main (export) products? 
Finca Antigua wine tour
There are countless wineries. However, not all are open (all days of the week), some require a pre-booking and not all offer tours in English, so do some online research before your visit. As we visited on a Sunday, and during the San Isidro festival we had limited options. Nevertheless, we found a great winery where we had a multi-hour tour and tasting experience; Bodega Finca Antigua.
We have had our fair share of wine tastings and tours all over the world, but I must say Finca Antigua has one of the nicest tasting tour experiences! Mainly as the tastings take place on multiple locations on the tour throughout their property (as opposed to the typical 'tour first, tasting after' approach). 
Restaurante Casas de Lujan
Enroute to Cuenca, we stopped for a fabulous lunch at the landmark restaurant Casas de Lujan! Whenever traversing the La Mancha region make sure to stop here for their famous steaks and other Spanish culinary highlights!
Highlights of Cuenca
Before heading to Madrid, we end this La Mancha tour in Cuenca; yet another wonderful historic hilltop city! The historic center of Cuenca is smaller than Toledo's but definitely not less impressive. Cuenca is most famous for its 'hanging houses' that seem to dangle above the cliffs. We stayed in one of these, offering beautiful views over the surrounding nature. 
Top Tip: Cuenca is also great for a day trip! Park for free at Parking del Castillo Gratuito at the very hilltop and make your way down via the walking trails and through the historic city. (Save energy for your way up! There are no escalators as in Toledo!)
A few highlights that you certainly should not miss are listed below (link them together in a GPS for your explorations): 
Mirador Cuenca

– beautiful views over the 'hanging' city and the walking bridge

Catedral de Santa Maria

– Largest church of Cuenca

Casas Colgadas de Cuenca

– most famous hanging houses

Puente de San Pablo

– for great views

Grotte del Huecar

– Great for food and drinks in a Grotto 
Top Tip: Keep in mind that Cuenca is situated higher up in the Spanish highlands and is therefore colder, so bring a sweater or jacket. We were a bit underdressed for an (a-typical) colder period in May. 
Onwards to Madrid
As said, our visit to Cuenca marked the end to this Don Quixote adventure through La Mancha, full of culture, celebrations and history!… However our Spanish adventure did not end here, as we traveled onwards to Madrid! This is city was above expectations, so do read all about my tips & tricks!… 
Interested in other Ghost around the Globe adventures read all about: