Hvar, an ideal Croatian Island destination!
Reading time: min | Published on:
Depending on how you count, Croatia is my 100th country I visited on my worldwide explorations!… A great milestone, which I am happy to celebrate in this amazing country. Coming from Dubrovnik in the South and heading North towards Split, let's explore Hvar, one of the many fun Croatian islands, situated nicely in between these 2 major Croatian touristic hot spots…
How to get to Hvar Island, Croatia?
As Hvar is an Island without an airport, the only way to get here is by boat! Coming from Dubrovnik, we took the car ferry to Sucuraj (on Hvar Island) from Drvenik. The other car ferry option is to travel from Split to Stari Grad. Which we will later take out of Hvar towards Split (see details below).
To keep in mind, depending on your travel plans and what you plan to explore on Hvar Island: The Drvenik ferry ride is much shorter and runs more frequent. In addition, the car ferry is smaller (so less unloading time) and is cheaper. If you are traveling without a car there are various other ferry options towards Hvar from Split (only). 
What to explore on Hvar Island?
The long stretched island of Hvar is connected with one winding road, offering beautiful vistas over the island and the mainland's coastal mountains. This alone is already a reason to try both car ferry options as it runs from Stari Grad in the West towards Sucuraj in the East.
Sucuraj, Hvar Island
Sucuraj is a small port town and is not too interesting. Aside from the ferry terminal to get to the mainland there is not much to explore here. 
Stari Grad, Hvar Island
A definite must visit on Hvar Island is Stari Grad. Roam around the small marina with its small streets, squares and alleyways and have lunch or dinner in the various nice restaurants! 
Top Tip: We stayed at the fun Valamar Places hotel, just outside the city. Great to unwind a bit and take a relaxing break on this extensive Balkan journey! 
Hvar Town on Hvar Island, Croatia
Another must see is Hvar Town (this could potentially be your arrival point by smaller ferry or sailing boat from Split). Complete with a Fortress overlooking the walled old city and marina, Hvar is the largest town on Hvar Island.  
Hvar town is easily explored in a few hours, and like Stari Grad it is just nice to enjoy the views from Fortica Fortress, roam the alleyways, visit the St. Stephan's Cathedral, and have a nice lunch or dinner at one of the many cozy bars and restaurants… 
Ex
plore Hvar's beautiful beaches
One thing you should certainly do on your way across the island is to stop at the various beautiful beaches and tucked away bays!… Plunge in the turquoise beautiful sea away from the crowds! If you do not have a car you could rent a moped and go on a day trip!… 
Top Tip: Explore Hvar's beaches during your inland explorations! For example check out Pokonji Dol Beach, Plaza Malo Zarace or Plaza Dubovica.
As we reached the close of the season, our hotel closed for the year. We decided to stay a bit longer on Hvar for some further unwinding and stayed at Labranda Senses Resort. A bit further from Stari Grad near the small town of Vrboska. As it must be clear by now, there are plenty of ways to enjoy Hvar Island…
Should you visit Hvar, Croatia?
The luxury problem of traveling in Croatia is that there are so many beautiful islands and coastal towns to choose from. Therefore, Hvar is not a 'must-visit', as you Croatia is filled with similar experiences on other islands and along its coastal regions. However, Hvar is nicely situated and connected between Split and Dubrovnik (via Drvenik) giving you the opportunity to include some island vibes, while driving between the 2 key places of interest!… In my opinion, definitely include Hvar, but if already planning on visiting (multiple) other islands you could decide to skip.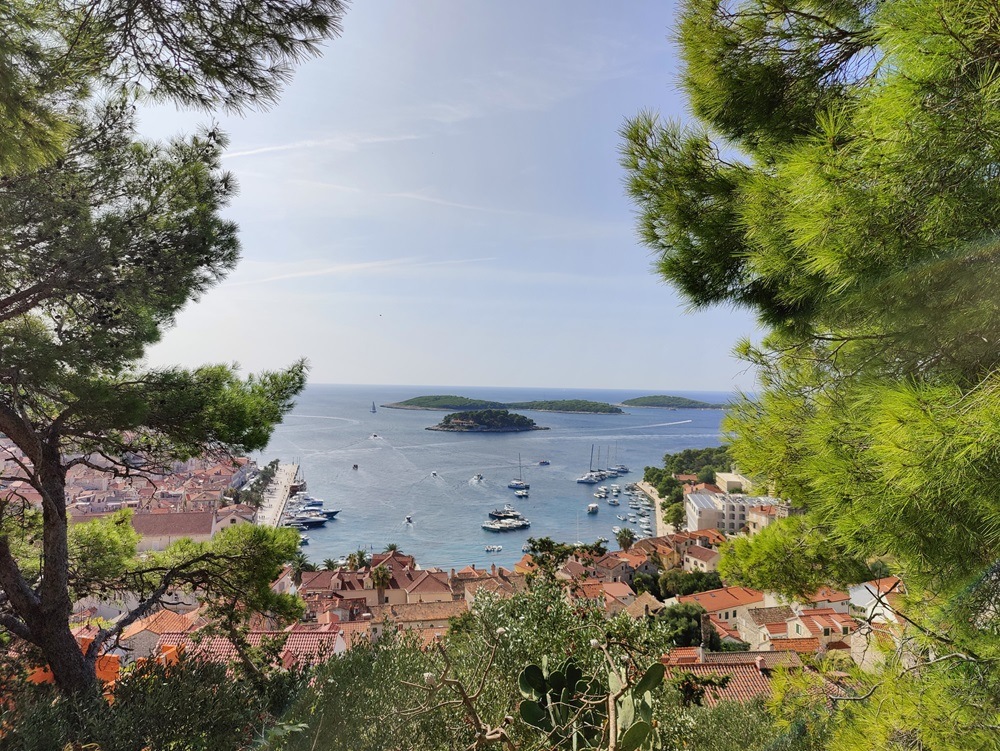 Taking the Ferry to Split
And after a few relaxing days, the time has come to take the ferry again, this time from Stari Grad to Split, after Dubrovnik, yet another key cultural highlight of Croatia!…
Top Tip: This is a busy ferry line, especially in high season it would be wise to pre-book your ferry slot online, or (like us) a few days before your travel date. Make sure you are at the ferry around 30-45 min before the departure time, due to the loading time.
Further reading on Croatia and the Balkans
Do also read other Croatian Ghost around the Globe adventures:
Combining Croatia with other Balkan countries? Find some travel inspiration and extensive tips & tricks below: