Why you must visit Montenegro!
Reading time: min | Published on:
Especially when coming from 'messy' Albania, what a pleasant surprise to enter into marvelous Montenegro! We never expected this Mediterranean beauty on our Balkan road trip… Let me share our experience and some of the absolute must-do's in this small, but beautiful country!…
Stay outside of Podgorica – preferably a winery!
Unlike the rest of Montenegro, the capital Podgorica is strangely uncharming and uninteresting. The sights of interest are very limited and any time spent here is wasting time elsewhere in Montenegro!…
Luckily, as we were looking for a nice and quiet place to do some admin and relax, we found a very nice family-run vineyard stay just outside of Podgorica; Vinarija Djukic… As soon as we arrived and were welcomed by the wonderful hosts, we immediately secured another night! This was one of the best decisions of this trip, as we received some of the best care by this friendly family and could enjoy the tranquil view over the valley!…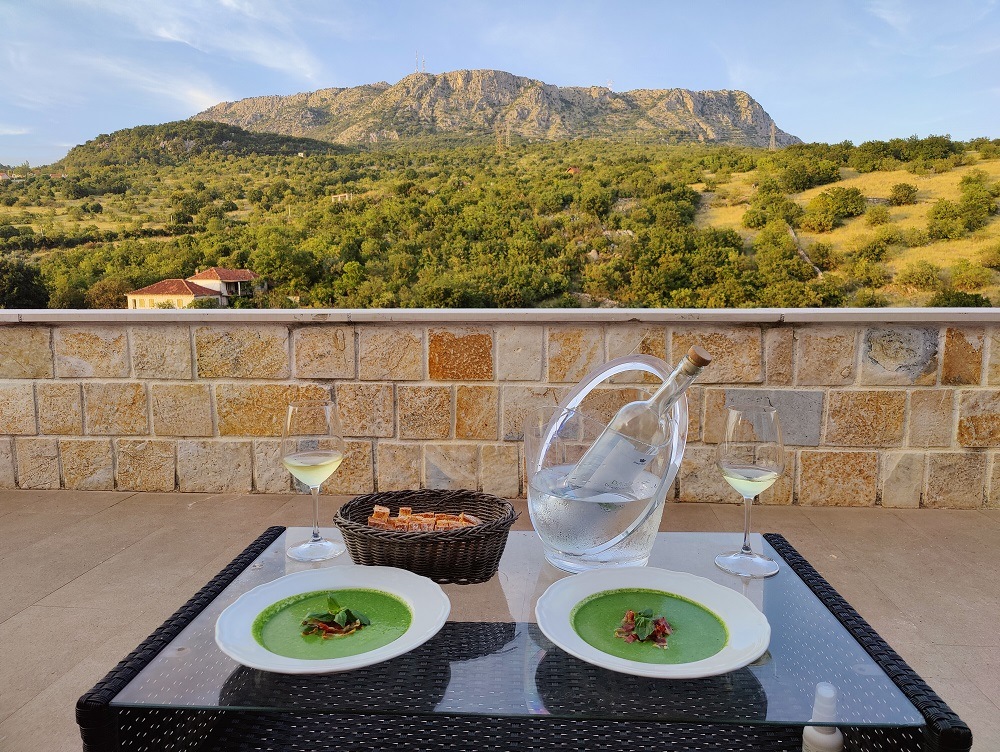 Helping with the wine harvest!
We were extra lucky as we visited during harvesting time! Despite our many wine-related activities all around the world we never took part in the harvesting process!… Well, now it was finally time to roll up our sleeves and help the family to process the grapes for the 2023 harvest!… A very memorable activity!…
Clearly the Djukic vineyard is doing well, as they are currently expanding with extra rooms and even a swimming pool. So higher chances for you to be able to visit!… I surely hope to re-visit someday to see the expansion results!…
What to see in Podgorica, Montenegro?
If you read this advice too late and already find yourself in Podgorica, then make a brief visit to the (beautiful) Orthodox Temple of Christ's resurrection, Petrovic Castle (hosting a free art gallery), or the historic Clock tower. All these stops will not take you more than an hour in total.
We found Njegoseva street the area with some of the nicer restaurants (we had a quick, good quality slice of pizza at Vens)… We did not visit, but Montenegro Mall has lots of (western) stores, which may come in handy after an extensive trip through Balkan countries, where some options are sometimes limited.
Explore Lake Shkoder and the Adriatic Coast
From Podgorica take the road via Virpazar towards Budva. As with almost all Montenegro roads, make sure to stop for photos and enjoy the coffee & lunch places with a nice view! There are just so many beautiful vistas to enjoy in this area over Lake Shkoder and the Adriatic coastline!…

As we already enjoyed Shkoder lake from the Albanian side, we only very briefly visited (crowded) Virpazar. However, you could use this small town as a base for a boat ride over Skhoder lake.
Where the Balkan countries visited thus far would have had hour-long zig-zag mountain roads, here the 4 km long Sozina (toll) tunnel directly connects Virpazar to the Adriatic coast. After the tunnel you can head south towards Albania, or like us, turn North towards Budva!
Stroll through Budva Old town
As said, do make some (beach or panorama) photo stops on your way to Budva, which is a modern and not too charming, large coastal town. However, a nice stop is tiny Budva Old Town. Great to roam around its very narrow streets, or even enjoy some time at its small pebble beaches!…
Visiting the Bay of Kotor area is a must!
Wow! That is the best way to describe the Bay of Kotor area, also known as the Boka! It is a winding bay of the Adriatic Sea in southwestern Montenegro. This fjord-like scenery dotted with ancient mediterranean towns is very spectacular. The most famous towns are Kotor, Tivat, Perast and Herceg Novi, which all have their own charm and are just nice to stroll around and explore!…
What to do in Kotor, Montenegro?
Our first stop in the Boka area is Kotor which has the largest old town of all. It is nice to stroll around and enjoy coffee, lunch or dinner at one of the many piazzas.
Top Tip: Parking is difficult and (unnecessary) costly (if planning overnight). However, when you enter from Budva you'll see an EKO gas station, turn right and you'll find free public parking!
How to avoid paying for Kotor Ladder?
Apart from the various churches and the city walls, you can also climb the Kotor Ladder. Unseen in other parts of Montenegro, but it seems Kotor takes itself a bit too seriously, as there is a (grumpy) guy sitting at the bottom of the stairs requesting you pay (a hefty) 8 Euros to climb the Kotor Ladder. Very unclear to me why an entrance price is paid (other than ripping of tourists), as this is just an ancient stairway. It just leads to Kotor Fortress, which is a ruin, but offers great views over Kotor and the Bay area.
Top Tip: Obviously, out of principle, I was unwilling to pay for a walkway that offers views over town (Kotor Ladder). It that was built ages ago and is now turned into a tourist trap. An easy way to deal with this ridiculousness (other than just ignoring the grumpy guy) is to walk up early in the morning (before 8am). At that time there's no one at the 'entry' and you can just walk up, as in any other city (in the World). I walked up as a morning exercise and happily greeted 'Mr. Grumpypants' on my way down.
Should you take the Kotor – Lovcen cable cart?
Situated between Budva and Kotor, you find the Lovcen cable cart. This new gondola is a fast way to get to the top of Lovcen National Park. Instead of driving up, this sounded like a good plan. However, with a very hefty price tag (23 Euro) per person we quickly turned away from this fairly simple gondola ride. In hindsight a good thing, as Montenegro (and the Kotor Bay area) has so many beautiful viewpoints, it would have been a bit of overkill. Moreover, on many blue skyed days, it was still cloudy at the top of Lovcen (so you would have paid for nothing).
Top Tip: I find the price of the Kotor-Lovcen Gondola too high for a 'simple' cable cart ride… If you are really interested in Lovcen, I would rather drive up (and if there are any clouds, enjoy the views a bit lower from the top)! This may not be possible for Cruise Tourists and may be the reason these prices are so (relatively) high.
What to do in Tivas, Montenegro?
Before driving to our next stop, we made a scenic drive over one of the Boka Peninsulas. Here we visited Tivas. The town also houses the key international airport and Porto Montenegro, a very nicely developed modern Marina. Here you find high-end hotels, designer stores and fancy seaside restaurants. Completely different vibe than the other towns, but very nicely done (learn from this Albania!).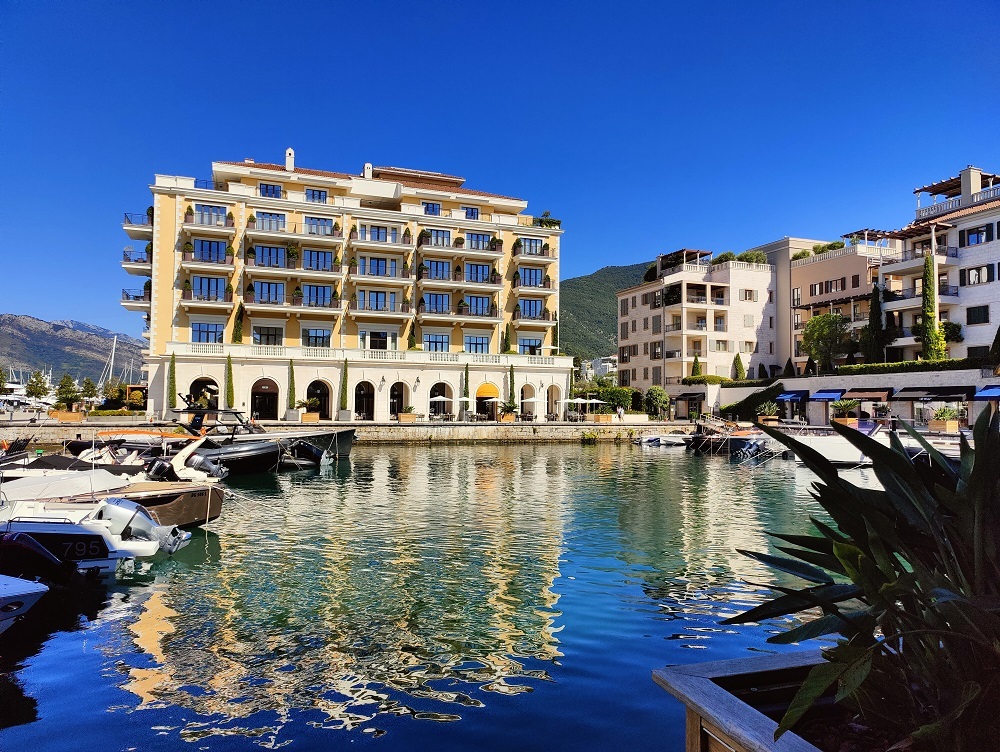 From Tivas we made our way around the peninsula, where at some point you can take the ferry towards Herceg Novi (instead of driving all around the Bay of Kotor). Just after Herceg Novi (which we did not visit on this trip) you'll reach the Croatian border, with famous Dubrovnik being your first stop. Leaving Croatia for later, we continued further, enjoying the spectacular views over Perast, across the water…
What to do in Perast, Montenegro?
Perast is a lot smaller and receives less (cruise) visitors than Kotor. Also an ancient town, Perast has a completely different feel than Kotor. Unlike Kotor, which has a large walled old town where you find most of the nice restaurants on picturesque piazzas and in narrow streets, car-free Perast is ideally situated to enjoy the beautiful Bay of Kotor scenery from one of its seaside restaurants.
Top Tip: Perast is car-free (for tourists), so pack accordingly! Some high-end hotels do provide shuttle services, but otherwise it is wise to pack light and avoid walking up the steep stairways to the main road, with heavy suitcases!..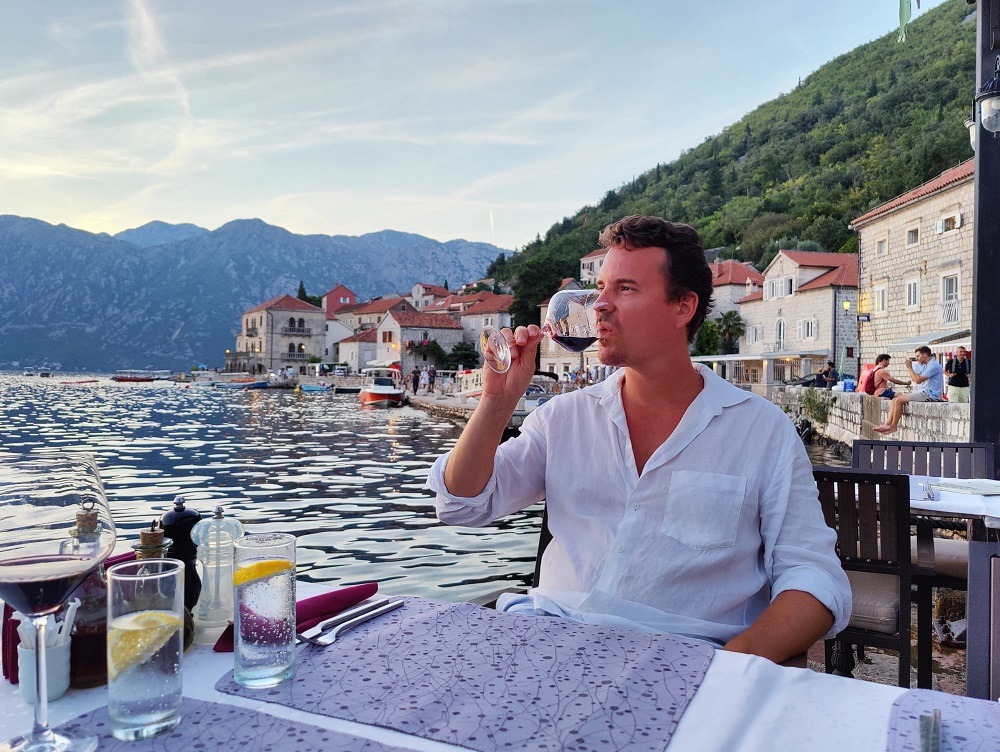 Like many of the old towns in Montenegro (and the wider Balkan region) just go for a stroll and visit the various churches and its car-free boulevard. Reserve a see-side table for dinner around sunset and enjoy the views over the Our Lady of the Rock and Saint George islands…The entire scenery reminded me strongly of Venice, the many boats, the islands in the distance, the Mediterranean setting… Very much recommended!…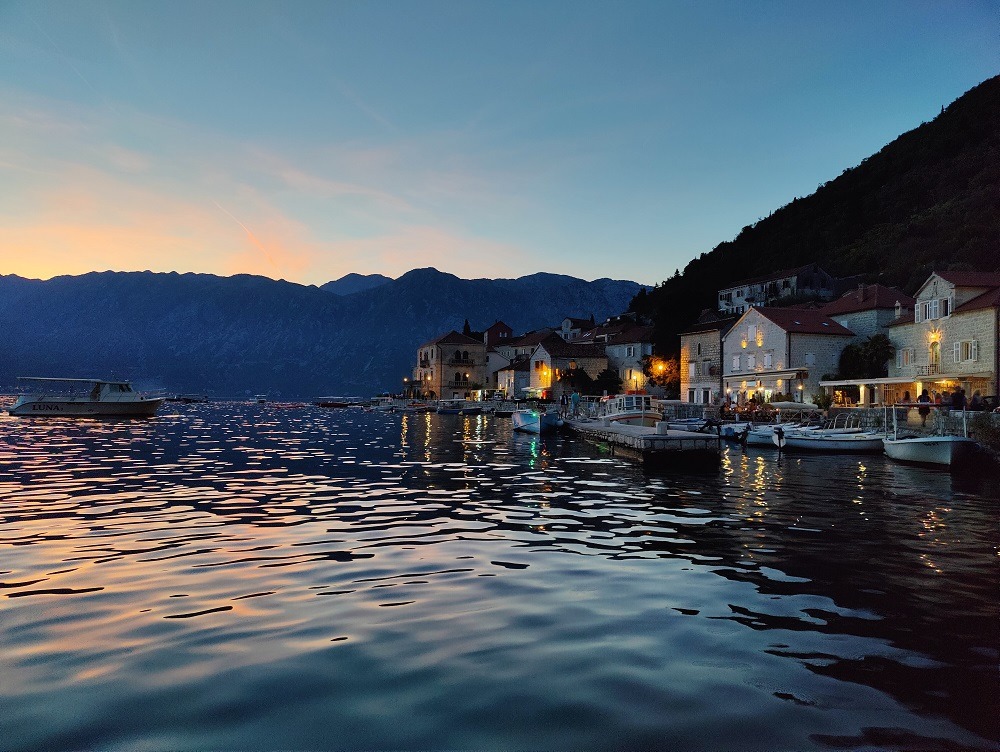 Must do in Montenegro: Underwater Wine Cellar!
Highlight alert!… When driving from Kotor to Perast you pass a small sign: Underwater Wine Cellar Kraken. Returning readers to this post know that we do fancy some wine now and then… After harvesting vineyards in Podgorica this was yet another extraordinary wine activity in Montenegro!…
The Underwater Wine Cellar concept
When wines are retrieved from ancient shipwrecks these are often still in good condition. Starting as a joke during the covid period, the founders liked to try this for themselves. They actually found out that keeping your wines in moderate temperatures under water positively affects the aging of the wine. Hence, the underwater wine cellar concept was born!
Our amazing Montenegro Underwater Wine Cellar experience
As is clear, I highly recommend that you visit the Underwater Wine Cellar in Montenegro! They are open during the afternoons, making this a perfect extended lunch stop!… Make reservations just in case, or just show up at the shore and a boat will pick you up to the floating restaurant!
The food menu is simple and consists of a few dishes like bruschetta, cheese board, mussels and shrimps. We just ordered all… Regarding the underwater aging process you obviously pay a bit of a premium… But hey, look at the scenery & the concept, it is all great fun and amazing!…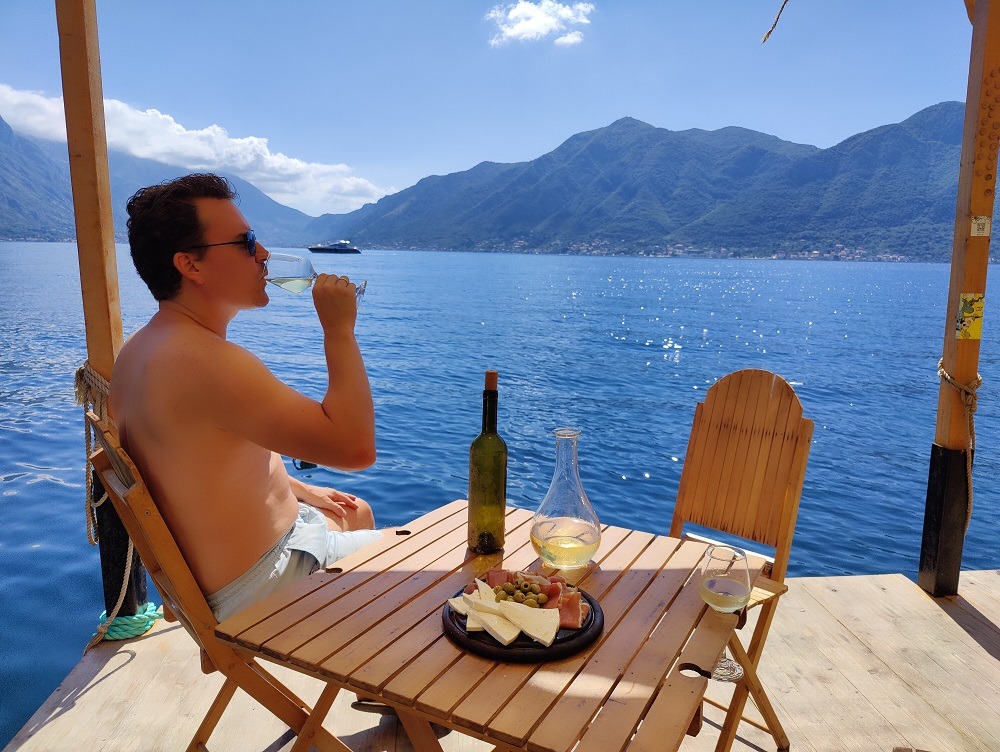 Top Tip: Bring your swimming gear! After (or during) your floating, underwater wine cellar experience, what better than dip into the Kotor Bay!?
Drive up to Durmitor National Park, Montenegro's mountain marvel
We would have already been more than satisfied if Montenegro would be 'just' the 'mediterranean beauty' as described thus far. But it gets even better as there yet another completely different, and again very spectacular side to this small country. When you drive up from the Kotor Bay area you quickly start to get to see incredible vistas towards Durmitor National Park.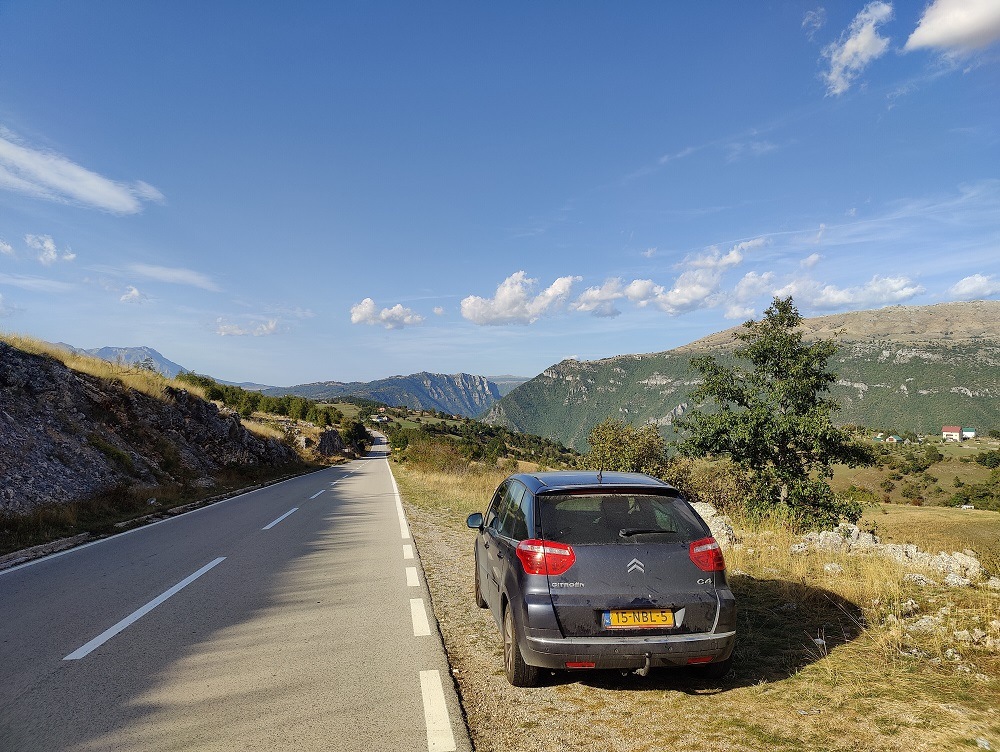 Only a short drive away you seem far away from the Mediterranean Sea and start to believe you are driving through New Zealand, Ireland, Norway or even Iceland. The first (photo)stop enroute to take in this beauty is Slana Jezero (check your GPS). Take a rest at one of the 'relax-mode' public benches, or buy a drink at one of the nearby roadside restaurants.
Take a detour to Ostrog Monastery
Before heading further into the mountains, take a detour towards Ostrog Orthodox monastery. The monastery is situated against an almost vertical cliff overlooking the surrounding valley from high altitude. It therefore holds somewhere in the middle between Petra in Jordan and Tiger's nest in Bhutan (albeit slightly less impressive)… Only the curvy, narrow, scenic route towards it is already worth the 1-hour detour.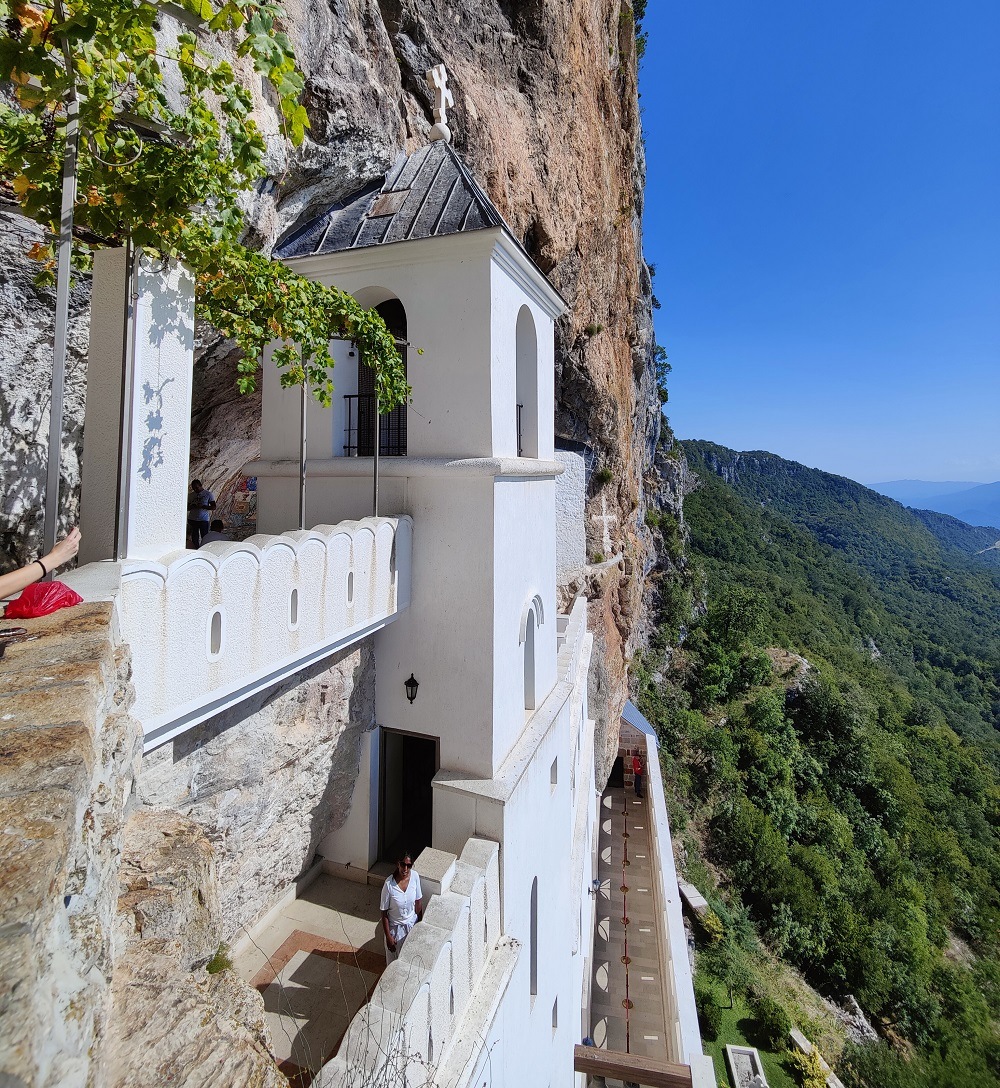 Should you skip Piva lake, Montenegro?
As you have now reached Montenegro's highlands, the next stop on your tour throughout Durmitor National Park likely is Piva lake. It is often advertised as a key destination to visit. However, I found the artificial lake far less spectacular than the below highlights. Hence, depending on your schedule, I would make a brief photo stop around Pluzine and drive on. We stayed in the town of Pluzine, an unattractive town without much charm, apart from views over Piva Lake…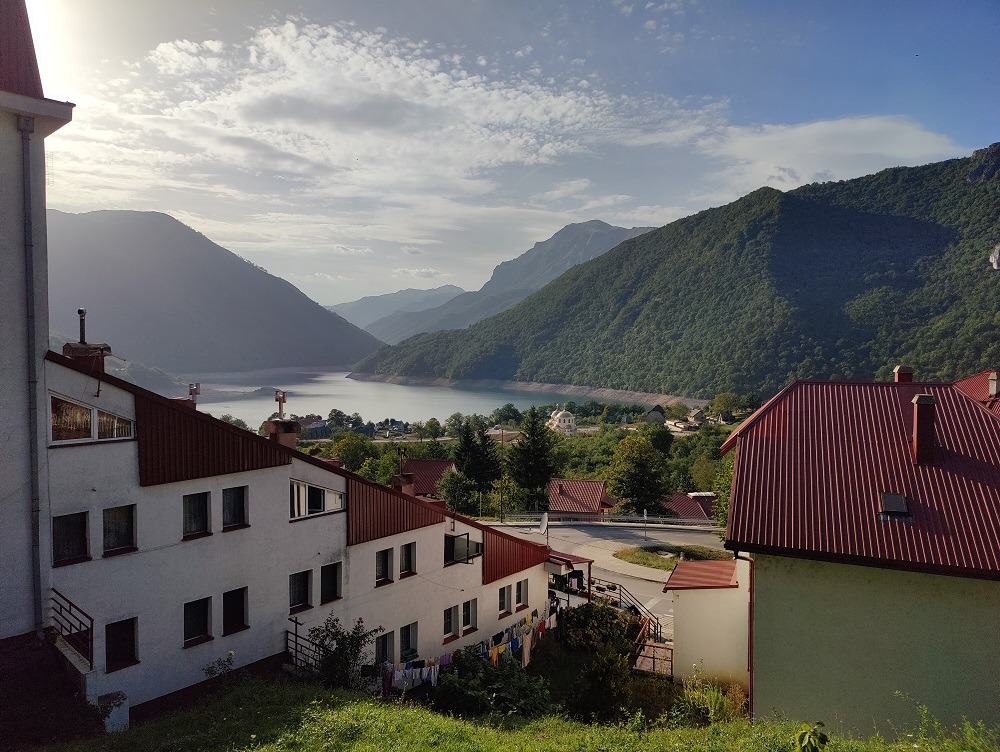 Top Tip: When creating the artificial Piva Lake, they had to relocate Piva Monastery (sounded like an Abu Simbel story to me) to higher grounds!… On your way to Piva lake, make a brief visit at the Piva Monastery, I could not see many signs of the relocation, which must have been quite difficult given all the beautiful murals!
Bobotov Kuk, one of the best scenic drives!
Leaving Piva Lake behind you immediately start driving on a very narrow, steep and partially unpaved road, literally carved out of the mountains! What spectacular scenery and great fun (if you like driving)… This road takes you high up towards Bobotov Kuk mountain through amazing landscapes, past canyons and steep cliffs!… Likely one of the best scenic drives I have driven worldwide!… You must include this in your Montenegro trip!…
Forget Piva, visit Black Lake in Montenegro!
Originally we did not find this in our pre-research, but as luckily suggested by our Dubai friend Alex and Maria from the Djukic winery, we ended up having a great picnic at Black Lake. Indeed much nicer than Piva lake… the forest and Grey mountain backdrop reminded me of Yosemite National Park…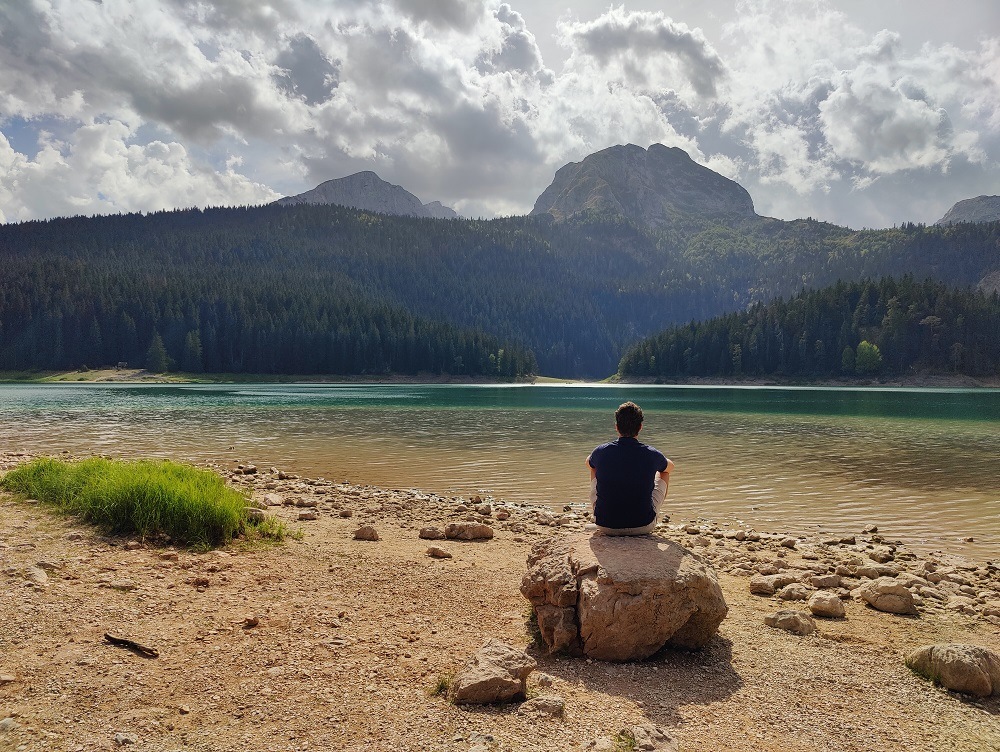 Top Tip: When staying in these parts of Montenegro, rent one of the many cabins and enjoy the peace and quiet of the mountains!
Optional detour: Tara Canyon scenic drive
From Black Lake you can drive a bit further towards various viewpoints over Tara canyon. Again a nice scenic drive, but less spectacular than the Bobotov Kuk drive.
Getting to Montenegro
There are limited flights arriving at Podgorica or Tivas airport, with the latter ideally located for the Kotor Bay area. Judging from the license plates, I imagine most visitors will arrive by car from either Albania, Kosovo, Serbia, Bosnia & Herzegovina or Croatia, or by (cruise)boat in the bay of Kotor area.
As said, the condition of the roads are among the best in the entire Balkan, Eastern Europe region. There is not much traffic on the roads, which makes it even easier to travel from place to place in small Montenegro. Some roads are narrow though, especially in the Durmitor National Park. Combine this with various (inexperienced) camper & rental car drivers crossing and be sure to drive carefully on these parts.
So should you visit Montenegro?
Absolutely yes! Definitely put Montenegro high up your travel list!… The country's three main areas, idyllic Kotor Bay, dramatic Durmitor National Park and the beautifulAdriatic coast are all very well connected with good roads and easy to navigate! The people are very friendly (with some exceptions in touristy Kotor old town), food is amazing and the scenery is so diverse and some of the most spectacular I have seen worldwide!…
From Durmitor National park, we leave Montenegro towards Serbia… If you like this Ghost around the Globe stories in the Balkan, read my other adventures via the links below: