Iceland in 4 days – all you need to know!
Reading time: min | Published on:
Iceland is located halfway between Europe and North America, this makes it an ideal stopover location to discover its natural beauty!… and this is exactly what we did when travelling from Amsterdam to New York… I had visited Iceland a few years earlier in May. Back then the days are ultra-long and the land is green. This time we visited in December, with very short days and the land is covered with snow and ice!… After reading this post you most likely will move it upwards on your bucket list, as the island is spectacular! Let's dive into the details!…
Getting to and around Iceland
Given the remoteness of Iceland, it is highly likely you arrive by plane to Keflavik airport (or tiny Reykjavik airport). Iceland is a modern country and 'feels' like a mix of Scandinavia and the USA. As with all Scandinavian countries price levels are fairly high!… keep this in mind when planning your travels, dinners or any other expenses.
As on most of our travels, we rented a car to discover at our own pace. In the case of Iceland, I highly recommend this, as apart from avoiding booking (pricy) tours, I would not see how you would get to all the sights…
Not to worry!… roads and infrastructure are very well maintained (despite the cold and icy weather)… Moreover, with a country population of only 330.000, the roads are not crowded either!… Let's start our 4-day itinerary!…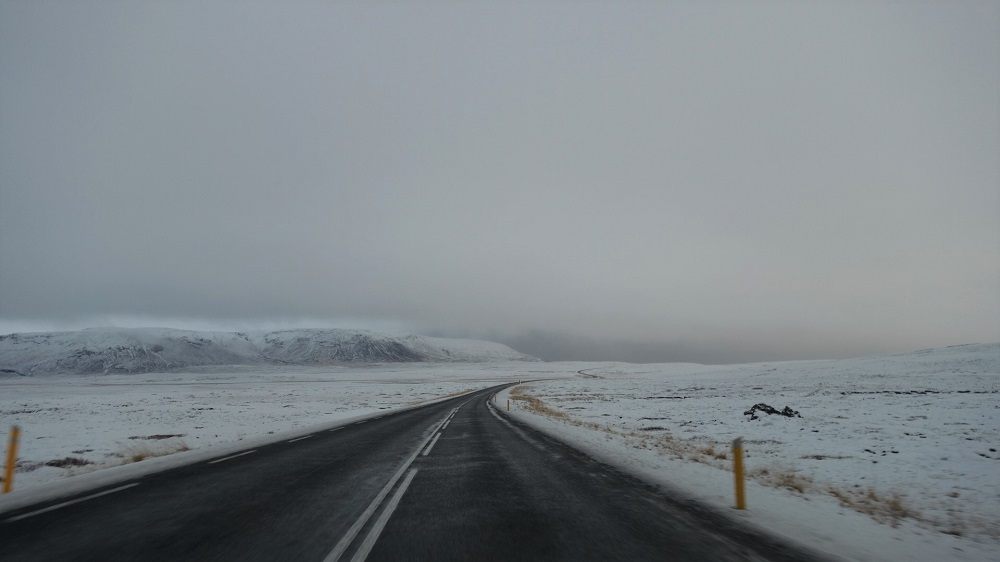 Top Tip: Especially when travelling during winter, bring a set of ski clothes… Iceland is wet, snowy, foggy, cold and windy… Hence, ski clothes are ideal… hang them to dry overnight and slip back on your explorations during the day!…
Day 1 – Arrive in Reykjavik
Depending on your flight times, we arrived in the afternoon on Day 1. After picking up our rental car we explored Reykjavik. The capital, and the place where most Icelanders live… Still, it has a small-town feel and there are only a few sights of interest…  Visit the Hallgrimskirkja, with its very special design. Do also browse around the old city centre with the typical Scandinavian houses and shops…
Top Tip: As briefly mentioned, when planning your trip in winter do realize that daylight is limited. Hence you will have to visit many sights in (semi)dark… In summer this the opposite… you will have abundant daylight so you can visit as many sights in a day as you possibly can (and opening hours allow)!…
Try the typical Icelandic cuisine
When visiting a country, it is always nice to try the local cuisine… One of the best places to do this – in style – is Apotek Restaurant… It serves a unique tasting menu to try many of typical Icelandic delicacies, like the local Puffin bird, lamb and fish, but even Minke Whale. With 10.000+ Icelandic Krona, this does not come cheap… Then again, when compared to the relatively high prices overall, you may as well go for it!…
Day 2 – Explore the Golden Circle
As the name gives away, the Golden Circle is a scenic drive along some of Iceland's key sights! An easy 4-hour drive starting from and returning to Reykjavik…
Thingvellir National Park
First stop is Thingvellir National Park… It is here that you can witness the American and the European plates move away from each other… creating a fracture… In winter a real nice winter wonderland to have a brief walk around… During summer you can take a longer hike through the surrounding…
Geysir
Leaving Thingvellir behind it is time for natural spectacle at Geysir… a national park with various geysers! Great to witness these massive blows of steam and water…
Gullfoss
From Geysir, it is a short drive to yet another highlight! Gullfoss, which is Europe's largest waterfall. During our visit in winter, it was snowy and slightly misty… an amazing sight, but hard to take good photos. But no despair I added a few photos from my May trip… this also gives you an idea on what to expect from Iceland when visiting in summer…
Secret Lagoon hot spring
Secret Lagoon hot spring is a place to immerse yourself in the oldest natural hot spring of Iceland… We did not dip in, also given daylight we headed onwards to the next stop…
Kerid crater
The next and last (photo)stop before returning to Reykjavik is Kerid crater. A volcanic crater filled with milky blue-green water amid stark black and deep red slopes.
Illuminated graveyards
When driving around Iceland we found multiple churches with illuminated graveyards… Unsure what the exact reason was I did some checking out just before returning to Reykjavik….
In most places, people may lay flowers on the grave of a loved one, but in Iceland, where geothermal electricity is cheap the Icelanders put light decorations on the graveyards… That is one way to remember your family in the dark holiday season…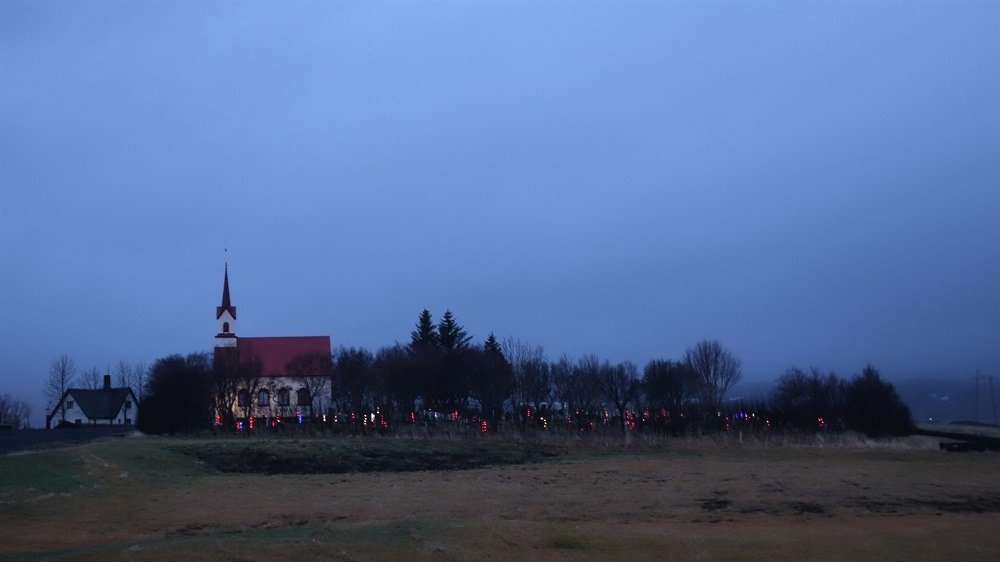 Alcohol shops
Iceland, as all around Scandinavia, has very high taxes on alcoholic products... Hence, prices get crazy high, especially in restaurants and bars… In case you like to have a drink, but do not like to pay high prices… bring it with you (buy tax-free at the airport) or buy it in one of the various Vinbudin alcohol shops. You still pay relatively high prices but much less than in any restaurant or bar…
Day 3 – Drive along Iceland's beautiful south coast
It is time to leave Reykjavik behind and start exploring Iceland's south coast… This route is less touristy… as most (stopover) tourists will only visit the golden circle. The further you drive on this route, the lesser tourists (or Icelanders) you will encounter!… If you keep driving on this road you will eventually circle the entire island and return to Reykjavik… Unfortunately, we did not have the time, but this would be the plan for our return visit!… Iceland's nature is simply astounding!…
Top Tip: In case you like to save time you could also start driving south from Kerid crater on the previous day (day 2) and stay in one of the smaller villages. (This would save you around 1.5 hours of driving in total)
Seljalandsfoss
Seljalandsfoss waterfall is the first key visit to explore… A beautiful waterfall! A few short hiking trails provide you with wonderful views of the water as well as the surroundings…
Skogafoss
A short drive further you will find Skogafoss waterfall… Yet again a short hike leads you around the waterfall… Do also hike uphill for a great bird's eye view over the magical surroundings…
Reynisdrangar and Reynisfjara
Make a stop at the lighthouse that overlooks the Reynisdrangar rocks that dot the magnificent rough shoreline… From here you also have a great view over Reynisfjara black beach…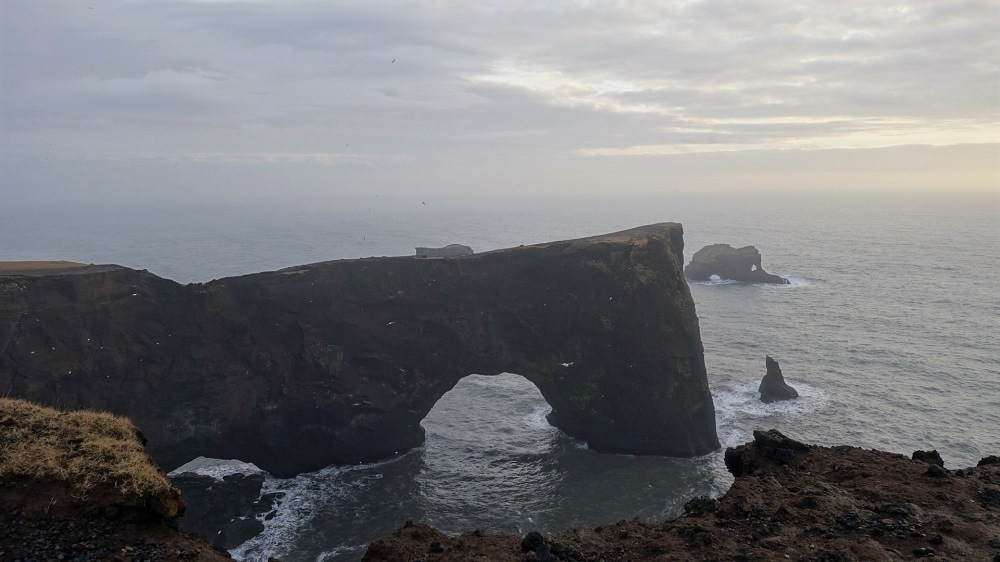 Fosshotel
We stayed in Fosshotel Glacier Lagoon, as the name says it we are close to the Jokulsarlon Glacier Lagoon….
Fosshotel is a good hotel (anyway choices are fairly limited once you start entering this less populated part of Iceland) with the service (as with many accommodations in Iceland) to wake you up when there are northern light sightings… Something which we hoped to see after dinner around the Jokulsarlon Glacier Lagoon…
Jokulsarlon Glacier Lagoon
The Jokulsarlon Glacier Lagoon was a key highlight of our trip… We went here in a hope to spot the northern lights, but without any luck… However, seeing these gigantic blocks of ice float by is just an amazing and humbling experience!… At night they seem to 'glow' up in a light blue… It was so beautiful that we stopped here the next day again (during daylight) to take more of the beauty in!… If you ask me this sight would be the reason to visit Iceland in winter, instead of during summer… Photos do not quite capture the huge scale Ice floes that make their way from the Vatnajokull glacier to the Atlantic Ocean…
Day 4 – Vatnajokull Glacier National Park
This day we got picked up from our hotel and took an 'ice cave tour' to the Vatnajokull Glacier… We already saw a part of the glacier from the main road the previous day…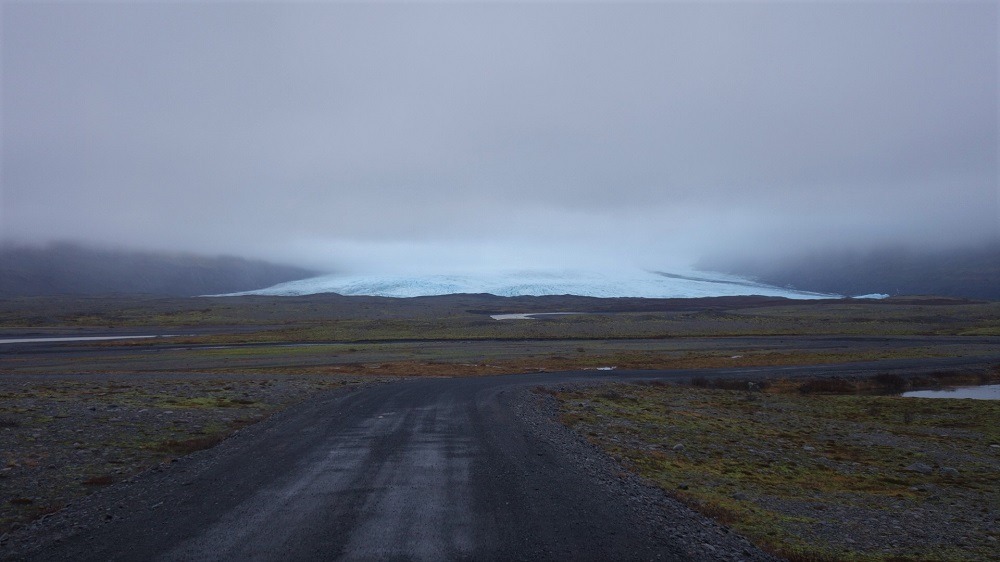 Vatnajokull National Park
You need specialized vehicles and guides to make your way onto Vatnajokull National Park, the largest glacier of Europe. Driving here is hard as the terrain is tricky and has various sinkholes… You need a special vehicle and a very experienced driver…
You get dropped off fairly near to one of the glaciers ice caves, where you receive special gear to walk over the glacier ice (behind your guide who checks the ice) and into the ice cave… A great experience, as the ice has a shiny blue glow…
As with most things in Iceland, the tour is quite pricy, especially given the tour duration is fairly short. Then again, the experience is still great and frankly, there is no other way to visit the glacier or ice cave… So go for it!
Drive back to Grindavik
As said, if you have more time you can continue your journey to even more remote parts of Iceland…. Instead, we chose to drive back, passing by all the key sites of last day… This means you can still choose to stop here (again) – Perhaps in case of clearer weather or to split your activities over the days).
Not yet discussed earlier, what makes Iceland so 'different' from other places in the world is that it has no (or hardly any) trees… this makes the volcanic moss-covered landscape almost moon-like… The few that you see are planted to mitigate soil erosion…
As a destination to sleep, we choose a Bed & Breakfast in the small town of Grindavik. The fishing town has no sites. But staying here had its benefits…
You take another section along the south coast through reykjanesfólkvangur national park.
Grindavik is very close to the Blue Lagoon, which we would visit the next day before flying out of Iceland… Meaning we would be one of the first to enter upon opening…
We hoped to see the northern lights again at night… Unfortunately, we had no luck as it was cloudy again…
Day 5 – Blue Lagoon
One of the most famous sights and activities in Iceland is bathing in the Blue Lagoon hot spring… The magical steaming hot milky turquoise water, lined by volcanic black rocks and the cold air in your face make this spa facility a must-visit when in Iceland…
Top Tip: As mentioned, come early to beat the day-trip crowds… It will be quite busy year-round. Also, given it is quite close to the airport and this is something you could do during a short multi-hour stopover…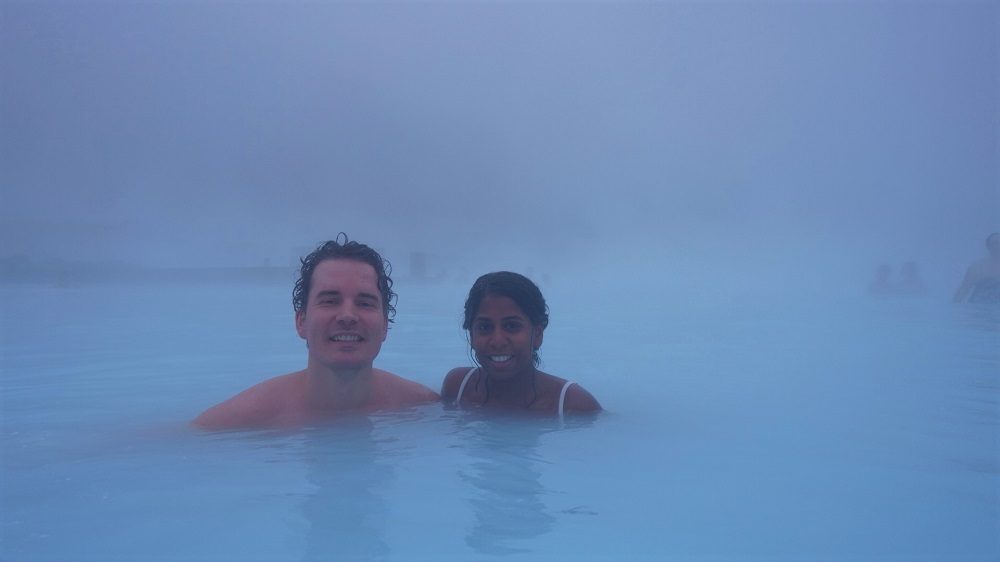 After a relaxing visit to the Blue Lagoon, we packed our swimming gear in plastic (facility can accommodate you, or bring yourself) and we went to the airport to check-in to our flight to New York… Already looking back on a very magnificent first part of our trip!…
Top Tip: In case you arrive earlier on your first day, you can opt to go to Blue Lagoon first and fly out at the end of day 4… essentially making this a 4 x 24h itinerary – just mix and match to adjust to your flight times!…
Increase your chances of spotting the Northern light
As mentioned we tried and hoped to spot the northern light (Aurora Borealis) a few times, but unfortunately only had cloudy nights… There is a way to overcome this issue; get above the clouds…. Iceland does not have high mountains, but you can use your mode of transport: the aeroplane you travel with….
Top Tip: It was a bit of a longshot but I booked window seats back from New York (facing the North when flying to Iceland)… And it worked!… You do have to travel by night and you have to block as much light as you can from within the plane. If the conditions are right, you can see the Northern light… especially via your camera – which is more light-sensitive than your eyes!…
And those were my Ghost around the Globe travel tips for Iceland!… A wonderful place to visit and I have the feeling that after reading this post you 'upped' it on your travel wish list!… For good reasons!… Iceland is truly a magical destination!…
All crazy about similar stunning nature? Do check out my experience in Lapland!… or New Zealand!…