Tips to best plan your Plitvice Croatia visit
Reading time: min | Published on:
Road tripping through literally all Balkan countries, we made our way to Dubrovnik in Croatia, and after some island fun on Hvar, some city tripping in Split we now arrived at the gates of Plitvice National Park!… A true beauty as you will see below!… In this post I will share some easy tips on how to best plan your visit, which will significantly improve your experience!… Enjoy!…
Where is Plitvice Lakes National Park?
The Plitvice Lakes or Plitvicka Jezera are located inland, between Split and Zagreb, Croatia's capital. Located in the mountains of Croatia, temperatures are (much) lower here than around the coast. So dress prepared!… 
As said, Plitvice is more inland, it is similar (but much larger) to Krka National Park. This makes Plitvice too far for many (cruise) tourists to reach. Most of them would go to Krka (which explains the excessive entry ticket prices). Hence, we decided to skip (smaller) Krka and focus solely on the much larger Plitvice!… I suggest you do the same!…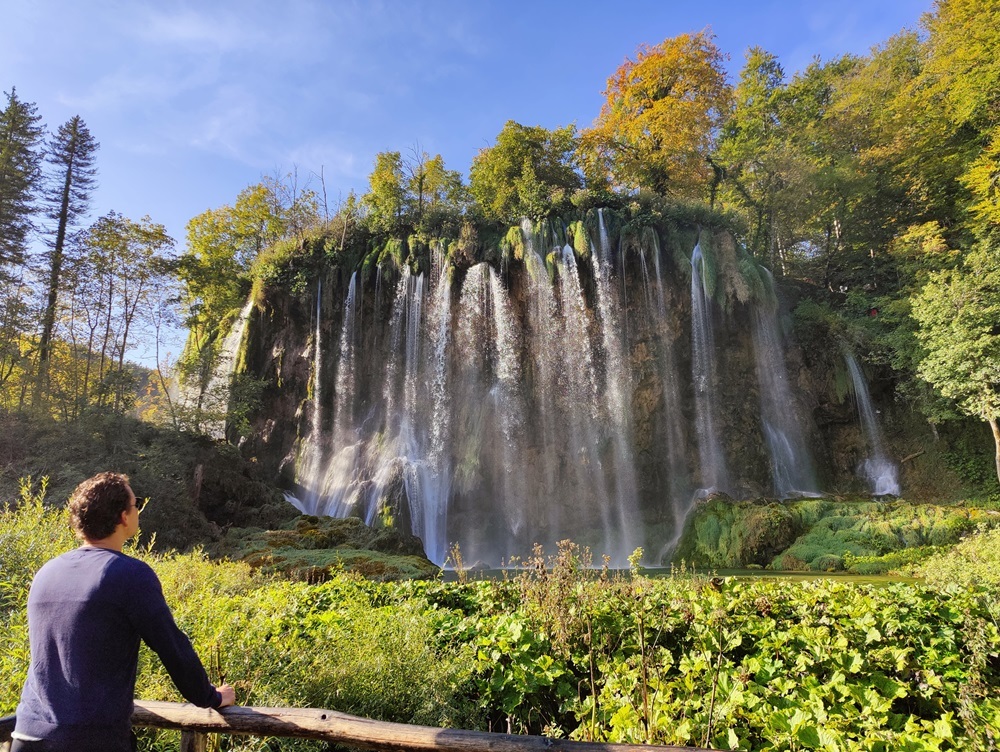 Another more off-the-beaten path option to (also) check out (smaller) Una National Park across the border in Bosnia. With entry tickets much lower priced this could be a nice add-on to your Plitvice explorations. However, meaning yet another multi-hour detour on top of the Plitvice waterfall overload we decided to leave this for another time. 
How to get to Plitvice Lakes National Park?
As is clear by now, via all our Balkan road trip posts, we are driving ourselves, which is also the best way to get to Plitvice. There are public transportation options (or tour group options) but these are not even remotely as convenient as driving yourself. 
At first sight Plitvice seems a bit confusing, as there are various parking areas and park gates from where to start your tour. However, after diligent research and experience I recommend to park (and start your tour) from Parking/Gate 1! Parking is paid (a bit sad, as it this is on top of your high (peak season) ticket prices), but is by far most convenient.
Top Tip: When traveling by car, park at Parking 1 (see your GPS). This way you start from the 'best' entry gate and starting point for your trail, as I explain in more detail below!…
When to best visit Plitvice Lakes National Park? 
Despite being more inland, Plitvice still attracts many tourists! For good reasons, as it is stunning, but to enjoy Plitvice's tranquility and beauty best, you should try to have limited people surrounding you… Here is how to do it!
Visit Plitvice early in the morning! 
Try to already stay close to the park entrance the night before your visit! There are many accommodations in the surrounding villages. This way you can wake up early and be at the gates around opening times! 
Top Tip: Especially during peak season, buy your ticket online, this saves stress and delays at the gate (as there are limited people allowed to enter per time slot). 
Visit Plitvice Outside of the Season
We visited Plitvice in early October, this way you avoid the huge summer crowds (and very limited children). Also, by chance, we were lucky as the trees start to change colors during this time, making Plitvice National Park even more spectacular… especially on a bright sunny day!… 
Top Tip: And our luck did not stop there, as we visited during the yearly plitvice promotion week (likely every first week of October), where entrance tickets are reduced to only 10 Euro per adult! This is mainly to attract the local / Croatian visitors after the summer season, but also is the price for foreign visitors!
To give you an idea of what to expect crowd-wise: we arrived 1 hour after opening time during a weekday in the shoulder season and only had a few other visitors surrounding us… (During peak season go earlier, just in case!)
Which walking route to take in Plitvice Lakes National Park?  
As mentioned, start your tour at Gate 1! There are other gates, but they have one significant downside: you walk most of your hike 'against the flow of water'! This way you have to keep turning backwards to awe at Plitvice's beautiful waterfalls. It is much nicer (trust me I have experienced this later in Slovenia) to walk towards the water flow! 
Another key benefit to start from Gate 1 is the first thing you experience is the amazing viewpoint over the lakes and the large waterfalls!.. A great start to your hike!
From Gate 1 there are various trails to follow which are indicated by sign boards that you cannot miss. Unless extremely pushed for time, always go for Trail C. This way you also make use of the boat and the scenic train (both included in your entry fee already). In addition, you walk along the less crowded and very scenic Upper Lakes, leaving the (always more busy) Lower Lakes behind before the large crowds arrive.
According to signboards this route takes around 4-5 hours… However, partially lucky with boat & train departure times, we did the entire loop in 3.5 hours (including many picnics and photo stops). 
Top Tip: Start your walking tour at Gate 1 and pick route C! This the best walking direction facing the water flow and away from the growing crowds, along all key highlights & experiences of the Plitvice Lakes National Park!
Absorb Plitvice's beautiful nature as much as you can!
Make sure to enjoy Plitvice's beautiful nature as much as you can! As you can tell by the photos Plitvice has a myriad of spectacular lakes and waterfalls! I really like how the boardwalks are set up, you are literally walking over and through the ultra-clear lakes and on top of waterfalls! 
Slightly sidestepping… In my view the 'luxury' of being an experienced traveler is to sometimes also skip 'less spectacular' sights. Reasons could be too large crowds, queues or excessive overpricing…
Well, Plitvice certainly helps you do this in the 'waterfall category' on your future travels… After visiting Plitvice or other spectacular waterfalls, like Iguazu in Brazil, you should think twice about paying or visiting any other 'random' waterfall… High chances they are not worth too much effort or money… 
Conclusion: How to best visit Plitvice Lakes National Park?
So in conclusion: Visit Plitvice off-season (if possible), always try to visit early from Gate 1 and take route C! There is not much more to it!… 
Well, with these easy tips you are sure to beat the crowds! Trust me it gets busy, especially after 11 am, also off-season! Luckily by this time you could already be already on your way out (depending on how fast you walk)… 
To give an idea: When we arrived back around noon, I liked to take some additional photos of the waterfalls & surroundings from Gate 1 viewing deck. However, it was jam packed and had to push myself through (tour group) crowds. At that time the walking pace on the boardwalks turned super slow, with lots of photo posing crowds. Everything that was a tranquil experience just a few hours before, had now turned into one large annoying experience. We decided we had plenty of photos and quickly moved to our car… So be wise and choose an early rise! 
Further reading on Croatia and the Balkans
Do also read other Croatian Ghost around the Globe adventures:
Combining Croatia with other Balkan countries? Find some travel inspiration and extensive tips & tricks below: