Magnificent Macedonia road trip – local insider tips!
Reading time: min | Published on:
Breezing through the Balkans, it is time to explore magnificent Macedonia! Let's explore this beautiful country full of rich history, stunning nature and amazing food!… To make it even better I will share insider tips and tricks from our Macedonian friend!…
We arrived in Macedonia from Bulgaria. As said before, we were yet again amazed by the great (highway) road conditions in this part of Europe! (Learn from this Belgium!). Our first stop was the capital Skopje. From Skopje we made a trip to Kosovo (to avoid any 'border dispute' issues with Serbia later in our trip). 
In Skopje we met very coincidentally with our good friend Dali and Boyana from Dubai. Boyana is Macedonian and was touring Dali around… They took us for an amazing dinner and she gave us various great tips to make our (and now your) Macedonian travels even better!… So let's start touring around Macedonia!… 
Is it Macedonia or North Macedonia?
As with most Balkan posts, let's start with a short logistical note: When the country declared independence from Yugoslavia in 1991 it was called the Republic of Macedonia. However, Greece disputed this name, as they also have a territory (and related heritage) that is called Macedonia. In 2019 the dispute was resolved by Macedonia changing its name to Republic of North Macedonia. However, most people still keep using the (shorter version) Macedonia when talking about the country, as will I in this post.
What to do in Skopje, Macedonia?
Compared to other (capital) cities in Europe, the ones in the Balkan are not the prettiest. Skopje is no exception. To put it mildly, city-planning wise there is definitely room for improvement! Do not get me wrong, unlike Pristina there are definitely some nice (historic) sights to explore, which I will share below. Unfortunately, it is often hard to take a nice photo (see below), as there are so many deteriorated or down-right ugly buildings scattered across the city center. Therefore, I suggest to not spend too long in Skopje (or most Balkan cities), rather explore the smaller towns and nature… 
The key sights of Skopje, Macedonia
We stayed 2 nights in Skopje, but mostly due to work, admin and laundry (thanks Toneli Laundry!). We picked the Marriott directly in the city center. A great location and nice staff, and I received one of the most unique welcome gifts!
However, as said, Skopje is quite easily explored in a full day. Just add the below sights in your GPS and you are good to go!… Unless you plan to use Skopje as a base and explore surroundings, 1 night could be sufficient.
Macedonia Square 
Difficult to miss with the Macedonia square with the giant statue in the middle. Ideal to start your tour from here.
Mother Theresa Memorial house 
I have visited the grave of Mother Theresa in Calcutta years ago, and now found myself in her birthplace. Half Macedonian half Indian Mother Theresa is remembered in Skopje by this monument and small museum.
Triumph Arch of Skopje 
As seen already above, it is difficult to get a nice photo from the actually impressive Triumph Arch of Skopje. Also have a look at the various (socialist looking) statues in the park next to it.
Archaeological Museum & Museum of the Macedonian Struggle
When you cross the river from the Macedonia Square, via the beautiful Stone bridge you find various impressive buildings. The largest on the right is the Archeological Museum and on the left you find the Museum of the Macedonian Struggle. 
Skopje Fortress
The Skopje Fortress is not well-maintained. Apart from nice views over (not the prettiest) city of Skopje you could skip this. 
Skopje Bazaar
Rather spend a bit more time in the Skopje Bazaar. A lively neighborhood with many eateries and small shops… You also find some historic Macedonian highlights here like the Mustufa Pasa Mosque and the Kursumli An. 
Top Tip: Most shops close at sunset, so best to visit late in the afternoon and after shopping witness the Macedonian crowds come to life after dark roaming the streets and terraces.
Try Macedonian Food & Wine!
Obviously we had the best guide we could wish for! The nicest Macedonian dishes were ordered for us and we enjoyed the traditional Macedonian live band playing! Looking back at a great night.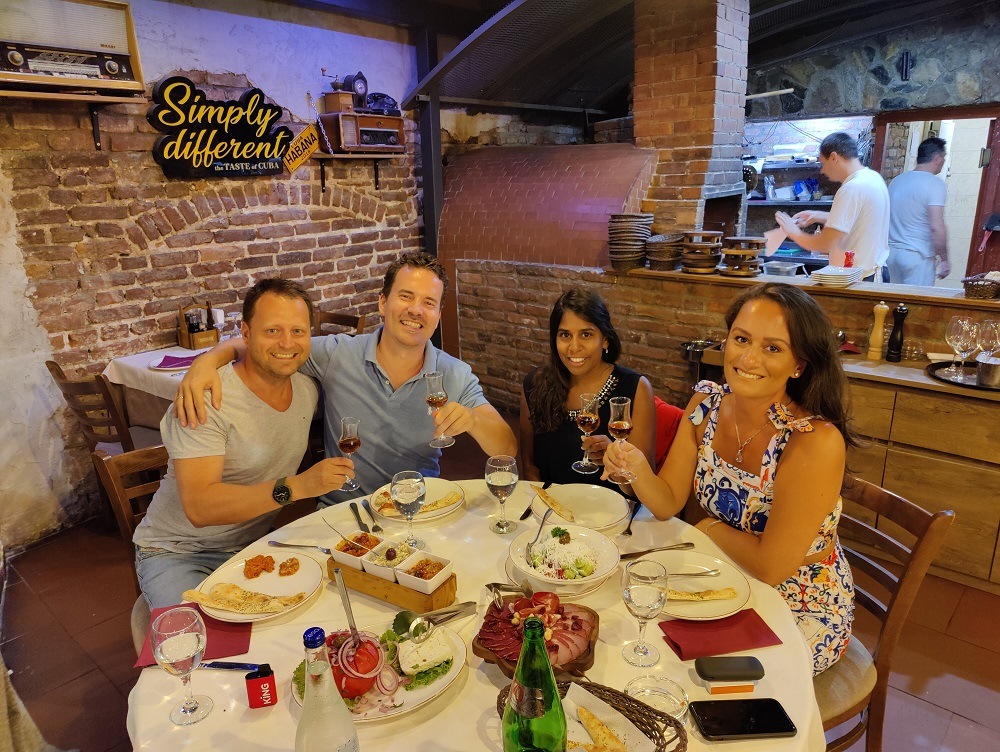 The restaurant we visited was Skopski Merak There are various places like this in Skopje (especially in this neighborhood) and in wider Macedonia! Make sure to spend your Macedonian nights like this! Some things to try in Macedonia: Raki as aperitif (brown colored one is the best), Shopska Salad, Macedonian Burger (pleskavica) with cheese, stuffed tomato and of course wash it all down with Macedonian wines!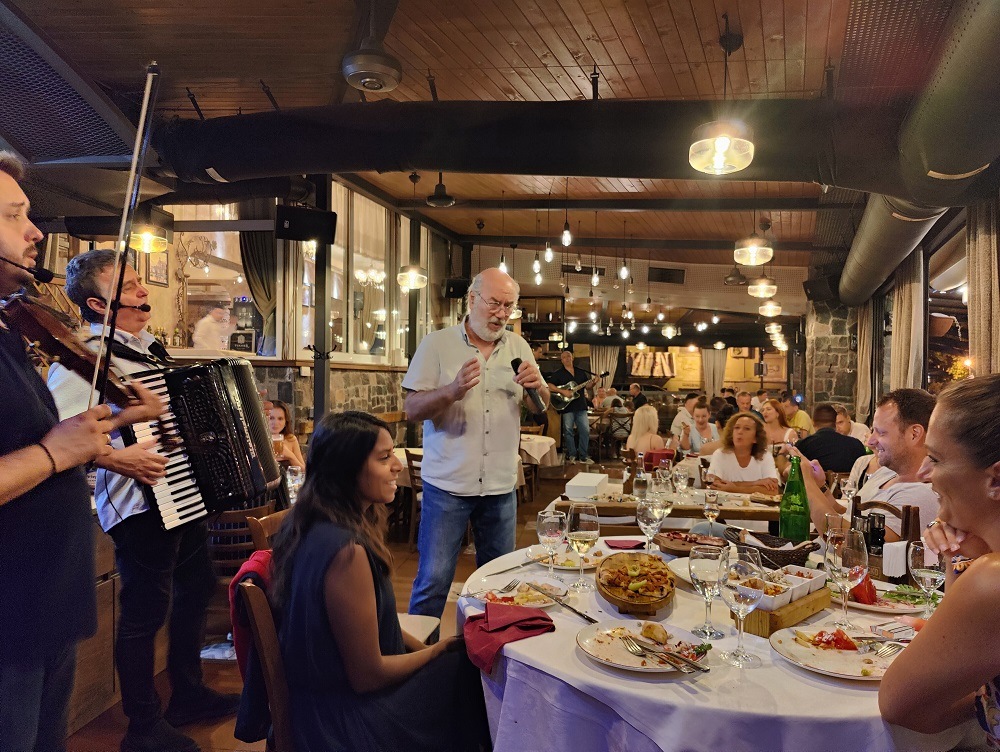 Skopje, Macedonia: the city of statues
One thing I noticed about Skopje is the enormous quantity of statues throughout the city. Everywhere you go you see huge statues, on the squares, in the parks, in front of buildings, on buildings… Skopje truly seems to be the city of statues!… The photo below was taken after a few hours of Marriott happy hour, which apparently brings up the stereotypical tourist in this traveler! (Also… found the statue of the man with the world's first selfie-stick, LOL).
Explore Matka Canyon
Just 15 minutes drive from Skopje you find one Macedonian's natural highlights; Matka Canyon. You can easily get here by taxi, or just park your car as close as you can to the 'action'. 
Top Tip: We parked at the larger car park, but you can actually drive much further, all the way up to the start of the walking trail. (Although more convenient, the latter parking option can get more busy and harder to turn later in the day).
What to do at Matka Canyon, Macedonia?
Matka Canyon is famous for its boat rides, which I suggest you do as well! You can take a 30 minute tour or a 60 minute tour (with the difference that you walk in a nice (but not overly impressive) cave. We planned to go for the 30 minutes tour originally, but had to wait 20 minutes, so we opted for the 60 minutes tour anyway.  
Another way to explore the canyon is to walk the hiking trail, you will have more or less the same view as from the boat. Although at some point the hiking trail seems to end it runs quite long into the canyon. Or if you are more active you can also rent a kayak instead of a tour boat.
Our experience with Matka Canyon Restaurant
Matka Canyon also has a Hotel & Restaurant. Originally we liked to stay in the hotel, but in the end were happy we did not. We read mainly good reviews, but the quality of our lunch, service of the staff, prices for food and setting in are below standard and expectations.
Do not get me wrong this is all despite the wonderful location! However, the flowered fences of the terrace are so high that you actually do not have a very good view over the canyon lake… Just a combination of missed opportunities, that can be easily improved (still a nice stop for a drink though).
Visit Stobi Ancient Macedonian City
Driving onwards to the South you will find Stobi, an ancient Macedonian Archeological site. As is the case with many sites this old in Europe, most of the structures are not standing anymore, making it hard to imagine the original city. However, the amphitheater is still standing and what makes Stobi worth a visit are the beautifully preserved (and partially restored) mosaic floors!… 
Top Tip: If traveling only in Macedonia, a (brief) visit to Stobi is a nice addition. However if you come from Greece, with its many (more) impressive historical sites, you could choose to skip Stobi.

Wine tasting at Macedonian Vineyards
As most of you will know, next to traveling, drinking wine is also a major hobby of ours!… Therefore, we liked to try some Macedonian wines at their source. Compared to other countries it is a bit harder to find decent information about vineyards and wine tastings in Macedonia. However, what is clear is that Stobi is the region where most Macedonian wines come from! 
Directly next to Stobi, at the same highway exit we found Lazar wines. A small vineyard where we had a nice lunch and (self-arranged) wine tasting!… There also other wineries to check out in this region; Popova Kula, Stobi Wines and (a very large one) Tikves vineyard. 
Staying the night in Bitola, Macedonia
We tried to book our night's stay at a Macedonian vineyard last minute, which unfortunately proved to be be impossible (during the weekend). Therefore we drove a bit further onwards, we stayed the night in Bitola.
Top Tip: Try to book early (or avoid weekends) and to stay on one of the Macedonian vineyards!
Bitola is a nice smaller Macedonian town, mostly famous for its 'vibrant' nightlife. Don't think crazy bars, but more the entire town, young and old, making their way to the main street for drinks and socializing!… Making it an ideal stop to stay to enjoy the late afternoon and evening surrounded by lively locals, and travel onwards the next morning.
What to see in Bitola, Macedonia?
As said, the main thing is to mingle with and watch the locals while enjoying a nice dinner or coffee at one of the crowded terraces on Bitola's main street!… Apart from this there are a few Mosques to check out and its 'famous' clock tower. 
In addition, you may also want to check out the ruins of ancient city Hereclae Lyncestis. We skipped the latter but did check out the fun Bitola Bazar! Great to get a nice Borek for breakfast and venture through the narrow shopping streets. 
Explore Ohrid, the key highlight of Macedonia!
A must-visit destination in Macedonia is historic Ohrid and its beautiful surrounding nature! Try to stay close to or in Ohrid Old town. From here wander the narrow picture perfect streets and the great vistas over lake Ohrid (one of the oldest lakes in the world). 
What to see in Ohrid Old Town?
Make your way to the various churches, like St. Sophia, Holy Mary, St. Clement & Panteleimon. Of course this Macedonian old town would not be complete without an Ancient Theatre and a Fortress.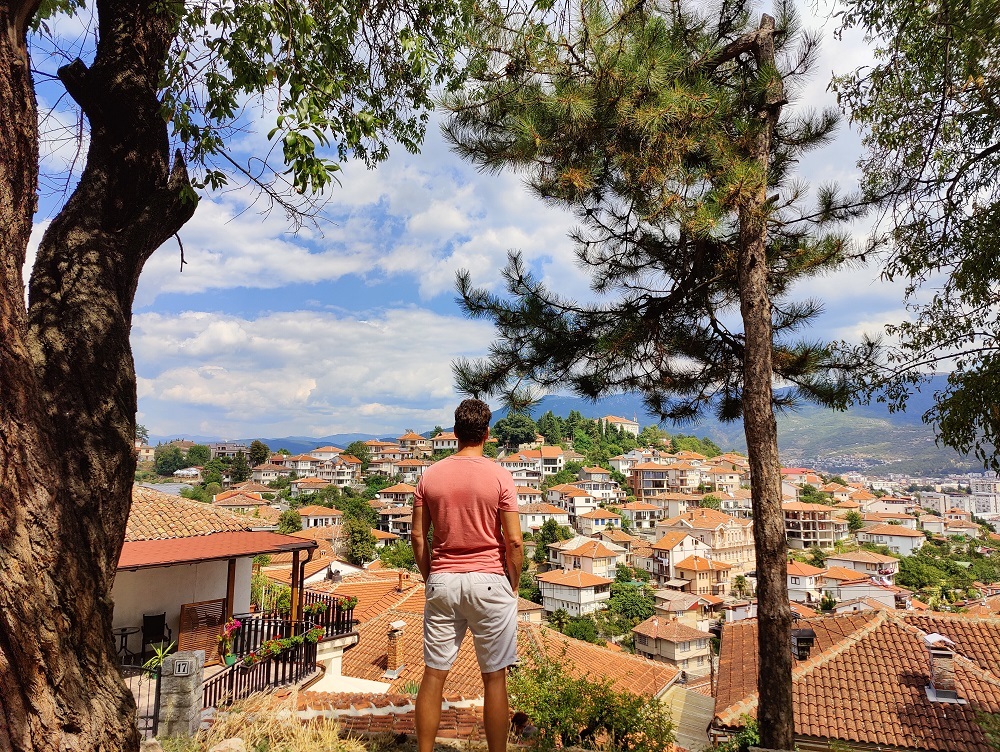 Top Tip: A must visit in Ohrid is the beautifully situated Church of Saint John the theologan. Have lunch at one of the nice terraces on Kaneo beach! (Of which the basic, family-run, Fisherman's House offers the best views of both the lake and the church). From here make your way back to town via the Ohrid Board Walk.
What surprised us everywhere around Lake Ohrid, were the very basic plastic sunbeds. They did not look too comfortable, especially not for a full day of sunbathing. I guess everything beats the pebble beaches? Or perhaps we are just a bit too pampered over the years in Dubai? 
Bay of Bones, Ohrid Lake
From Ohrid Old Town it is a short drive (or boat ride) to Bay of Bones on Ohrid Lake. This is an archaeological site of prehistoric pile-dwelling, nowadays 'only' a Museum. Having visited various (inhabited) pile-dwellings over the world (e.g. in Myanmar or Vietnam), we did not visit the inside. I believe the outside is the nicest part of your visit (from the parking lot and pathway).
Go Paragliding over Ohrid Lake & Galicica Mountain
How better than awe at the beauty of Ohrid Lake than by Paragliding of the Galicica mountain range!? That is why we booked an amazing paraglide tandem flight via Paragliding Ohrid. Check their website for prices and flight options. Also, you can book their tours at their stands in the Ohrid's harbour (next to the boat tour stands)!
Top Tip: Paragliding is great fun to try at least once in your life!… Price-wise and definitely view-wise Ohrid seems a perfect destination to jump of a mountain!.. Paragliding is very similar to (the second half) of skydiving.
Make a serene beach pit stop at Trpejca!
The tour operators can arrange pick ups, but as we drove ourselves we met our paragliding team in the small town of Trpejca. To be sure we were on time we had a coffee at the very serene beach here. Even if you are not planning a paraglide adventure, it is definitely worth a stop. Another way to get here is via a boat ride from Ohrid Old Town.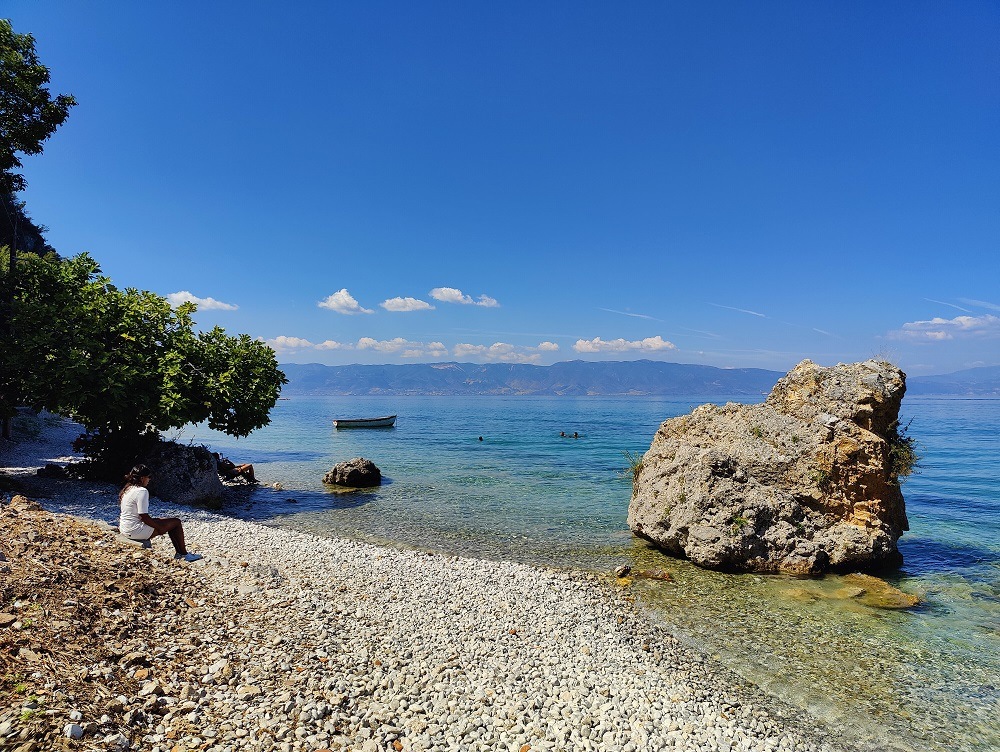 Stay at the Sveti Naum Monastery!
It keeps raining Macedonian highlights in the Ohrid region! After our fun Paragliding adventure it was a short drive to Sveti Naum monastery. We arrived on a Sunday afternoon att this 'Monastery-meets-Beach' destination. During the day large crowds arrive via boat trips, cars and tour buses to enjoy the beach, visit the monastery and explore the black drim springs (a small river that fills Lake Ohrid).
Luckily we booked our stay inside the Monastary, meaning no paid parking, but drive all the way through the bustling crowds, to the hotel inside the monastery. Another major plus point is that by staying in Sveti Naum, you beat the crowds, who all disappear at the end of the afternoon and only arrive mid-morning the next day. Definitely recommend to stay in this unique location!…
Top Tip: Stay in the Sveti Naum Monastery Hotel! A great way to beat the crowds and enjoy the beautiful Sveti Naum Monastery, Ohrid Lake and Black Drim surroundings!…  
Top Tip: When traveling in Macedonia keep an eye out for the 'hummingbird'-like hawk-moth. At first glance this large insect looks a lot like a colibri (we googled to make sure it wasn't)! It mainly feasts on the pink flowers you see all across Macedonia! First spotted in Skopje now again spotted again at the Black Drim Springs. 
Cross to Albania or complete the loop back to Skopje
Ohrid meant a great ending to this Macedonian Ghost around the Globe adventure, as from here we crossed the border to Albania! 
However, we got some additional tips from Boyana, our Madedonian insider, that could be great to include if you plan to make your way back to Skopje. In that case check out the regions around Galichnik and Mavrovo, which are especially great for outdoor activities like quad riding, horse riding! Unfortunately, for us these were too far off-route for us… However it never hurts to leave something to explore a next time! 
Interested in other Ghost around the Globe stories? Read all about other great destinations in the Balkans and Eastern Europe!