What to do in Czechia outside Prague?
Reading time: min | Published on:
Our first stop on this Eastern Europe road trip is Czech Republic! The famous highlight of Czechia is its capital Prague. However, in this post we will explore the rest of this great Central European country! From beautiful castles & churches, to nature, to an amazing beer & spa culture, Czech Republic has it all!…
Czechia is only a 7 hour drive (much shorter than expected) from The Netherlands. Here we bought a car and drove straight through Germany (where we plan to stop at some highlights later on this trip) to our first stop; the small spa town of Franzensbad! Let's dive into the key highlights the Czechia has to offer!..
Try a Beer Spa: combine 2 of Czechia's highlights!
We started in Franzensbad, a quaint little Czech Spa village where you find multiple traditional Spa Hotels. However, we went for another (slightly touristy) Spa experience; The Beer Spa!… There are multiple organizations that operate throughout Czechia, of which Beerland Spa seems the largest. Although, being slightly higher priced, the convenience of booking a slot online (from the Netherlands) helped! 
The Czechia Beer Spa concept
The concept of a Beer Spa is simple: Sit in a hot tub filled with water and beer extracts, while enjoying free flow of beers! It likely does not rank very high on the 'healthiness scale' as far as spas go, but it is definitely a fun experience!
After the hot tub, you can relax on the bed of hay, which we have seen earlier on our journey through Russia. 
Key highlights of Franzensbad
Small Franzensbad (Františkovy Lázně) makes for a great first stop in Czech Republic! Enjoy the architecture and get a first taste of the Czech cuisine on a short stroll through the quaint city center!…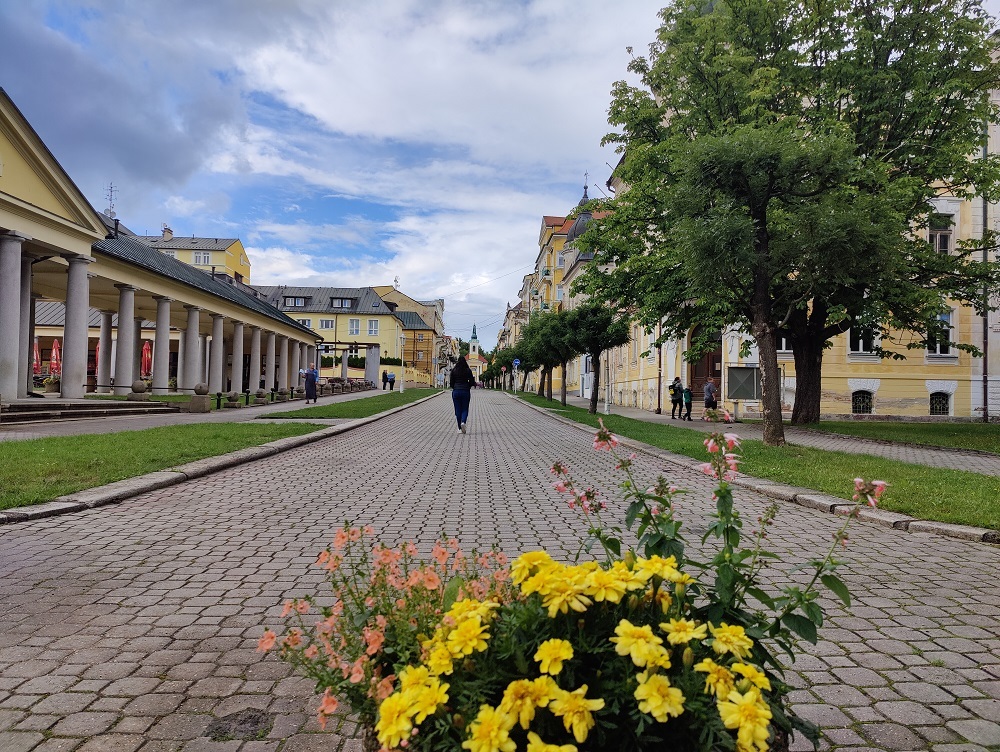 Top Tip: Every Sunday afternoon during summer, a classical music group offers a free performance in the park next to the church and the fountain. 
Should you skip Karlovy Vary, Czechia?
Originally we planned the larger spa town of Karlovy Vary (Karlsbad) as our first stop. However due to some browsing around for Beer Spa timings, we changed to much smaller Franzensbad. We made a very brief tour through (rainy) Karlovy Vary and stopped briefly for 3 key highlights.
Try the

Spa Wafers

(Which taste like wafers in Netherlands)

Have a look at the

Imperial Hotel

(a large spa hotel)

Taste the locally produced alcoholic drink

Becherovka

(formerly Karlsbader Becherbitter)
Top Tip: If traveling around Czechia like us, check the various available time slots at various towns. The concept is identical everywhere, so browse around for the best timing (and/or price). This is how we eventually ended up in quaint Franzensbad, as opposed to larger and less 'romantic' Karlovy Vary.
There are a few other highlights and Spas to check out in Karlovy Vary, but judging from our research they all do not seem close to spas in other Spa Towns, like Budapest. Therefore, with our Beer Spa experience already in our pocket, we decided to drive on to our next stop! 
Enjoy the Pilsner heritage in Pilsen!
Leaving the Czech Spa cities behind us, let's explore the other main Czech attraction: Beer! Pilsner beer to be precise, which got the name from the town of Pilsen (Plzeň). There are various ways to explore the rich Czech beer heritage in this town…
Join an underground tour through Pilsen's historic cellars
A unique way to explore Czechia's beer heritage is to join a tour through Pilsen's historic beer storage cellars! A 13+ kilometers labyrinth of tunnels connects under Pilsen's streets. During the tour the history of both Pilsner beer and the city are explained. 
The tour starts from the Brewery Museum and includes a Pilsner Urquell voucher that can be used in 4 different bars (more tips on that later).
Should you visit Brewery Museum Pilsen, Czechia?
The Brewery Museum is where the underground tour starts. The museum itself is nice, but not a must-see. A nice aspect is that you get an additional Beer Voucher (so 2 per person) with a discounted combination ticket. That said, the Brewery Museum is a nice way to approximately 30 minutes of waiting time before your tour. 
Pilsner Urquell Brewery Tour
Having done many brewery tours in various parts of the world, we did take a Pilsner Urquell Brewery tour. I believe these types of experiences are a bit overrated. 
Top Tip: In case you bought a (museum + underground) combination ticket, just walk the Pilsner Urquell grounds yourself. Visit the visitor center and go to the Na Spice 'beer hall' where you can use one of your free beer vouchers. 
Top Tip: In case you did NOT buy a combination ticket, just walk the Pilsner Urquell Brewery grounds. Afterwards, make your way back to the city (via the Stadium and Park) and have your free beer directly next to the museum in the Senk Na Parkanu restaurant. This is where we used our 2nd voucher after our underground tour. 
Senk Na Parkanu
Senk Na Parkanu is one of Pilsen's most historic restaurants (conveniently opposite our Marriott Hotel) and directly next to the Brewery Museum. As one of the few places worldwide, they serve the unfiltered Pilsner Urquell, making Na Parkanu extra special. (You will get one of these beers for free with your tour voucher). The restaurant also serves great traditional Czech food!
Top Tip: Keep an eye out for the different ways of serving beers 'foam-wise'! As far as I know, this only happens in Czech where, next to the beer type, you can also order your foam preference. Still seems strange to me, as why would you order large parts of foam (for the same price). The reason seems that the more foam is added the sweeter the beer tastes! The 4 ways of serving Czech beers are as follows:
"Čochtan"

(Neat, or British style, with no foam) – You do not see it often as it is found too bitter

"Hladinka"

(Level, with a creamy big head; 20-25% foam) – Most typical and usually served this way

"Šnyt"

(Split, half foam/half beer) – Sweeter, seen a few of these pass by in bars throughout Czechia

"Mlíko"

(Milk, wet, almost entirely foam) – Not seen, unsure why anyone would order this, but apparently mainly ordered as 'type of desert'
Other Pilsen highlights
Of course there is more to see in Pilsen than only beer-related highlights: Here are some other things to enjoy when exploring the city and dots to connect your walking tour:
Great Synagogue 
The various city parks (E.g. Mestsky Park)
Cathedral of St. Bartholomey & Pilsen's main square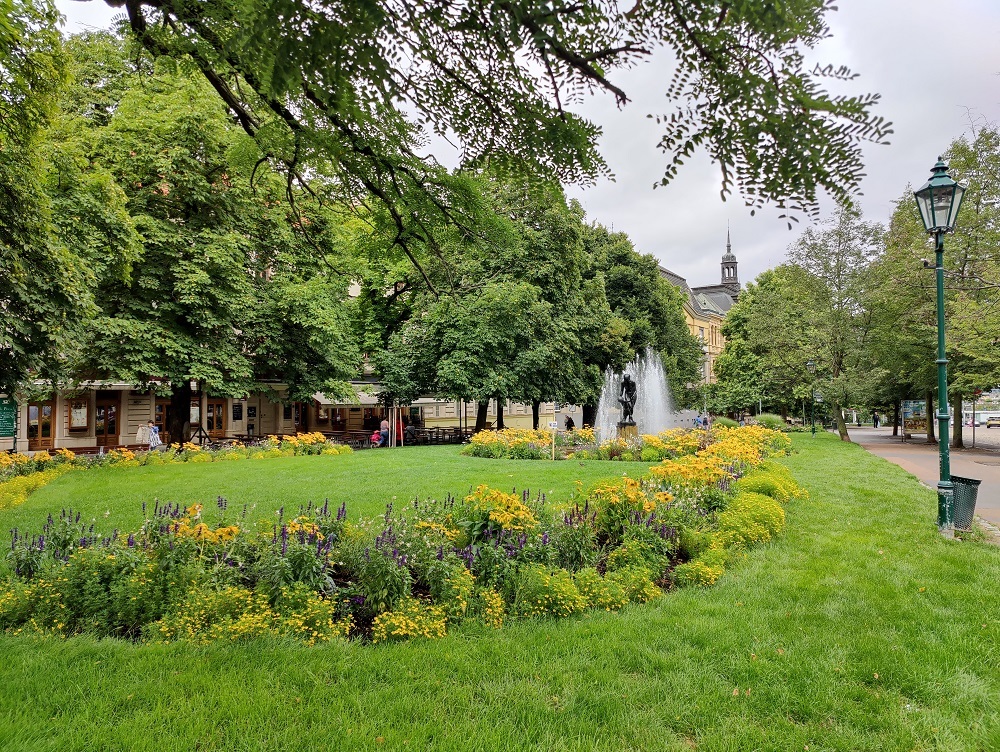 Hluboka Castle
If you can only visit on castle in Czech then pick picture perfect Hluboka Castle! Roaming the gardens and the inner squares is free and already very impressive!… However, to visiting the rooms is only possible via an 1-hour tour. They have limited English speaking slots (but do provide booklets if joining a Czech tour). We were lucky and could directly join an English speaking starting tour. (Unsure if you can book tickets online, but I would advise to do if possible, as I found the queue quite long).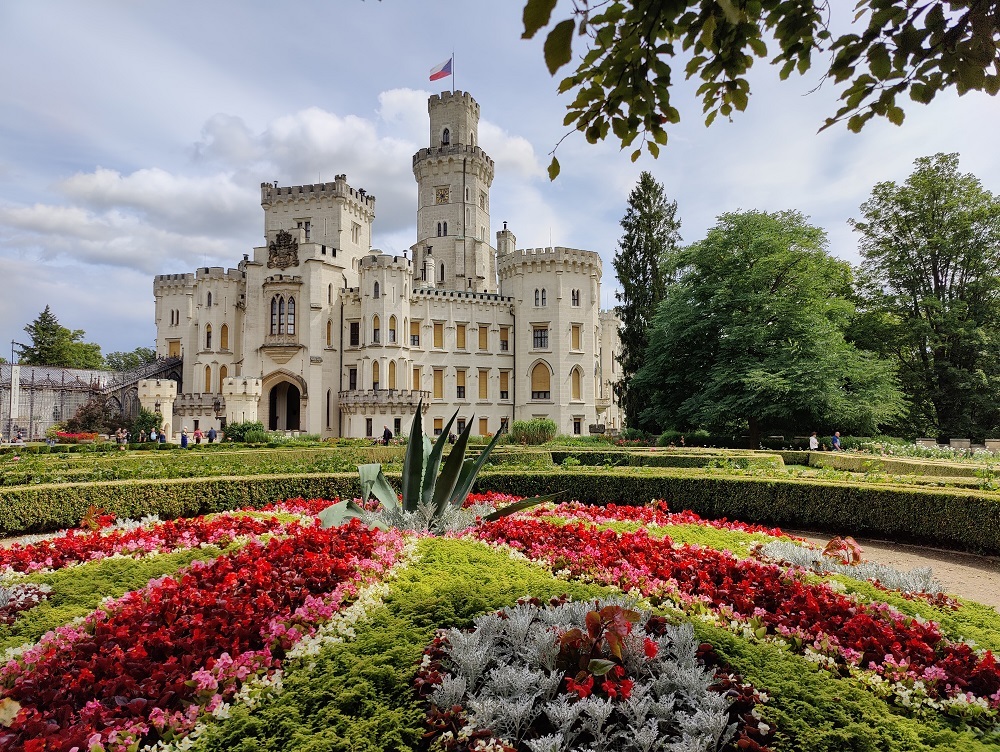 Cesky Krumlov
Whatever you do, if you plan to venture out of Prague, do ensure to include a visit to Cesky Krumlov. This spectacular medieval town seems to be taken straight out of a fairytale! A small village with quaint little houses, a meandering river and complete with a castle overlooking it all… To top it off the castle even has a few bears 'guarding' the grounds!… 
Cesky Krumlov is easily visited on a day trip! However, when staying the night you have the city to yourself in early mornings and late evenings!… Cesky Krumlov is a bit more expensive than the rest of Czechia, due to its touristy appeal! 
Top Tip: Enjoy Cesky Krumlov with a Trdelník. Originally from Hungary, trdelníks are popular all over Czechia and Eastern Europe. A trdelník is a kind of spit cake. It is made from dough that is wrapped around a stick, then baked and topped with sugar and walnut mix. 
Explore the Castles and Churches of Brno
Brno is the 2nd largest city of Czech Republic and has a lively student-city vibe! Brno used to be the capital of Moravia, which you can clearly see at the richness in architecture and parks. The city center is easy to navigate and therefore easy to explore on a day visit. However, when staying the night you make the most of the lively nightlife on and around the various squares!… 
Top Tip: Parking in Brno (and Czechia in general) is expensive, and many charge by the hour (e.g. not a reduced daily rate). However, after some checking around, we believe the best option is JD Parking Brno. Here they DO provide you with a 24 hour (or longer) reduced daily rate!… 
The most beautiful churches of Brno
What makes Brno worthwhile are the many beautifully decorated churches, complete with marvelous ceiling paintings which rival famous Italian and other European churches. Only difference, no crowds here!… Check out the following churches and cathedrals when in Brno:
Loretanska Chapel

– Beautiful ceiling paintings

Kostel Svatych Janu

– Great design (next door of Lortanska)

Cathedral of St. Peter and Paul

– Largest church, cannot miss this!

Kostel sv. Jakuba

(temporarily closed for renovation during our visit) 

Church of Assumption of Virgin Mary

There are various more, just pop in and out during your city stroll!… 
Visit Spilberk Castle in Brno
One highlight you should not miss on your Brno visit is the impressive Spilberk Castle. The Castle now serves as a museum and nice views over the surrounding Brno Valley. Definitely worth taking the stroll uphill through the park!… 
Entry to the castle grounds and main squares is free, we did not take any additional tour. (To avoid 'castle-fatigue' you may want to opt for a tour through the earlier mentioned castles instead – most signage here is all in Czech 'only').
Top Tip: Most cities, e.g. Brno and Olomouc, have put (beach) chairs and benches throughout their city centers. You could easily bring your own picnic (or drinks) for your people-watch endeavors on the various squares.  
Can't get enough of Castles? Check out the small (and less impressive) Viveri Castle, outside the city, close to the Brno Reservoir on your way from or to the West. (You can only pay cash in Koruna).
Should you visit Olomouc, Czechia?
The short answer, yes! Olomouc is yet another great historic Czech city. The city is much smaller and quieter than Brno and easy to navigate. Additional bonus: free parking! (Just outside the city center – check the signs where paid parking starts).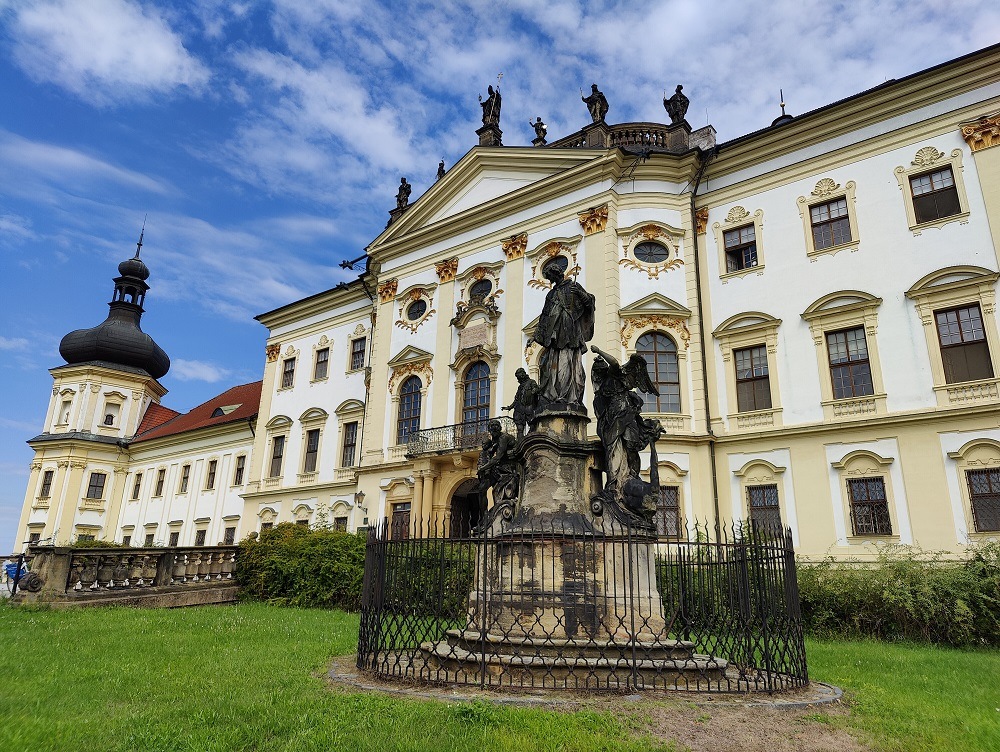 Olomouc is nice, but small. So a few hours in Olomouc are actually enough to explore the various squares, the astronomical clock at the town hall, the various churches and its green park area. Also, a bit out of the city center, make a photo stop at Hradisko Monastery (used as a military hospital).

Top Tip: We stayed in both Brno and Olomouc, but on our way to Poland from Cesky Krumlov we could have easily visited Brno (As a day trip), stayed in Olomouc and continued our journey the next day. We were not in a rush, but if traveling at high speed, you can save time with these 2 cities. 
Top Tip: Check out the very cheap lunch deals at Olomouc's restaurants! Olomouc is (far) cheaper than other Czech destinations, which are already not expensive compared to wider Europe. 
Czechia Logistics
A few things to ensure when you are traveling through Czech Republic:
Ensure you have an e-vignette, via

Edalnice 
Czechia loves to (over)charge for parking! S

o do some research on how to avoid unnecessary fees by parking slightly outside of city centers (or at hotels where parking is included)

A

warning triangle, safety vest and first aid kit

are mandatory in your car

Czech Republic uses

Czech Koruna

. However Euros are widely accepted (you will pay slightly more though)

Some shops and restaurants

do not accept card payments

. Therefore, ensure to have cash (either Euros or Korunas) with you at all times
Combine Czechia with other destinations!
Czech is very centrally located in Europe, making it an ideal country to include in your wider European Itinerary! Read below my other Ghost around the Globe adventures that make for an ideal combi road trip!: