10 Things to do in Krakow Poland
Reading time: min | Published on:
Krakow is a beautiful city in Southern Poland, near the Czech Republic (our previous destination on this Eastern European road trip). Let's explore its well-preserved medieval Old Town and Jewish quarter, as well as highlights just outside of Krakow! I suggest linking these top 10 Things to do in Krakow into your GPS, which will automatically also take you past many other of Krakow's beautiful highlights…
1. Do a Krakow Church 'marathon'
Out of every 10 buildings in Krakow's Old Town one appears to be a church. There are so many! We did most of our Krakow explorations on a Sunday. The good thing is that on Sundays all churches are having masses. This is not ideal if you want to inspect every piece of art in detail (you are not allowed to wander around much during mass). However, it is ideal to see the churches 'in action' and awe at their beauty from the entrance. Also, there are no entrance fees on Sundays (where some would usually charge). Yet another reason to check out the city's religious side is that Pope John Paul II used to be archbishop of Krakow. You will see his resemblance in art works and statues in many of Krakow's churches and religious buildings.
Top Tip: Visit as many churches as you can in Krakow they are all beautiful! Believe me this is a challenge! There are so many!… Added benefit on Sunday's; there are no entrance fees.
Some 'must-visit' Churches are listed below. Although, there will be many more on your path through Krakow, when you link this top 10 in your GPS:
St. Mary's Basilica

– the largest Church on the main square – keep an eye (and ear) out every hour when a

trumpeter plays a short call

to the city's four directions.

Church of St. Wojchiech

– The oldest church (dating already from before the square was built)

Church of St. Anne – A beautiful church next to the Maius University Museum 
Bazylika Franciskanow

– Another large impressive church

Katedra Wawelska

– The Cathedral in the Wawel Royal Castle. This was the only church we were not allowed to enter during mass as tourists. This while other (Polish) tourists were clearly doing the same and were allowed in, a bit sad.
2. Visit Rynek Glowny, Krawkow's Market Square
The large Rynek Glowny (Market Square) is one of the largest in Europe. When visiting Krakow you cannot miss this!… Here you find the Cloth Hall (a medieval trading outpost), the St. Mary's Basilica and the Town Hall Tower. The best way to enjoy the spectacle is over some nice Polish food and beer on one of its many terraces!… 
This is exactly what we did, as we met here with my cousin Robert who lives in Poland with his family. Although he lives nearby Gdansk (in the North) he was coincidentally on holiday in the South!… We hope to meet him again on a next exploration when combining North Poland with Scandinavia and the Baltics!
3. Check out Little Market Square
Behind St. Mary's Cathedral you find quaint Little Market square. We were lucky, as due to the public holiday celebrations there a Pierogi (Polish dumplings) festival took place. Many stands contest for the 'best Pierogi' award. The festival was made complete with traditional music and obviously some Polish beers to flush the Pierogi down!… Also, on a 'non-festival' day Little Market Square is still a nice place to enjoy some food and drinks at one of the eateries! 
4. Stroll through Planty Park
Krakow's Old Town is surrounded by lush green Planty Park and remnants of the city's medieval walls. Especially during the weekends there are various (free) live music performances. Definitely stroll (a section of) the large Planty Park during your Krakow visit.
5. Barbakan & St. Florian's Gate
When strolling through Planty Park you may reach the Barbakan, this is the defense gateway from the 1490s. Once linked to the city walls this small round fortress now acts as a museum and offers live performances. Just opposite is the St. Florian's Gate, leading you into Old Town.
6. Roam the Wawel Royal Castle grounds
A nice addition is to roam the Wawel Royal Castle grounds. The overall grounds and castle courtyard are free to visit. As we visited during a public holiday weekend (in summer), we decided not to join the crowds inside the castle. If you plan to visit Wawel Royal Castle, do some further research on tickets before to match your interests. As seen in Czechia, there are many types of tickets all offering different types of access to different sections, not just one 'overall access' ticket. 
7. Visit the Jewish Quarter of Krakow
Originally around 64,000 Jews lived in Krakow, most of them in the Jewish Quarter (Kazimierz). However, after World War II only around 3,500 Jews survived (many with the help of famous Oscar Schindler). Most of the Jews that survived, never returned to Poland. You can read about this dark part of history on the various plaques in the Schindler's List Passage. A few places, like Heroes Square and a small section of the original 'Ghetto Wall' also keep the memory of this dark history alive. To understand more about Oscar Schindler and how he saved 1200+ jews is to visit the nearby 'Schindler factory'. 
The Jewish Quarter still has various historic Synagogues you can visit, however the nowadays Kazimierz streets are filled with indie galleries, Sunday markets, quirky shops, vintage clothing stores and bars that range from hip cocktail dens to shabby-chic spaces.
8. Visit Auschwitz from Krakow
Auschwitz is an hour's drive from Krakow. Do read all about visiting Auschwitz in my separate post. When in or near Krakow, a visit to notorious Auschwitz is a must, to stand still at this dark chapter in history. You can either do this as a day trip or on your way to the Czech Republic. 
9. Go deep underground at Wieliczka Salt Mine
Another sight, just outside of Krakow is the Wieliczka Salt Mine. In case you were wondering why Krakow's architecture is so beautiful? It has a lot to do with the richness that the salt brought to the city over hundreds of years. 
You can only visit the mines with a guided tour, which go very frequent in many languages. Unfortunately, as mentioned in my Auschwitz post, the payment portal used to pre-book tickets is a disaster. Meaning you likely have to book via a (slightly more expensive) online agent, or queue on the day itself. 
The tours itself take around 2-3 hours (depending if you also include the 'Museum' section). Although I find 2 to 3 hours already quite long for this type of tour, the tours itself are a bit rushed (fine for us but if travelling with (very) small children can be a challenge). Also, the group sizes are a bit too large (stay in front with the guide for the best experience and most information). To give an idea of the crowds to expect: there are around 8000 visitors per day (around 750 tourists per hour based on my quick calculations). They all have to go down via the same stairs and up via the (small) mining lifts…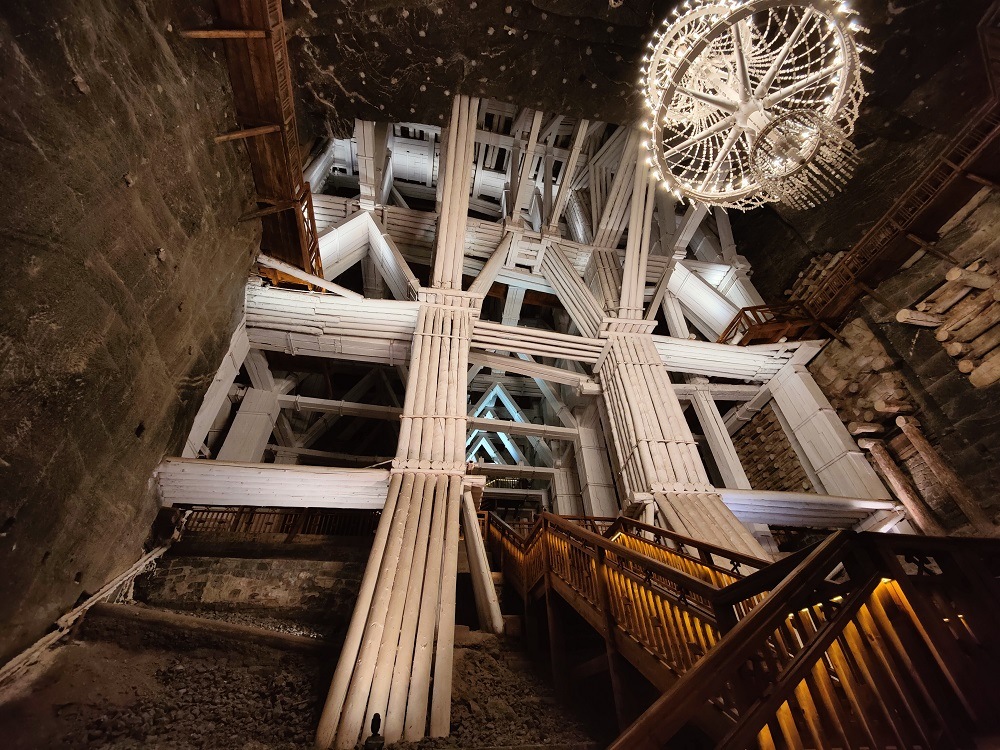 The Wieliczka Salt Mines; a spectacular addition to your Krakow visit!
Despite the (small) logistical improvement points, the Wieliczka Salt Mines are spectacular! The enormous wooden beam structures in the various chambers, the beautiful salt rock sculptures and the turquoise green saline lakes are worth your visit! So do try to make Wieliczka Salt Mines part of your Krakow adventure!…
Top Tip: Stay in the Wieliczka Grand Sal Hotel. This way you do not have to worry about parking, the friendly hotel staff can pre-book your ticket and you have very easy access to the mine! As a bonus, the food here is amazing! (If not staying here, beat the crowds and check out the restaurant while waiting for your tour.)
10. Zakopane and the Tatra Mountains
To be clear, Zakopane and the Tatra mountains are not a 'must-visit' when in Krakow. Firstly, it is a longer drive making it harder to combine. Secondly, it is not THAT spectacular to go out of your way. However, for us Zakopane was a great stop towards Kosice, Slovakia and onwards travels Romania.
Also, Zakopane, and the other nearby villages, may be a nice(r) addition during winter time for ski holidays in the Tatra Mountains. The town itself is not as charming as our nice Grand Spa Hotel Stamrary made us expect. 
Well that brought me to the end of yet another Ghost around the Globe destination! Krakow is a very beautiful city that you should place very high on your European wish list!… 
If you are interested in Krakow, you may be interested in the below posts: