All you need to know when visiting Auschwitz
Reading time: min | Published on:
During my travels I have been to various places that make us remember the dark side of humanity. One of the most famous of these places is the Auschwitz-Birkenau memorial museum. Join me in witnessing the black history of the holocaust during my Auschwitz & Birkenau concentration camp visit in Southern Poland, on our road trip from Czechia towards Krakow.
Standing still at the dark side of history
While traveling, I believe it is important to not only visit the 'fun' attractions, but also take time to understand the culture, history and sometimes the horrors of a certain place. Auschwitz is not our first of these types of 'genocide memorial sights', as we have also visited the Killing Fields in Cambodia, the Genocide museum in Rwanda, and the Genocide Memorial in Armenia. However, of all these Auschwitz is by far the 'largest' site. Not only in terms of area (which is enormous), but also in terms of where most (1.3+ Million) people have been systematically 'erased' from earth.
History of Auschwitz
Originally Polish Army barracks, Auschwitz started as a camp for Polish Political prisoners in 1940. This is also where your tour or visit starts (see details on this below). Shortly after, the first jews and other 'unwanted persons' from Poland and wider Europe started arriving and vast expansions were required, resulting in the additional Birkenau Camp.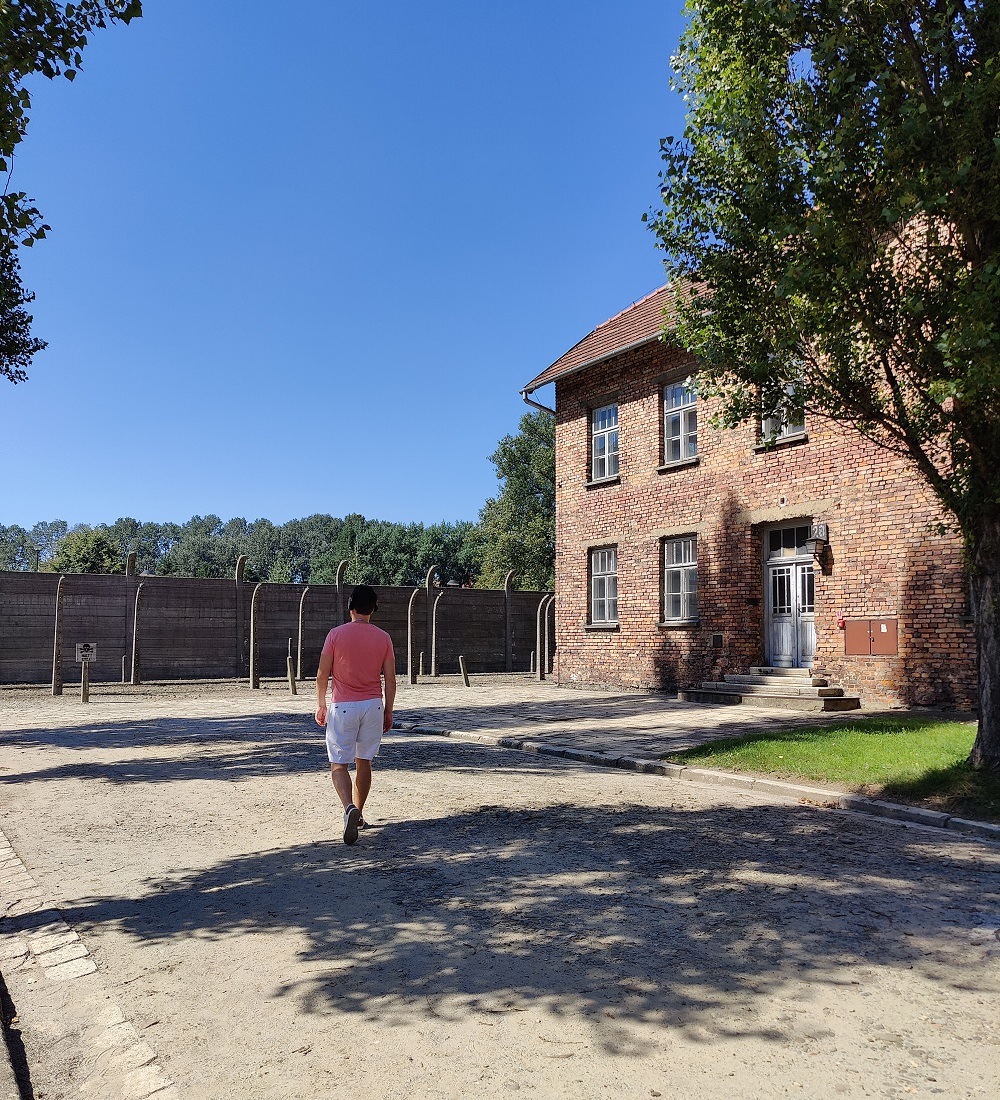 It is good to understand that Auschwitz-Birkenau was the 'center of death' in a vast network of over 40 'satellite concentration camps' throughout Europe. From those 'transit camps' prisoners were sent to Auschwitz (as the unfortunate end destination for most). 
Being such an important place, I am unable to list the entire history of WWII and especially Auschwitz here. I encourage you to read up on Auschwitz' history separately. Obviously, most will be explained during your tour, but it will help to have already have a basic understanding of the history before your visit.
How to visit Auschwitz?
There are 2 ways of visiting Auschwitz. Let me explain…
1. A guided Auschwitz tour
To be clear, at Auschwitz I would always go for this guided tour option, for various reasons:
The place is

much better explained

by a guide in many languages.

It is the only way to visit during the day from

7.30am until 16.30

(in summer).

The

price is the same

for guided timeslots as for self-guided.
2. A self-guided Auschwitz tour 
I would only take this tour in case you (have to) plan your visit at the end of the day, or are very pushed for time (as the guided tour takes around 3 hours), as:
Time slots are

ONLY at the end of the day, in summer from 16.30 onwards

(at least for Auschwitz / Museum part, it may be possible to buy a separate ticket for 'only' Birkenau at their gates, as I saw (self-guided) people walking on their own during the daytime).

Self-guided you can obviously decide your own speed, but

information will be limited.

It may be difficult to understand or find 'highlights' of both the Auschwitz and Birkenau camps, as they span large areas. (It even includes a shuttle bus – but I would drive from camp to camp myself in case of taking a self guided tour).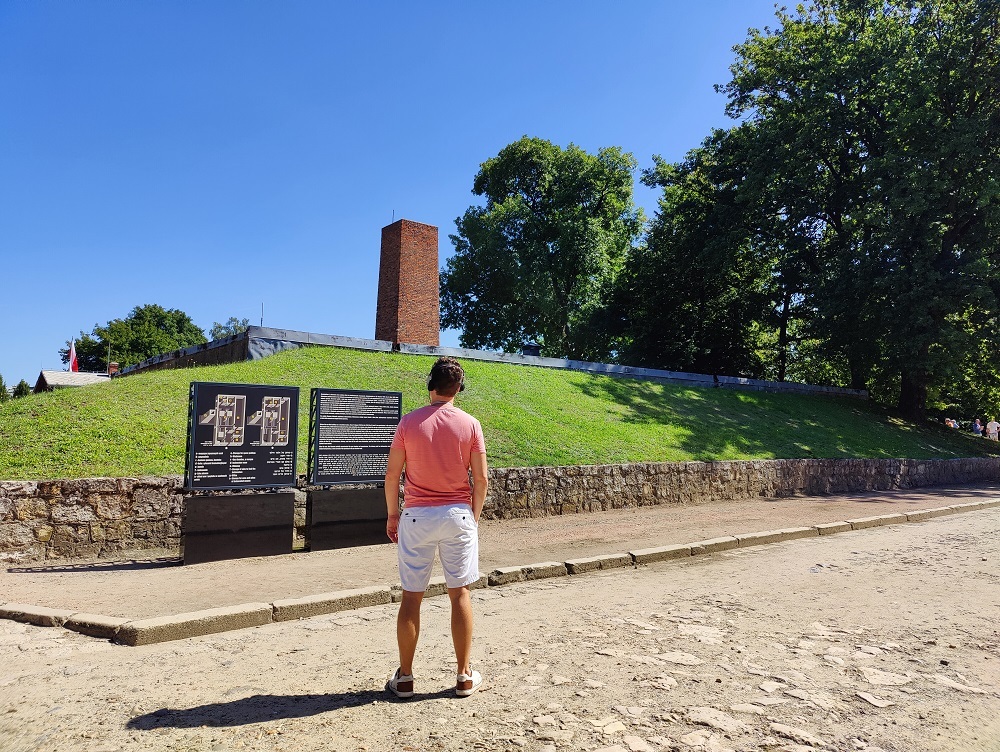 Getting tickets for Auschwitz
Unfortunately, some things can definitely be improved and the main thing is the online ticket portal. It was just IMPOSSIBLE to order tickets via their disastrous payment portal. We received various error messages, during multiple attempts. When calling, they advised to just buy tickets at the door (which confusingly is not stated as a possible point of sales, on their website). Apparently Auschwitz sells half of the tickets online and half (or remaining) at the door. However, the latter means that you have to queue (in our case at least an hour) before you can start your tour. 
Selling the tickets at the door could (also) happen much faster, the process is just very inefficient. They require all kinds of (unnecessary) details in their (slow) system. Unfortunately, all very unnecessary, annoying and easily improved.
Top Tip: Always try to order your tickets online. If this does not work (high chances), then perhaps pay slightly more via another (trusted) online agency to save time in an inefficient slow queue.
Top Tip: Arrive (early) in the morning. Queues are getting (even) worse in the afternoon, with a chance of (guided tickets in your language) selling out. Having said that, surprisingly the English tickets were not selling fast at all at the door (most visitors were buying Polish or other language tickets).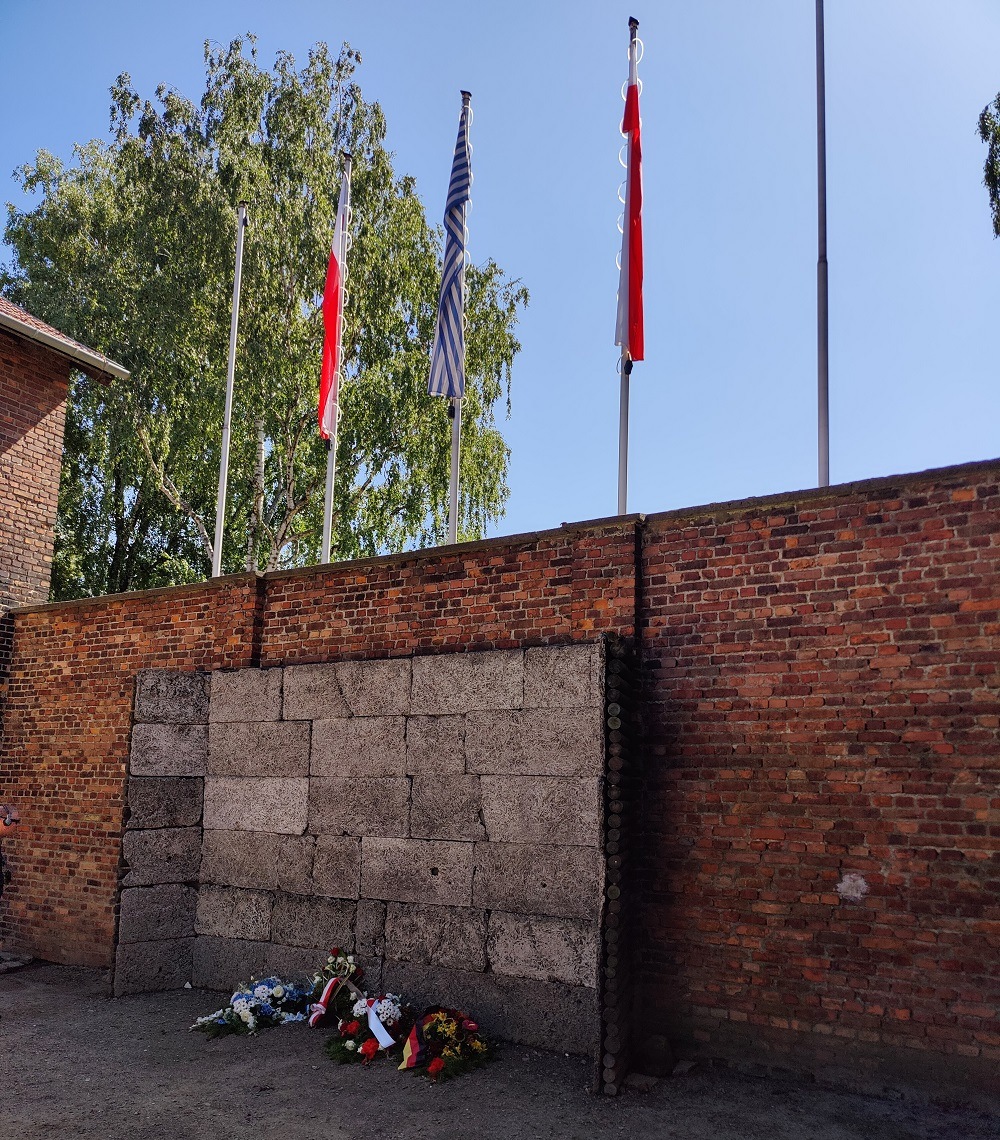 Other logistics tips
Aside from the inefficient ticket sales setup the Auschwitz visitor center facilities are new. During our visit they were still building/renovating the restaurants. You are not allowed to eat during your tour so eat before or during the short break between the Auschwitz and the Birkenau camp.
Top Tip: Try to park your car on the main parking area (next to the ticket office/ toilet building). This is where the Auschwitz part of the tour ends before you take the shuttle bus takes you to Birkenau camp (or in case of self-guided, you may want to drive your self). This way you do not have to use the (likely overcrowded) restaurants & gift shops, but instead take a break at your car.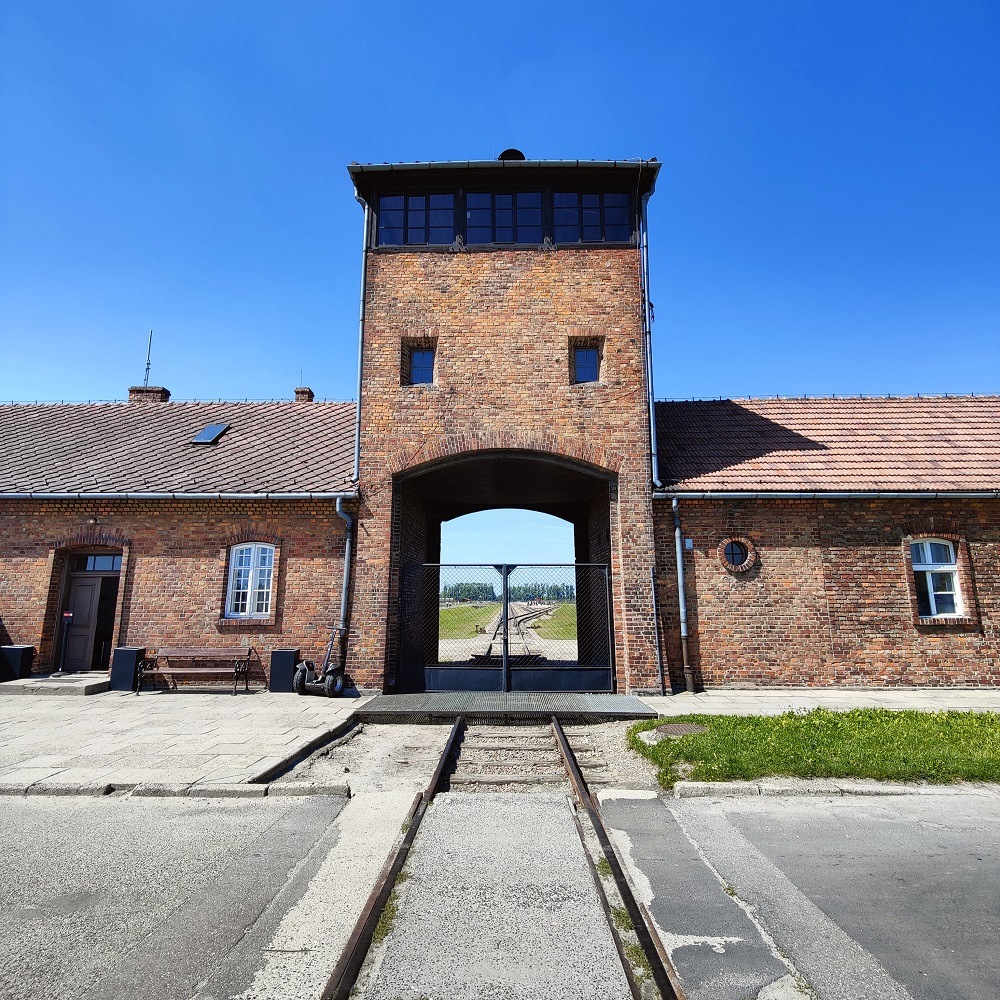 Top Tip: As always, try to avoid weekends and (public) holidays. It can get very busy! In my opinion they are running too many tours at the same time (in various languages) and the tour groups should be a bit smaller. Especially the 'museum buildings' in the Auschwitz camp are not really set up for these numbers. We visited during a public holiday weekend on a Saturday during summer holidays! It could not get busier I think (apart from the afternoon of the same day).
Top Tip: You are allowed to take photos (almost everywhere). Taking a photo to remember (of like me to tell a story) is obviously fine. However, don't try to be an Instagram hero! Some people just seem to not understand what type of place they are visiting. I witnessed some ridiculous poses around me. We even saw one person walking shirtless (enjoying the sunny day), who was obviously told off by our guide.
Should you visit Auschwitz-Birkenau?
Yes, you should definitely visit Auschwitz-Birkenau! It is very important to stand still at the dark sides of history. In particular the guided tours provided are a great way of getting an understanding on how wrong society can go, with very lively examples. Let the huge piles of shoes, women's hair (used for fabrics), glasses and many other attributes taken by the 'prisoners' sink in… These all belonged to the many exterminated prisoners.  When you realize that this is only a very small portion 'recovered' in the warehouses (at the moment of liberation), the scale of this place becomes even more unimageable.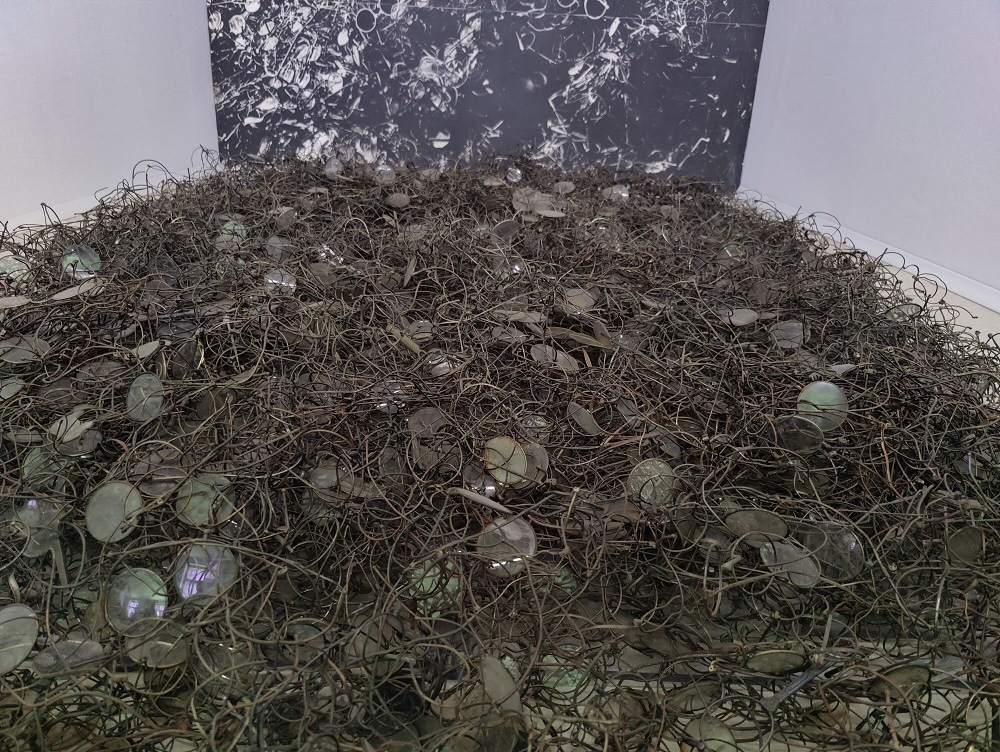 I would like to end this Ghost around the Globe post, with 2 photos of the signs at the two different sides of the Auschwitz' fence. Let's hope we all stay on the outside of the fence in humanity's future, with governments that can be trusted to take good care of people.