Armenia: All you need to know 4-day itinerary
Reading time: min | Published on:
Armenia and the Armenians cartainly have witnessed some horrific events in the past. These negative associations may be a reason for the low visitor number, however there is nothing to fear! Sure, there is still a border conflict with Azerbaijan, but the country is actually safe and developing fast!… In many ways resembling its Northern neighbor, Georgia, however less developed and less touristy, but in my opinion more dramatic landscapes and a more stunning nature!… In short, Armenia is great to explore for a few days, or combine with Neighboring Georgia.
Top Tip: It is not easy to combine Armenia with Azerbaijan (as was our original plan), given the ongoing conflict. However, you can still visit both countries if travelling via Georgia (or any other country)… As far as I could find and in our experience, there is no issue with having a stamp of either country that restricts you to enter the other (unless you have visited the conflicted region)… and we travelled to both countries separately within 1-2 years.
Renting a car in Armenia
As with most travels, and if the country (and road safety) allows, I always recommend to rent a car. It provides you with great flexibility and the most efficient way to explore, especially in Armenia:
Renting a car in Armenia is cheap, and straight forward! Just pick it up from the airport, at any of the companies with the best/cheapest option.
Roads in Armenia are generally in good conditions, although there are definitely some more challenging parts with potholes (also in winter you may encounter some snow in the mountains, but the roads are generally clean). If you liketo play safe opt for a 4×4, but in my opinion it is not required.
Parking is free, even in the capital Yerevan. Only at some touristy sites there may be a parking 'official' that asks for a 200 Armenian Dram parking fee.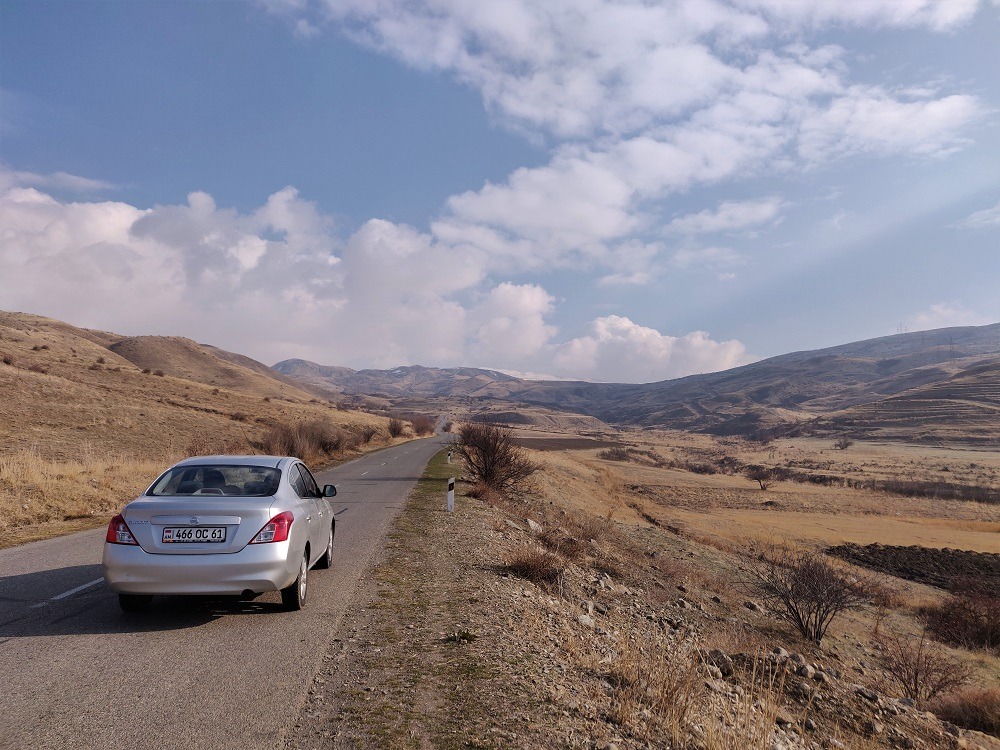 Day 0: New Year's Eve in Yerevan
We made use of a long weekend including New Year's day. We arrived on 31 December and jumped right into the festivities. Our hotel and suite was directly facing the Republic Square, one of the key sights of Yerevan. A fun and easy way to celebrate with the local population.
We did not make it too late as the next day we reserved for exploring the countryside! (Also taking into account that most of Yerevan's sites would likely be closed on 1 Jan, but more on that later)…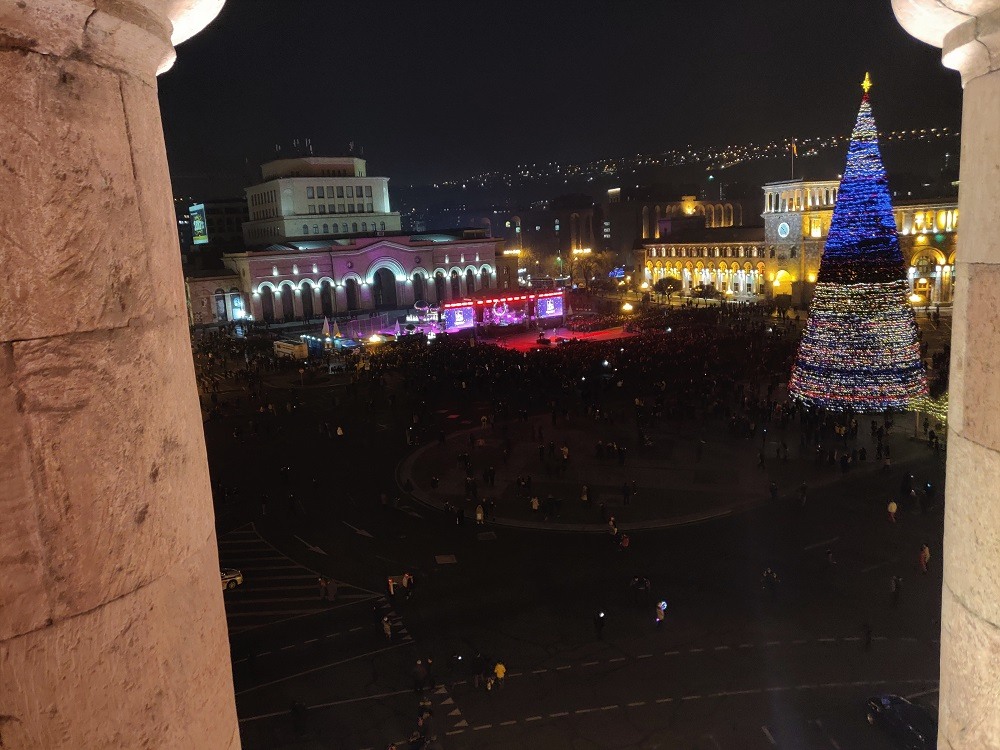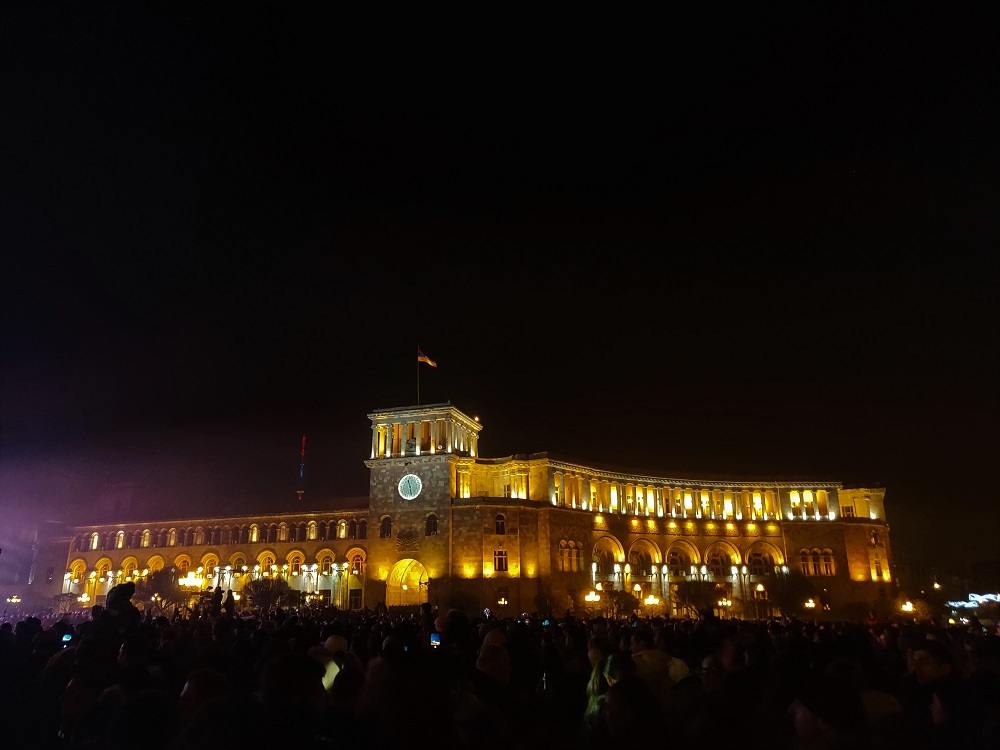 Day 1: Exploring Armenia's countryside
This day we woke up for a New Year's breakfast! Complete with a complimentary champagne!… Thank you Marriott! We had a full day ahead, with around 7 hours of driving in between various short (photo) stops… Let's get to it!
Geghard Monastery
The first stop, Geghard Monastery is about 50 mins away from Yerevan city center. A small monastery located at a beautiful spot, as is the case with most monasteries!… It was here that we first encountered a parking 'official' who asked for 200 Armenian Dram. At first I was a bit skeptical, thinking this guy was just trying his luck and parking in Yerevan is free. However, at the next stops this also occasionally occurred, so we just paid the small fee.
Top Tip: When road tripping Armenia (or Georgia for that matter) do include as much monasteries in your route as you can.. Not only are the monasteries a nice stop to explore and stretch your legs, they are also build on the most beautiful spots, surrounded by stunning backdrops!…
Garni Temple
The next stop, about 15 minutes away, is Garni Temple. A very well maintained Roman style temple and the only Greek/Roman style temple in the former Soviet Territory. Entrance fee was around 1500 Dram, and well worth it… The site also offers spectacular views at the Garni Gorge, and the Symphony of the Stones.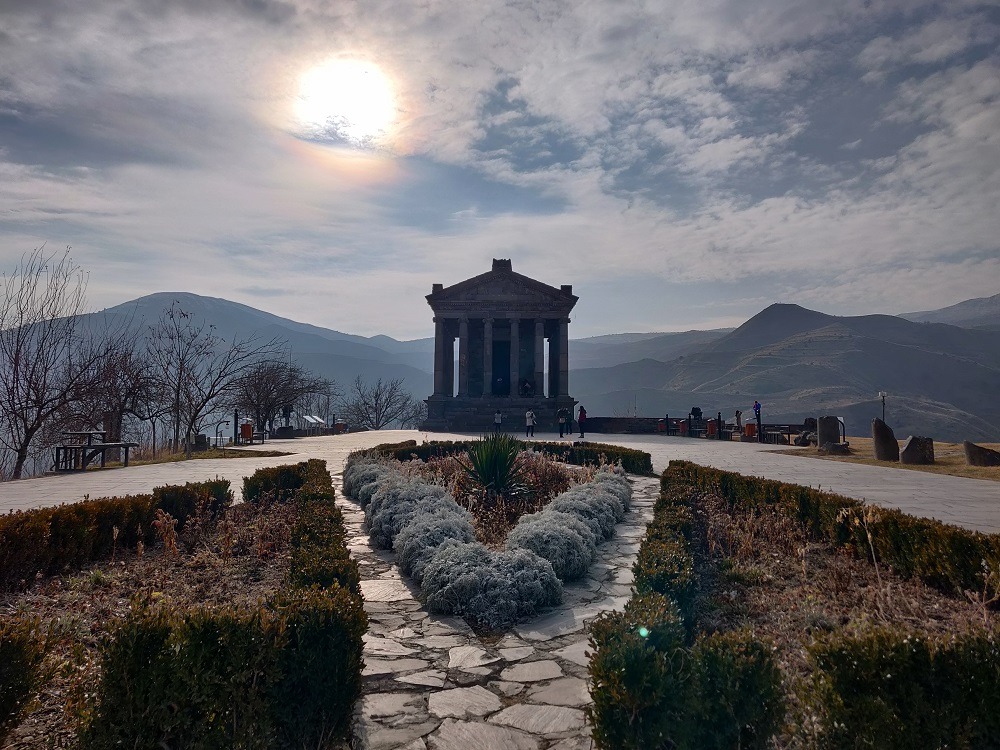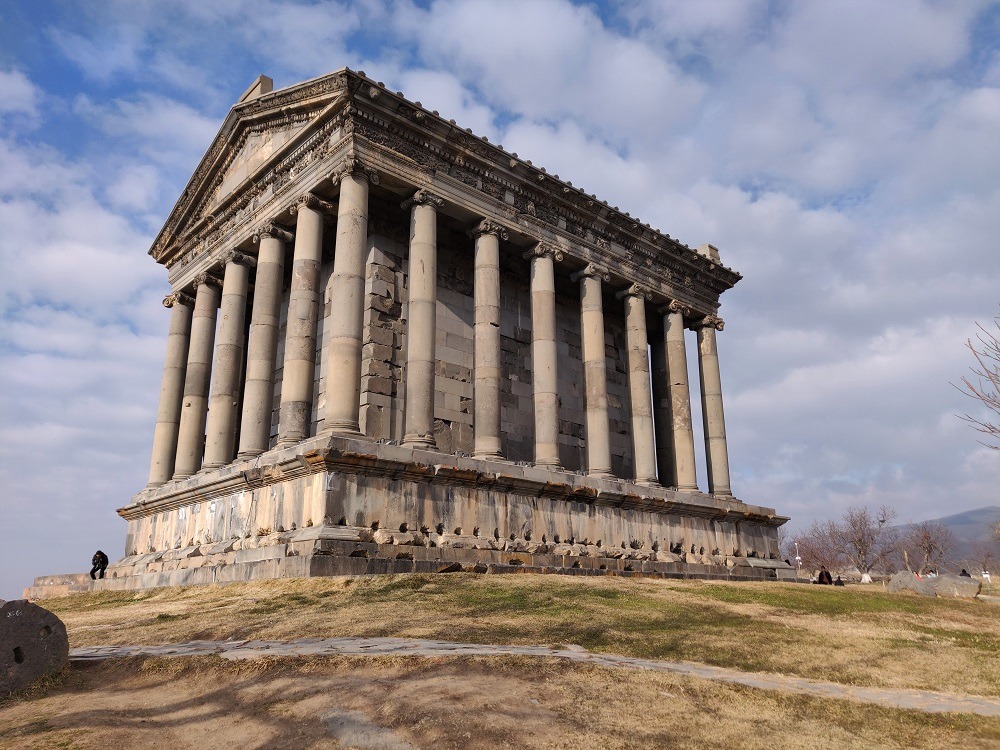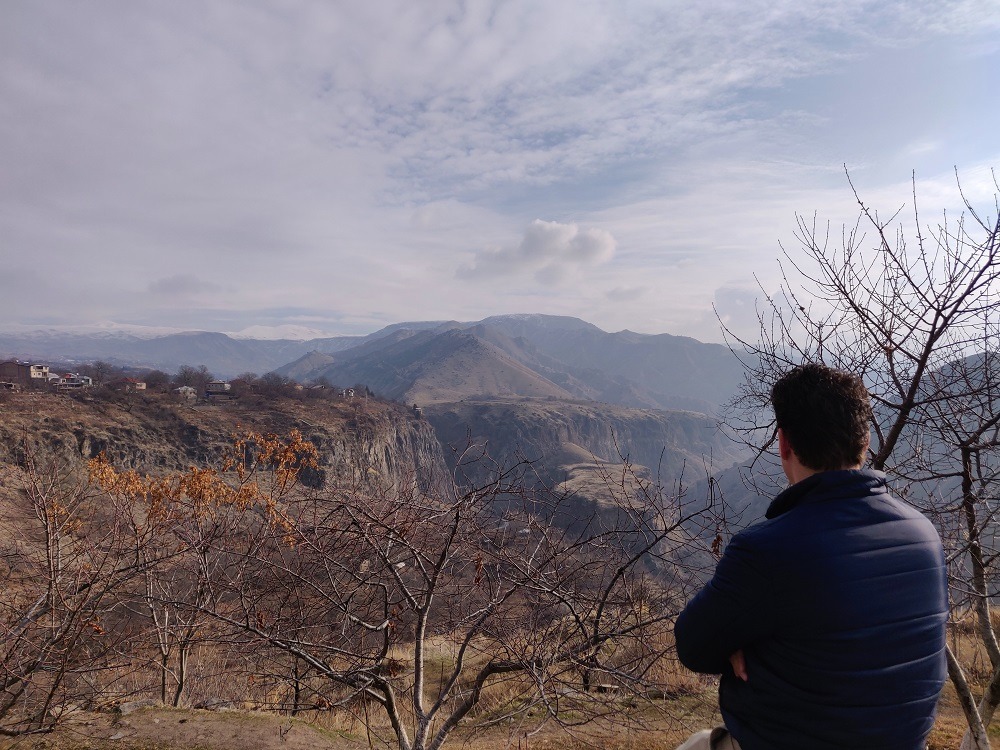 Garni Gorge and Symphony Rock
Next to the entrance of Garni Temple leads a road (turning into a path) down into the Garni Gorge. Here you find the Symphony of the Stones and similar basalt rock formations. We spend 1 hour in total hiking down, exploring the site(s) and hiking back up. Depending on your level of fitness it should not take you more than 2 hours. 
Top Tip: You can also drive your car a bit further down and park at the end of the asphalt. This will save you time and the last steep stretch up)
Top Tip: In case you have 4×4 you can just drive down towards the Gorge and no hike is required.. The road down is differnt than the hikin trail (just use your navigation). The path is not that rough, in dry periods, a standard car would even do in my opinion.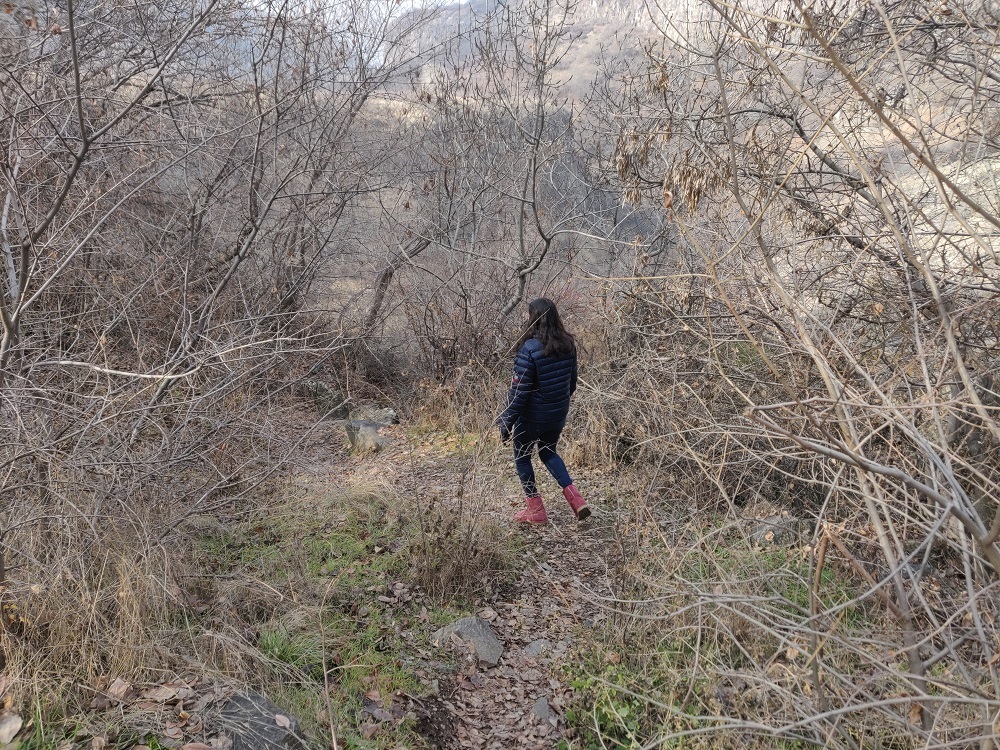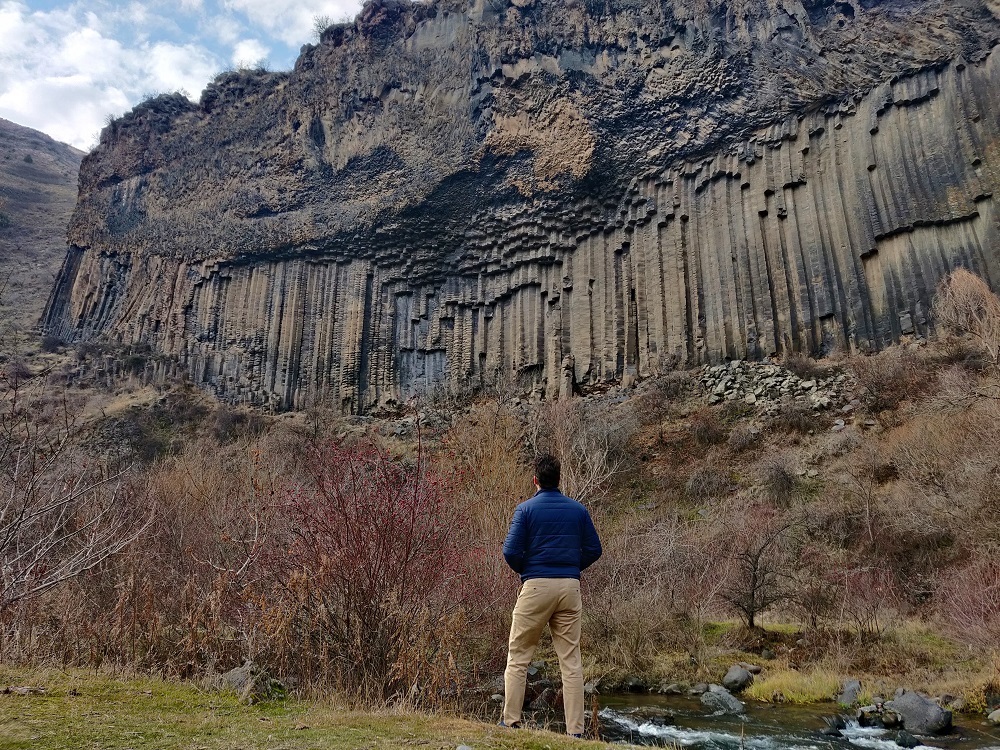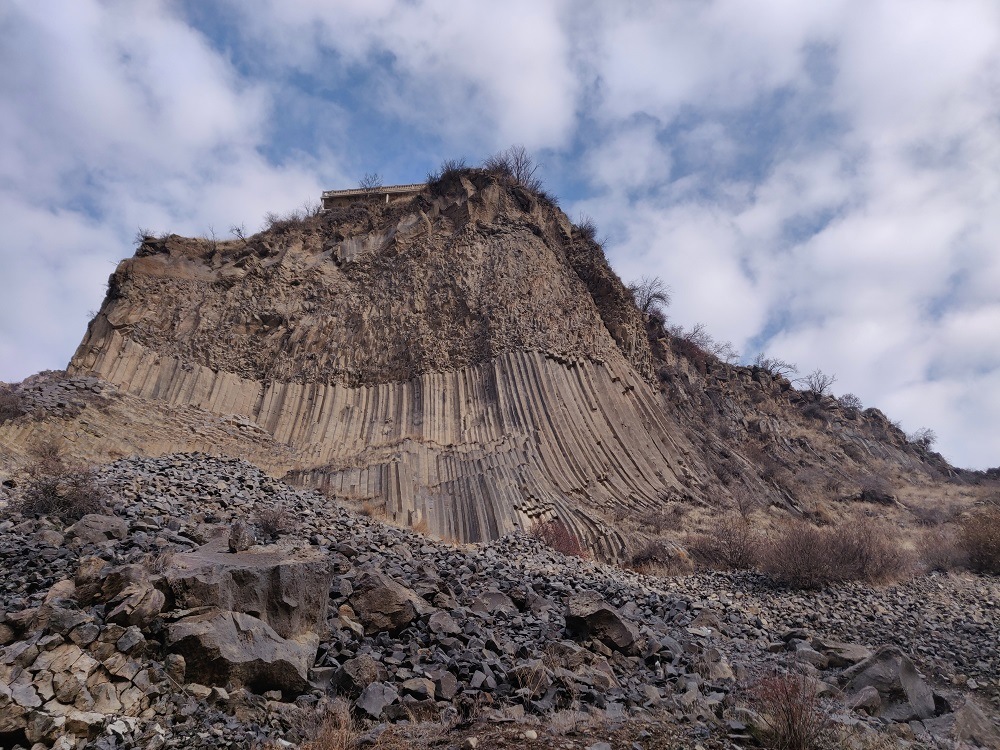 Khor Virap Monastery
After around 1.5 hours driving you find the Khor Virap Monastery, at yet again a great location. Especially with bright skies you have a nice backdrop of mountains. Unfortunately in our case it was slightly hazy.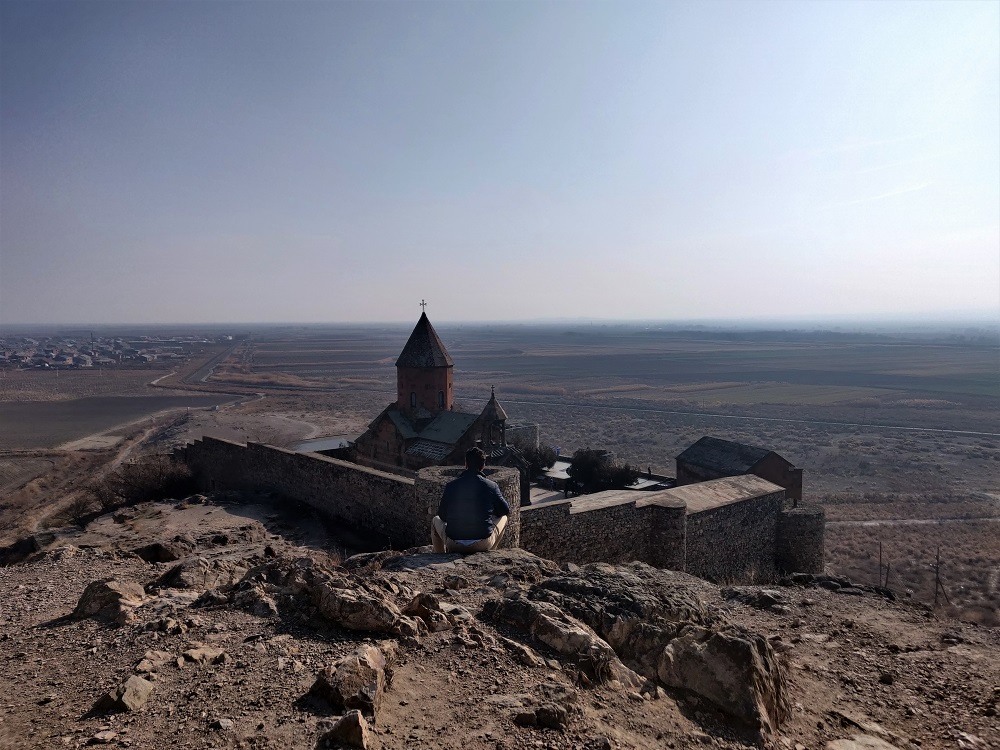 Noravank Monastery
Atter another 1.5 hours you again find a beautifully located Monastery; Noravank Monastary. This is definitely a must see, as it is located at the end of a narrow valley and is surrounded by impressive red rock formations!..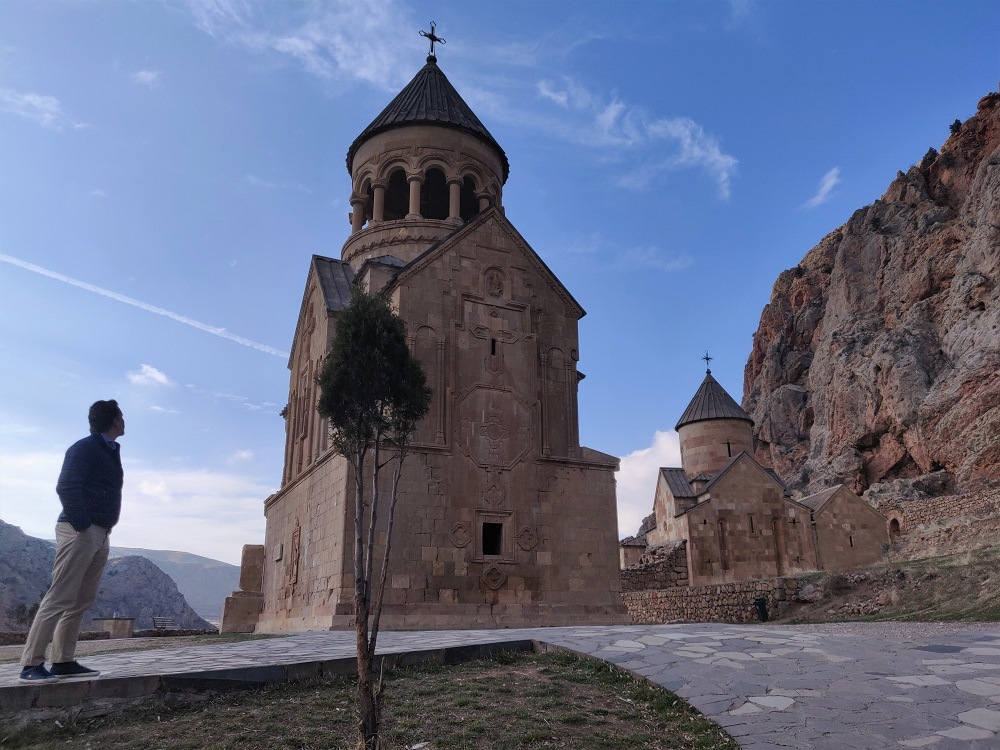 Col de Sélim and Lake Sevan
From Noravank drive north, on the fast ascending road to Col de Sélim. This is a very scenic drive, which during our winter period visit was snowy! The road is well maintained, although we had some stretches with snow and ice on the road, but not much to worry about!… This road eventually leads to Lake Sevan, the largest body of water in Armenia and the Caucasus region.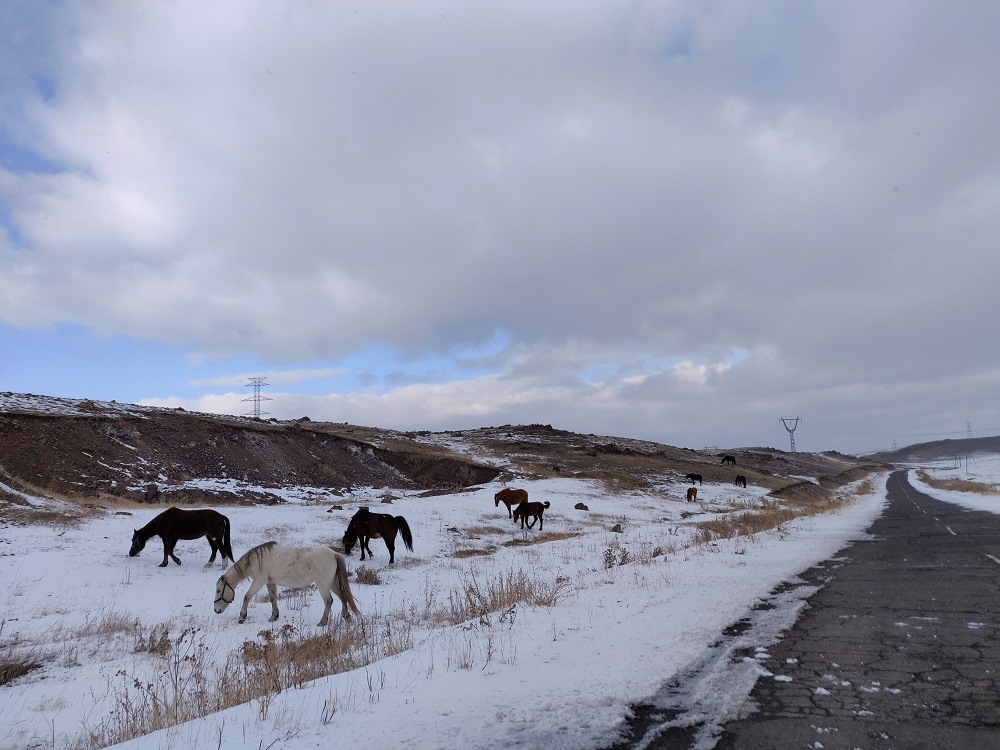 Noratus Cemetery
After driving this scenic road for around 1.5 to 2 hours you arrive at a brief photo stop, the Noratus Cemetery. Originally we arrived at a more 'modern' Armenian cemetery, where I found it interesting that most graves have pictures on them (unlike in Western cemeteries, where there is usually only a text engraved).
Shortly after we found the 'historic' Noratus Cemetery, which has the largest cluster of early khachkars (gravestones) in Armenia. A magical spot, which could be a set from a movie like Lord of the Rings…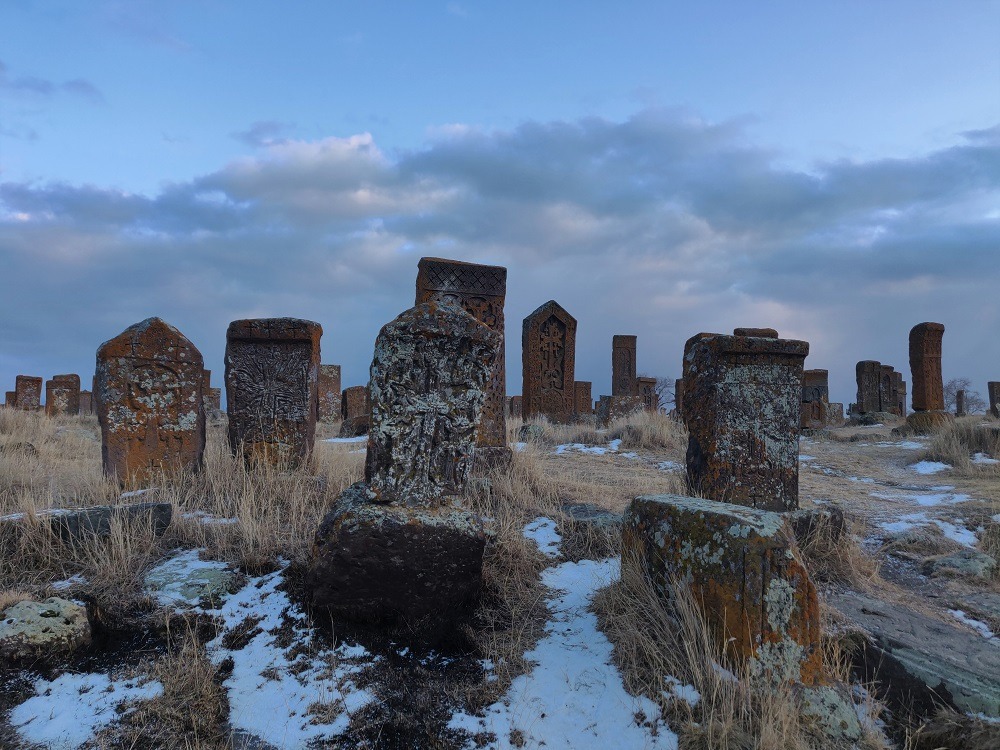 Hayravank Monastery
Time for our last monastery of the day… Just before the monastery-fatigue kicks in… Hayravank Monastery is nicely situated overlooking Lake Sevan. Great to see the sun setting over the surrounding snowcapped mountains.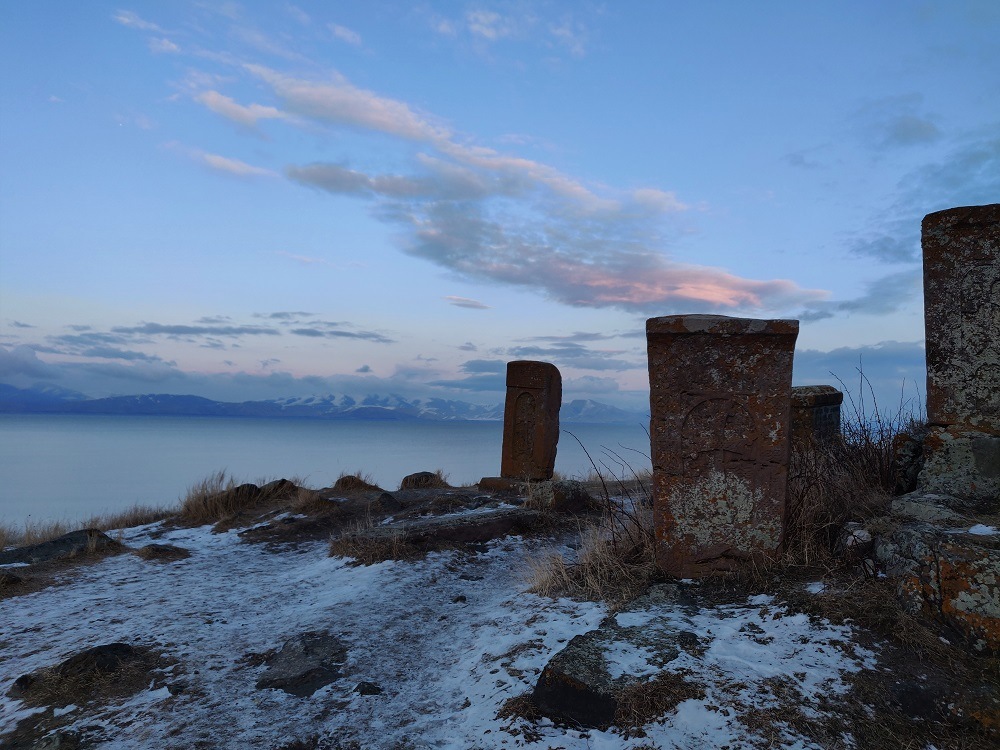 Staying the night in Sevan Armenia
From here we drove to Sevan (town) to stay in one of the basic hotels. Outside of Yerevan it is hard to get value for money. Most hotels you find are very basic but charge substantial amounts in comparison. We found a roadside hotel (called 'Best Vacation', what can go wrong with that name?) to rest for the night. Sevan town itself had not much to offer for the visitor.
In Armenia (especially outside of Yerevan), you will likely encounter a language barrier. When requesting for dinner it meant we went to the kitchen, where fridges and freezers were opened to show what we could choose to eat that night by pointing at the produce… It always works out in the end, and we enjoyed a great fish before a long and deserved sleep!…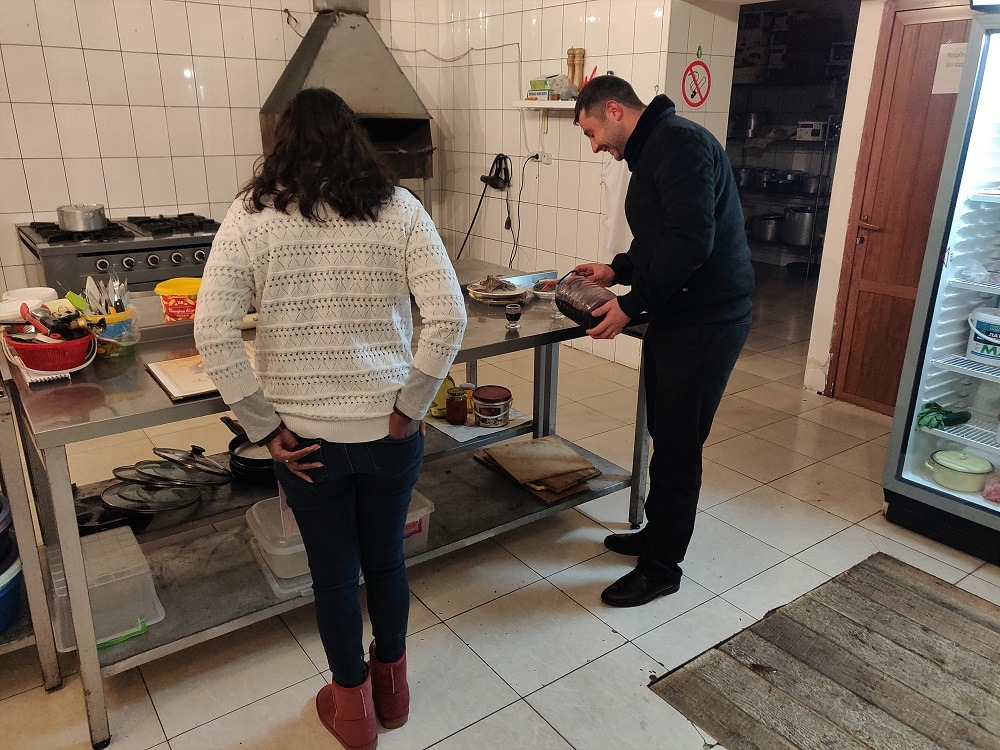 Note: This was quite a day… We left Yerevan at 10h and arrived in our hotel in Sevan around 19h, including all stops and the 1h hike.. Quite a high pace but certainly doable!… In case you have more time, or travelling at a slower pace, then stop earlier and break this itinerary in 2 parts.
Day 2: Tsaghkadzor and Yerevan
The next day we slowly made our way back to Yerevan but you have various options…
Sevanavank Monastery
When you visit Sevan you have to visit Sevanavank Monastery. Located on a peninsula hilltop, it offers marvelous 360 views over Lake Sevan and the surrounding snowcapped mountains.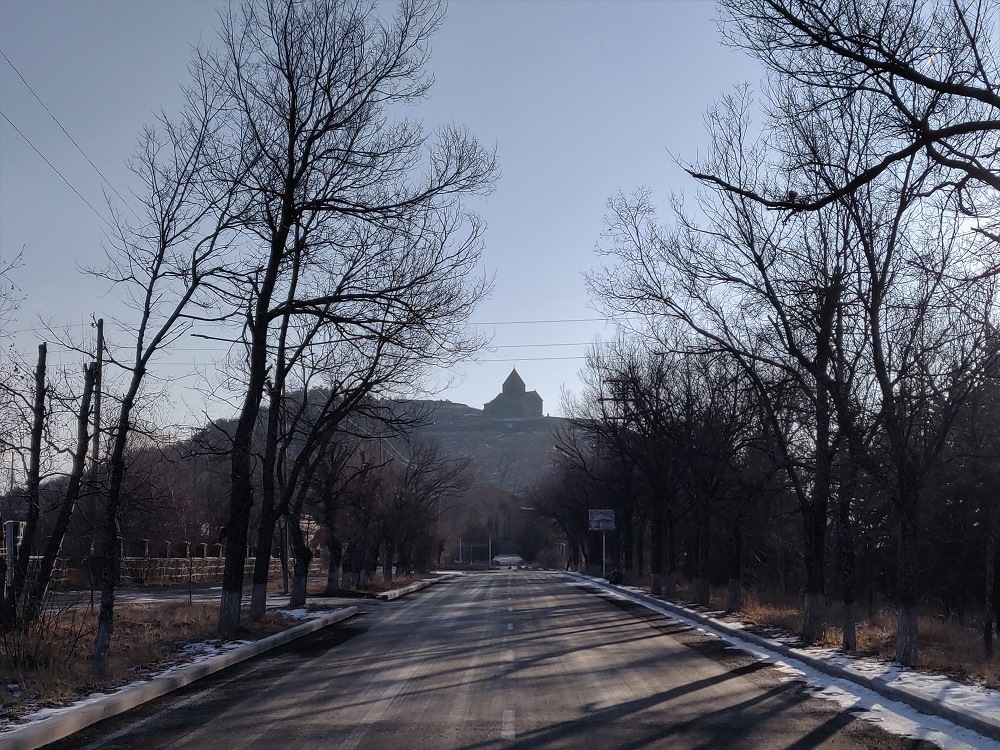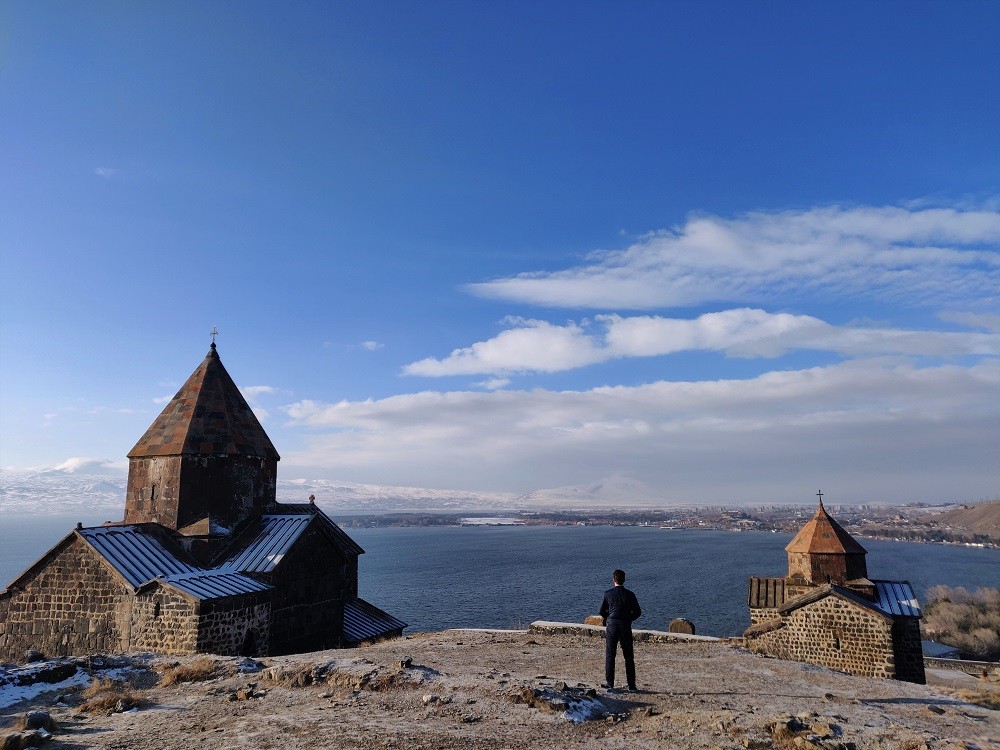 Haghartsin Monastery
Originally we were planning to drive a bit further North to Diljan National Park and Haghartsin Monastery. This would be especially great in summer, when the greenery must be amazing and you could do some hikes or outdoor activities. Given it was winter, we assumed it would likely be slightly similar to previous (snowy) scenery, so we skipped and went directly to Tsaghkadzor.
Tsaghkadzor: the ski resort of Armenia
Tsaghkadzor is the ski resort of Armenia. We did not bring ski clothes, so did not rent any gear. Of course this would not be Ghost around the Globe to check on the costs:
A day ski-pass costs 2000 Dram
Renting a set of skis or a snow board costs around 10 USD per day
These costs make Tsaghkadzor a very cheap ski destination! Do keep in mind that Tsaghkadzor only has around 30km of slopes (mainly blue difficulty). For the more experienced ski enthusiast this may be nice as a day trip, but not for a full ski holiday!…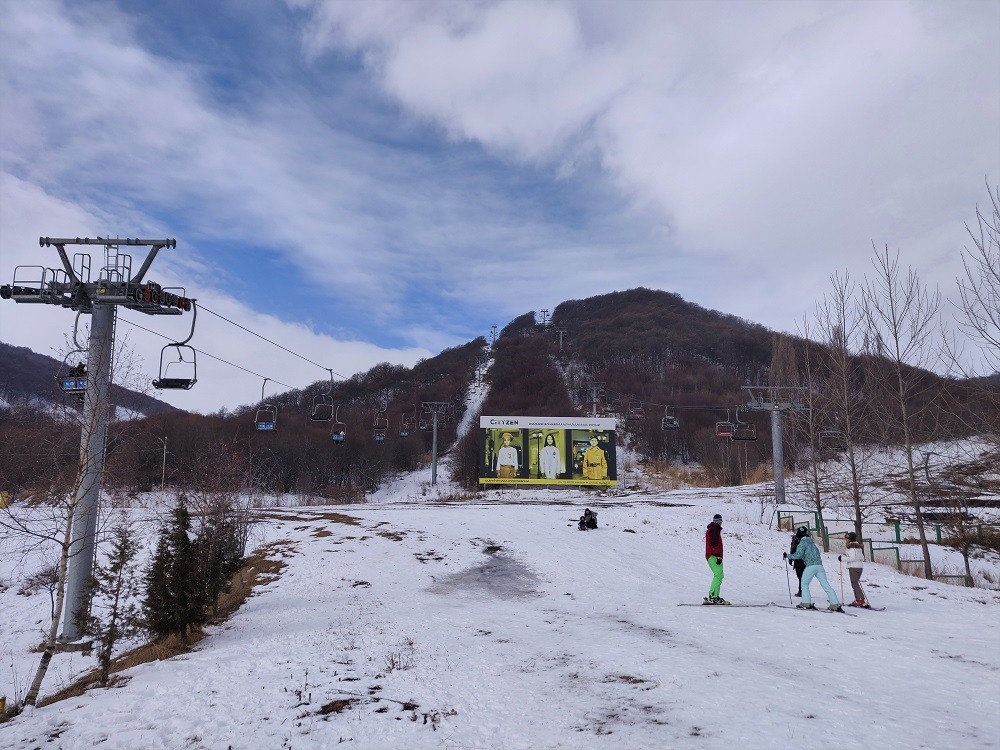 Kecharis Monastery
In Tsaghkadzor we also visited the local monastery called Kecharis.  A nice brief stop before or after your potential ski or hike trip!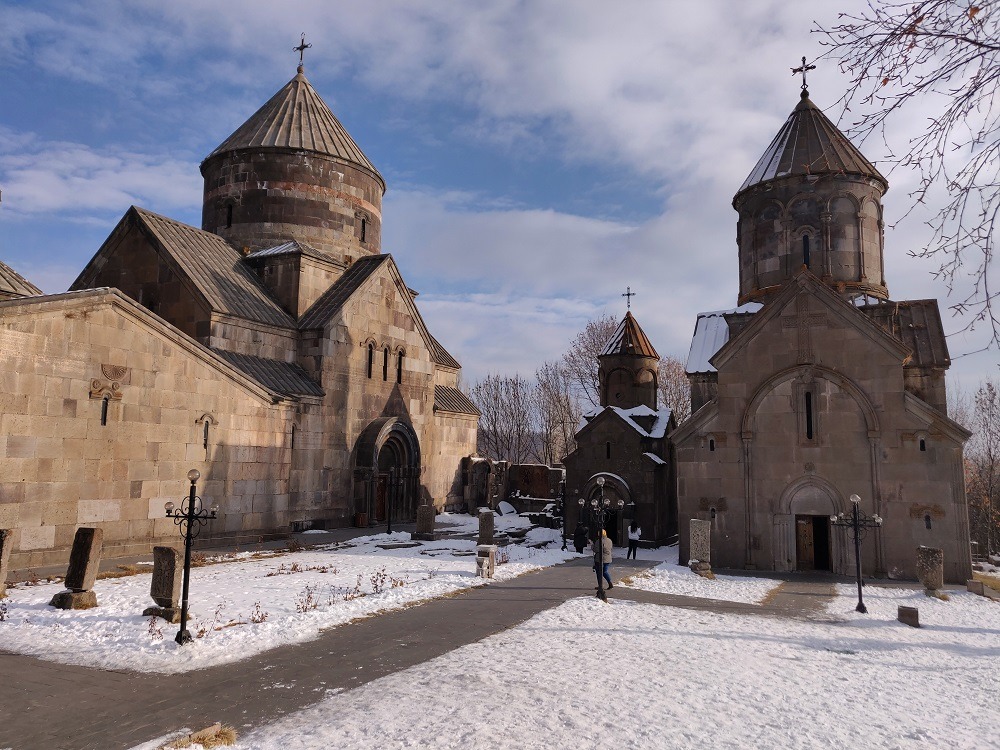 Yerevan – exploring the capital of Armenia
After Tsaghkadzor we went back to Yerevan, which is less than 1 hour drive. Given it was now the 2nd of January, I expected all shops, restaurants, museums, etc. to be open. Unfortunately this was not the case! We already included some sights on this day (see below in Day 3 and 4) but in hindsight could have best gone to the Diljan National Park National Park area…
Top Tip: do NOT go to Armenia during the Christmas or New Years period (unless you are going to Tsaghkadzor for skiing). Almost all places of interest are closed for extended periods of time! (e.g. from 29 Dec to 8 Jan). Even international fast food chains like Burger King and KFC, which are 'always open', were closed! Quite disappointing and very silly, from a tourism perspective…
Day 3 and 4: Yerevan & Etchmiadzin
We included some extra time in this Armenia trip to explore potential investment opportunities (more on this later in a separate series of blogs). Unfortunately, as mentioned almost everything is closed, this also meant the banks, real estate agencies, law firms, etc. were closed.  Hence, we had more time than expected, in a 'closed town'! So during these days we enjoyed ourselves with the various (open) sights, public places and restaurants in and around Yerevan.
Top tip: You can combine this all in 1 day, especially if you have rental car at your disposal. We felt healthy and did most of it by foot. (The first 3 sights we did by car on day 2 already, given they are further from the city centre, but you are still able to reach by walk).
Matenadaran
The Matenadaran is an impressive building at the end of Mesrop Mashtots Ave, also called the Mesrop Mashtots Institue, which is the institute of ancient manuscripts.
Armenian Genocide Memorial Complex
The Armenian Genocide Memorial Complex (Tsitsernakaberd) is a must visit when in Armenia. This dark part of history (1914-1923), where an estimated 1.5 Million Armenians were killed, is being remembered here. The beautifully designed complex is always open, but unfortunately the museum was closed. Again, I found this very strange, if anyone visits Armenia and wants to learn about the Armenian genocide then this should be open year round, no excuses! At minimum, work with reduced opening times. Places like this are important and provide perspective, see also my posts about similar memorials in Rwanda and Cambodia.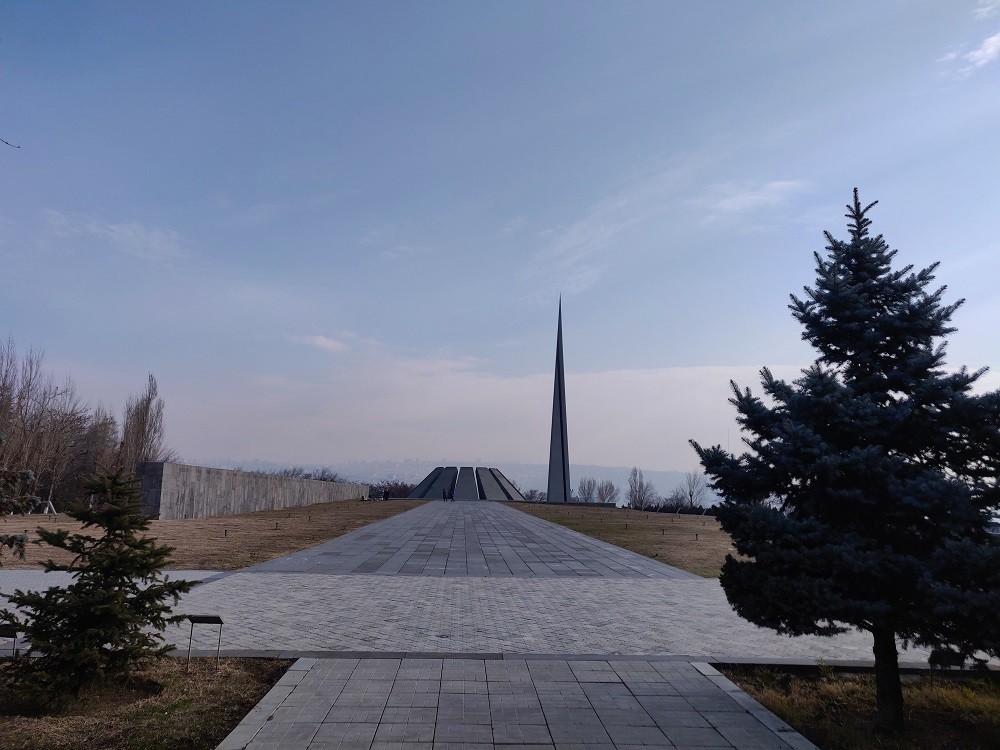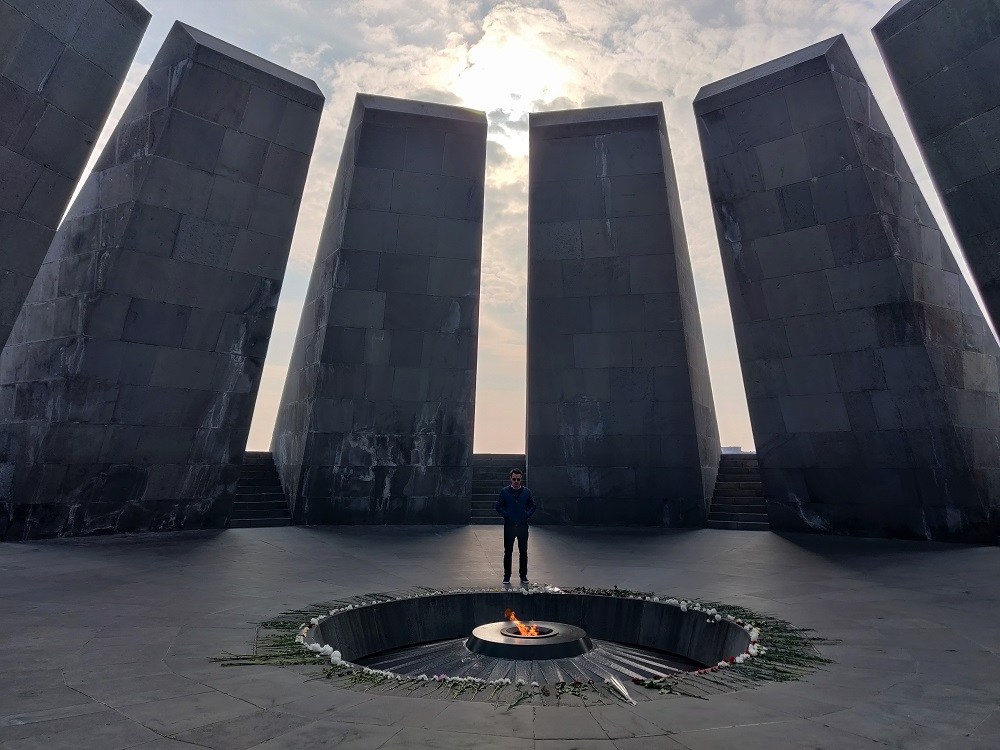 Sasuntsi Davit Statue
During my online research, this David of Sassoun Statue was listed as a top sight in Yerevan… It is a nice statue, but not worth making any detour for. Also, the surrounding square and central station is messy and not picturesque… In any other large city this would be one of many statues, where you just walk past without paying much attention.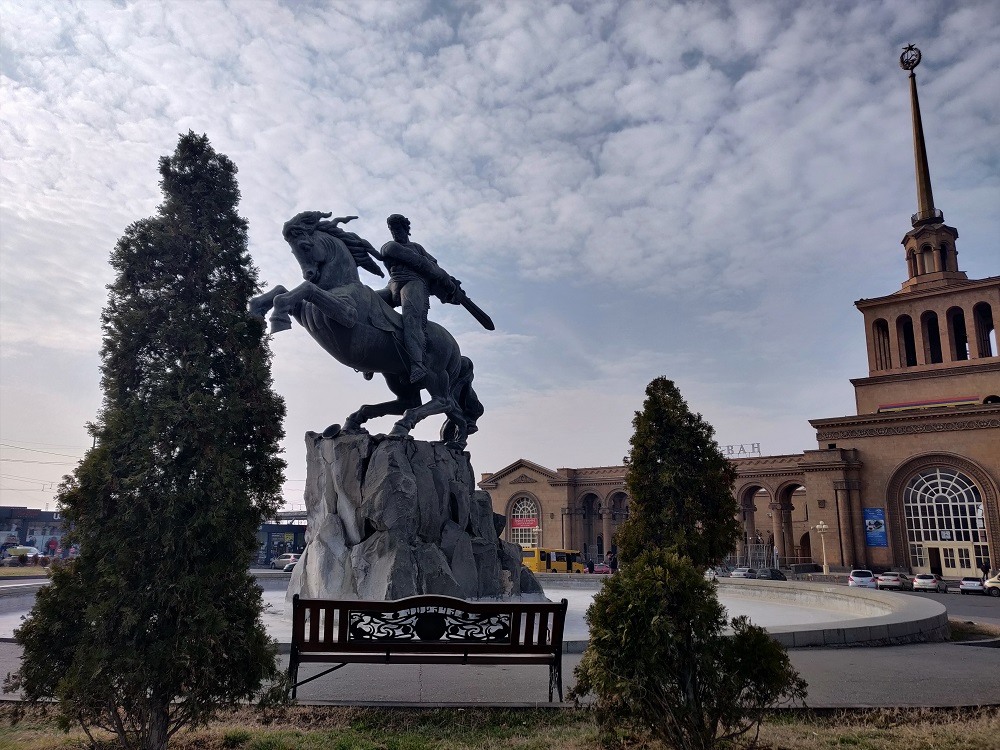 Cascade Complex
The Cascade complex and the adjacent Cafesjian Centre of Arts (an outdoor art exhibition) and the surrounding square is a nice stop for coffee, lunch or dinner.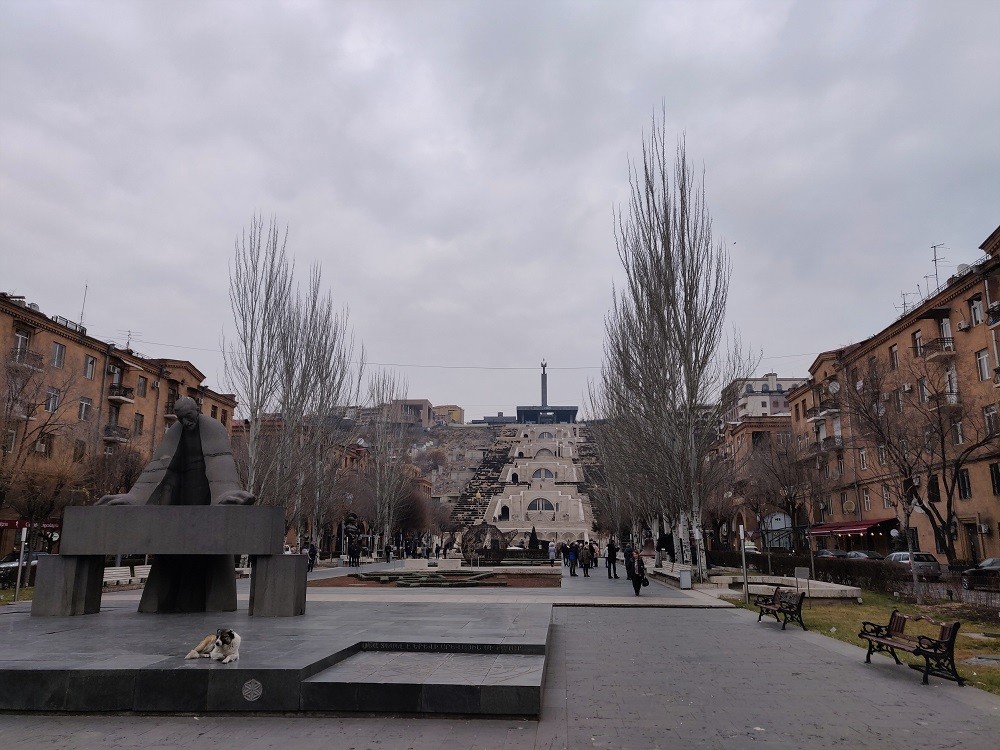 Freedom Square
Freedom Square or also Opera Square is where you find Yerevan's theater and various restaurants…
Blue Mosque
The Blue Mosque is an 18th-century Shia mosque. It was commissioned the khan of Erivan. It is one of the oldest extant structures in central Yerevan and the most significant structure of the Iranian period.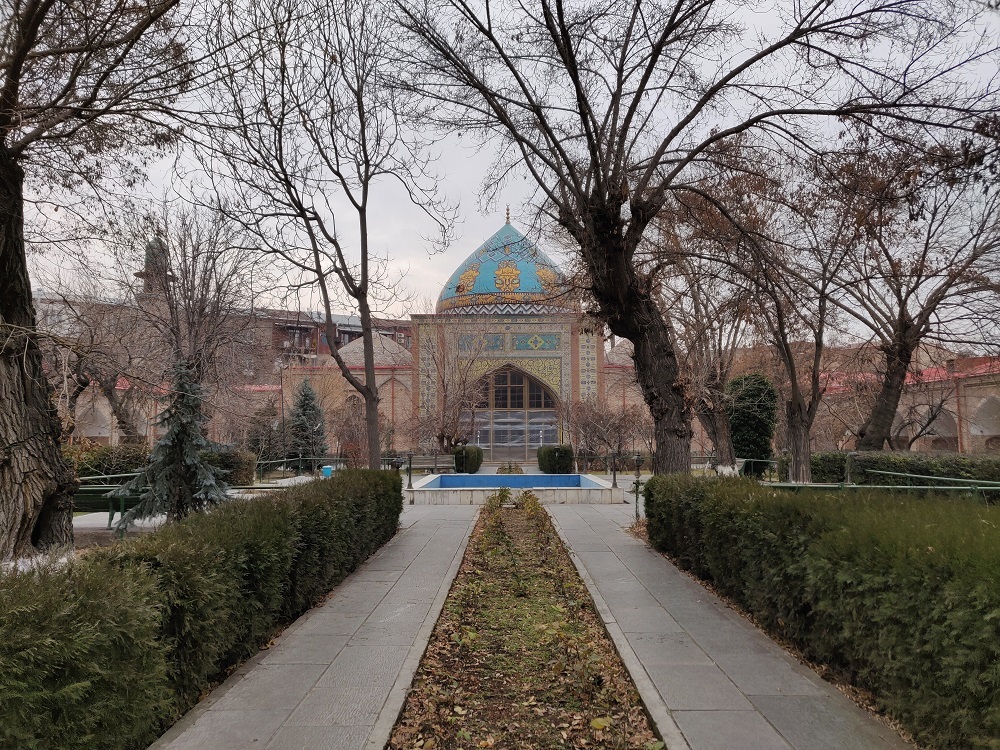 Yerevan Brandy Company
Brandy (Cognac) is the national drink of Armenia. The Yerevan Brandy Factory is producing the ArArAt brand. The factory offers tours in Armenian and English.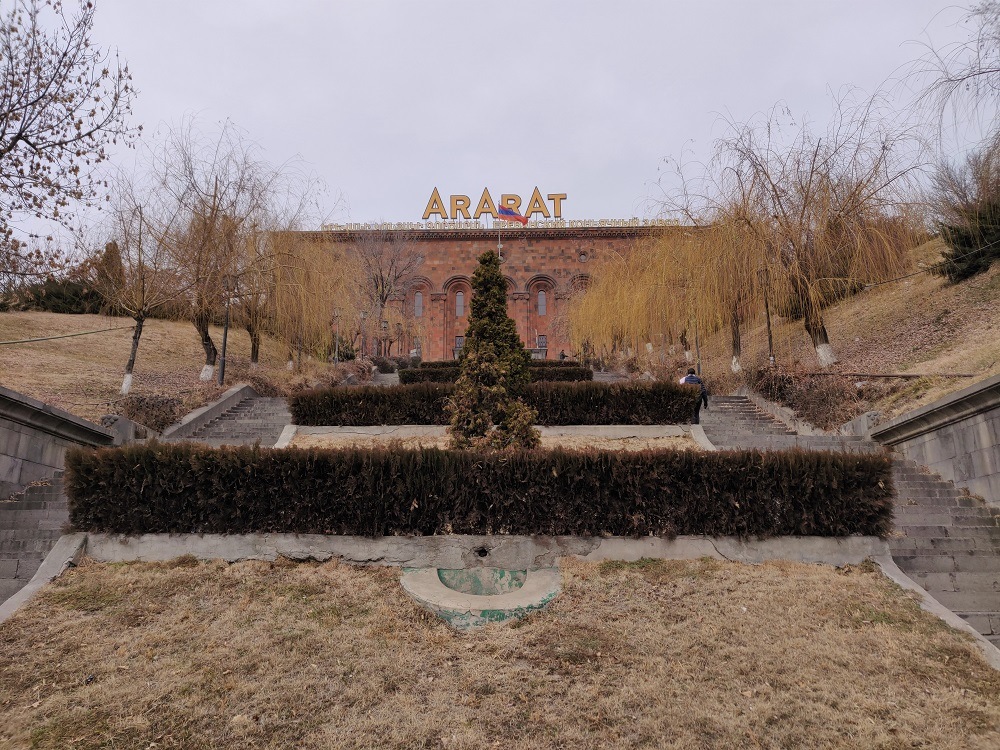 Noy Brandy Company
Opposite the Yerevan brandy company you find the Noy Brandy Company. Ideal, for additional tasting and comparing brands!… Both factories were closed during our visit, so I did my tasting later at night in one of the restaurants!
Yerevan History Museum
Adjacent to the Noy Brandy company you find the Yerevan History museum. Surprisingly this was open, but I would not recommend visiting. The display is very limited.
Saint Gregory the Illuminator Cathedral
The Saint Gregory the Illuminator Cathedral is the largest cathedral of the Armenian Apostolic Church in the world. It is one of the largest religious buildings in the South Caucasus along with the Holy Trinity Cathedral of Tbilisi.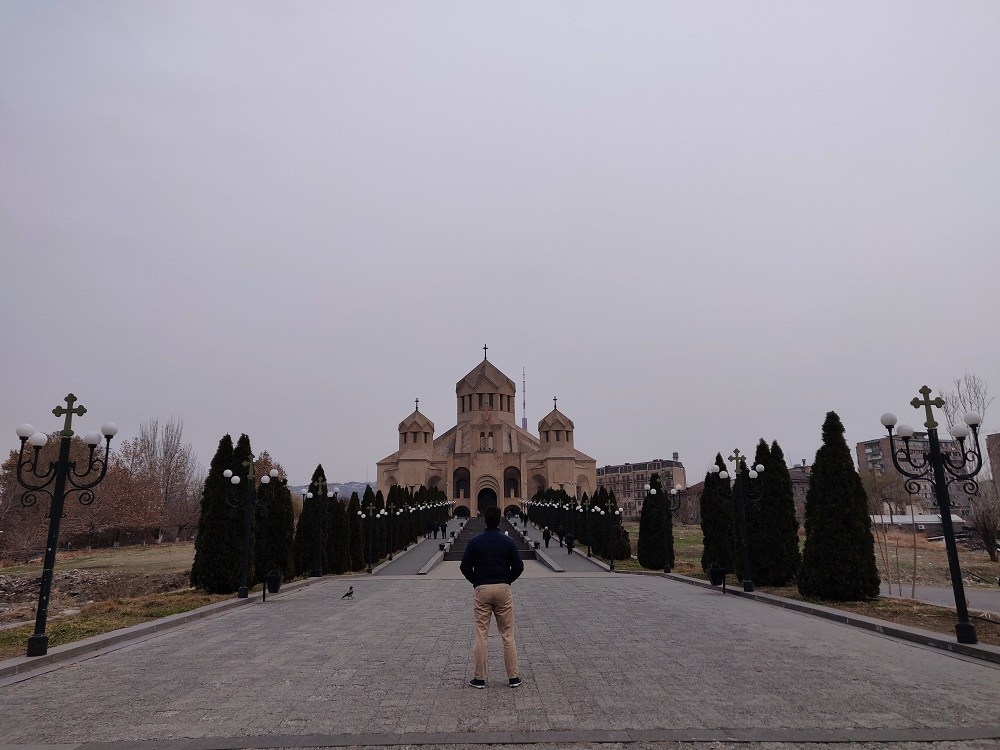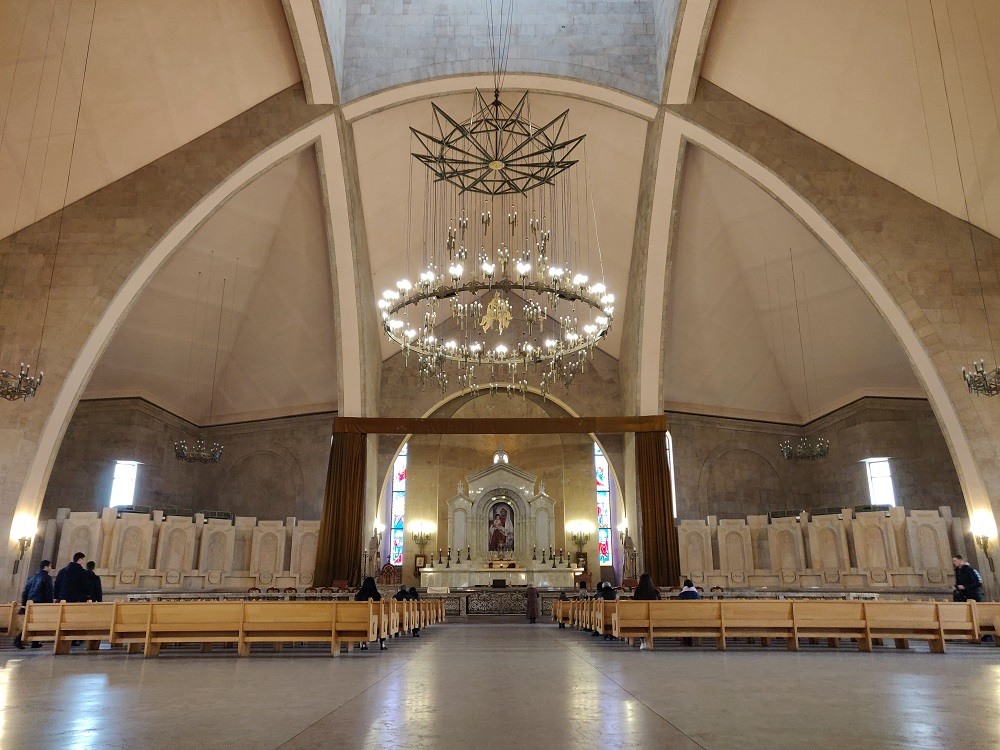 Vernissage
The Yerevan Vernissage is a large open-air market. The market lies along Aram and Buzand streets at a length of 350 metres, connecting the Hanrapetutyun street with the Khanjyan street. Great for souvenir and memorabilia shopping.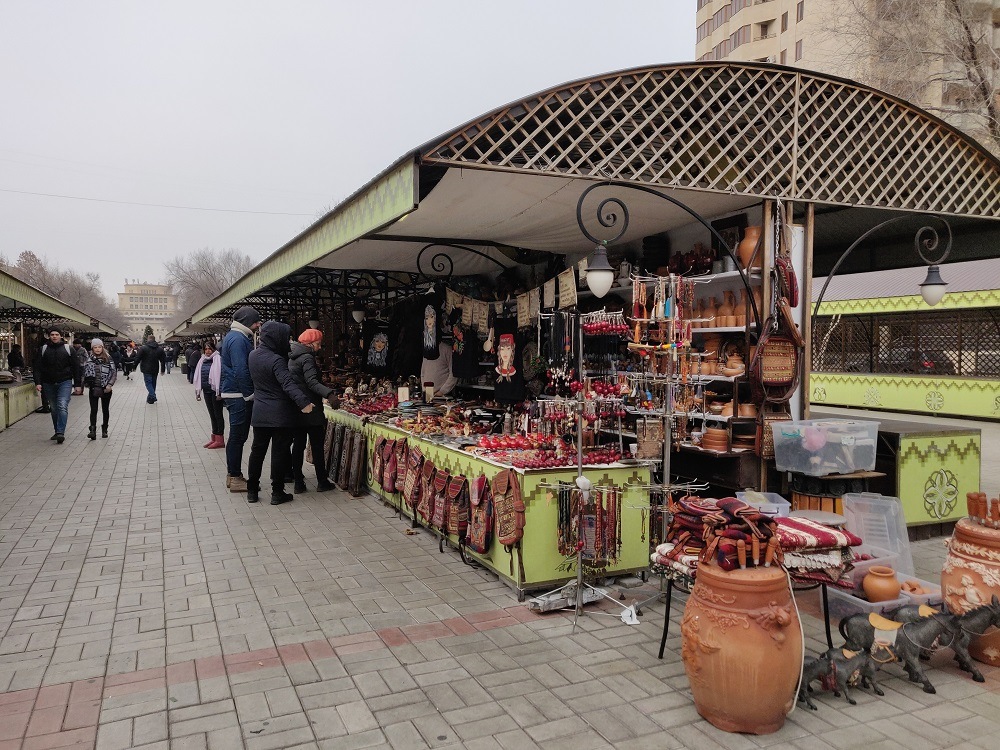 Etchmiadzin in Vagharshapat
The Etchmiadzin Cathedral is the mother church of the Armenian Apostolic Church, located in the city of Vagharshapat. (Ideal to visit, as a slight detour to or from the airport). According to most scholars it was the first cathedral built in ancient Armenia, and is often considered the oldest cathedral in the world.
Fun Fact: Christianity was first introduced to this area by the 1st century AD. After which, Armenia became the first country to establish Christianity as its state religion around 301 AD.
The Cathedral was undergoing rigorous renovation when we visited. Although, perhaps even nicer to visit is the Agape Refectory.
Top Tip: Maybe placed better in the section below, and perhaps a reason on its own to visit Vagharshapat is to eat (or have drink) in the Agape Refectory on the Etchmiadzin Complex. Founded in 1655, this medieval structere is the 2nd oldest on the complex and the first refectory (eatery for monks). Do try the traditional Armenian desert called Kolondrak!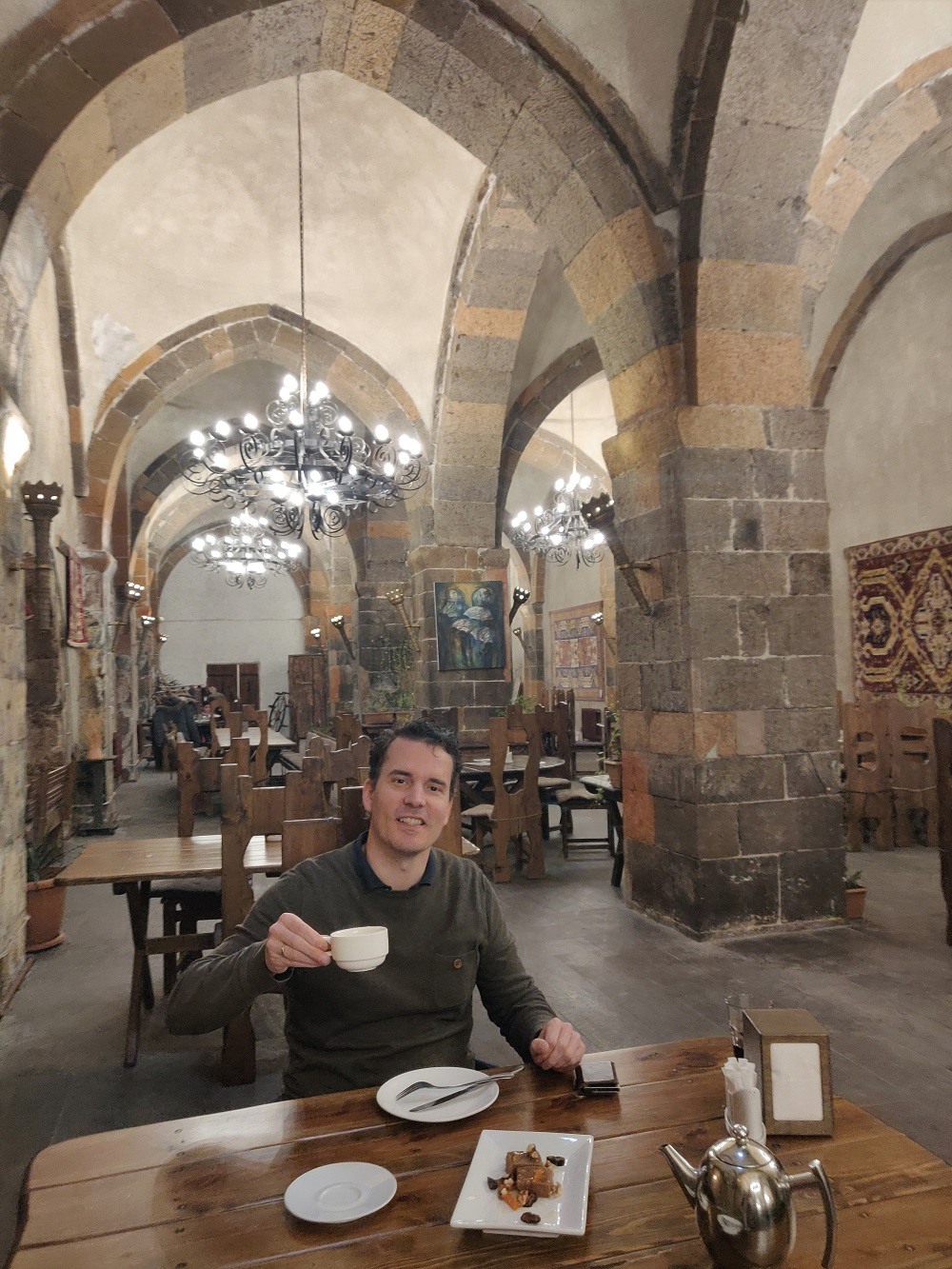 Restaurants and bars in Yerevan
In order to make your Armenia trip complete do try the below restaurants and bars!… You may find some other, higher ranking, restaurants on sites like TripAdvisor. However, we walked past most, but found many of them 'overpriced' compared to the below…
Tavern Yerevan – best place for Armenian cuisine
This seems to be a small restaurant chain, with multiple outlets. We visited the one close to Republic Square. Great food, low priced, nice ambience, what more do you need! Also, many locals seem to go here, which must mean it good and authentic!
In contrast, there is also a self proclamied 'national foodchain', called Karas, which has more a fastfood vibe. We tried this, but did not like the service, many items were not available and the prices were similar or even higher. Hence, go with Tavern Yerevan!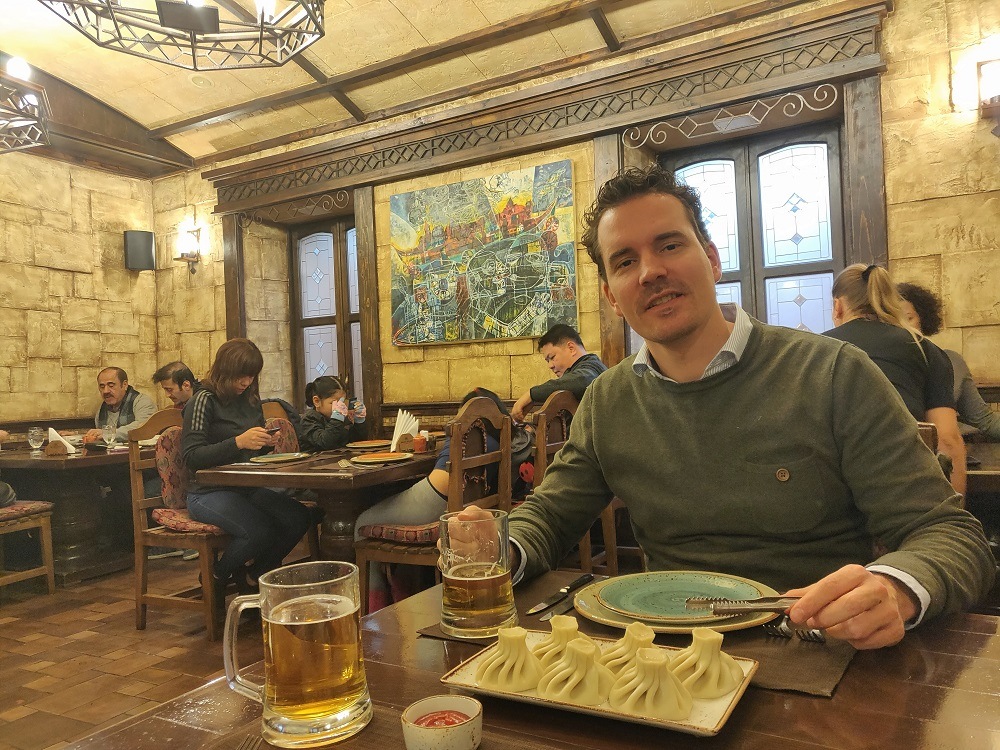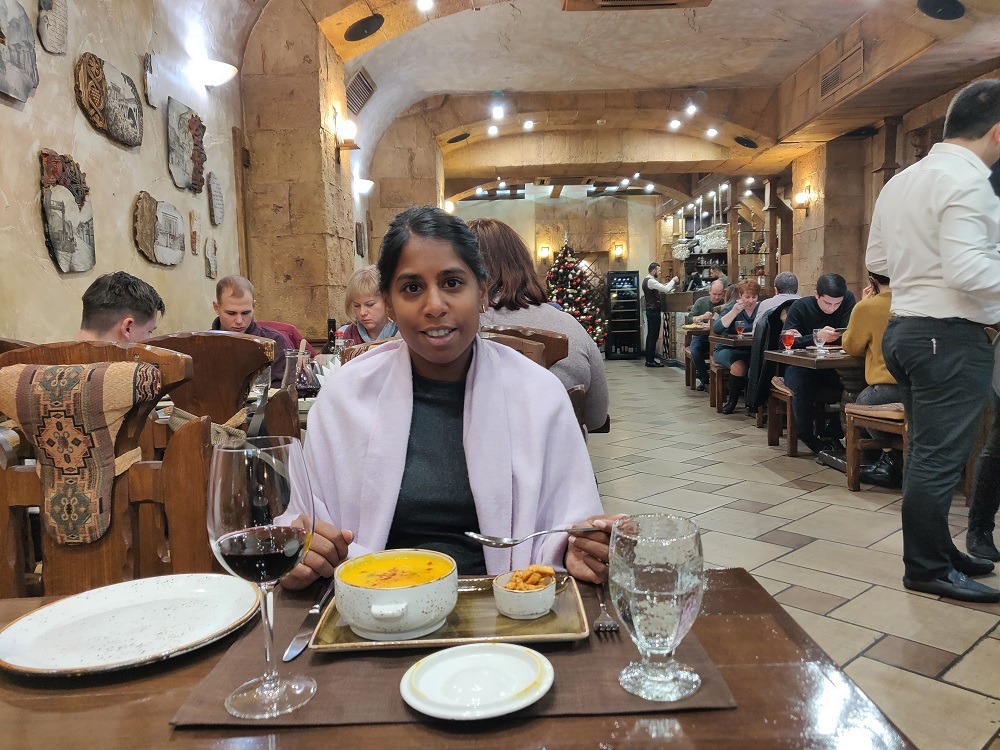 Verev Rooftop
A nice modern rooftop restaurant, overlooking the Charles Aznavour Square. Nice for cocktails!…
Black Angus Burger
Actually just a burger joint, but Black Angus Burger is nice for a burger craving, or post drinks!… Prices are very decent! So a nice low-budget option!..
Dors Craft Beer & Kitchen
Dors Craft Beer & Kitchen has a nice craft beer selection! As often, we tried the sampling platter… They have great Weiss beer!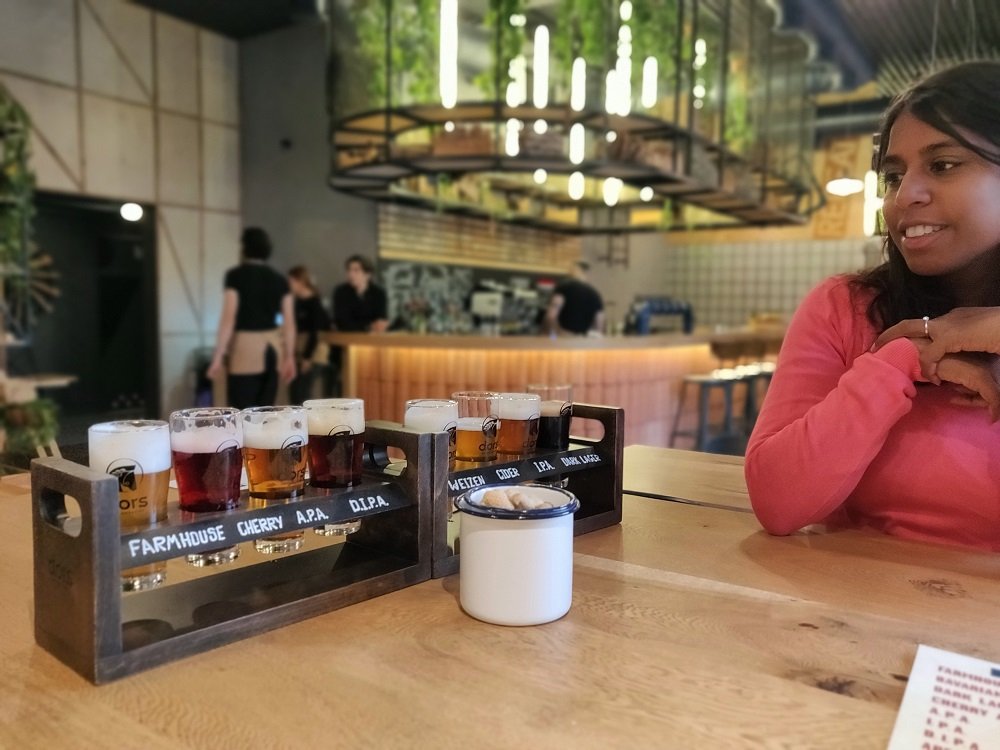 Dargett Craft Beer
Another, perhaps even nicer craft beer bar & restaurant is Dargett Craft Beer. Definitely try the Beeramisu, a spectacular dessert!…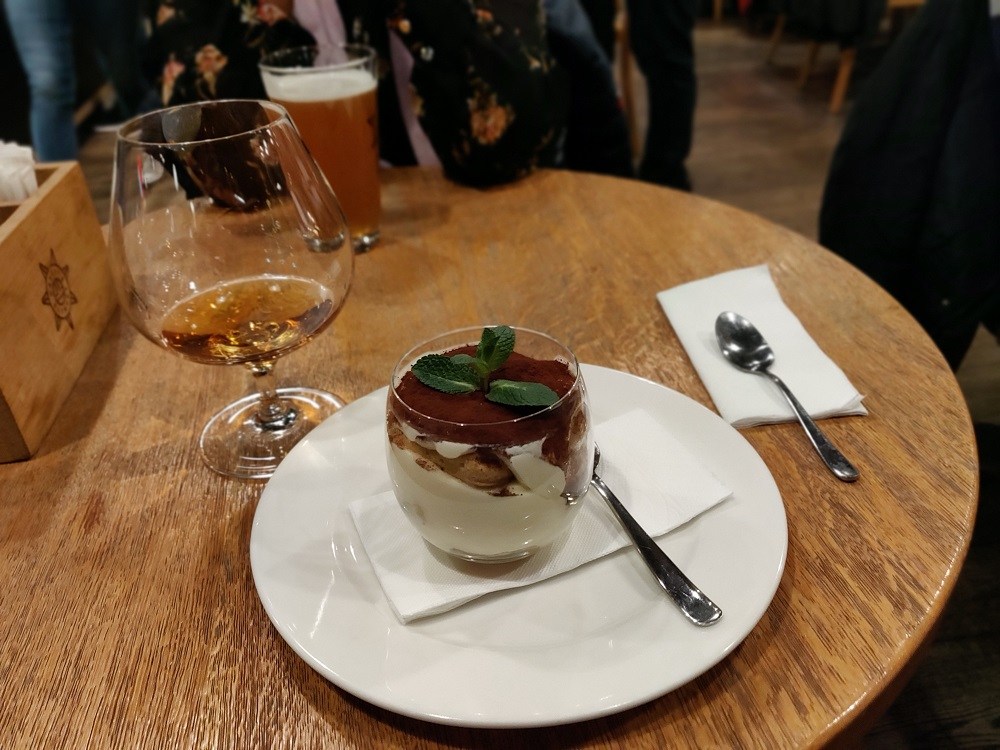 Seasons Restaurant
A stones trow away from Dargett you find Seasons Restaurant. This looks great, complete with amazing (Christmas) decoration, a modern feel and it is apparently run by a top talent Armenian cook. However, I would NOT recommend going here!.. Service is terrible, while prices are certainly high-end. If you like to enjoy this restaurant, just have a glass of wine or coffee, but spend your money elsewhere…
This is wher we end our Ghost around the Globe adventure… Armenia is great, but do not go during the end year holidays!… Remember, do combine your travels with Georgia, and while at it… throw in Azerbaijan as well…