Discover beautiful Kyrgyzstan: 5 day itinerary
Reading time: min | Published on:
Kyrgyzstan… One of those countries that you may not have even heard of… but luckily about to change!… I am even willing to go a step further, as after reading this blog I am almost sure you want to go and check this country out for yourself!… The diverse dramatic landscapes, friendly people, the beautiful parks of Bishkek, and the insanely good value for money are all reasons to visit Kyrgyzstan as soon as you can!…
Let me describe the 5-day travel itinerary that I undertook with my friend Arnoud… We rented a car and covered most of the key sights and natural wonders. However, many of the travellers we met did spend much longer here (and in the Central Asian region). Most of them enjoying the diverse landscapes and natural beauty via hikes, horse rides and other outdoor activities. As always… do your online research and change your plans as you see fit… At almost all of the below-mentioned places of interest, you can extend your stay with any sorts of activities and spend as long as you like!… Let's start discovering this magnificent off-the-beaten-track country!…
Day 1 – Bishkek sightseeing
We arrived (very) early in the morning at the Manas International Airport, 30 mins north of the capital Bishkek. It is likely your point of entry, if not coming in from any neighbouring countries (if planning, check which borders you can cross and which not!). First impressions were immediately very good!… the passport control was very efficient. For me, as Schengen Citizen, I enjoyed a free visa on arrival!…  We took cash out of the ATM at the airport (note, only fairly large denominations and a maximum of 'only' 8000 Som), before one of the friendly taxi drivers drove us to the city centre.
Top Tip: Taxi price that was offered was very fair! However, similar to Russia, the taxi driver did not speak English, making it hard to explain your exact destination. Besides, you may not be as lucky with receiving a fair fare. Therefore, do download the Yandex app (similar to Uber) where you can easily book via the free Airport Wi-Fi. You can select 'pay with cash' or 'pay with card' option and you are sure that you are dropped at the correct destination!
We arranged a free (very) early check-in with the hotel upfront. Do try and bargain a bit! This country is not touristy at all and people are very friendly, practical and accommodating!… This meant we could sleep a few hours before exploring Bishkek…
Exploring the key sights of Central Bishkek
After catching up on some sleep, we started exploring the city on foot. As soon as we stopped at some local shops it became clear just how cheap everything is (and how much our 400 Som (5.5 USD) tip actually must have been to our taxi driver earlier that morning!). For lunch, we bought an ice tea (35 Som) and filled pieces of bread (35 Som).
Bishkek is a relatively small capital and does not have many sights of interest. Then again, we were amazed by the many beautiful parks filled with fountains, statues and flowers… Stretching from Victory Square all the way to the State History Museum and beyond… This is the direction we walked and it here that you will likely spend most of your time…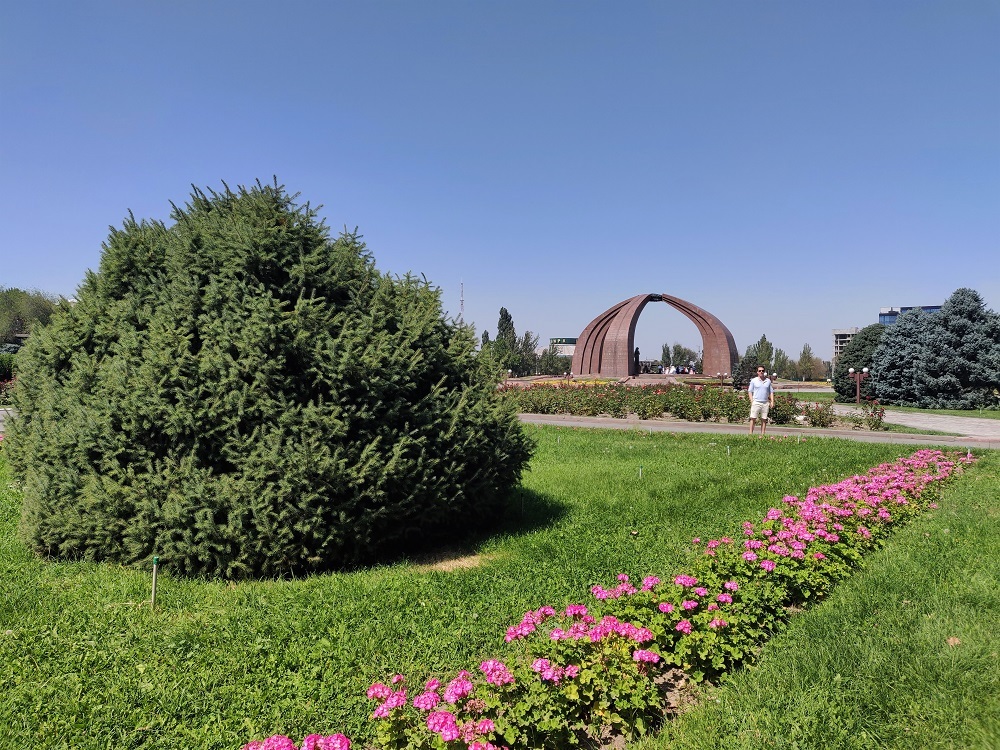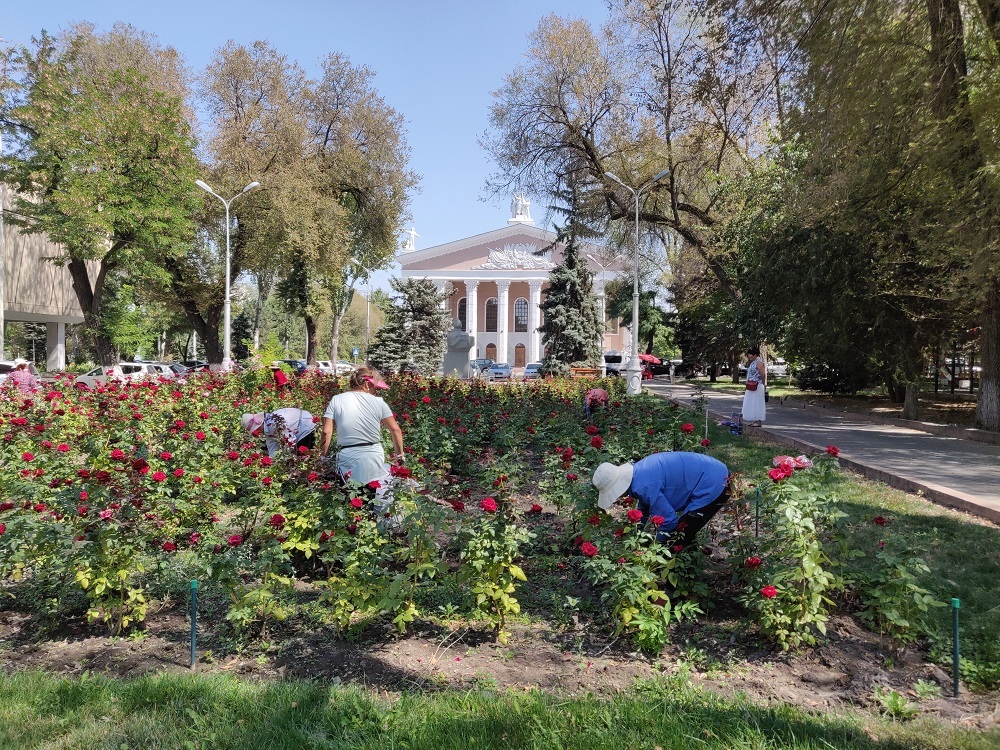 Do check out the Vladimir Lenin Statue, The Sovjet style Kyrgyz Republic Government Building, the State History Museum (closed for renovation) with the large Kyrgyz flag waving next to it and the Ala-Too Square and Panfilov Park (especially when travelling with children)…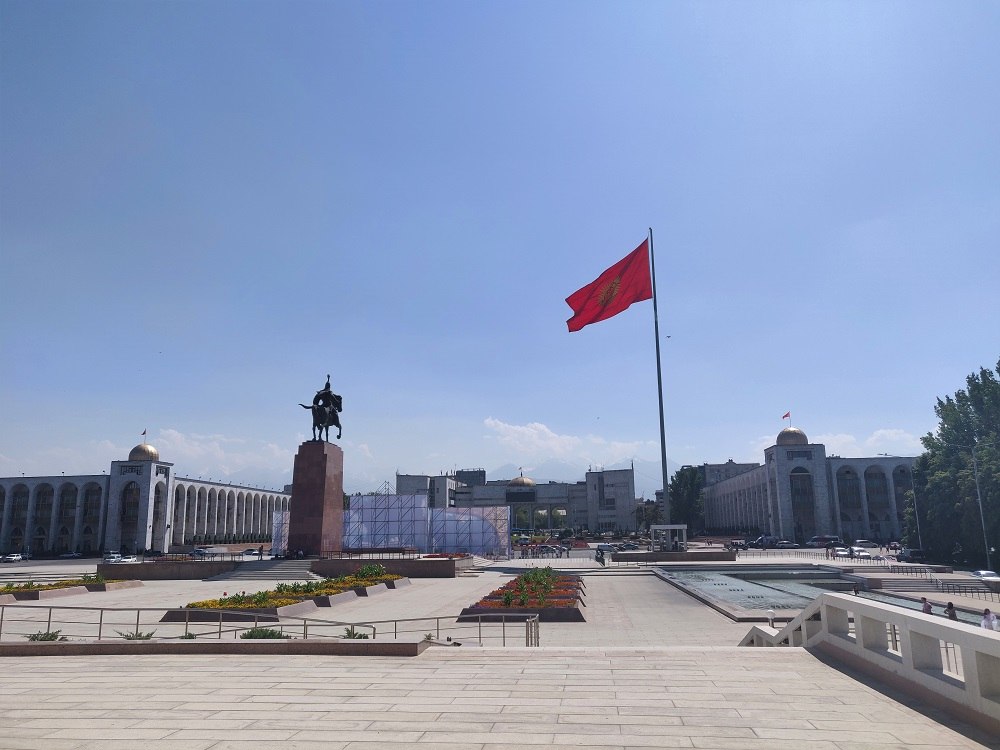 Kyrgyzstan is Friendly Safe and Upcoming
The first impression of the people is that they are very friendly… We did not witness or experience any form of aggression. People behave nicely in traffic and are polite. There is definitely a language barrier, as many (older) people do not speak any English, but you will figure everything out! (If unsure, download a translation app, which many Kyrgyzstanis have installed on their phone already). The streets are very clean, as mentioned the parks are maintained very well… All-in-all a nice place to spend your time.
What did surprise us is that there are almost no big international brands or chains! This indicates a certain degree of economic isolation and the upcoming state of Bishkek and Kyrgyzstan in general. There are no globally operating car rental companies, no McDonalds, no Starbucks… Bishkek has many modern malls, however no big (Western) fashion brands whatsoever! Fancy a soda? You can choose either regular Coca-Cola, Sprite or Fanta – In the whole country, no diet varieties seem to exist…
Well, we were not in Kyrgyzstan for McDonald's, instead, we had lunch at Arzu… A very nice and popular restaurant with an outdoor garden. Here we tried Kyrgyzstani dumplings, which were quite similar to kingali we enjoyed in Georgia, and later Russia.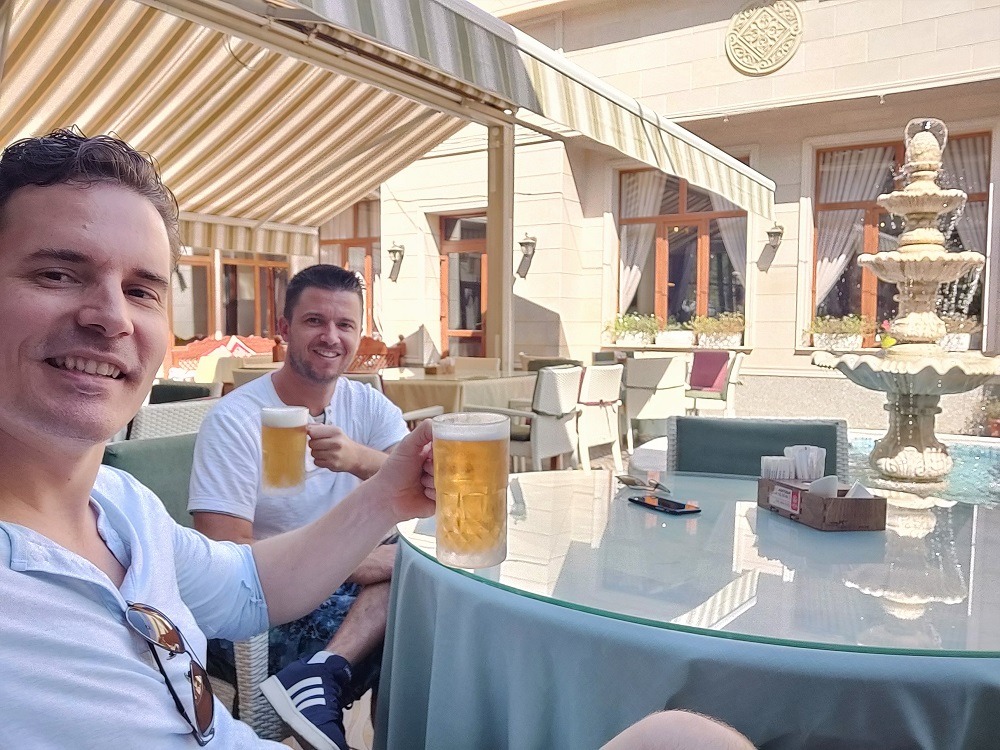 Picking up our rental car to explore Kyrgyzstan
As mentioned, no big global rental car companies are operating in Kyrgyzstan. After some internet searches, we ended up with Iron Horse Nomads. One of the few rental car companies, which has some 'interesting' cars on offer… We opted for a Russian UAZ Hunter, definitely something else!… Depending on your travel plans you may not want to opt for this though!… When, like us, you are planning to drive 1200+ kilometres in 3 days or if you are a less experienced driver, you may want to think a bit about your comfort level, which is nonexistent with this car!… No A/C, no electric windows, fuzzy steering, no radio, loud noise, and above all very bumpy suspension… A fun, but back-aching learning opportunity!… If only planning to go for a day trip or want to do some nearby off-roading, and like a nice experience, go for it!… When planning to drive like us, via the below itinerary, go for a more modern car!…
Additional Bishkek sights
With our freshly picked up UAZ Hunter, we drove past some of the less central sights of Bishkek. Our first stop was Victory Park. Frankly a waste of time… apart from a tower-like structure, there is not much to see and the park is by far not as well maintained as the other central parks.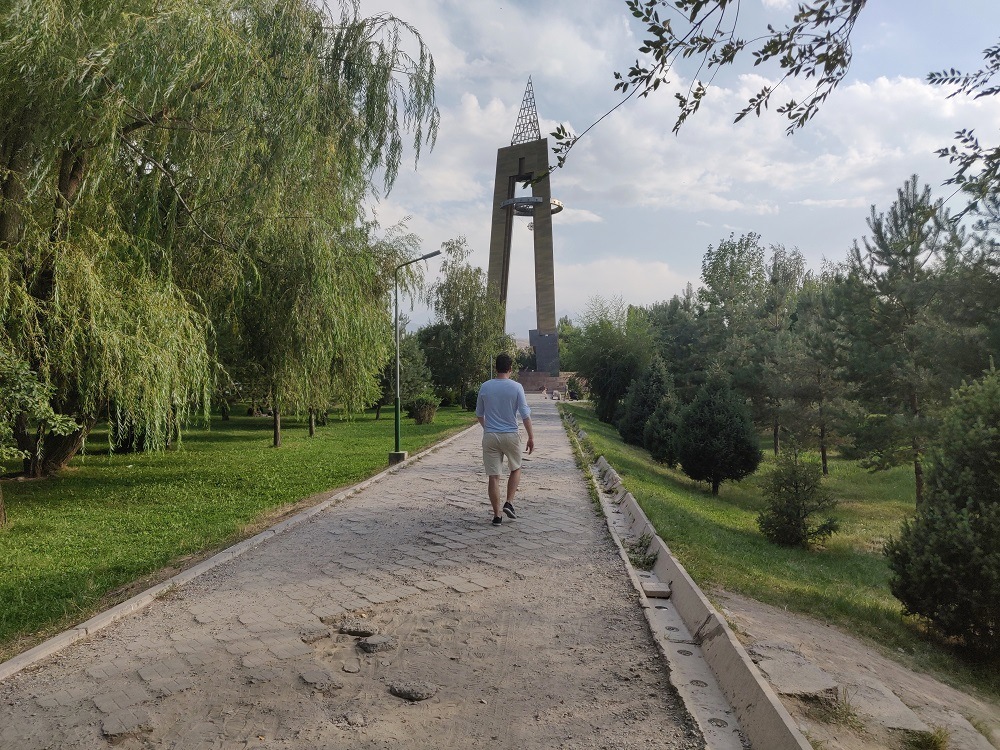 What is a nice stop is the Ortosay Bazar, a local market where we did buy some fruit and snacks for our road trip the next day… Just when you think it cannot get any cheaper you find how much a dollar takes you on this market… Amazing!…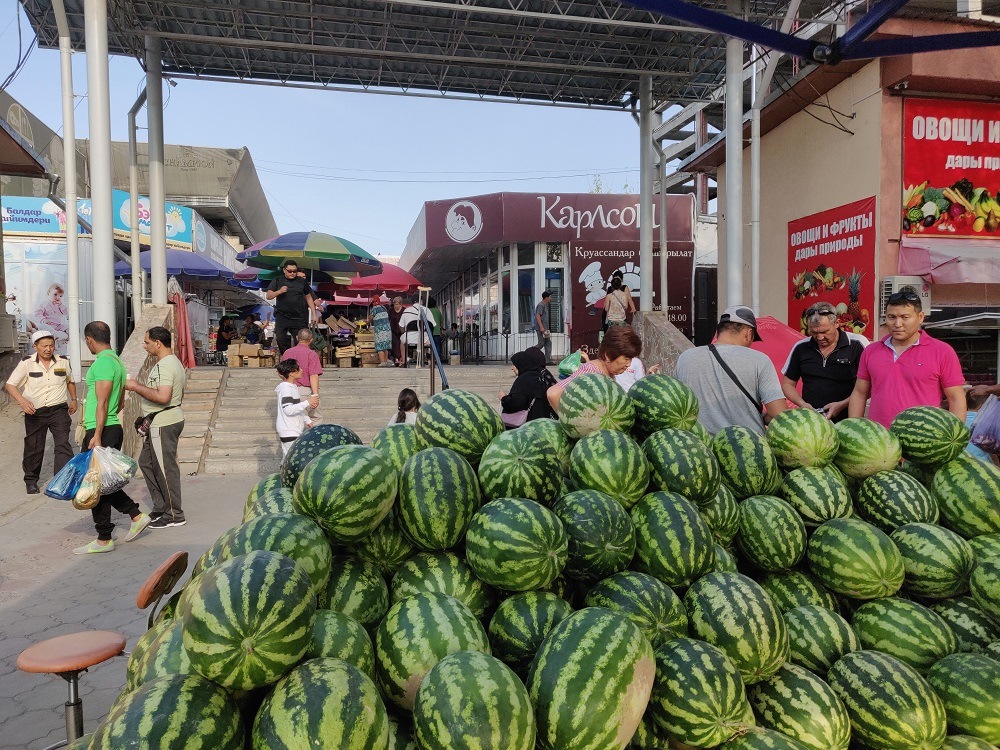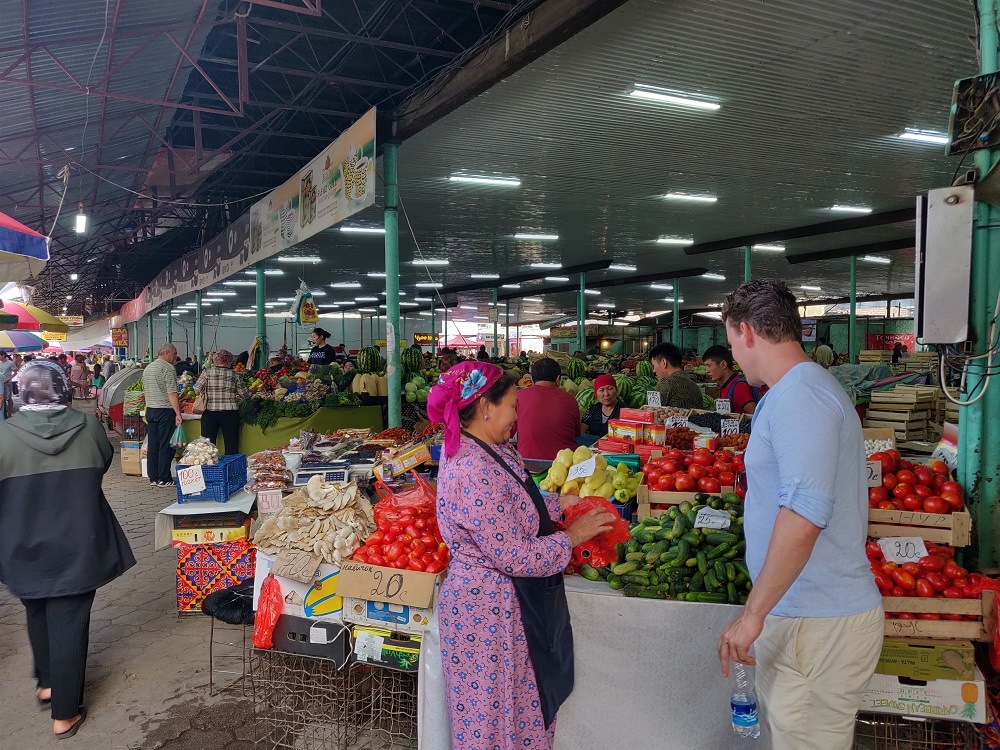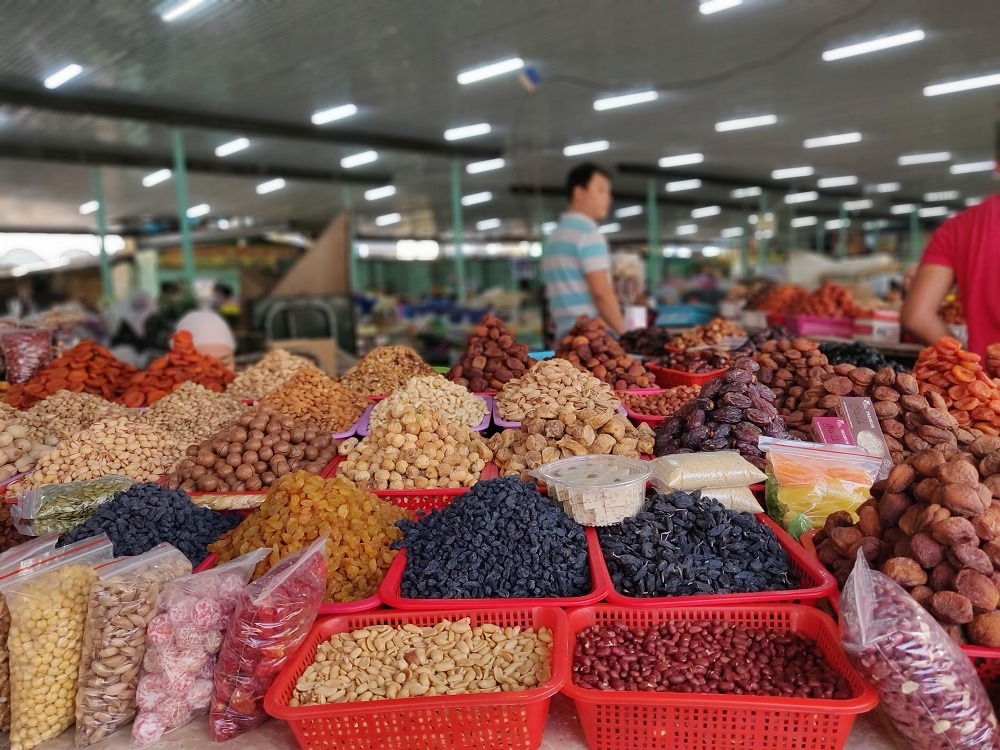 Another Bazar, which we ultimately did not visit anymore is the Osh Bazar… which is situated closer to the city centre… We saved this for the last day but in the end did not end up visiting…
Amazing value-for-money dinner!
Facing the Victory Square we passed the Torro restaurant on our walking tour… This Argentinian steak house has very high quality, delicious and (of course) very low priced steaks!… Keep in mind that, with 10USD per steak, this is one of the top-end restaurants, other places are far cheaper… It really was up to standard as I experienced in Argentina!… A great end of a busy day… after which we went to bed quite early to start our exciting road trip… let's continue!…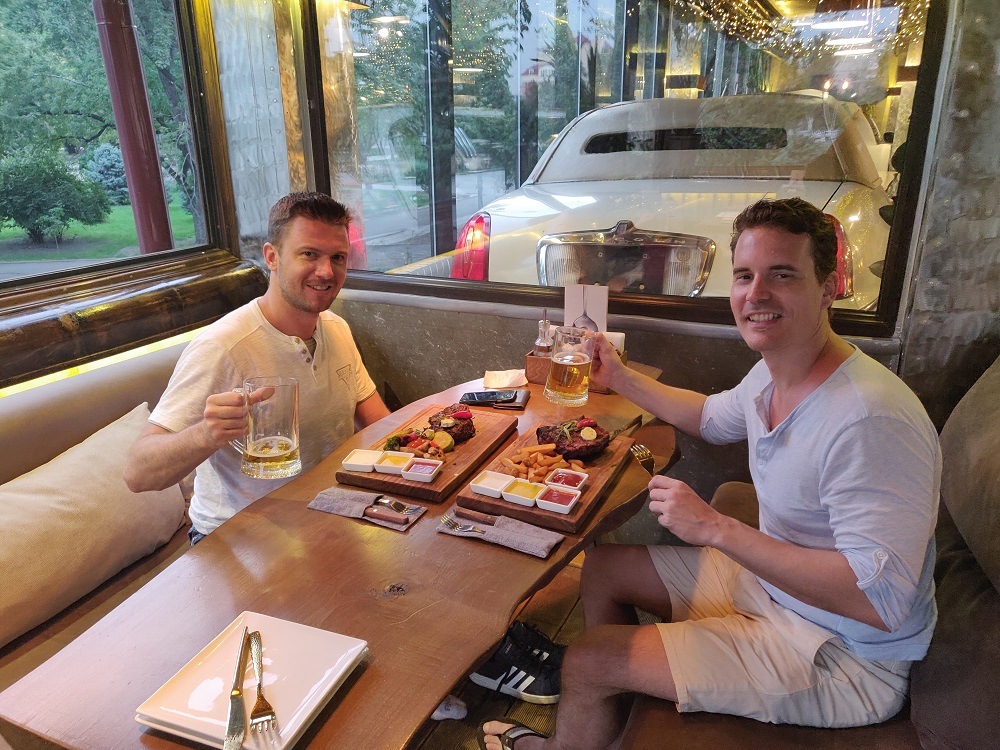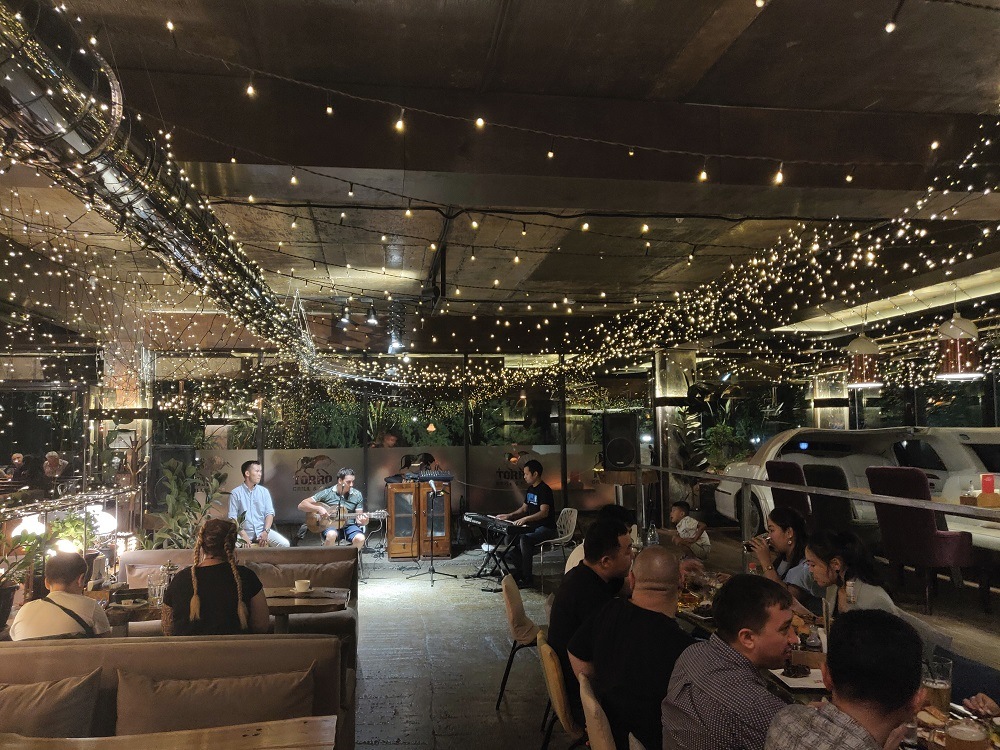 Day 2 – Burana Tower, Issyk Kul Lake, Altyn-Arashan and Karakol
We left Bishkek in the early morning, knowing we had a long drive through Kyrgyzstan ahead of us. This would be the longest day of driving in our itinerary, all around the Northern side of Issyk Kul Lake towards Karakol… and it proofed to become a lot longer than expected…
Top Tip: When planning to have an early rise, do check with your rental company if you can pick up your car the previous afternoon (for free). This saves you paperwork, waiting for opening times, and related logistics on your day of departure.
Burana Tower
Our first stop is the Burana Tower, around 1.5 hours drive from Bishkek. It is a nice stop to stretch your legs and explore this ancient site. The tower is a partial reconstruction of a minaret. Apart from some old 'tombstones', it is the only remaining construction on this site and one of the oldest in Kyrgyzstan.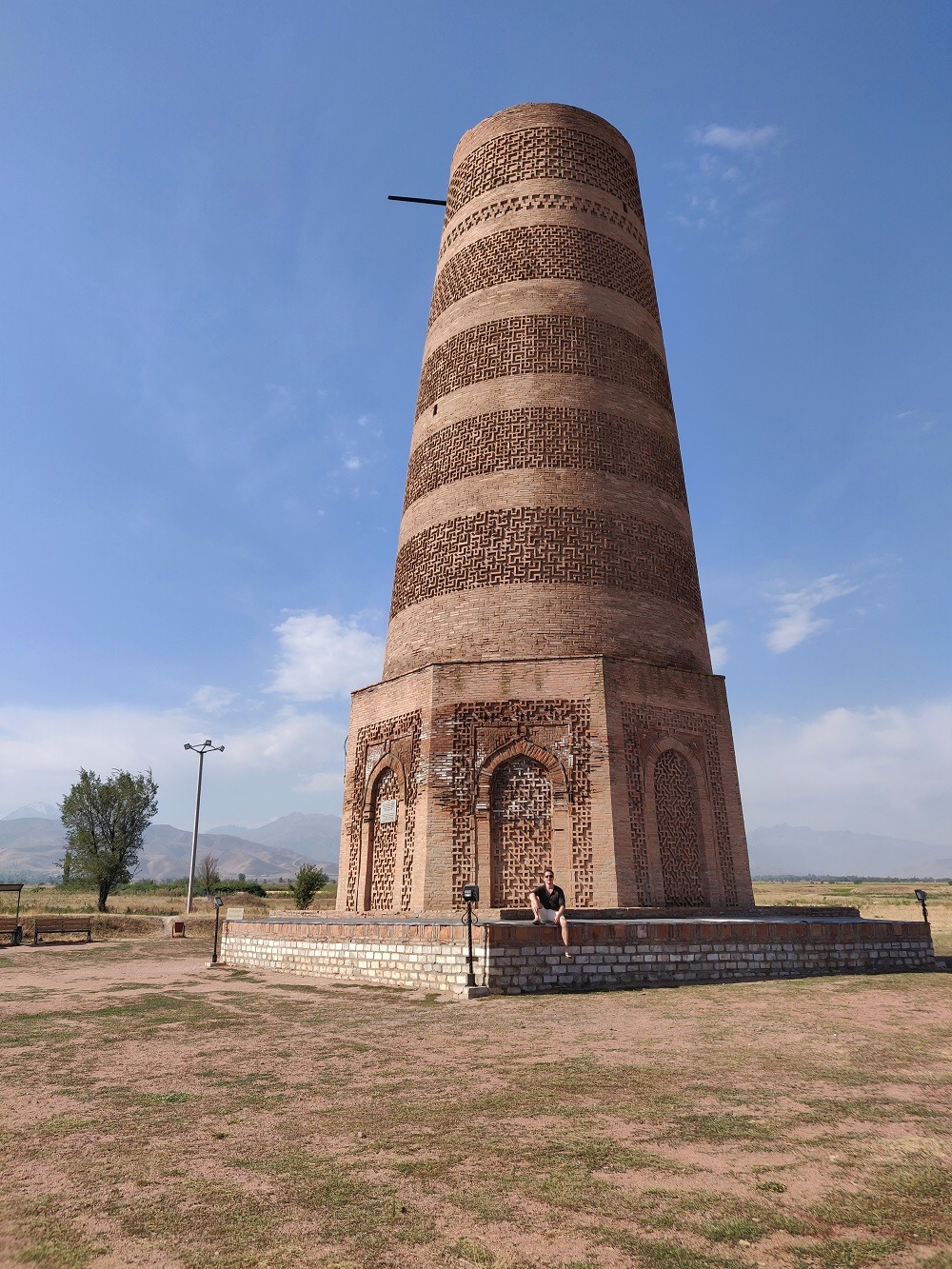 After spending a short while on the site and enjoying the view from the top of the tower it is time to continue our journey further along the north side of the Issyk Kul lake. It forms a nice scenery with the azure blue waters on the left and the Mountain ranges of Kazachstan on the right…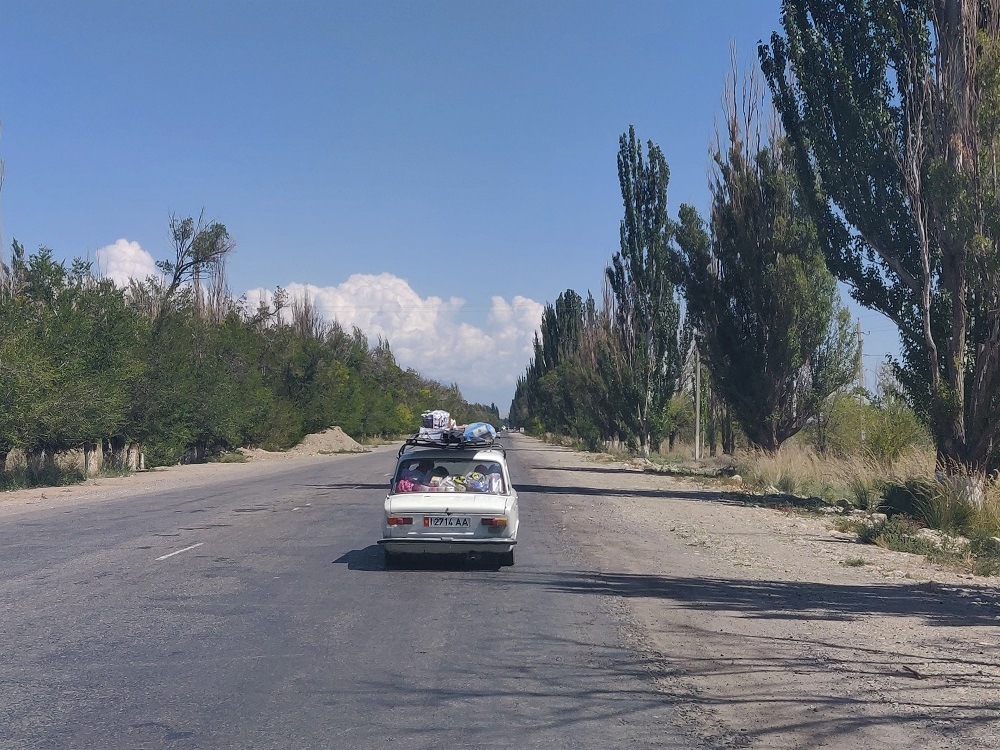 Top Tip: When doing online research we thought we would have an issue with gas stations. However, this is not correct, as there are many gas stations all around Issyk Kol Lake!… (this is in line with more errors with google maps – although the offline map works great in general). Do make sure to gas up before you drive towards Song Kol lake though but more on that later…
Top Tip: In case you like to break up this 8+ hour leg of the journey this is the place to do it by booking one of the many lake resorts…
Altyn-Arashan Valley
After our bumpy UAZ Hunter cross-country drive, we finally made it to our 2nd key place of interest… The Altyn-Arashan Valley. You most definitely need a 4×4 for this road, but the views are spectacular… We drove only a few kilometres onto the road before we decided to head to Karakol…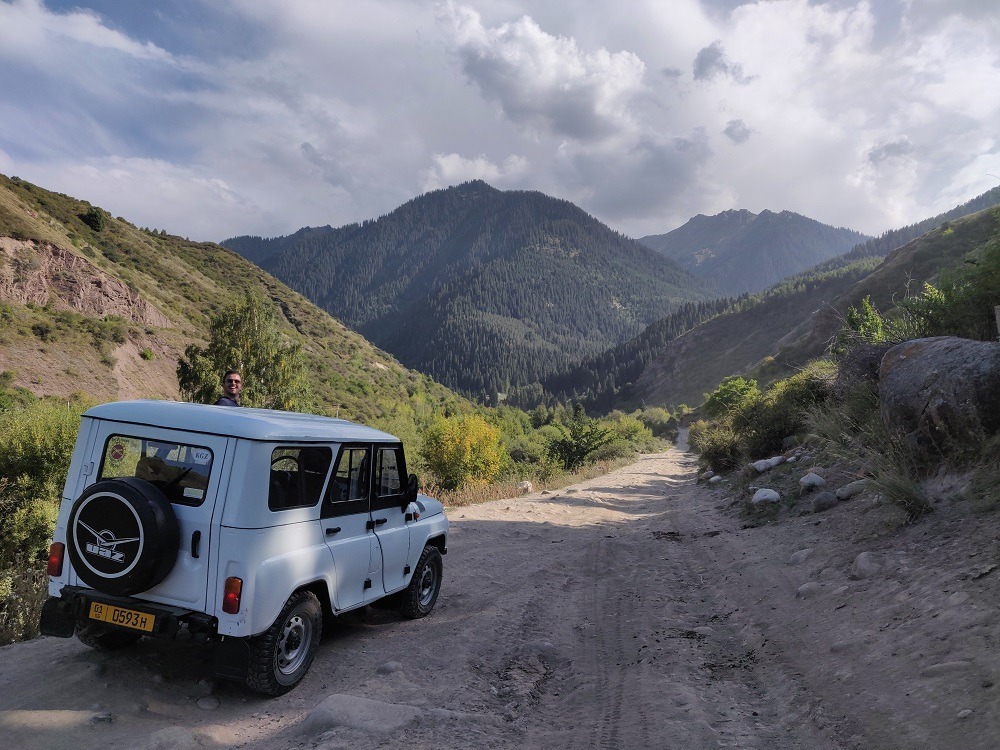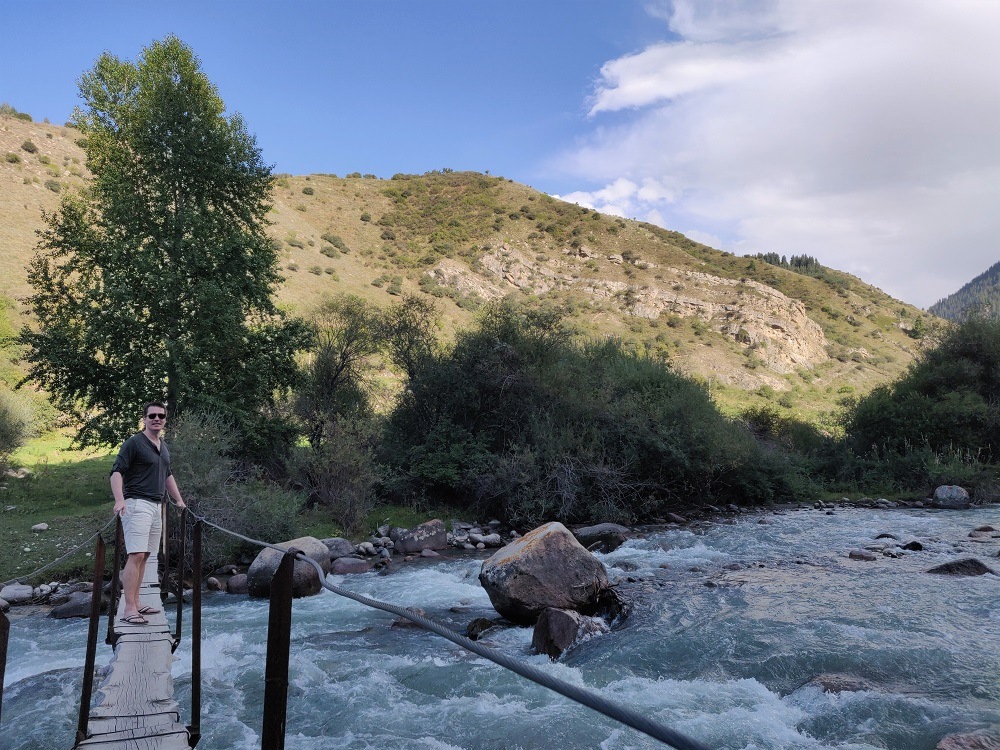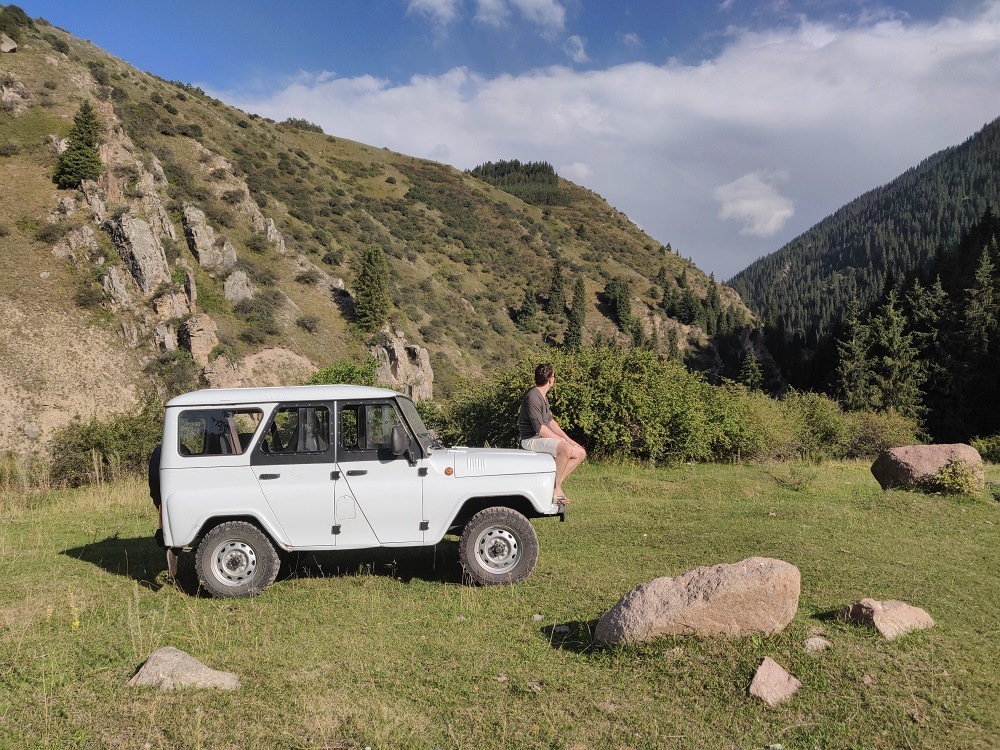 Unfortunately, as soon as we tried to drive away we noticed that the small 4WD to 2WD gearshift seemed 'stuck', or at least did not change into any mode. This made it impossible to drive… Luckily after a while, some farmers came by, but also they were unable to fix (even with help over the phone from the car rental company)… This meant waiting amidst roaming cows in silence… until mechanics from Karakol would arrive and fix the issue on the spot… This took much longer than expected… a few phone calls later we finally realized the mechanics came walking!… Their 2WD car could not drive up!… and yes finally they arrived!… 3 hours later from the time we realized the defect…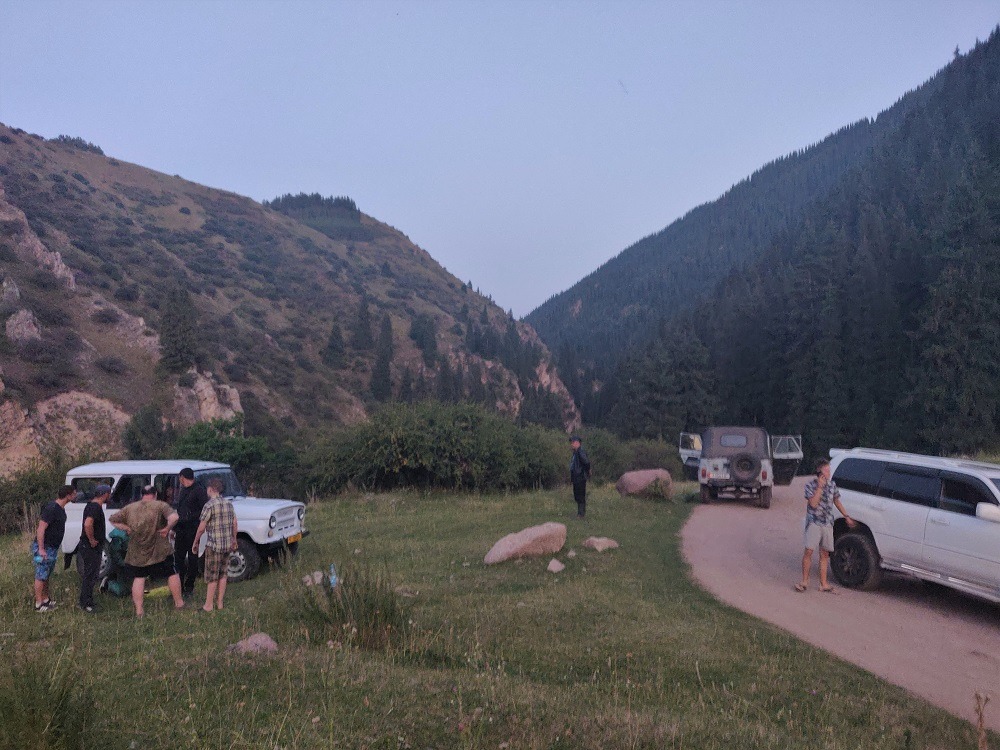 We left the car with the mechanics and got a lift from a dad with 2 sons to drop us off at our hotel (and come up with a back-up plan in case the car would stay defect)… 'Luckily' we could continue our bumpy ride the next morning, as they did manage to (temporarily) fix it and we could continue our journey… Well, at least it was an adventure…
Top Tip: Do not let this discourage you!… Altyn-Arashan Valley is nice to drive and explore… The road is quite challenging but fun for a couple of kilometres… Another option is to book a horseback ride or hike the trail…
Karakol
Karakol is a nice small town with a 'backpackers' feel, given the various hostels and restaurants. It is clearly a base camp for various hiking and outdoor activities…
In case you are planning to spend more time on this side of Kyrgyzstan, Do also check out the Jyrgalan Valley as well!… We did not have time for it (and it looked somewhat similar to altyn-Arashan, so we decided to skip it…
Day 3 – Karakol, Seven Bulls Rock, Fairytale Canyon and Song-Kul Lake
Given we did not have a chance the previous day to visit Karakol's Wooden Russian Orthodox Holy Trinity Church during daylight hours. So we made a quick stop here, before heading onwards on day 3… A shorter drive – at least according to GPS – but that would turn out to be longer in reality…
Seven Bulls Rock
Around 30 mins drive from Karakol lays a rock formation, called the Seven Bulls Rock. A nice photo stop!…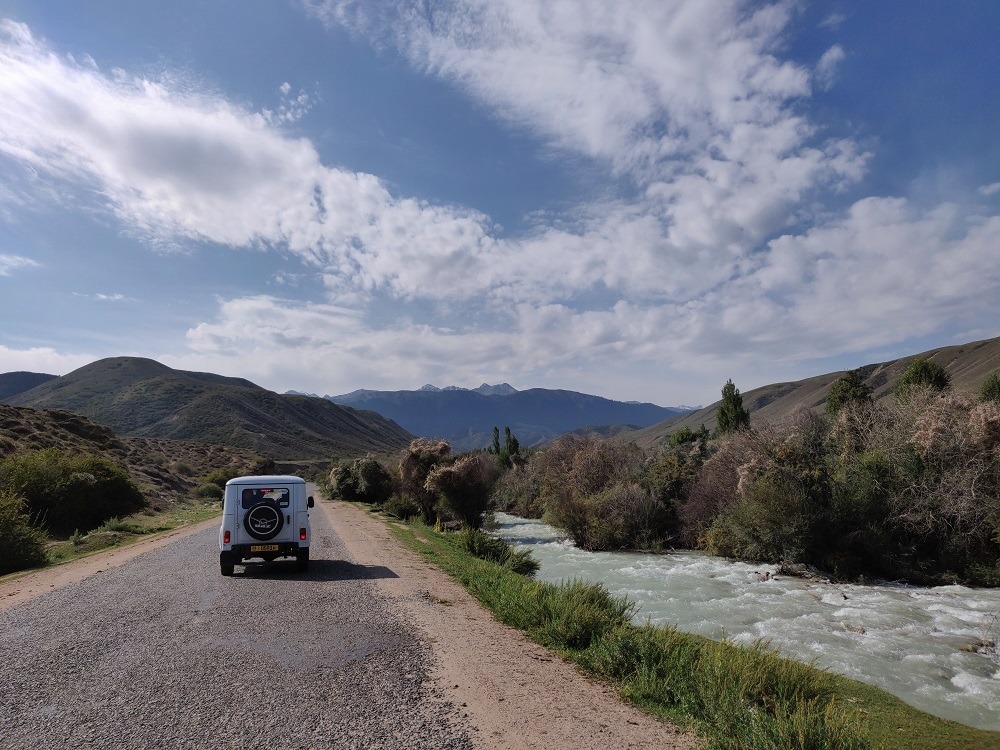 Fairytale Canyon
Let's drive further on the Southside of Issyk Kol Lake where you come across many beaches… We ventured out to the beachside to check the water temperature… Quite chilly, given the altitude and the meltwater that fills it…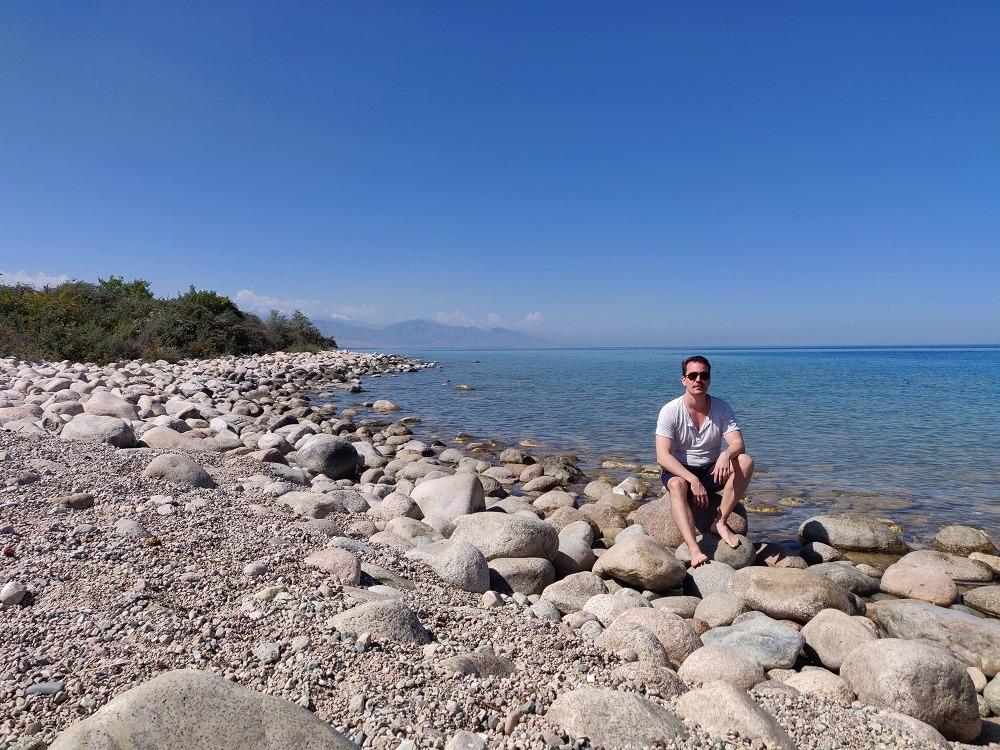 Around 1.5 hours drive from Seven Bulls Rock you will see a brown 'sight of interest' sign pointing towards a sandy road heading towards Fairytale Canyon… In the meanwhile, the green landscape has dramatically changed into dry, red, desert-like mountains. You can go for an extensive hike, however, we did just pay the (very low) entry fee, parked our car and in 5 minutes hiked to one of the highest 'hilltops' overlooking the pointy rock formations… Closely resembling the deserts of Western USA…
Song-Kul Lake
Once you leave the red rocks of Fairytale country behind and you head towards Song-Kul Lake, the surroundings yet again dramatically change… This time 'opening up' to vast empty plains of grasslands…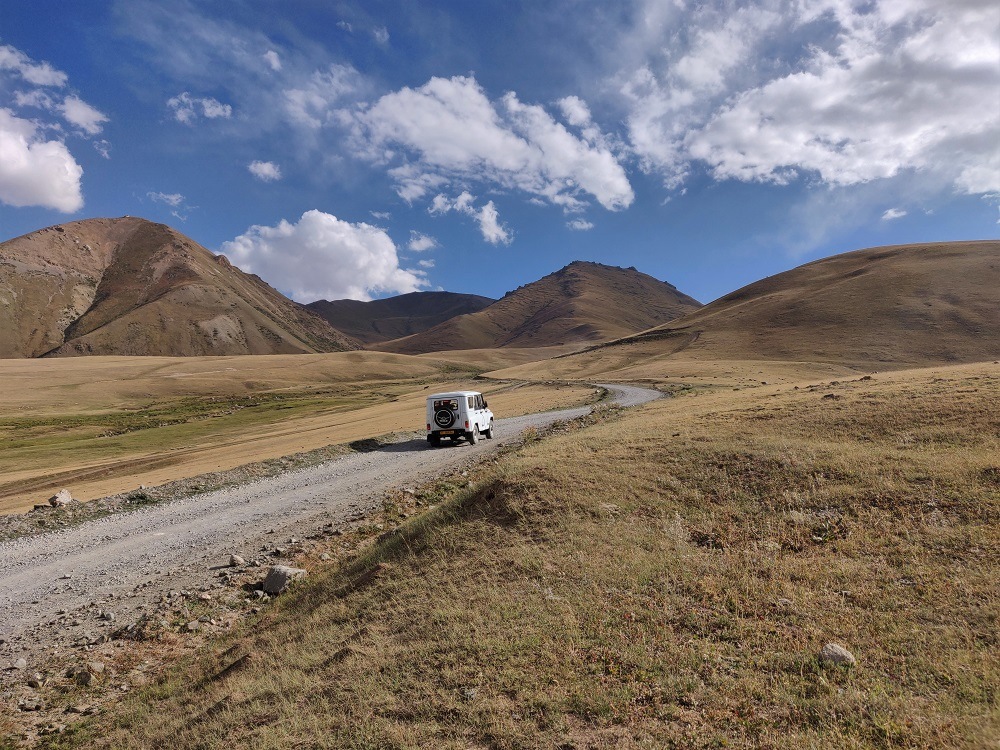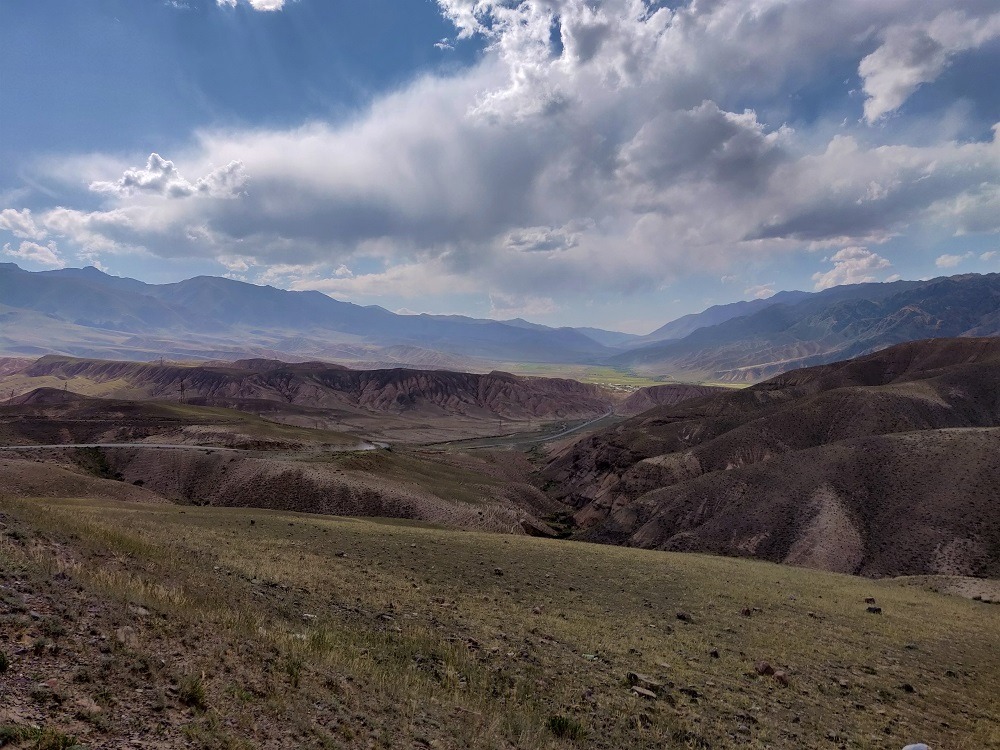 Top Tip: Around 100km before you reach Song-Kul Lake, fill up your gas, and perhaps even more important, stock up with snacks, drinks and perhaps some beers!… As in a short while, you will find yourself in the middle of nowhere, on dirt roads over vast grasslands… with only horses, sheep, cows and some yurt camps around you!…
As mentioned earlier, do not always trust your GPS's ETA in Kyrgyzstan! We used the (offline maps) of Google Maps, and it thinks you'll drive over a normal road where you can easily drive 50km/h… However, you will be happy to drive half of that over the dirt roads towards the Song-Kul Lake yurt camps… This is pushing your expected arrival time with 60 mins easily!…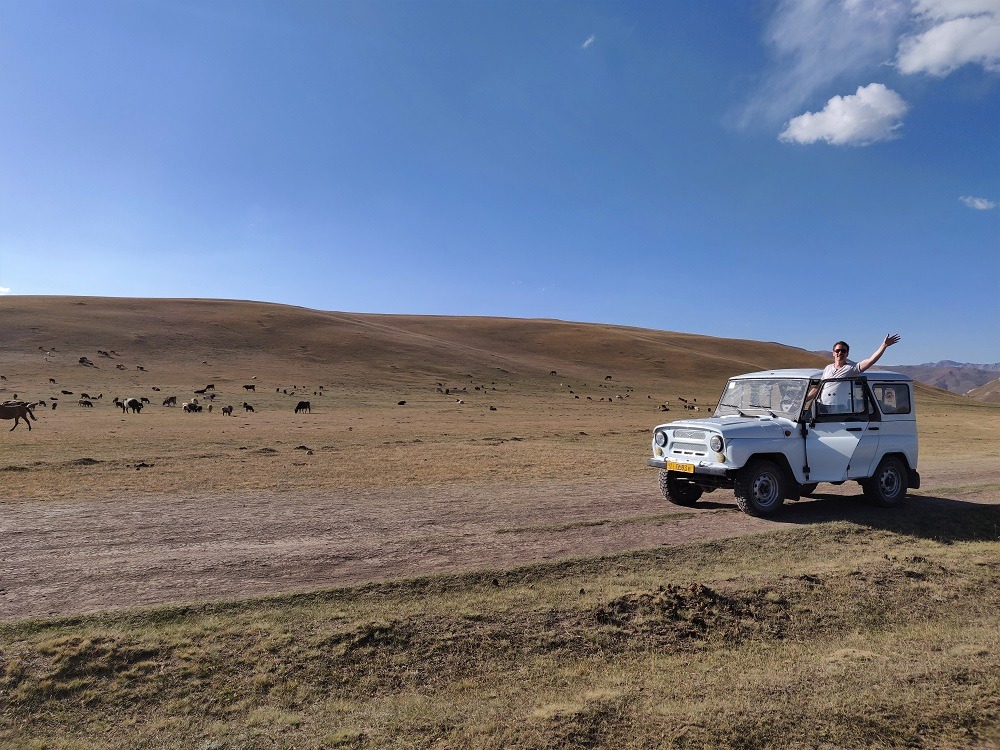 Staying in a yurt camp
A little later than expected, but enjoying the beautiful scenery, we arrived at our (pre-booked) yurt camp… However, there is no real need to book ahead, you can just try your luck driving from camp to camp and book your stay on the spot… It is not busy/touristy at all, we were the only ones staying the night (during 'high season'), meaning chances are high you can end your 'search' at your first camp already.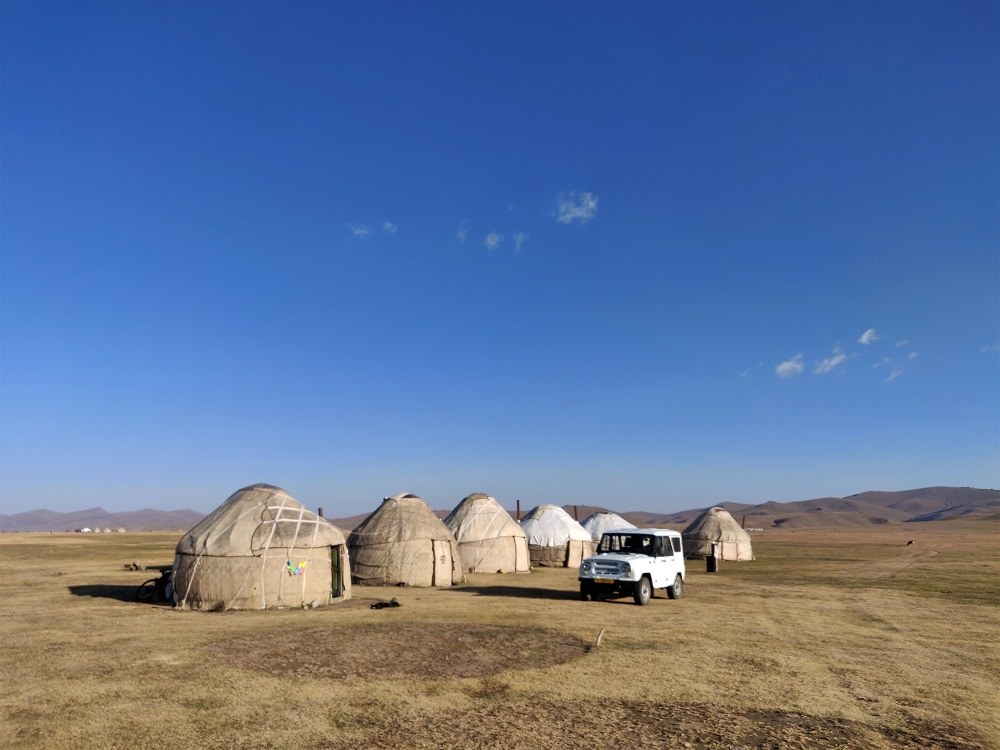 Beware that there is almost nothing to do! You are staying at a sheep and horse herding family, there are no (outside) chairs or tables and no facilities like a bar/restaurant or anything… Good news: It is all very authentic… Not like some of the touristy looking accommodations that should pass for  'yurt camps' you find around the Issyk Kol lake…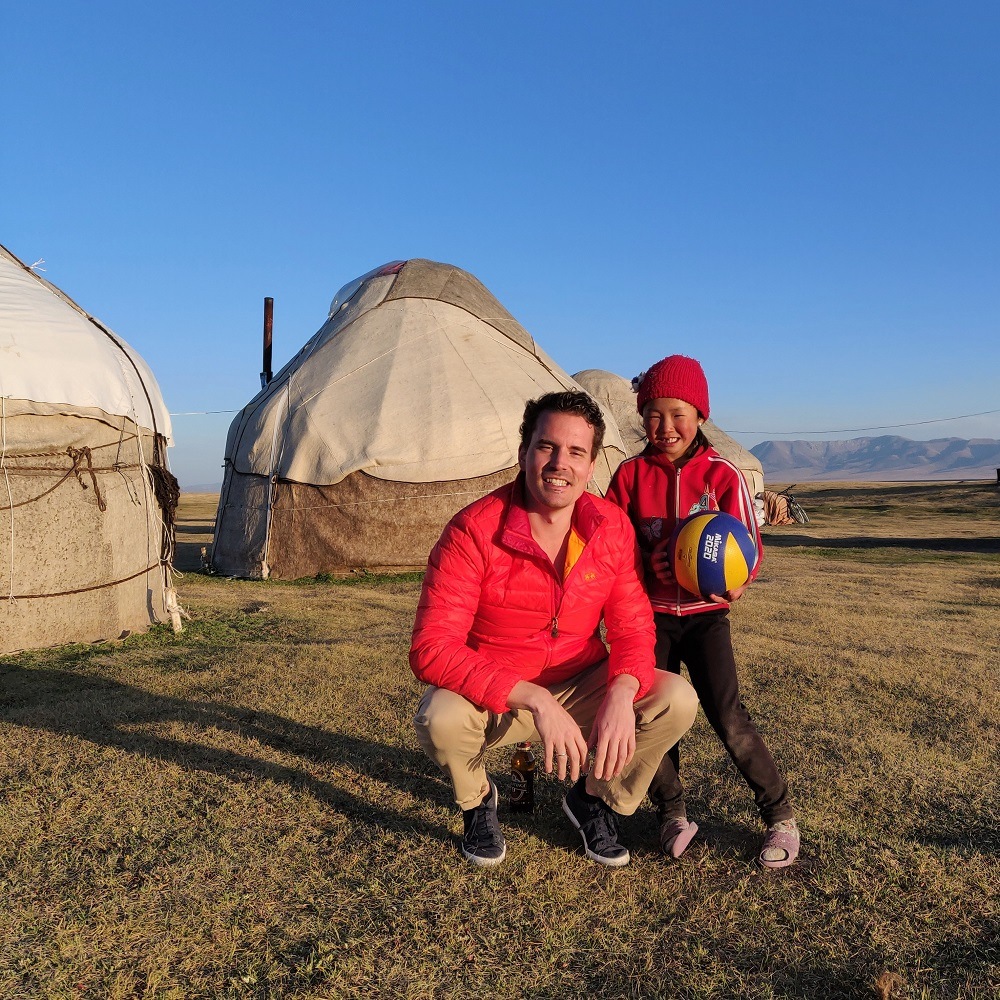 Book a horse ride
One thing to do is to book a horse ride tour on the spot… for 5 USD an hour per person. As soon as we booked it, we saw the family chasing up and capturing 2 horses from the plains… They saddled them up and off we went… Well this 1-hour trip turned in a 15 minutes tour, as the horses did not listen well, Arnoud fell off directly at the start (unfortunately not witnessed by me) and there was actually not much to ride to…
Top Tip: booking a 1-hour horse riding session is a fun experience, but I would certainly NOT advise taking one of the multiday horse ride tours towards Song-Kul lake (or anywhere in Kyrgyzstan)… That is just way too long unless you are a horse-riding enthusiast…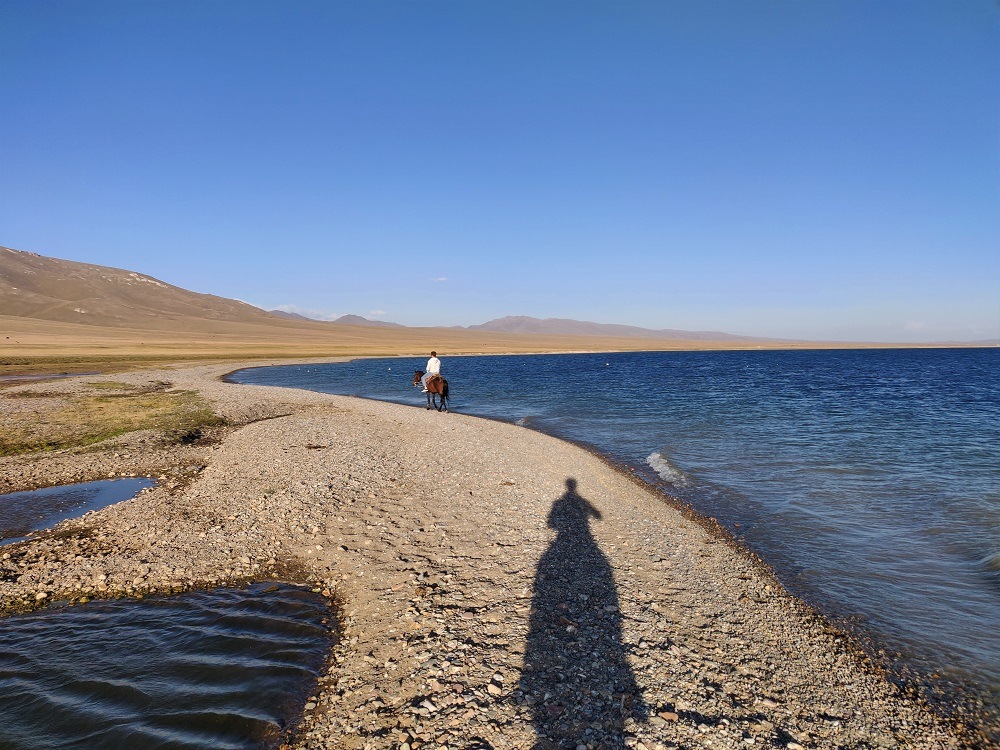 Dinner and breakfast at the yurt camp
When you arrive the camp owners will ask you if you like to have dinner and/or breakfast included. I do not see how you otherwise would eat, there is nothing nearby… You can opt to not do this and bring your own ready meals/snacks… We opted for the dinner (potato, vegetable, meat soup) and breakfast (2 eggs)… Nothing special, but also doesn't cost too much, and it is helping your host family!…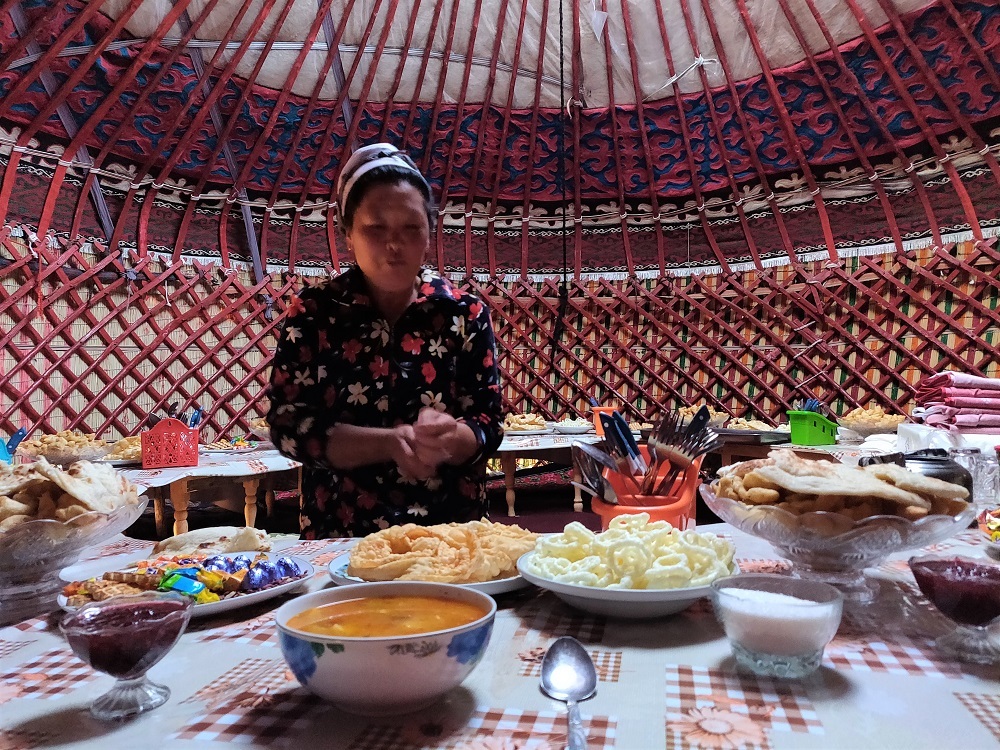 Top Tip: In case you have devices that need charging do mention this, as they will run a generator for around 1 hour… lights go out after this… and that is it… apart from this timeslot, there is no power in the camp…
With the lights out there is not much more to watch the stars and listen to the animals that roam around the yurt camp until you fall asleep…
Top Tip: On these elevated plains it gets quite cold and very windy, so do bring a wind jacket, long pants and lip balm!…
Day 4 – Exploring Bishkek's nightlife
The next day we woke up early – given the longer than expected drive the previous day – and headed to back to Bishkek.
After returning the car, we headed for a well-deserved massage, to get rid of al the back ages that this UAZ Hunter road trip left us with… You can easily book these massages via WhatsApp communication…
In the late afternoon and during the night we checked out various bars and restaurants!… Some recommendations would be Center Bar, Arzu Restaurant, Club Mongol (nice for dinner and turns into a club later at night) and the Coyote Ugly bar… Then again, we heard good stories about Bishkek's nightlife, but is it really existing!?! The next day would be National Day, which in many countries means a busy party night before, however here it seemed extra quiet? Anyway, we had a few drinks before heading to bed… to fly out again the next day…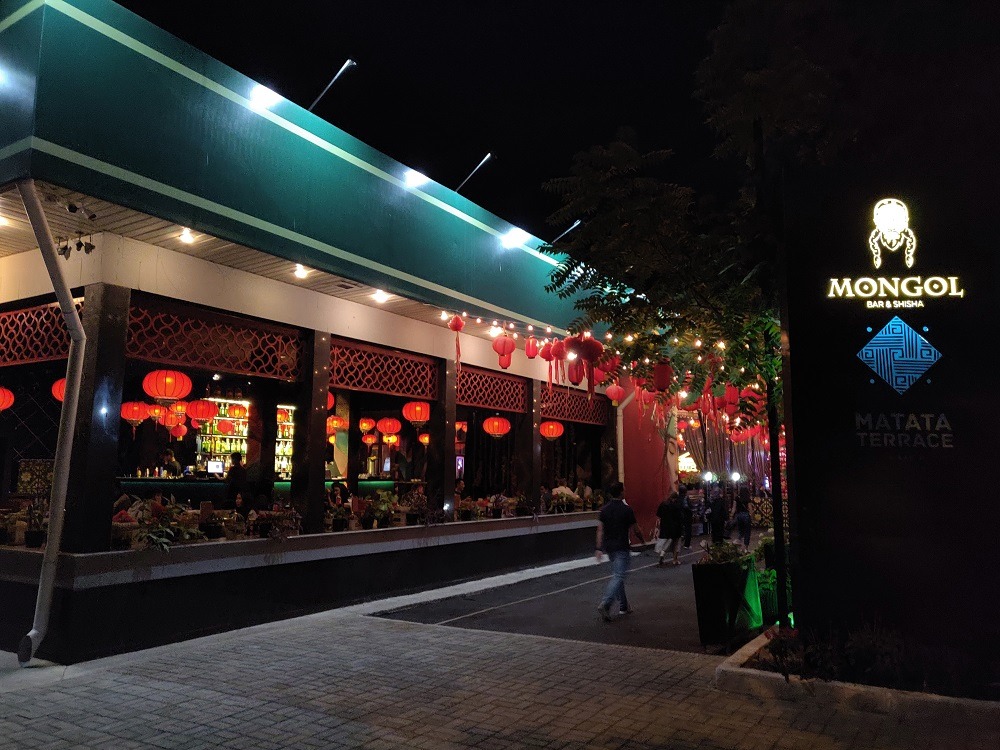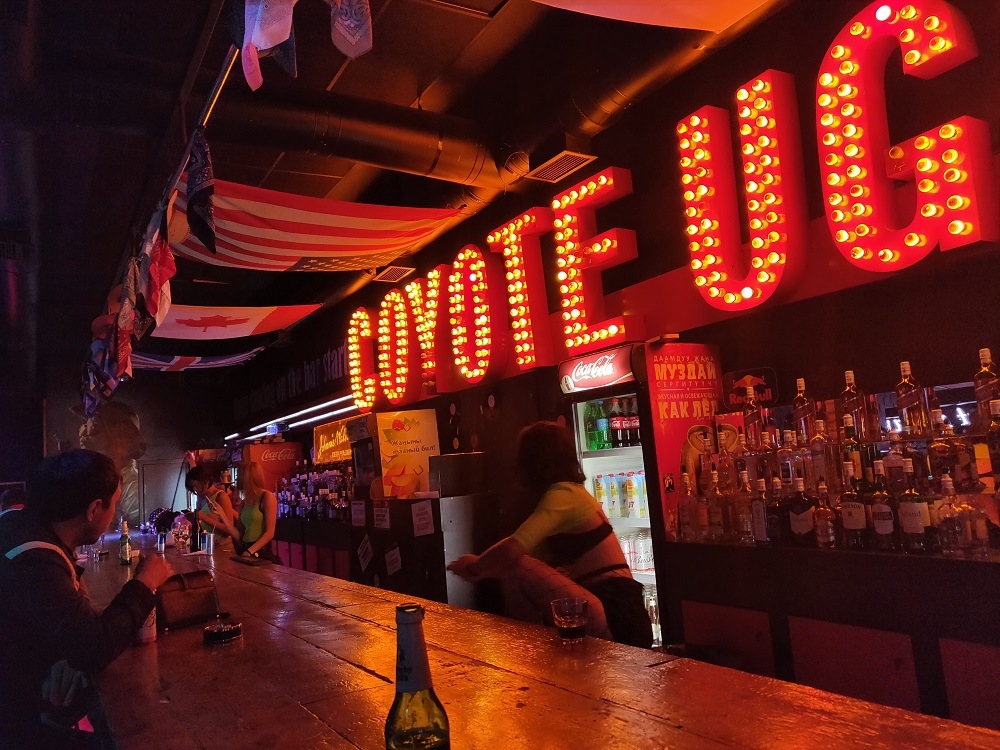 Well, that was the Kyrgyzstani Ghost around the Globegreat experience!… Kyrgyzstan I really recommend it to everyone!…