Ultimate Russia itinerary: part 1 – Saint Petersburg
In this series of blogs, we will explore Russia, starting in Saint Petersburg! This country's highlights lay relatively close to each other… luckily as this country spans over 9000 kilometres. We visited Russia for 9 days, segmented in 3 parts of approximately 3 days. I will describe these in a series of 3 posts. So not to worry if you have fewer days to travel!… You can just pick any of the parts and do them separately!
During this first post, we will explore Saint Petersburg and surroundings, part two will describe the capital Moscow and in part 3 we will go on a short road trip and explore the Golden Ring, a series of small countryside towns, connected by forest, lakes and dotted with churches and monasteries… Let's get to it…
Travelling to Russia
One of the leftovers of the cold war era is the weak diplomatic tie with most of the western countries. Unfortunately, this likely means you need to arrange a visa before your travels. Depending on the issuing country this can mean quite some paperwork. Do check if you require a visa and what logistics you need to undertake… On the contrary, if you have a passport from i.e. Columbia, Algeria, Cuba, Vietnam or China you usually face the above limitations for most countries, but not this case!… This time you can sit back and relax, as you can enjoy visa-free travel!…
Top Tip: Try to get a seat in the front of the plane, as strangely, the passport control in St Petersburg was directly at the end of the aerobridge. Never seen this before and it can, unfortunately, hold you up for a while… Especially when you are only travelling with carry-on luggage
Top Tip: In case you do find yourself a bit stuck in the back of the queue at passport control, ask one of the border patrol officials… English is usually not that good but they will direct you to a line for Russian citizens only, of which they know that the migration officer speaks English.. that can speed up your time drastically!…
Getting around in Russia
Depending on how you travel it is likely you need to get a taxi. Taxis are fairly cheap… I would recommend taking the official taxi stand (not the independent taxi drivers)…
Top Tip: However, when you connect to airport WiFi (or buy a Russian SIM card) you would do wise to order a Uber or the Russian app Yandex!… These will prove to be very cost-efficient!… also for your commutes around the city and especially to outside sights like Peterhof or Catherine Palace.
Ok well, those were the logistics of getting to Russia and around… let's start exploring…
Day 1: Explore Churches, Parks a Fortress and the Hermitage
Given we arrived at Day 0, we could make the most of our time, allowing us to freshly start our explorations on Day 1 with the Kazansky Cathedral… This is one of the few sights that does not charge an entry fee (more on this, and my frustrations, later…) and the complex is certainly worth a visit!…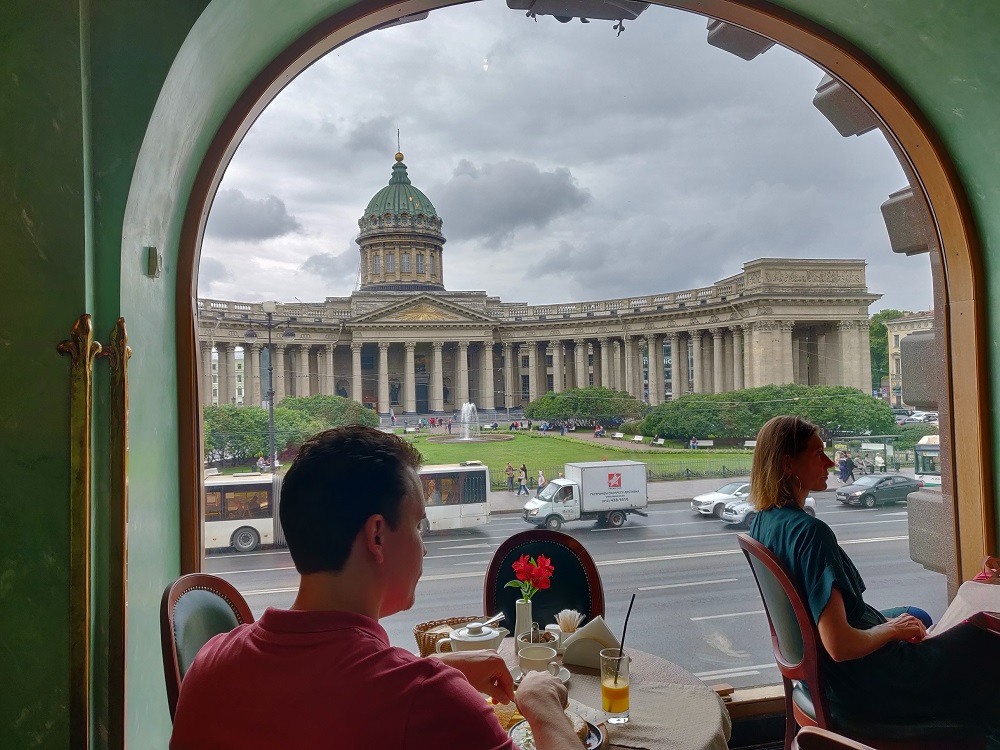 Top Tip: Have breakfast or coffee at the Café Singer in the House of Books, across the street,  from which you have a beautiful view of the Cathedral and bustling Nevsky Prospect below…
Church of Spilled Blood
From the Kazansky Cathedral, it is only a few minutes walking to the Church of Spilled Blood, which has a lot of resemblance to the St Basils church in Moscow… Do go inside, the church has one of the most beautiful frescos we have seen in Russian Churches. Given its resemblance, you can skip the (heavily overpriced) St. Basils Cathedral in Moscow.
Top Tip: Use the ticket machines! As I will explain in more detail below, gaining entrance is a nightmare to most key sights in Russia. A bit hidden, you can find these behind the entry gate, if you go at opening time, do not queue at the ticket box but 'queue' at the actual entrance allowing you to have one of the first tickets via the ticket machines, hence have the church for yourself!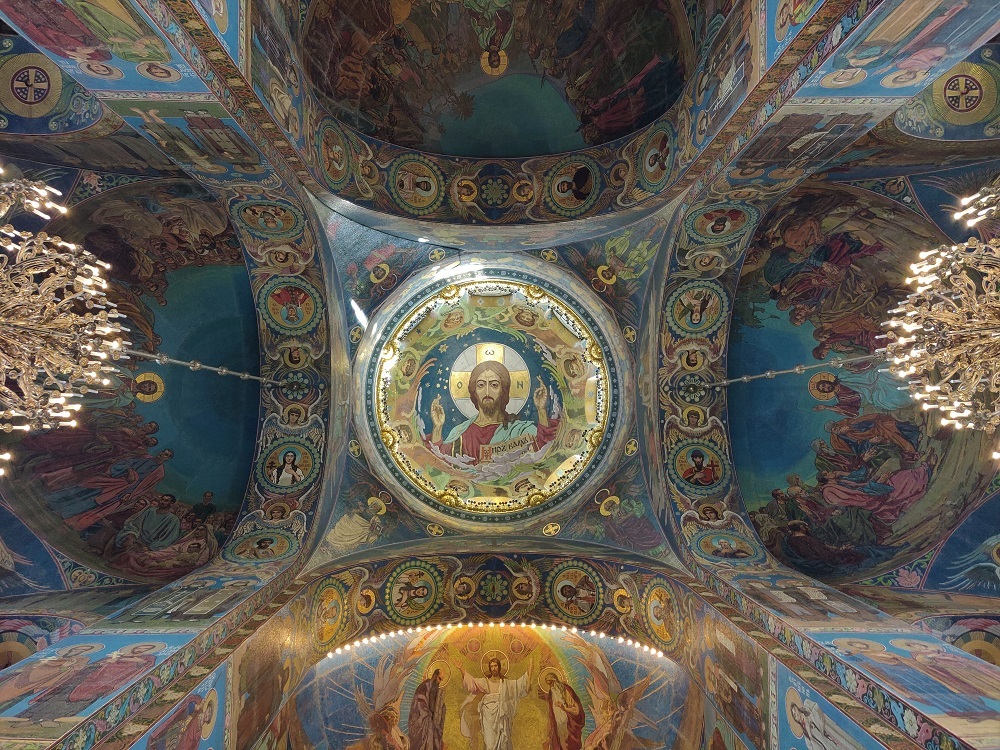 Mikhailovsky Garden & field of Mars
Adjacent to the Church of Spilled blood you find a nice quiet park – Mikhailovsky Garden. A few food stalls sell fruit and other less healthy snacks here… a nice setting for a break and enjoy the green surroundings and view the Russian Museum (which seemed closed when we visited)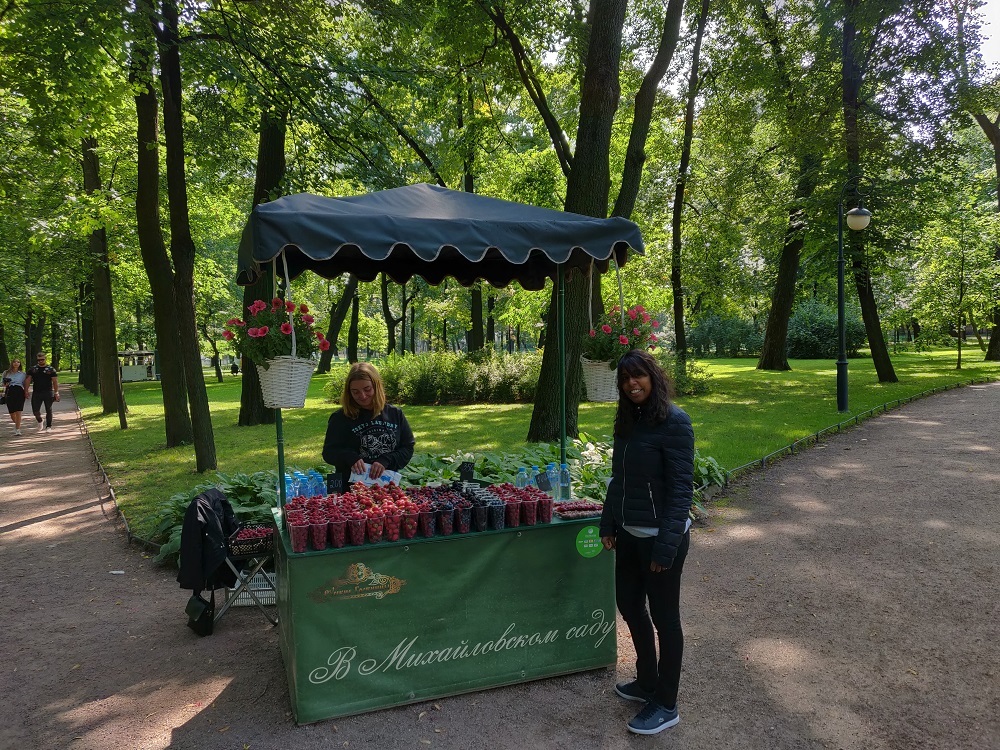 Make your way towards the river, you will walk across the Field of Mars, originally a military parade ground. Nowadays it houses the first eternal flame of Russia.
When walking further to the riverside you will already see the next 2 places of interest laying on the other side of the bridge
Saint Petersburg Mosque
The large blue dome of Saint Petersburg Mosque towers over the trees of the surrounding park. It is a nice brief stop and only a small detour. For us (travelling from Dubai, in the Middle East it was not a must-see). However, when opening in 1912 this was the largest mosque in Europe, outside of Turkey.
Peter and Paul Fortress
From the mosque, it is a short walk back to Peter and Paul fortress. This hexagonal shaped fortified community is seen as the foundation of Saint Petersburg. Entrance is free to walk the grounds, however, to enter the various buildings (Church, Mint, Prison and various other museums) you need to buy a ticket at the front desk. Obviously, this results in a long queue (as everywhere!). We did not spot any ticket machines here and we're not too interested in all these small museums, especially not in queuing, so we just walked the grounds… I recommend you do the same!…
The Hermitage
From Peter & Paul fortress you have a beautiful view of the city's islands and rivers. On the other side of the river, you see the large Hermitage palace… this our next stop!… Walk along the beautiful riverside, via the stock exchange & University island, towards this museum, which is considered one of the best in the World.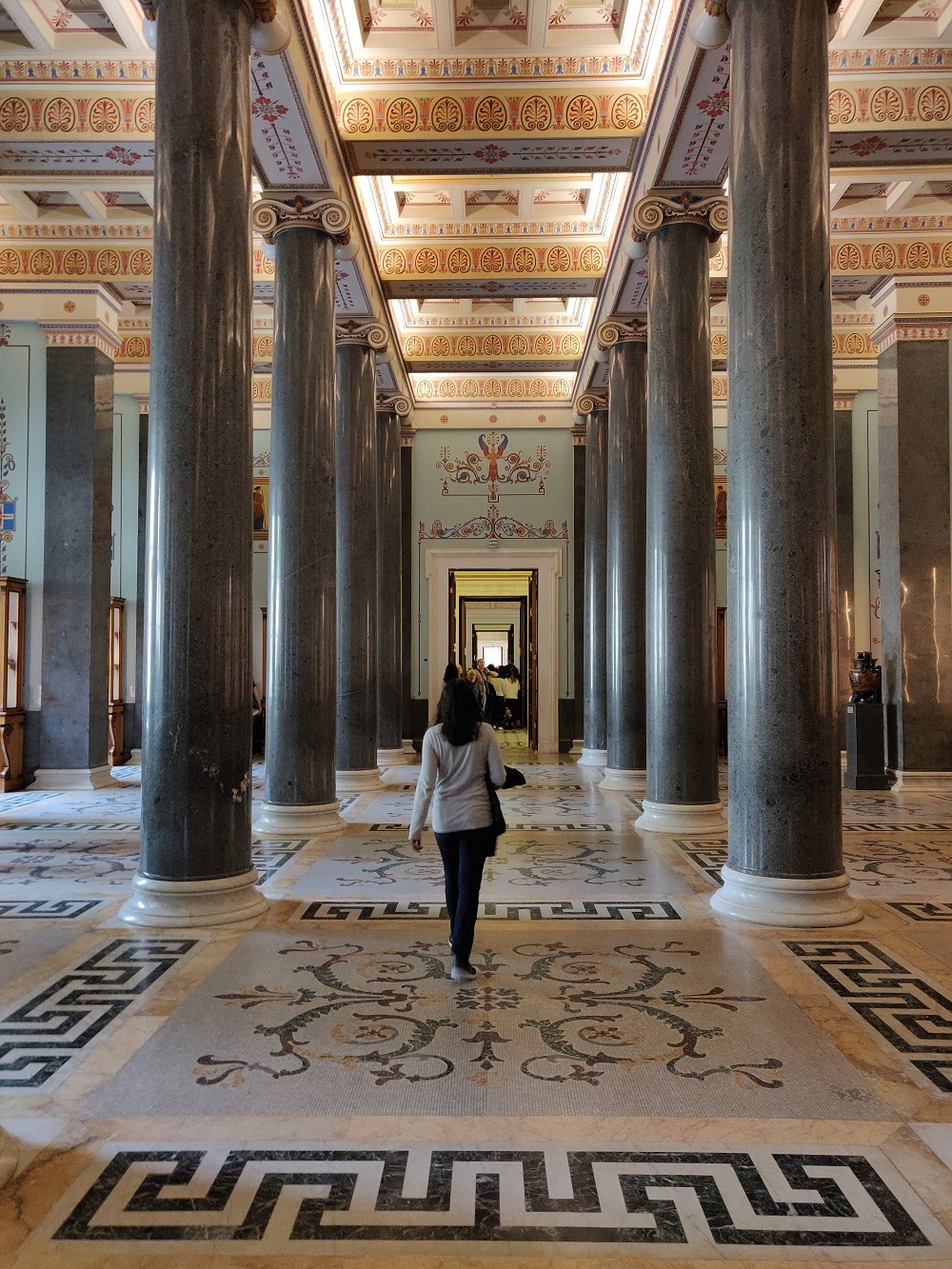 The Hermitage is definitely worth a visit, apart from its various artworks it has beautifully decorated halls. In case you really want to enjoy the palace's beauty or are an artwork enthusiast, do not plan your visit during peak season, but go in the colder low season instead!… This will significantly reduce crowds so you can enjoy the main halls and artworks in quiet. During peak season, you have to almost force yourself through the (tour bus) crowds at some key exhibitions.
Hermitage Staff Quarters
Your hermitage ticket also grants you access to the Staff Quarters, on the opposite side of the large Palace Square. The quarters also exhibit various pieces of art, some Faberge artworks.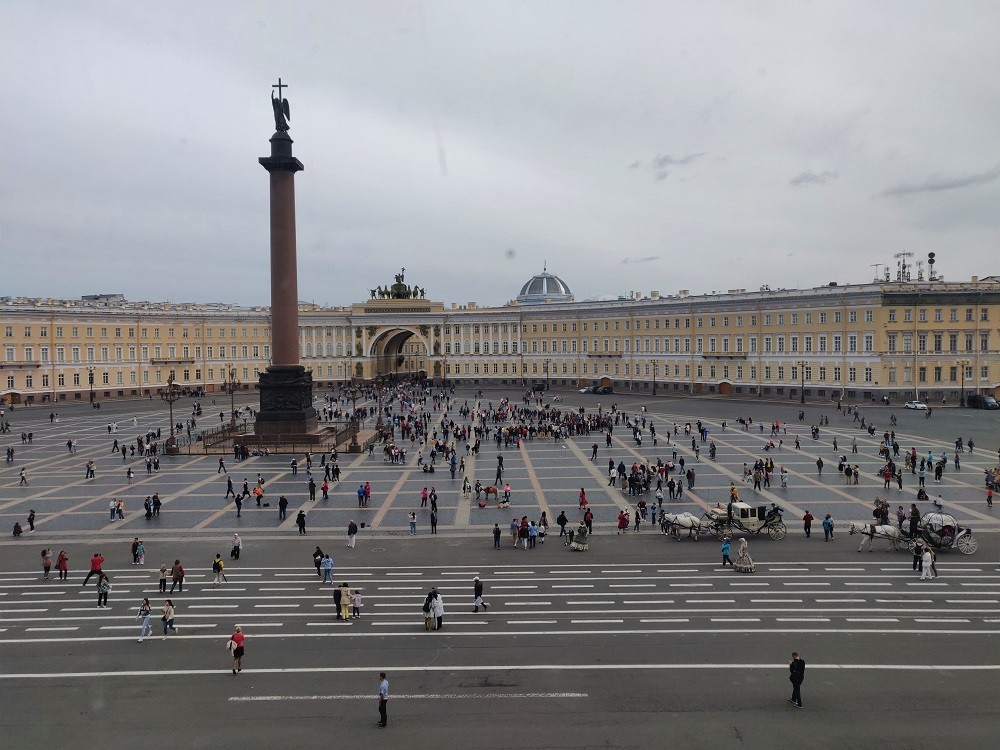 Ridiculous queues and how to avoid them
Let's take a side step from the itinerary, as I am, unfortunately, starting to repeat myself, but as you may have guessed, queuing seems to be a way of life for the Russians… The Hermitage is no exception with long queues covering its courtyard… However, there are 2 ways to minimize the hour-long lines at the Hermitage or any other key sights you like to visit:
Buy a ticket online (however this more expensive, and likely you need to change your online voucher for a ticket onsite, which also involves queuing)
Use the ticket machines! Being a tourist, you likely cannot apply any discounts (and it is the question if this tiny discount is worth the waiting line).
Top Tip: Regarding the Hermitage; plan your visit on Wednesday or Friday late afternoons/evenings. On these days the hermitage has extended hours. Most tour groups follow the same program (regardless of extended opening hours), hence most of them will have visited during the normal visiting hour period. This will significantly reduce your lines as crowds inside the hermitage.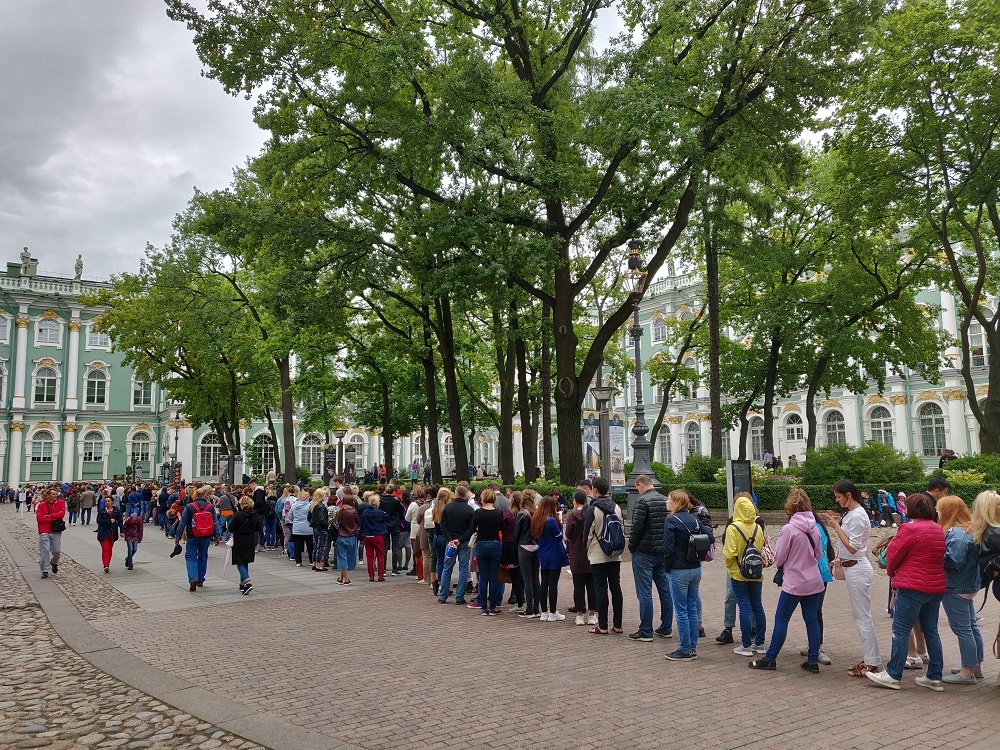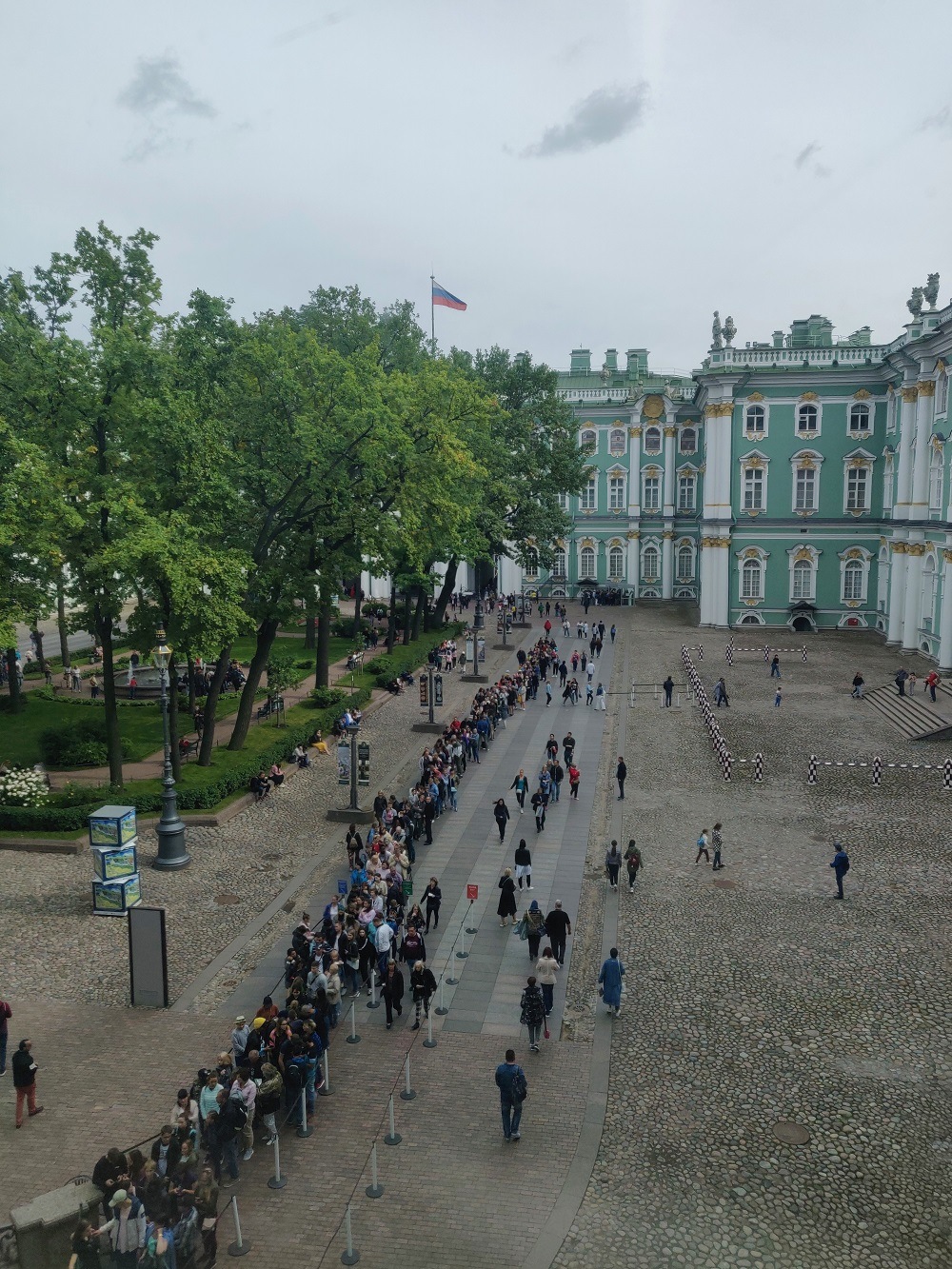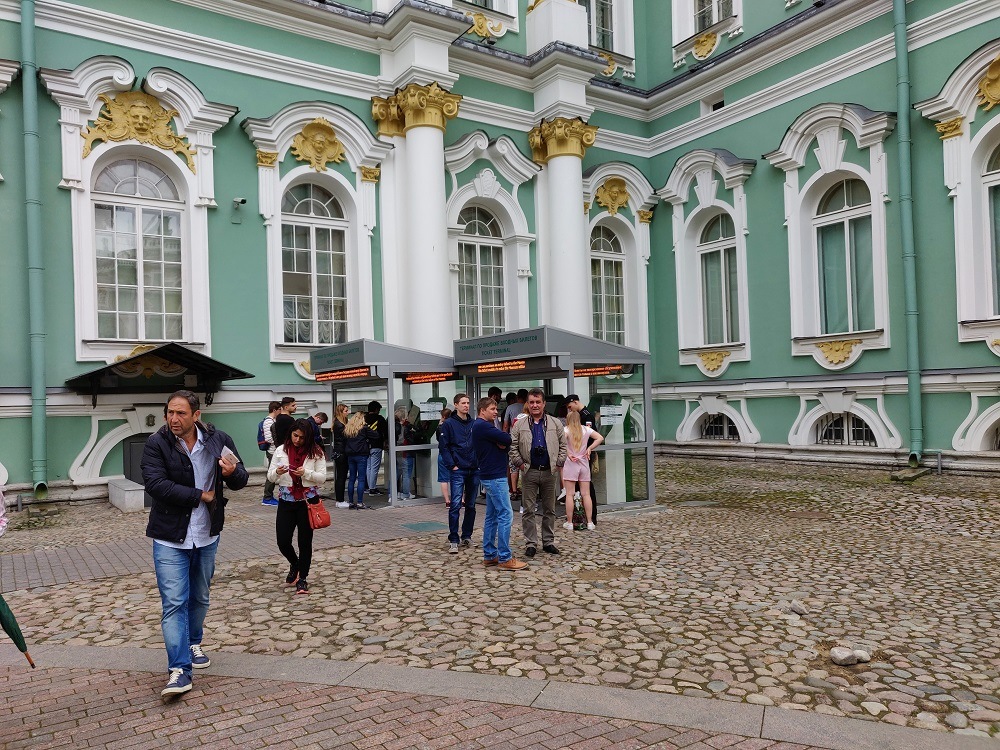 Day 2: Explore Peterhof and visit the Mariinsky theatre
As mentioned above, do make use of Yendax (or Uber) to conveniently make your way around the city. Given that most taxi drivers do not speak English, this way they will exactly know where to drive to.
Peterhof
We booked a Yendax trip to Peterhof for around 800 Rubles. Very cheap for a 30-40 minute drive!…
In addition to the hermitage, Peterhof is one of the most recommended places to visit when in Saint Petersburg. Indeed it is a very large impressive garden complex dotted with beautiful fountains and multiple smaller palace complexes. Ideal to go for a relaxing picnic outing (I believe security does not check your bag when entering, so bring whatever you like – best to double-check this online before you plan this!)… Moreover, before you plan to go, do read the below logistics and make up your mind if your picnic is not better well spent in a park somewhere else (in the World).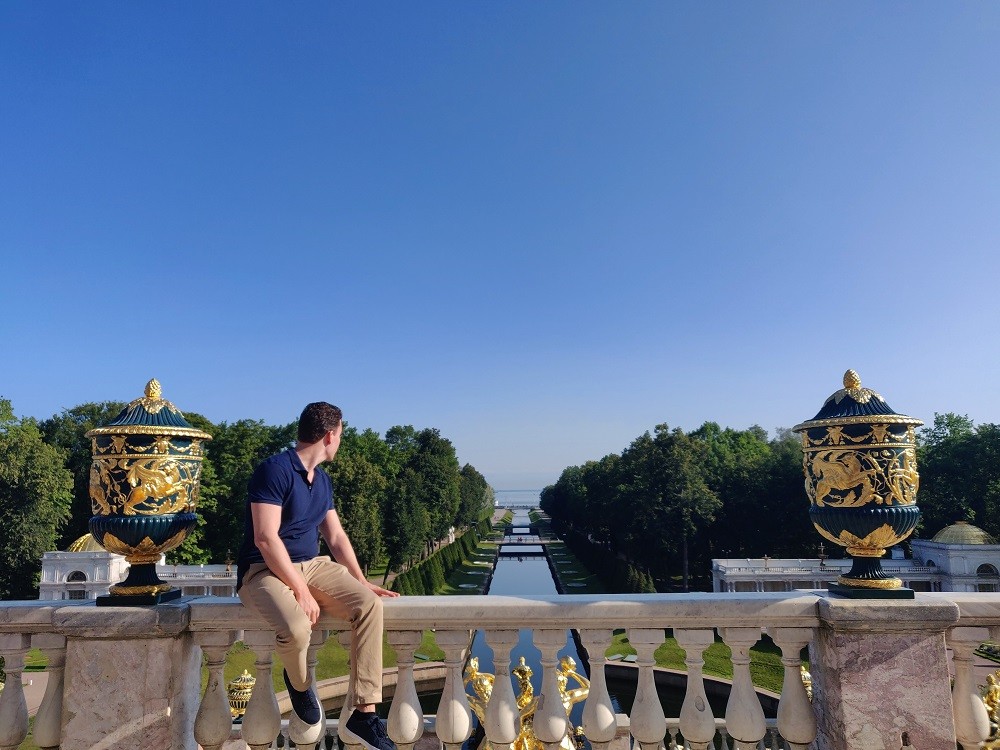 Peterhof's logistics
Unfortunately, you may have guessed it… the logistics are far from logical:
Normal visitors can only visit the Palace from noon onwards – apparently, it is open from 10.30, but only for tour groups. This already does not seem 'fair'.
You need to buy a ticket for the lower gardens (900 Ruble per person, which I find very overpriced for, beautiful, but 'just' some palace gardens and fountains). The queue starts in the lower gardens, hence you cannot 'only' visit the Palace.
There are no ticket machines, so you actually buy tickets for a garden you can only briefly enjoy before you start queuing to get into the palace? Why not just sell combination tickets – If required assign timeslots to tickets!…
Also, once you have entered the lower gardens, you cannot leave and re-enter… you have to buy a new ticket!… (this meant we could not check out the (free) higher gardens anymore, or e.g. leave, to go to a nearby restaurant or sight, and return later…
Obviously, we did not queue for the inside of the Palace, we were starting to get a bit fed up with this… Again, if you are interested in the Palace interiors, do go in low season – We may return once in wintertime when crowds will be minimal and the scenery completely different…
Before you leave do check online if you can find online tickets (searched intensively and do not believe this is possible), or another way is to book a tour to omit the above issues. However, this comes with a price.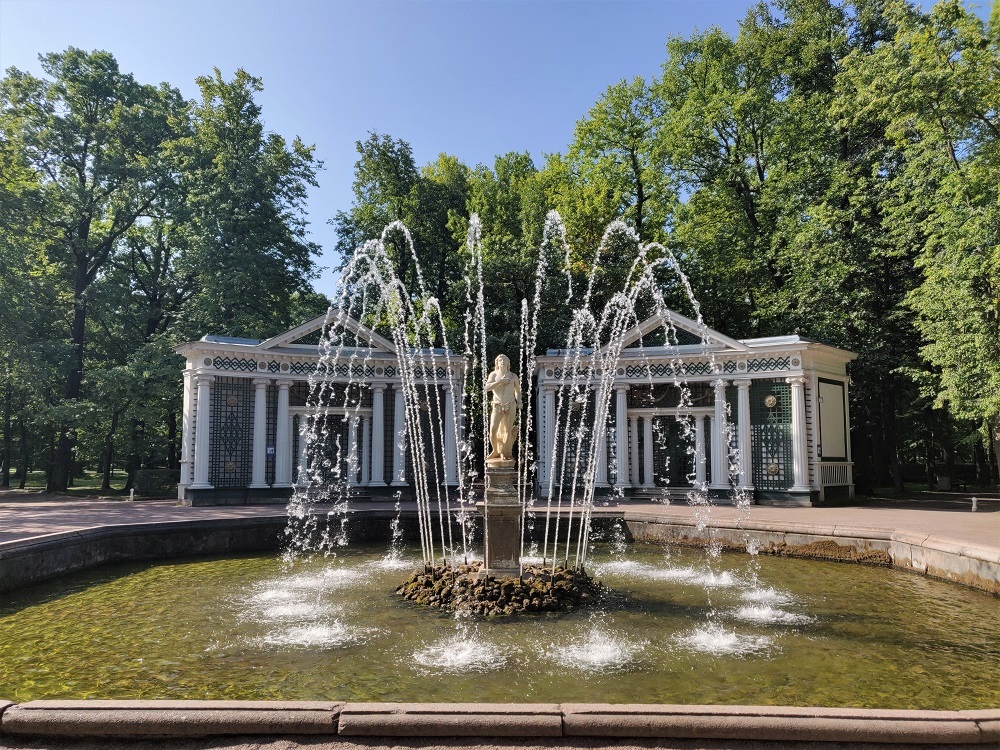 Top Tip: Do check out the Peterhof – Hermitage water express. A fun way to travel from the city centre to Peterhof and/or back. It is around 900 Rubles per person per single trip (twice as expensive than a Yendax). It is a good way to return to the city and save the issues of finding a taxi!… which is exactly what we did! (Also, when we would have left the lower gardens to search for a taxi we would have not been able to return to the lower gardens for the water express…)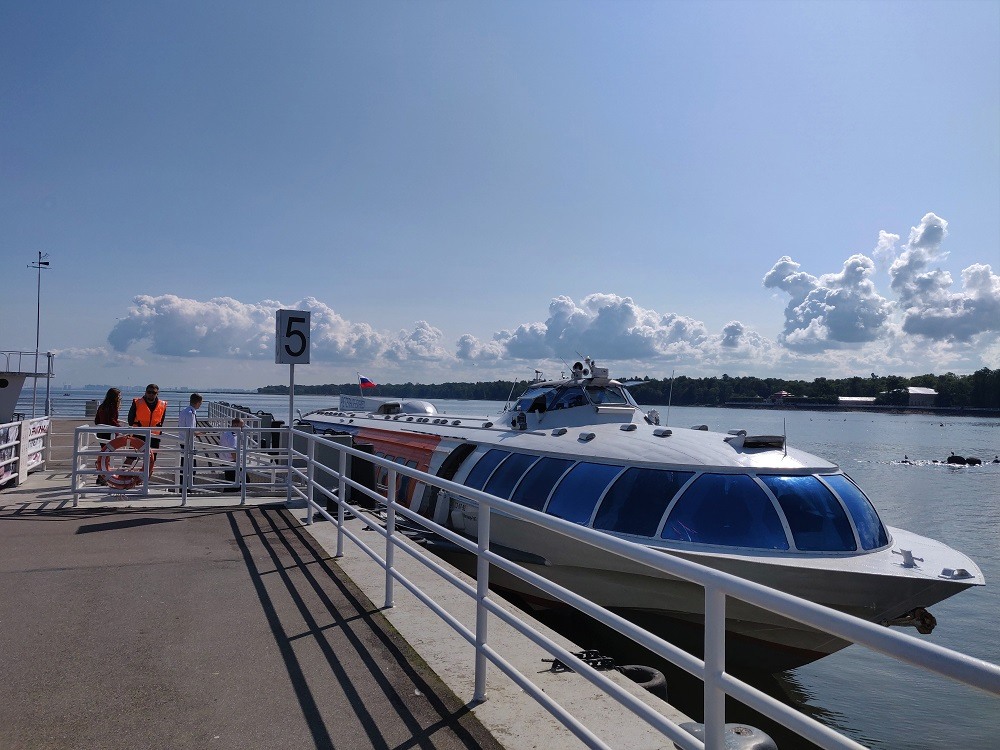 Lakhta Center
From the ferry, you have a good view of the Lakhta Center. Standing 462 metres tall, the Lakhta Center is the tallest building in Russia and Europe. At the time of writing it is still under construction…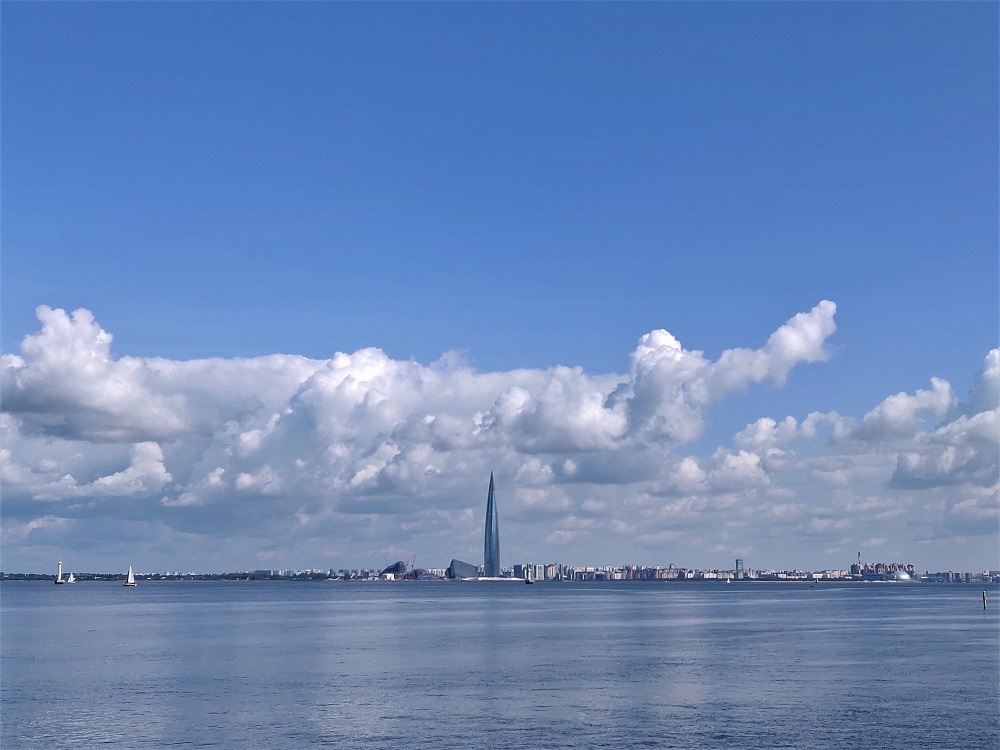 Exploring Russian cuisine
Upon arrival back in the city centre, we explored further by foot… Walking by St Isaac's cathedral, past Mariinsky Palace and, getting hungry, we ended up at Idiot Café. A 'grandmother's living room' style restaurant… We received a free vodka with our drink order and also tried some of the local dishes… Palmeni (holds in between of ravioli or dumplings), a Russian beef stew, and blinis (Russian pancakes) with caviar.
We made our way back via Yusupov Palace and Yusupov Gardens, relaxed a bit at our hotel before we headed out for a 'typical Russian night out'…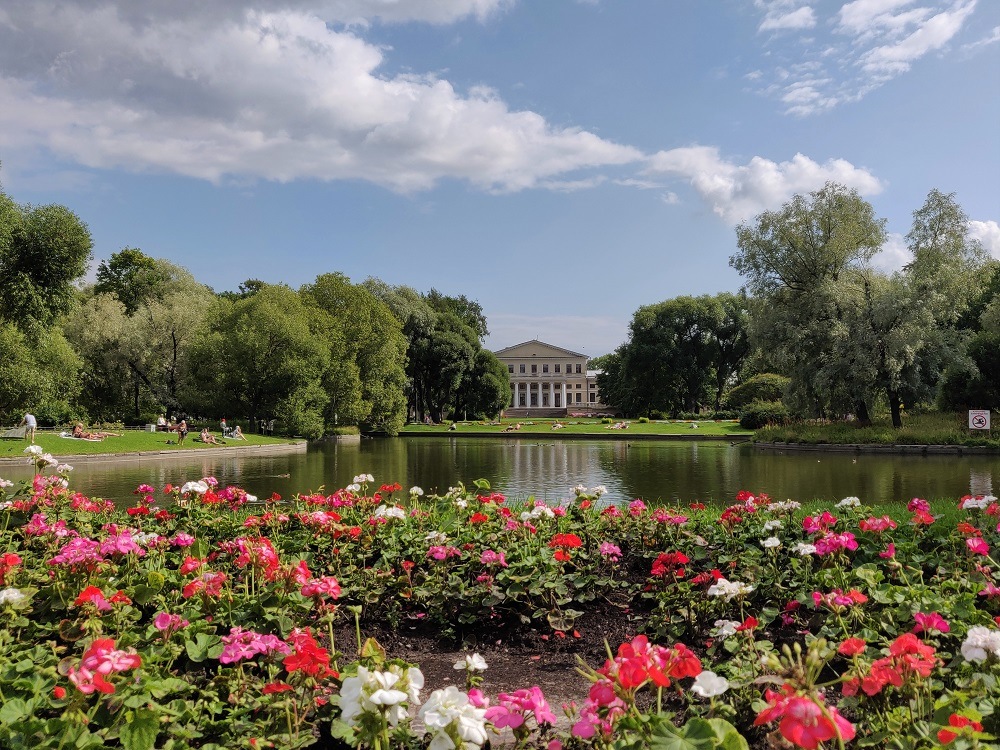 Swan Lake at Mariinsky theatre
Originally we planned to go to Swan Lake ballet show at the Bolshoi Theater in Moscow. Unfortunately, they did not perform during our dates of visit. So we opted for the tinier, less impressive, but still nice Mariinsky theatre in Saint Petersburg.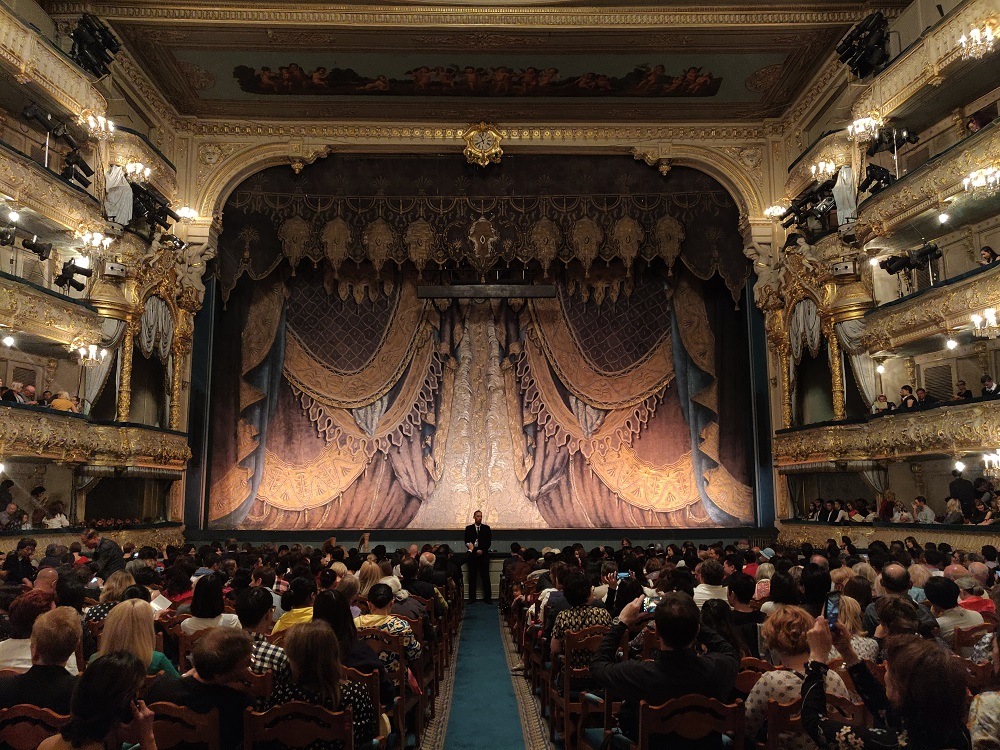 Before the show and during breaks do browse the premises, have a prosecco from the bar or café. Check the small exhibition hall, and if possible, be cheeky and check out the Tsar's box…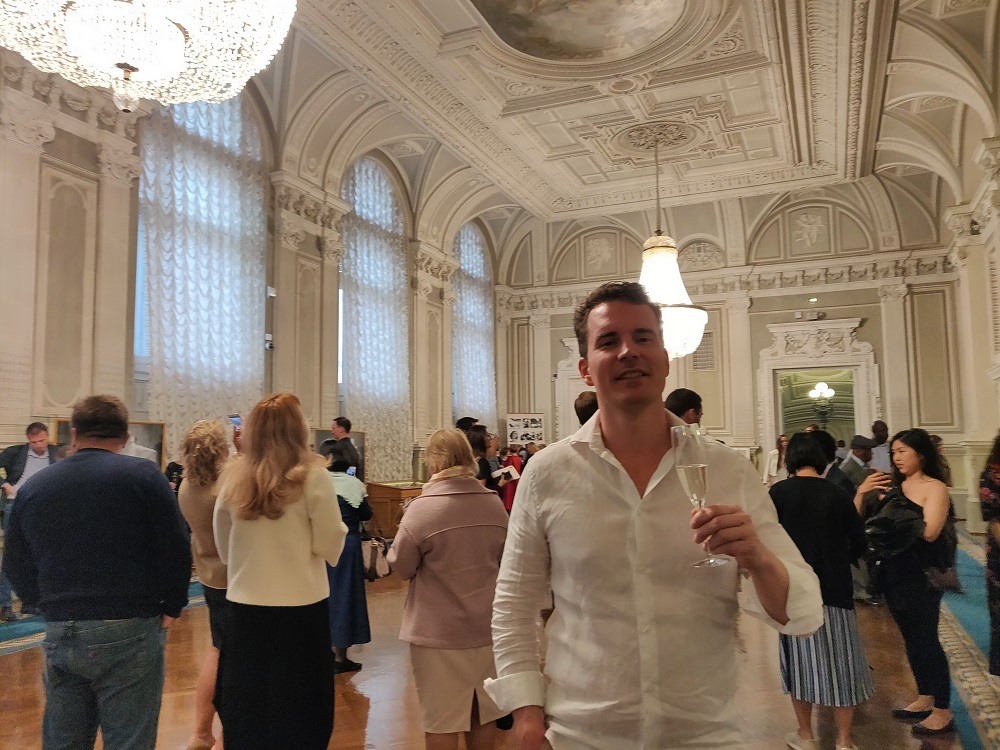 I recommend you buy tickets on their website (well in advance), however some web pages in the booking process are (partly) in Russian, hence use an online translation machine, or better, ask your Russian friends. Tickets are far less expensive when bought online than via a third party or tour operator. Also, if you are early you can pick and choose your seats.
Top Tip: Trust me!… Book tickets on the first row (omit the first 2 seats from the middle aisle, as otherwise, you will have the conductor blocking part of your view. The booking site's floor map is a bit misleading, don't think you can book 'smart' tickets further in the back or where new theatre sections start. The seating floor barely ascends, hence you will have blocked out views from almost all seats! Hence, the first row is your choice!… Especially with ballet, you want to have a full view of the performers.
One thing I did notice and to beware of – to manage expectations – is the huge amount of Chinese tourists (likely due to the easy travel – fewer visa restrictions) in Russia. The Mariinsky theatre – as well as other theatres, I expect – seem the general assembly points for Chinese tour groups in evenings… as half the spectators where a Chinese tour group participant. Some busier on their phones than with the (apparently boring) show, others seemed happy to have a rest…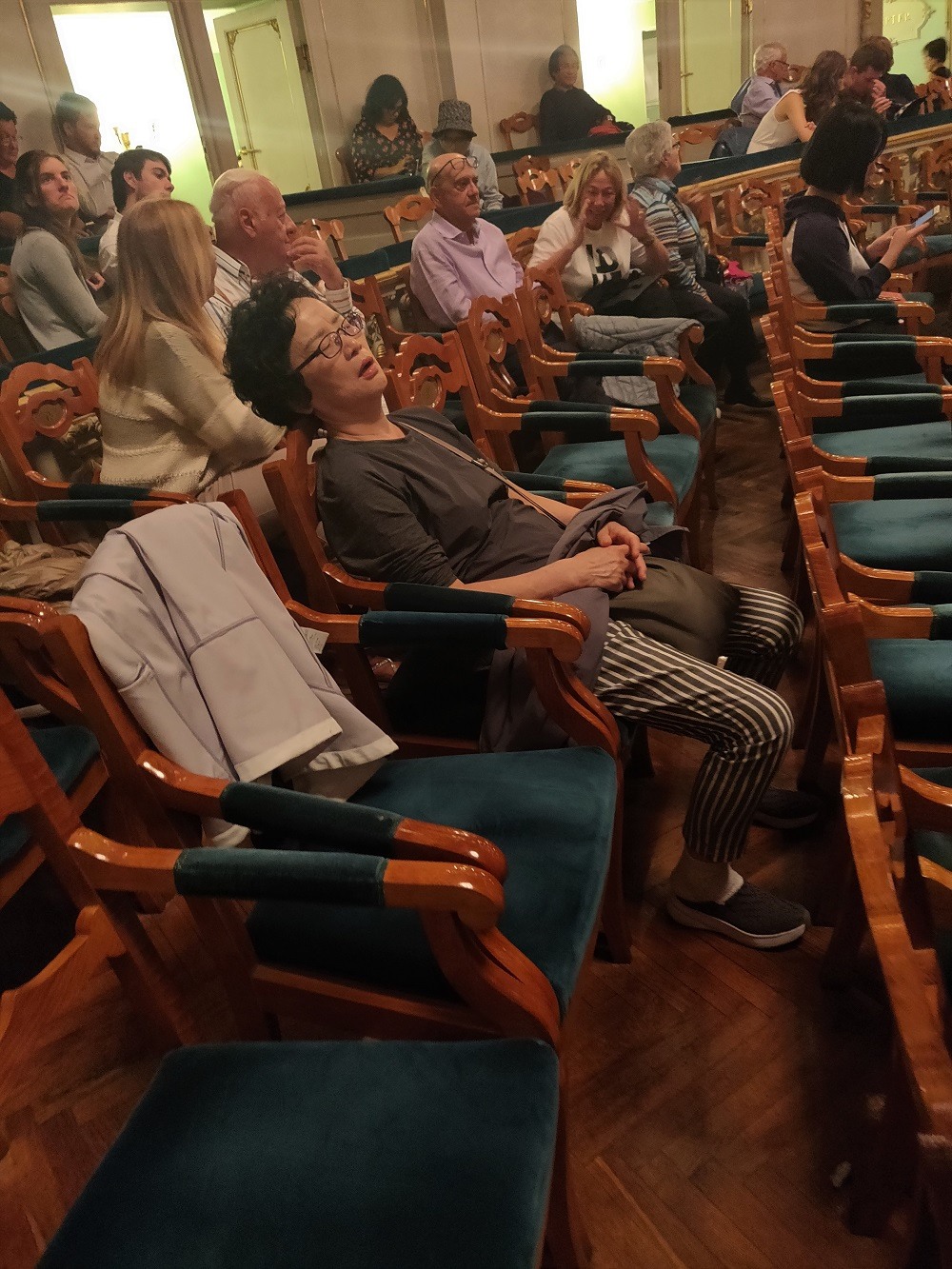 Day 3: We skipped Pushkin and explored Saint Petersburg further
If travelling outside of the peak season, I would recommend you use this day to visit Catherine Palace in Pushkin. Again you can easily get there with a Yandex… However, during the peak season, this likely is the greatest nightmare to visit. Some illogical logistics to beware of!…
You can buy online tickets, but they come available on midnight – 14 days in advance on Russian midnight and sell out in 3 minutes. Likely to be resold on the black market
There are no ticket machines at Catherine Palace.
You can decide to only visit the gardens (free or small fee)
If you like to visit the palace and buy on-site tickets it will take you 4 to 5 hours!!?! of queuing… What a joke!… I cannot even imagine who would want to waste their valuable holiday time…
To omit this, you could decide to book a tour group (just to get in you can even opt to book a cheaper Russian spoken group and leave them as soon as you are through the door). However, this is still costly.
Free ghost around the globe advice to the Russian Tourism department: start with timeslot tickets, enabling crowd control and resulting in happy tourists
Well, after our Peterhof experience, which would be a similar Palace experience, and which has shorter lines if you decide to visit the inside, we scrapped Catherine Palace of our plans. An excellent choice, in hindsight, as we met a French lady in Moscow who exactly explained crazy lines of at least 5 hours… She also ended up only visiting the gardens.
St Isaac's Cathedral
Instead of going to Catherine Palace, we planned to visit the inside of the Church of Spilled blood (already described above). As well as visiting the St Isaac's Cathedral. Both beautifully decorated. Both have ticket machines, so you can easily enter! And as mentioned before, a good way to enjoy orthodox art and save on an entry ticket of St. Basil's Cathedral in Moscow (which is nicer from the outside than inside)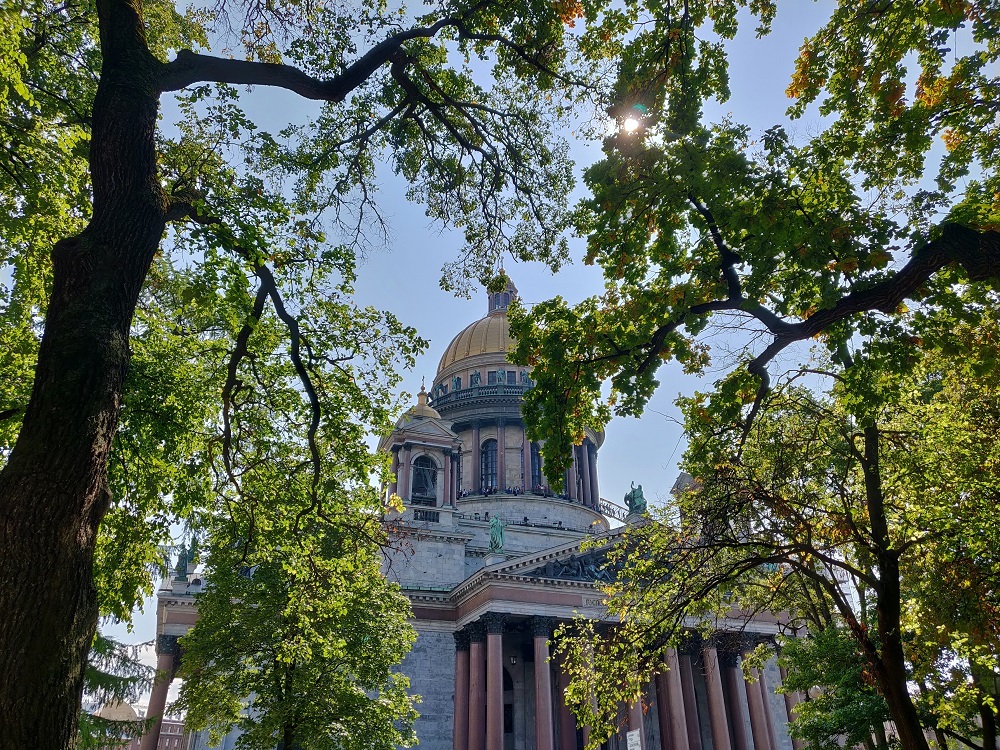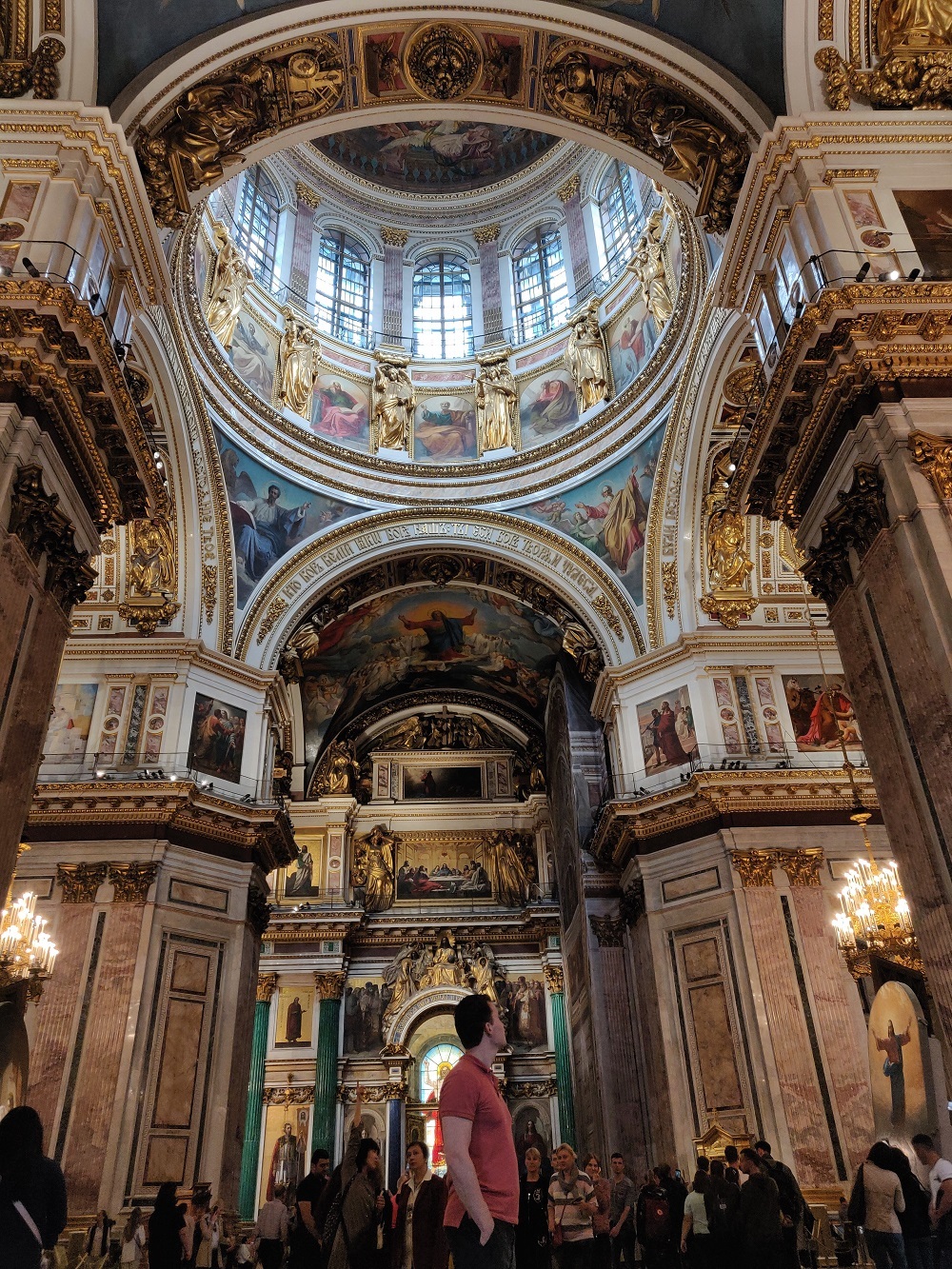 Georgian food, Russian fast food & Irish pubs
The remainder of the day we had various culinary experiences!… Starting with eating Georgian Kingali (dumplings), which we discovered during our travels through Georgia. You find many Georgian restaurants throughout Saint Petersburg and Russia.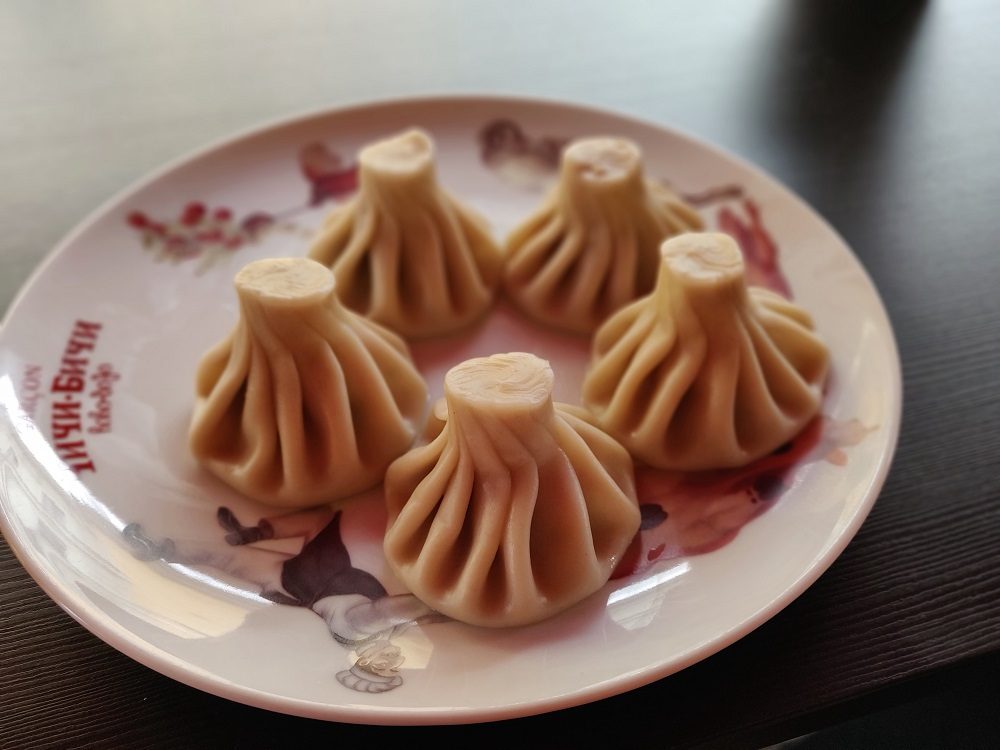 Top Tip: We did also come across one of the best – and definitely cheapest – ways to explore Russian's cuisine! Keep your eye out for a 'fast food' concept chain called Teremok. Food and drinks (Even beer) are crazy cheap and very tasty!… This is where many Russians enjoy a quick easy meal!… We revisited various times in Saint Petersburg and Moscow and tried everything, from Blinis to Bogatyr (filled pancakes) to Borsch (traditional beetroot soup) to Palmeni & Vareniki (Siberian Dumplings) to Syrniki (cottage cheesecake)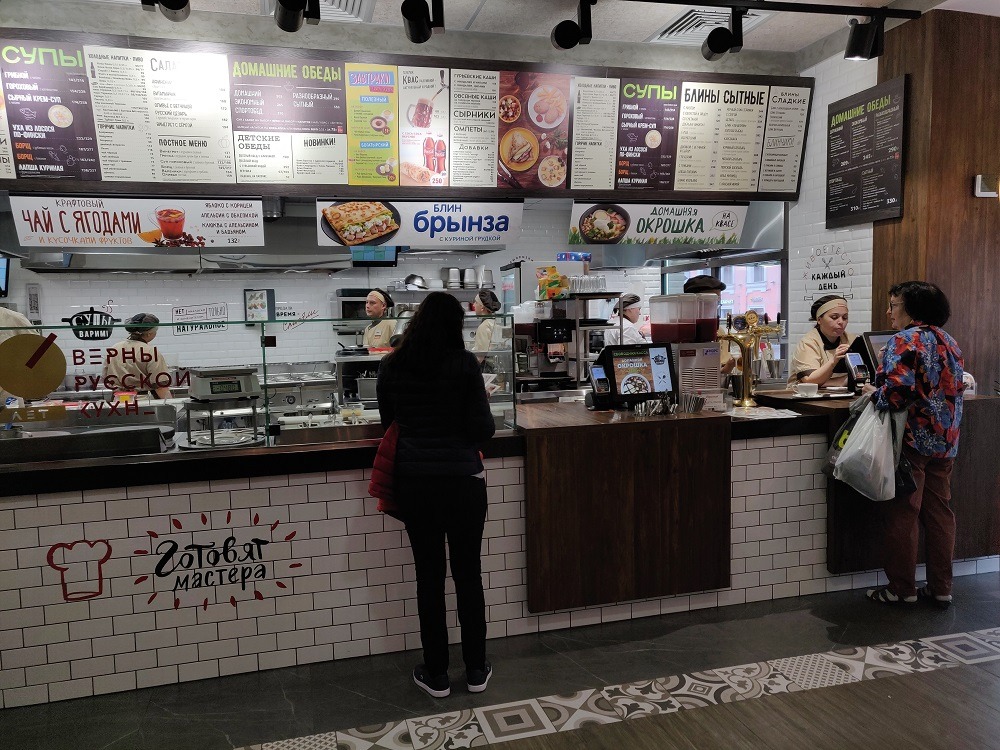 We ended our day by exploring some of the bars and pubs in the side streets of Nevsky Prospekt (the main shopping street of Saint Petersburg). Close to our hotel… looking back at 3 great days of exploring Saint Petersburg…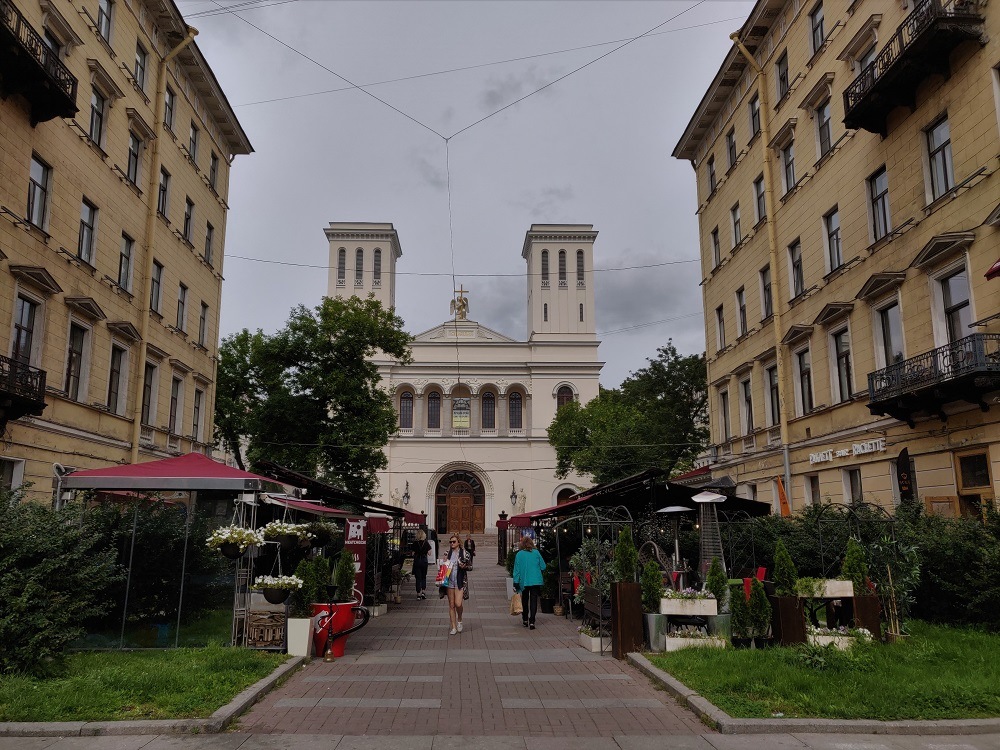 We did not make it too late, as the next day it was time for yet another adventure: Moscow… Join me in part 2 of this Russian blog series to see what to explore here!…