Ultimate Russia itinerary: part 2 – Moscow
This blog on Moscow is part 2 of a larger series of blogs where we discover Russia.  We visited Russia for 9 days broken up nicely in 3 parts of approximately 3 days, described over 3 blogs. In case you time to travel you can just pick any of the parts and do them individually! During the first blog, we explored Saint Petersburg and surroundings, and during Part 3 we will take a short road trip to explore the Golden Ring, a series of small countryside towns, connected by forest, lakes and dotted with churches and monasteries…
Do read the Saint Petersburg blog for the first 3 days… Now let's start on day 4 and dive into Moscow!…
Day 4: Sap San train to Moscow, Red Square and Gastronomy
An ideal way to travel in Russia is via its elaborate train tracks. Especially the high-speed Sap San train is an ideal and likely the most efficient connection between Saint Petersburg and Moscow. There is Wi-Fi onboard to keep you entertained during the 4-hour journey…
Red square
Upon arrival in the early afternoon, we got our bearings, by walking over the red square. It is here where you find most of Moscow's key sights; the red St. Basils Cathedral, the red walls surrounding the Kremlin, the brown-red Lenin Mausoleum (which we visited on day 6) and the red Historic Museum.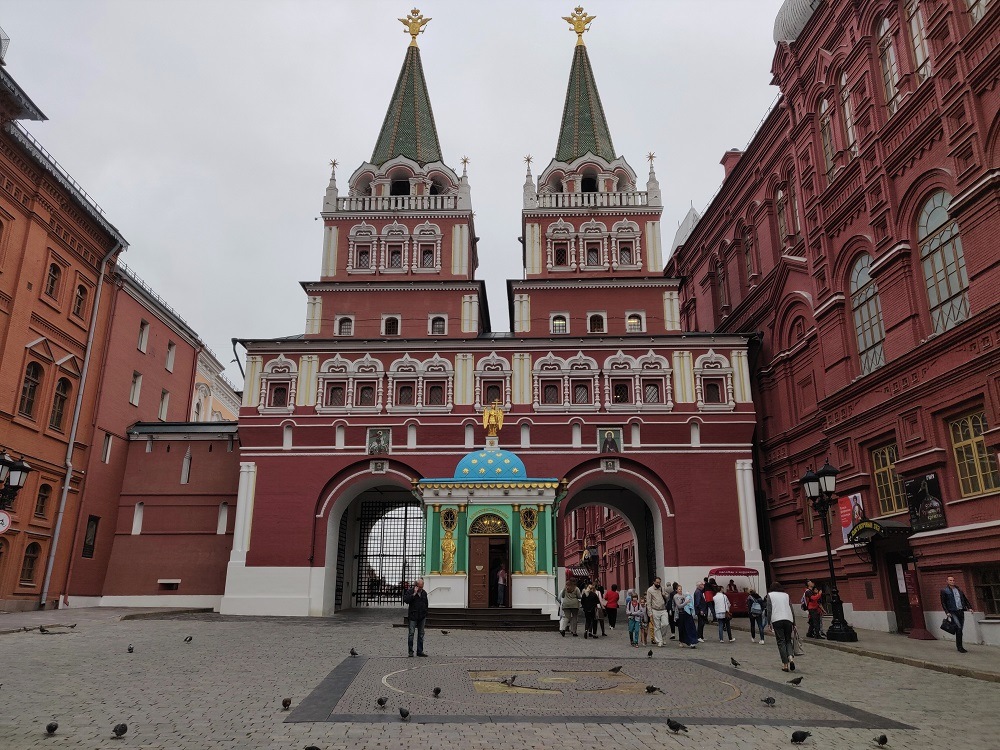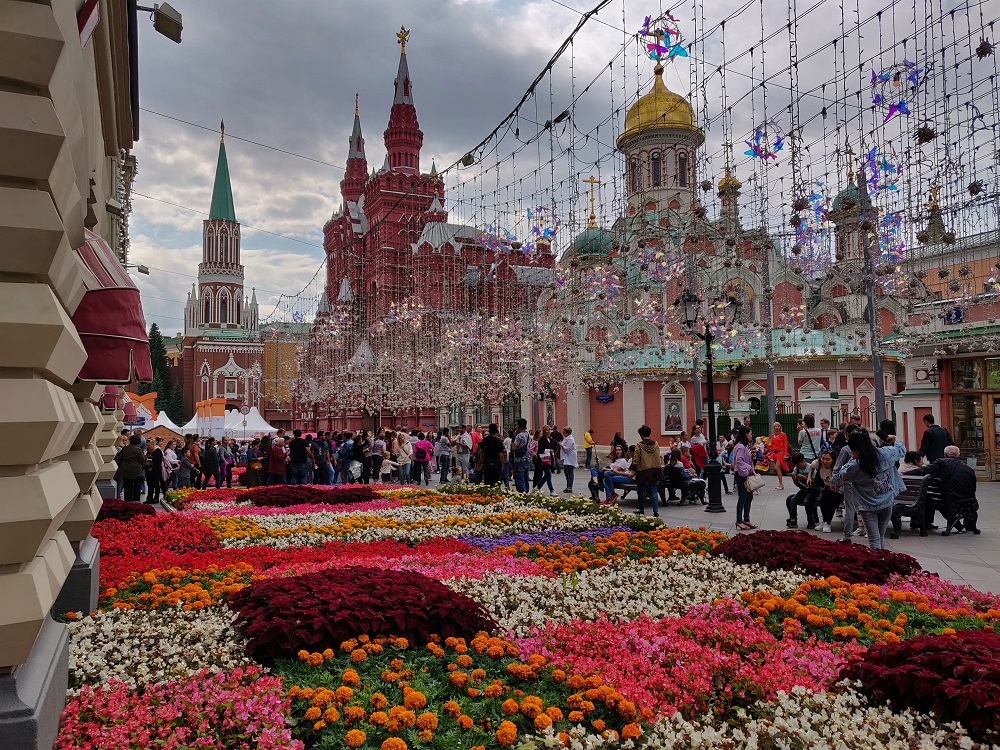 St. Basil's Cathedral
The most famous sight of Moscow, and Russia, is the St. Basils cathedral. However, we were advised by Russian friends not to pay the 1000 Rubles entrance fee to enter as the church is far more beautiful on the outside than on the inside!… Instead, we visited the Church Of Spilled Blood in Saint Petersburg, as well as some other monasteries on the Golden Ring. Far less costly, apparently more beautiful and fewer queues. Also, when visiting the Kremlin Cathedral square, you will see similar ornaments, artworks and frescos in the cathedrals.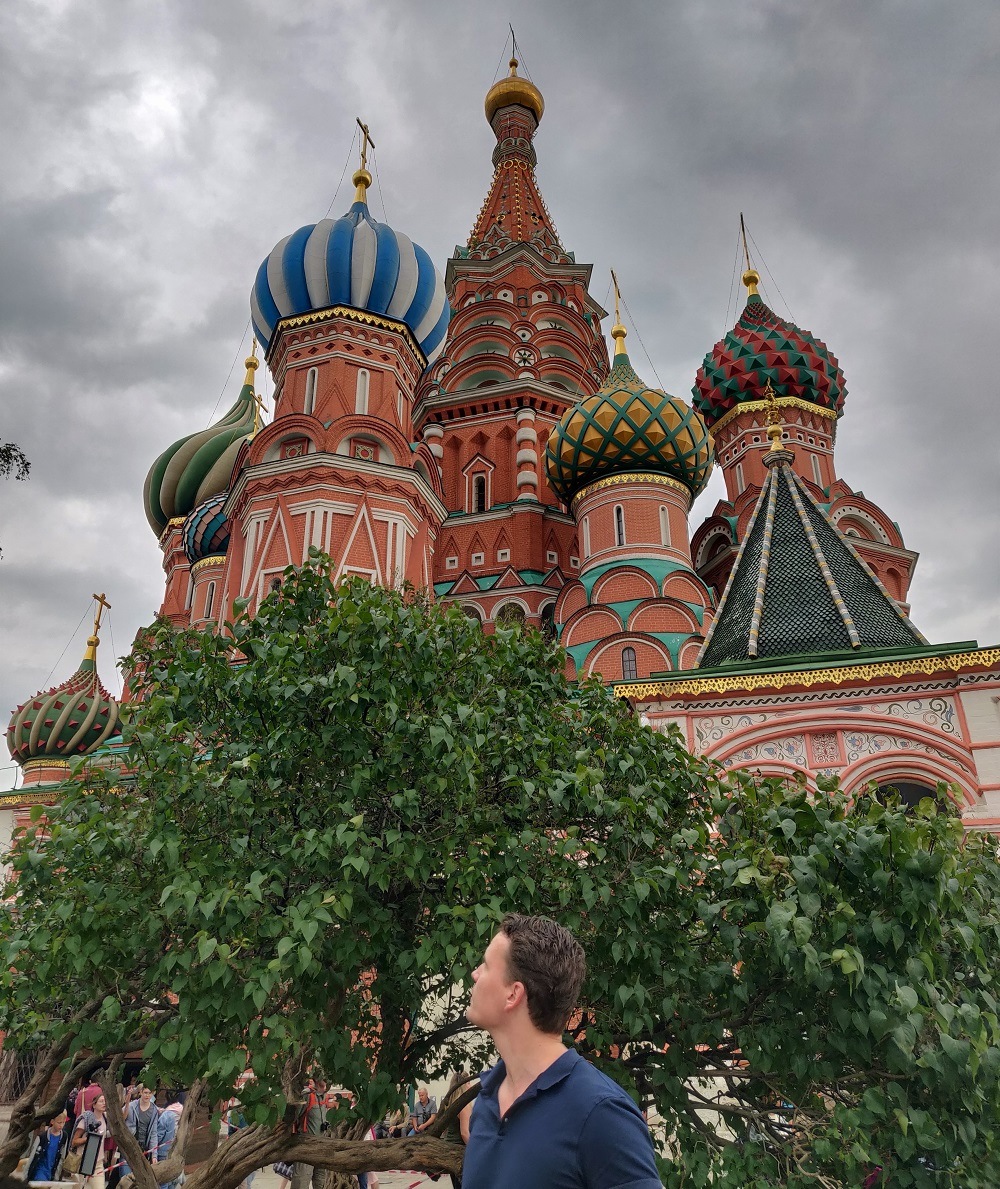 GUM department store
The only side of the Red Square that is not predominantly red is the GUM department store. The flowers and plants combined with the 'train station-like' glass roof make this a one of its kind mall experience. Do browse around the delicatessen shop (ground floor) and approach one of the vendors to try Russian caviar. To make your visit complete, try one of the GUM ice-creams in the small boutiques near the entrances. I recommend the cherry flavour!…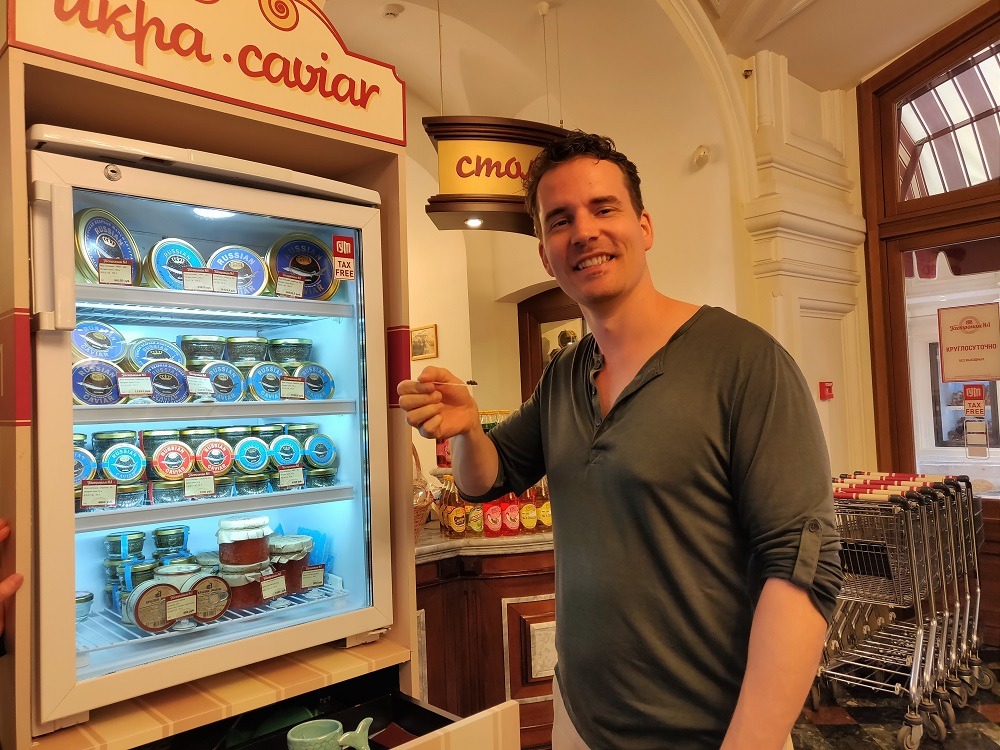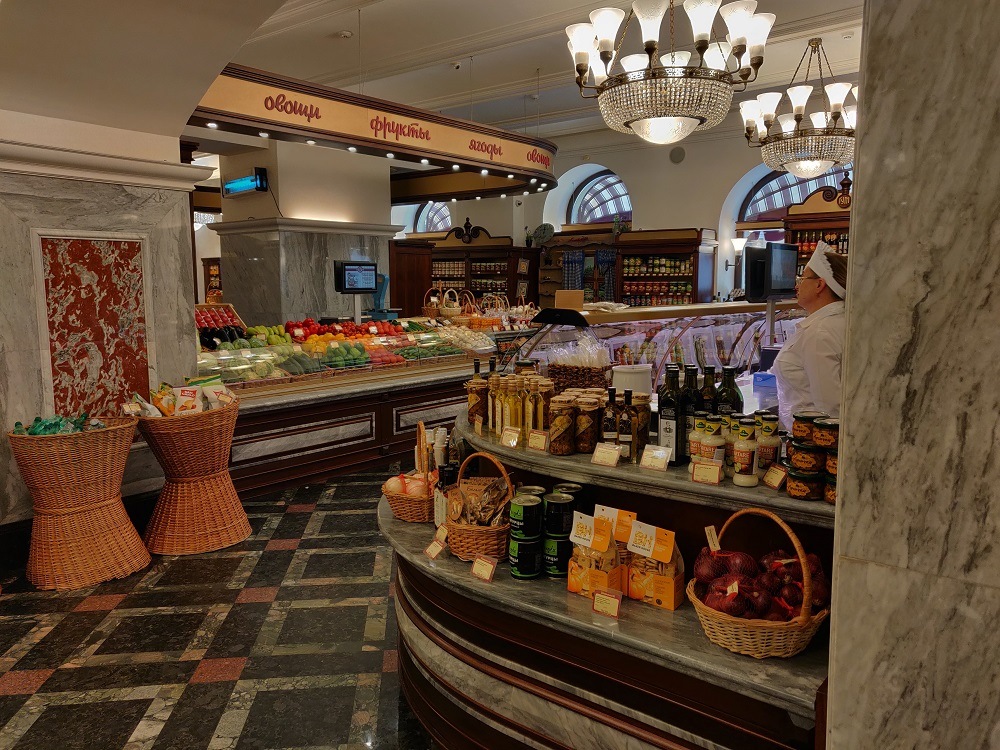 North-Western side of Moscow
In the remainder of the day, we made our way up North, North-West and West of the city centre… browsing the streets, parks and streets with bars… Sights to explore on this side of the city are the Central Market, a fancy food court concept, and the many bars and restaurants on Pokrovka street.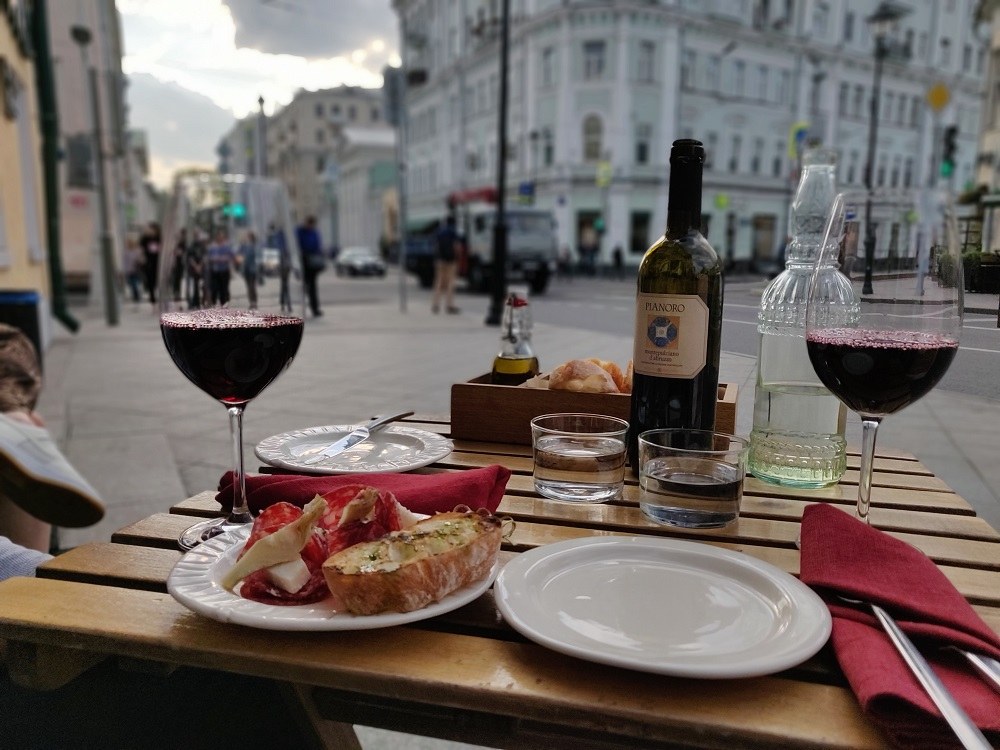 Ultimately we made our way back to the river banks to enjoy the view over the Red Square, the Kremlin, Moscow University and the wider city from a hill in Zaryadye Park.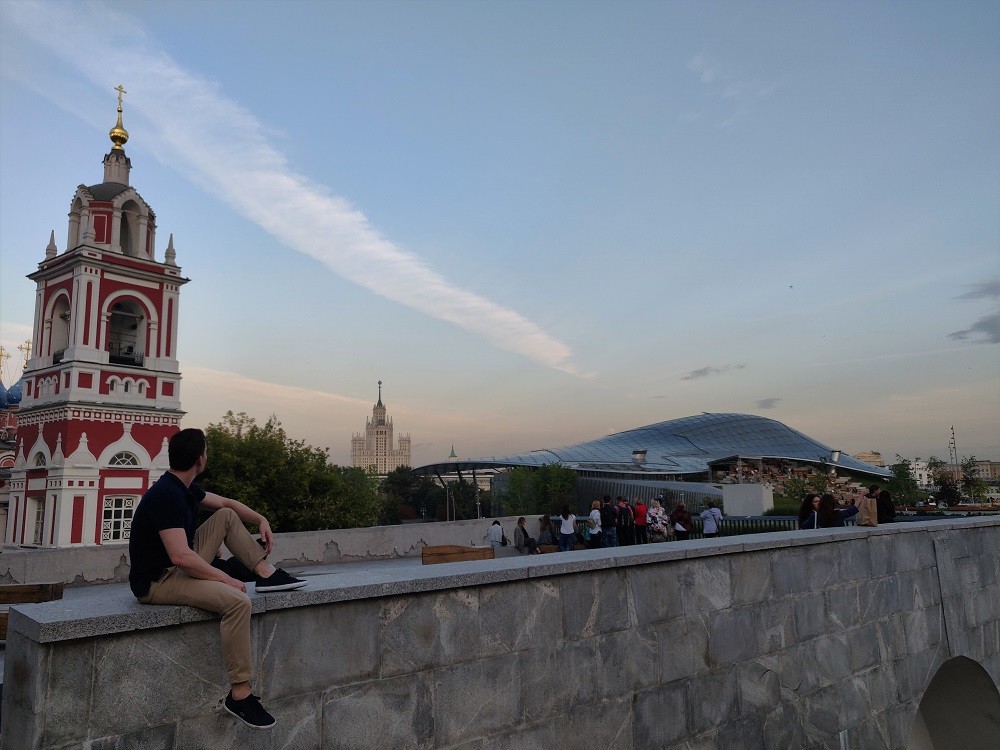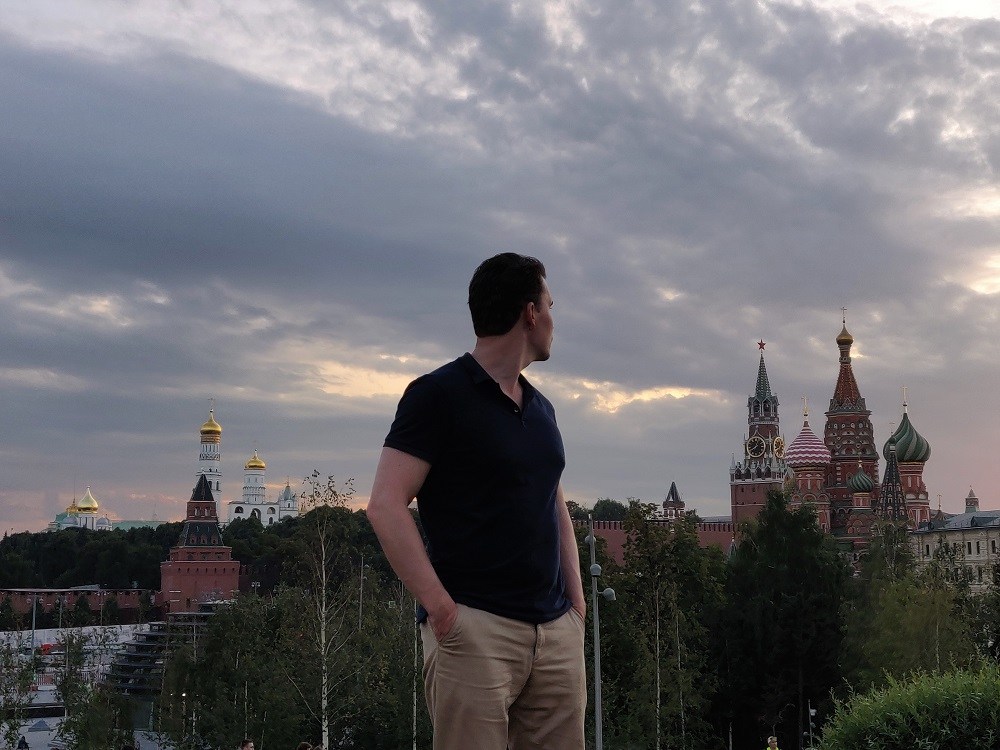 Try Ukranian cuisine
We ended our day with a lovely Ukranian dinner at Tavern Taras Bulba. It has various outlets in Moscow. It was a tip of our Russian friend and would also recommend! Very decently priced! Take advantage of being in Moscow and try delicacies from the various former USSR states… Some bringing back good memories from travels to Georgia and Kyrgyzstan…
Top Tip: Alcohol is priced a bit higher than I expected! Likely because of misplaced stereotyping, but was expecting similar prices as e.g. in other Eastern European countries. No despair!… At Taras Bulba, but also in many other establishments throughout Moscow and Russia, you can order very cheap bottles of Russian Sparkling wine!.. (only 500-700 Rubles for a bottle). All the bottles we had tasted great!… So go for it!…
Day 5: Exploring the Kremlin and Moscow's marvellous metro stations
This day we continuing a few of Moscow's top sights…
How to minimize frustration at the Kremlin
As recurrently explained in part 1 of these blog series, gaining access to key visitor sights in Russia is a pain. It almost seems like it is purposely made difficult to enter. The Kremlin, unfortunately, is no exception!…
At the ticket office, there are multiple lines for multiple tickets, e.g. Cathedral square, The Armory, special collections (meaning that if you would like to go for multiple kremlin attractions you would have to wait in multiple queues)
This also means that some people (who we met personally) were standing in the wrong line, only to discover after 1-2 hours that they could start queuing up again!…
You can buy tickets in advance – this is what we did. The downside is you still have to queue up (relatively short but still around 20 mins) to exchange your internet voucher for a ticket (presenting your ID is required – whilst this is not required for on the spot buying of tickets)… This happens at separate counters, where other tourists 'try their luck' to buy tickets on the spot (and are rejected)
There are ticket machines available inside the ticket office (only for cathedral square)! This may be the easiest option to buy tickets again, with relative short queues.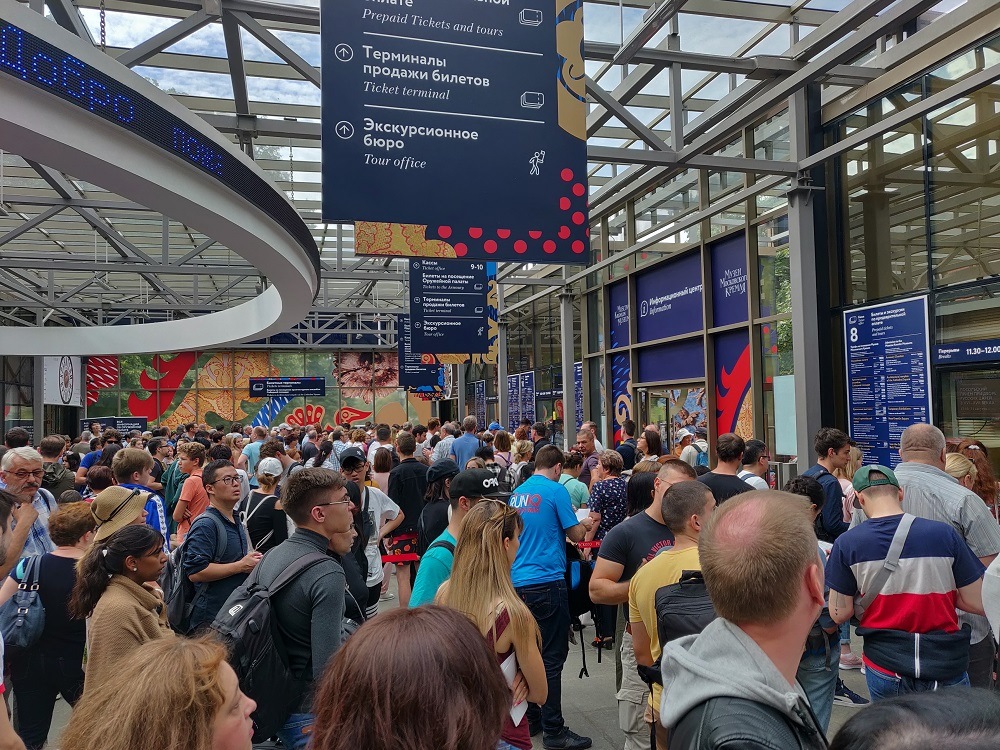 Top Tip: When buying tickets online you can 'reserve' audio guides… I found these quite useless, audio is hard to understand and the narrator keeps rambling, which means you are unsure what he is exactly describing… So do not bother, especially do not pay extra for this.
When finally getting your ticket you can enter via the main entrance and make your way to the cathedral square to visit the various churches (obviously with the necessary queuing action)… Apart from a small park and the walkway past the Armory access is restricted to the other parts of the Kremlin. I was hoping to experience more of the 'government function' of the building. Apart from the many black cars with blue sirens, you see driving around there is not much more that makes you realize that this is the official residence of the President of the Russian Federation.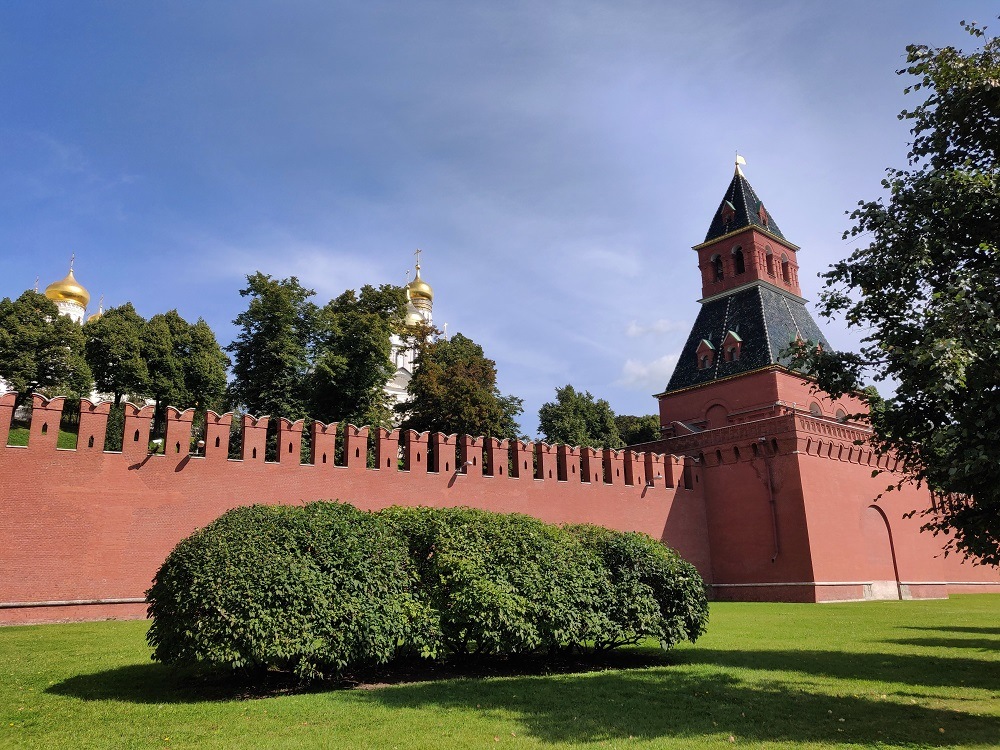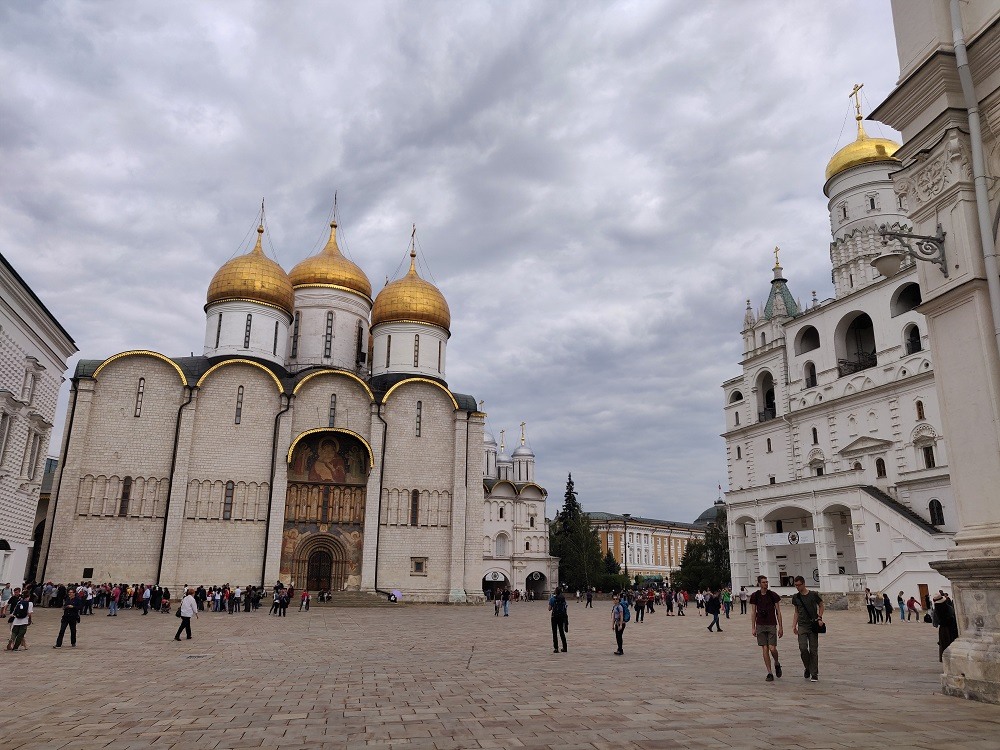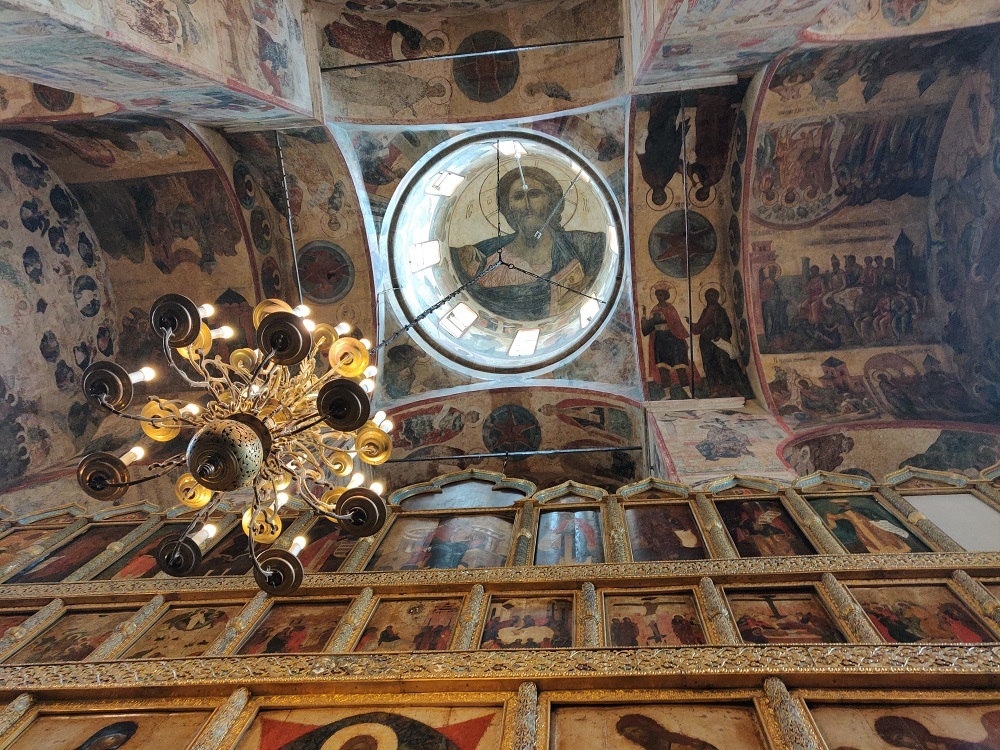 Conclusion: I expected more of the Kremlin visit, and as I will describe in part 3 you may even want to take a drastic decision and NOT go to the Moscow Kremlin. Instead, visit some beautiful Kremlins in the Golden Ring.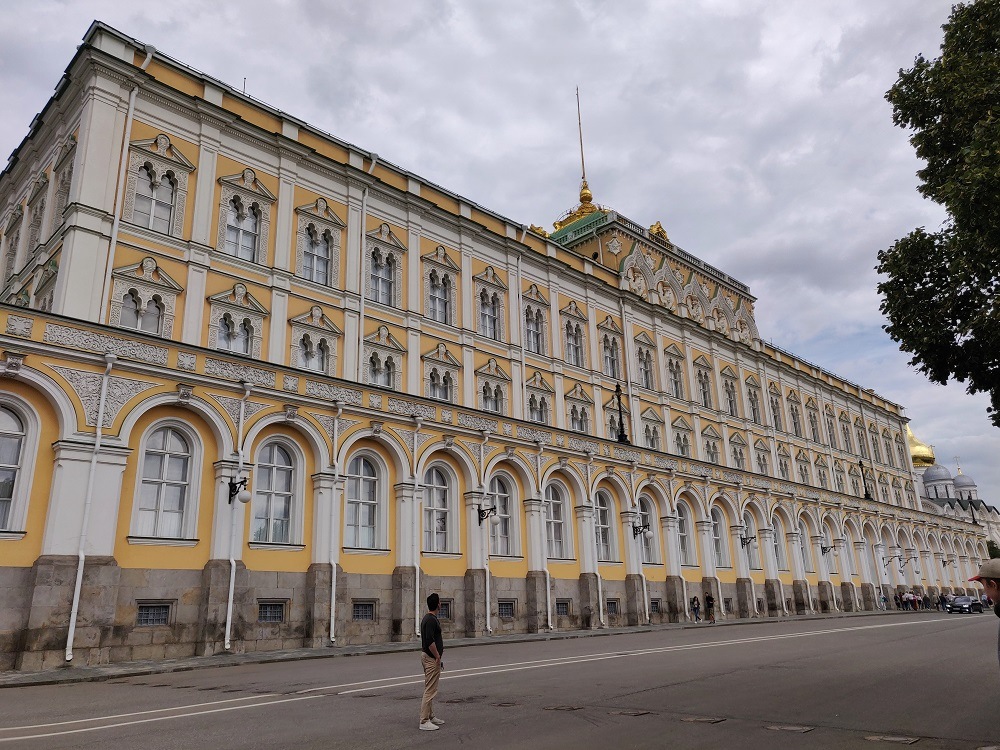 Moscow Metro Museum
Let's go Down Under… No, I am not talking about Australia, I am talking about Moscow's metro system. Not to go anywhere but to just enjoy the beautiful metro stations, of which many are true pieces of arts. When reading up on this it was hard to make sense of which metro stations were the most beautiful… In the end, it is quite simple: Focus on the Brown Circle line… My top picks: Taganskaya, Komsomolskaya, Prospekt Mira, Dostdoevskaya, Novoslobodskaya, and Belarusskaya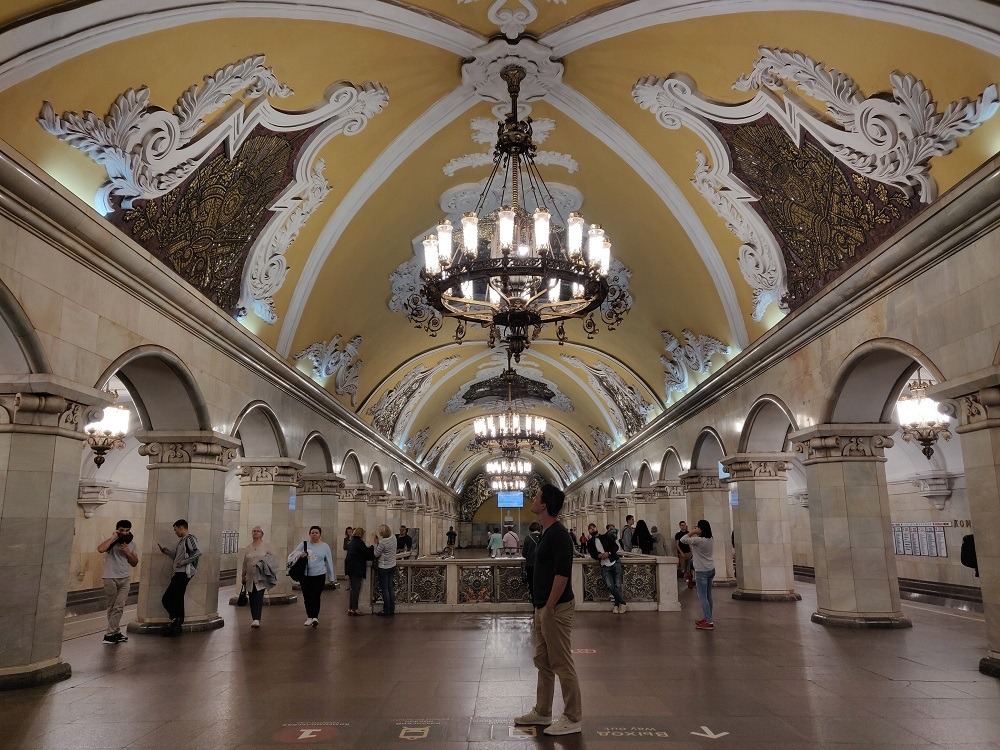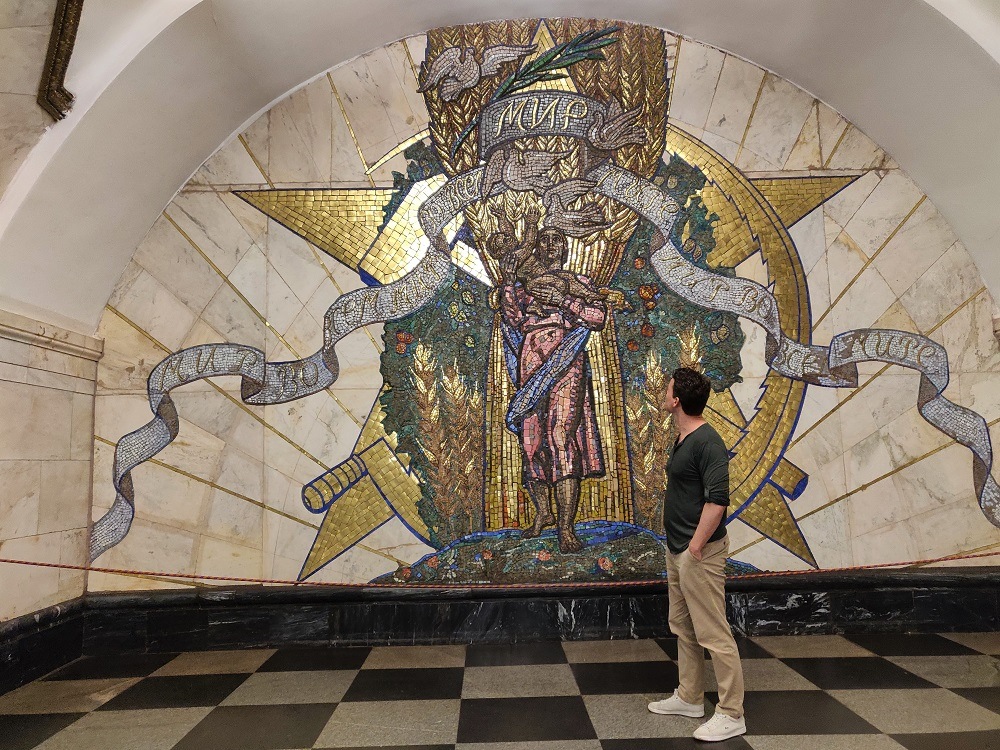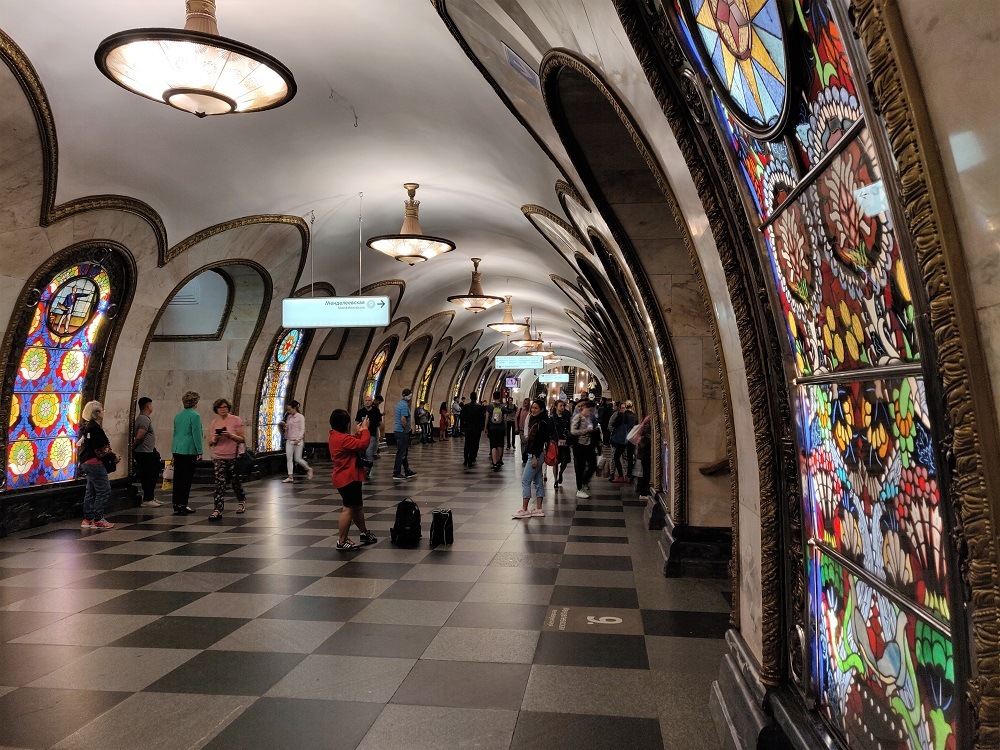 Top Tip: Exploring is simple and cheap: Just buy 1 single ticket (only around 50 Rubles) head to the brown line and hop in and out on all your stations of choice. Once done, head back where you started or to your next destination.
Day 6: Lenin Mausoleum, Café Pushkin and Moscow gastronomy
When we left the Kremlin the day before, we stumbled upon yet another queue… As a good practice, we first went to the front to check what the line was actually for and we soon found out that the Lenin Mausoleum is only open from 10.00 to 13.00. We arrived around 12.30 and the line looked at least 1h+ long… meaning that the people in the back would not get in. When I pointed this out to the gatekeeper, she shrugged her shoulders and said: "Not my problem, They (the tourists) can check opening hours online, the gate closes at 13h"… I kindly thanked her for the insights and mentioned that we would likely come back the next day…
I believe you cannot really blame the tourists (although many are just mindless sheep). Instead, I believe the organization should 'cap' the line at a certain point, Now there will be hundreds of tourists disappointed daily.
Lenin Mausoleum
That said, when we arrived around 9.40 the next day there was already an estimated 45m+ waiting time… Originally we thought of skipping… but given our other plan did not work, we decided to just stand in line while making a plan… Originally we planned to rent an electric kick scooter, which in hindsight were not electric and thus quite useless. (Note: different ones than on photo below LOL). In the queue, we met a talkative French lady, and as the nice conversation progressed the line did as well and around an hour later we entered the Mausoleum grounds…
Is the Lenin Mausoleum worth a visit? Not really, at least not considering the long queue. In case there is no queue, then definitely! The experience and setting are very comparable to the Ho Chi Minh Mausoleum and it is interesting to witness this remarkable way of 'paying respects' to a long-deceased leader.
Café Pushkin
One of the tips received from both our Russian friend and the French lady in the ques was to visit Café Pushkin… This café dates since the Russian Imperial era. We were expecting high prices, however, it was very fairly priced! I definitely recommend to have lunch, dinner, or like us order a pot of tea and some typical Russian mini pastries.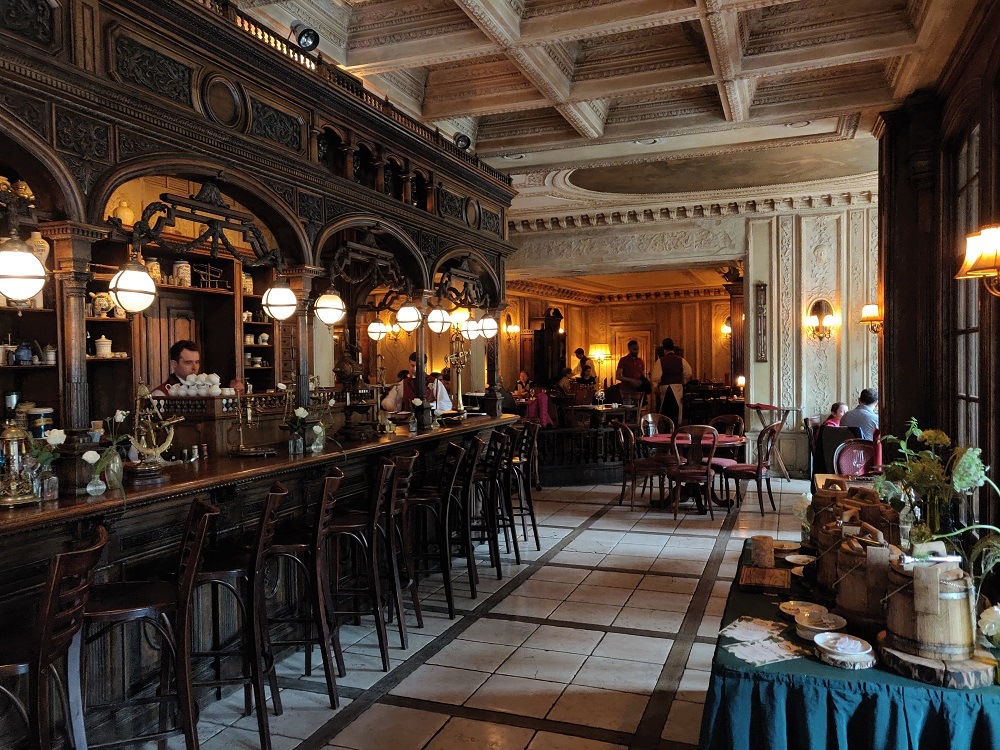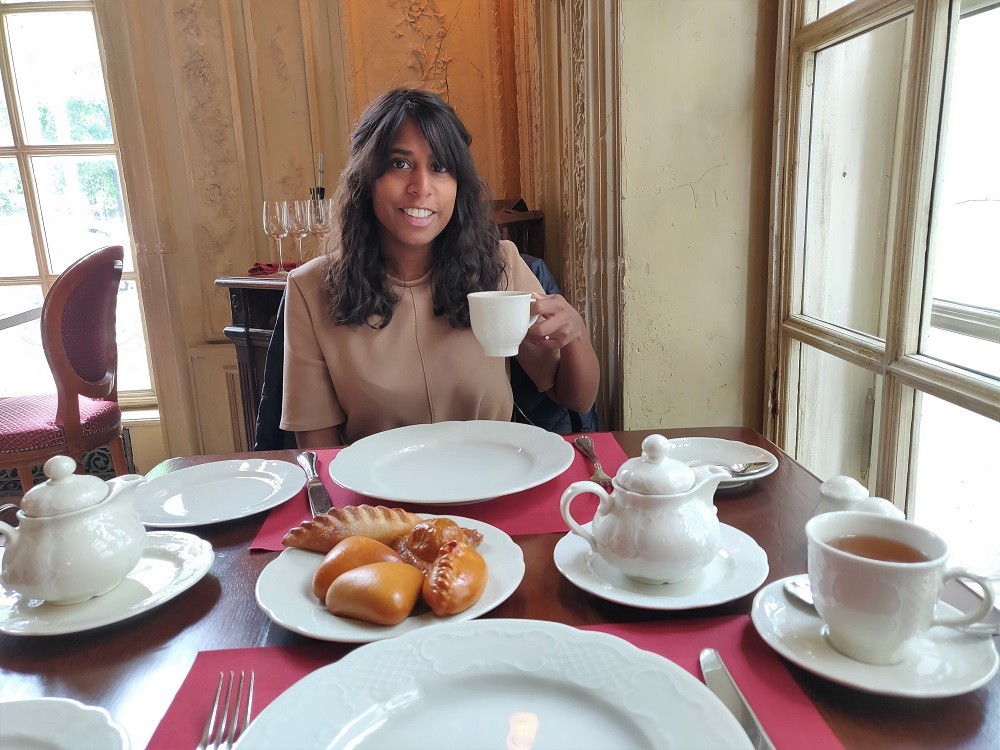 Patriarch Pond & Valiknov
From Café Pushkin we walked towards the Patriarch pond. The pond itself is not too spectacular, however, the streets surrounding host a lot of hip bars and restaurants.
After the patriarch pond, we walked via green lanes and parks (amazing how green Moscow is!) to Valiknov, a hip restaurant (turns to a club at night) to have a small bite to eat. (This is closeby the central market, we visited on day 1, in case you like to combine)….
Kamchatka
We ended our walking tour and day at the terrace of Kamchatka, a very nice and low priced bar. They offer great snacks, Russian dishes… and by now our favourite: Russian Sparkling wine…The terrace overlooks a small square with street artists, close to the Bolshoi Theater and facing the TsUM Mall. Location-wise it is hard to believe they can offer their food and drinks at these low prices!…
In this area of town, there are plenty of nice bars & restaurants, however prices levels are usually much higher… Still gives a great vibe to this inner city of Moscow!…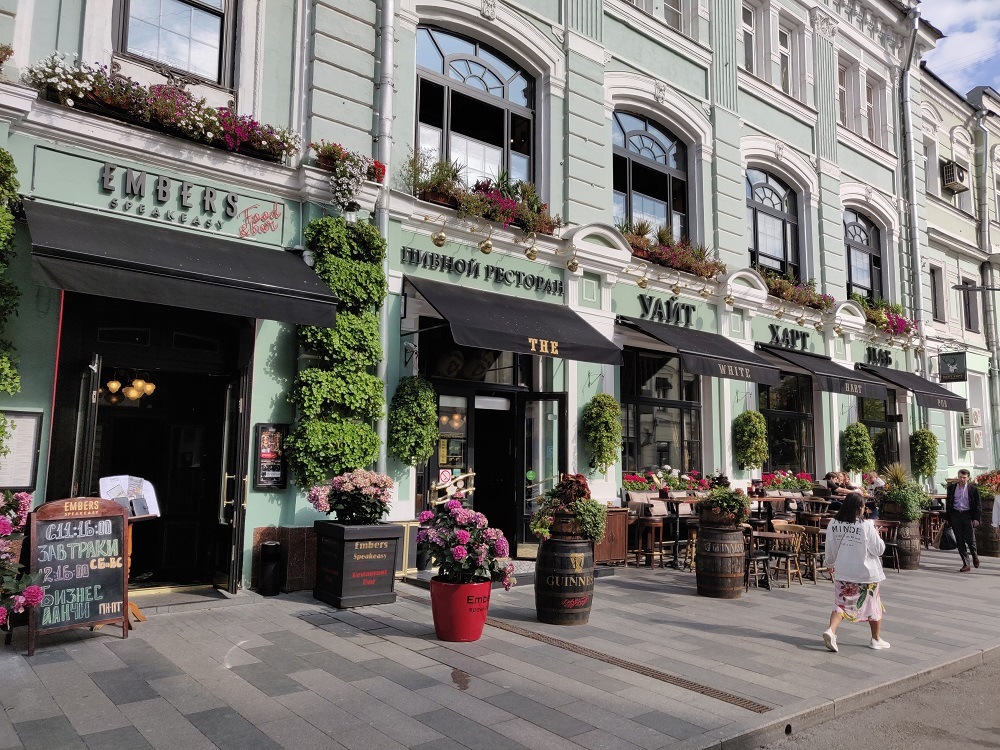 Bolshoi Theater
Likely one of the most famous theatres worldwide! Unfortunately, there were no performances when we visited Moscow. Instead, we went to the Mariinsky Theater in Saint Petersburg… If able to get tickets for the Swan Lake then go for it!… If ever back in Moscow, we aim to pay a visit!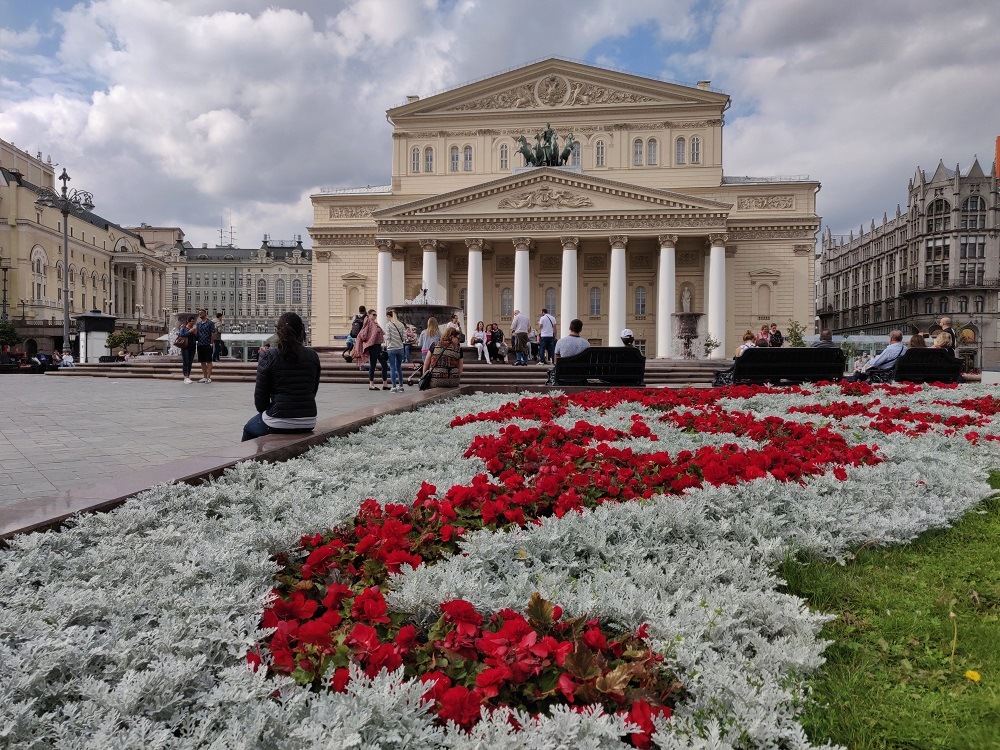 Moscow by night
When visiting Moscow, do also plan an evening walk through the city centre… All buildings are spectacularly lit up! I especially found the lights on Nikolskaya street amazing!… Starting from GUM and stretching for kilometres through the shopping street…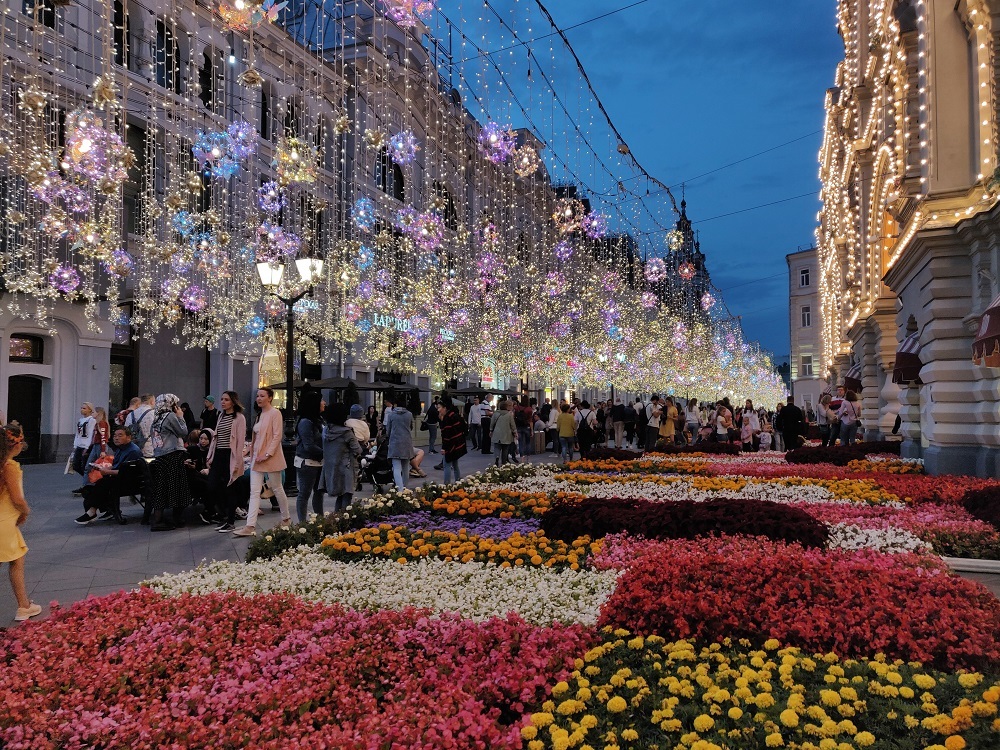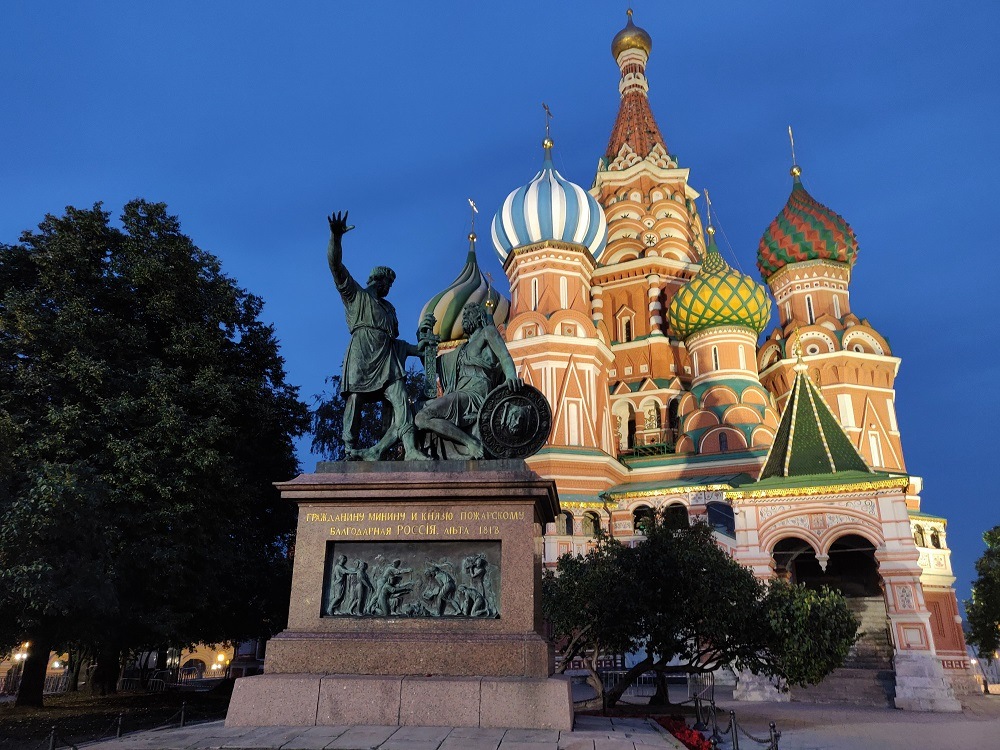 Of course, there are much more sights to explore… Moscow's business district, various churches and cathedrals, museums, etc. However, this is where we end our Ghost around the Globe Moscow experience… Tomorrow we head out to part 3 of our journey: Road tripping the Golden Ring… Let's explore Russia's countryside!