Things to do in Georgia and Tbilisi
A couple of years ago it would have been unlikely Georgia was on many travellers minds… The country had its fair share of diplomatic conflicts with its Northern neighbour Russia. However, over the last years, this country has developed itself in a great way! The capital Tbilisi has a very hip European feel and the countries wine heritage is surprisingly diverse! Its Caucasus mountains offer great skiing opportunities… On top of this, it is a very affordable destination, without compromising on quality…. Do I need to say more?
Exploring Tbilisi
If not combining your travels with any of Georgia's neighbouring countries, Russia, Armenia, Azerbaijan or Turkey, it is very likely you start your trip in the capital, Tbilisi.
The capital reminded me of Budapest, Hungary. Located in a valley, flanked by hills. It has its fair share of historical buildings, viewing points and even thermal baths. The people are friendly and in general, it has a very European feel. The city is also being promoted as the "new Berlin", which makes sense, given its many alternative bars and artsy neighbourhoods. If you like to compare, have a look at my Berlin post.
Where to stay?
With a population of 1.1 Million, the city is not too large and you can easily visit the highlights during a one-day walking tour. Depending on where you find your hotel (I would recommend staying in the streets around the following establishments:
Hostel Pinn – very small hostel, so limited risk of noise (We stayed in a private ensuite room)
Amo Rame – Nice home-feel restaurant, try the Georgian dumplings on weekend days)
Vino Underground – Great wine bar
Café Littera – You must visit this restaurant (reserve if required) – fine dining food for absurdly low prices!
There are plenty more nice restaurants and bars around so do explore! What I especially like about this neighbourhood is that it does not feel too touristy. It is where the locals seem to go out as well!
An additional advantage is that you can quite easily find a parking spot in these streets (parking is free). We made some day trips (see below) and when returning, you can easily park and enjoy the surrounding restaurants and bars only a few minutes away from your accommodation.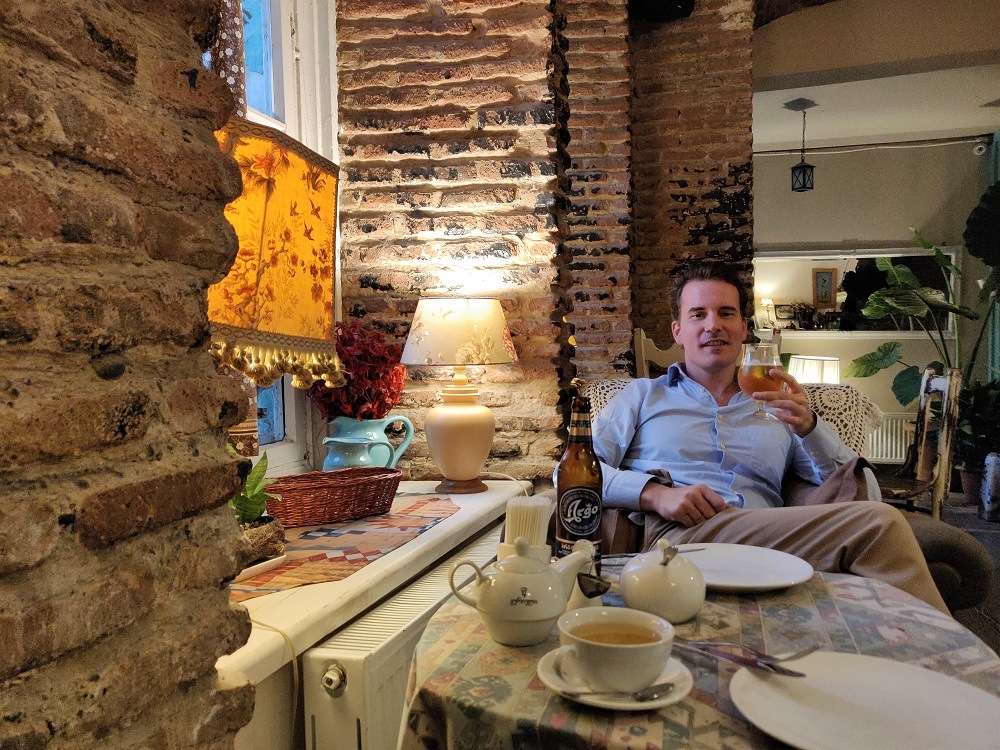 Another area with many bars would be Davit Achmashenebeli Ave. Likely this neighbourhood would be especially popular in summer, given its many street side terraces. Another place of interest near to this street is Fabrika, an old factory turned into shops and cafes.
Visit the Holy Trinity Cathedral
One site to certainly visit in Tbilisi is the Holy Trinity Cathedral. It is a great example of Georgian Orthodox architecture.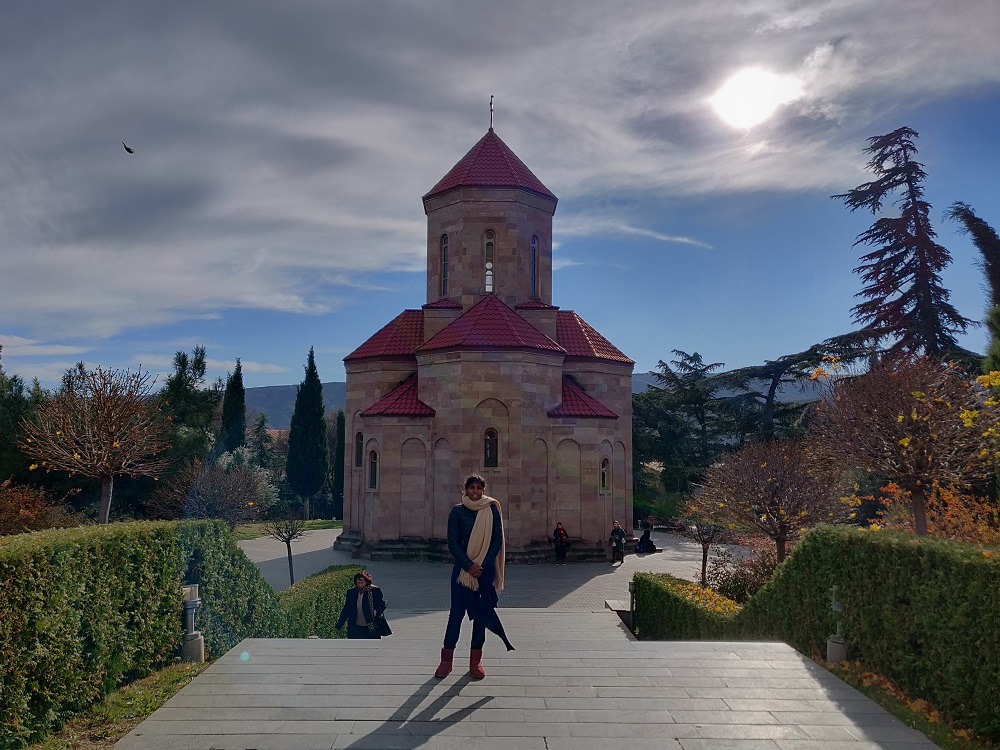 Take the Aerial Cable cart
A great way to have a bird's eye view of the city, and the meandering Mt'k'vari river crossing it, is by Cable cart. Tickets are cheap (and you are able to use your public transportation card, in case you have one). It departs close to the Holy Trinity Cathedral. Best to take a single ride up and walk your way down from the hill.
Visit or stay in Stamba Hotel or Rooms Hotel
2 nice hotels to visit, or of course book your stay, are Stamba Hotel and the neighbouring Rooms Hotel. Totally refurbished the inside, both have nice decors and provide a trendy atmosphere…
Mixing historical and modern buildings
Tbilisi mixes its historical heritage with modern buildings in quite a pleasant way. What to think about the leaning clock tower of and its surrounding narrow historic alleyways. Yet, the connecting Bridge of Peace towards the Holy Trinity Cathedral is very modern. This bridge stands in steep contrast to the Tbilisi bridge market, which in weekends gives you a more "romantic" feel.
Sighnaghi
Let's leave Tbilisi behind and explore the countryside, as Georgia has a very rich winemaking history. One of the best towns to vamp up your Georgian wine knowledge is Sighnaghi. Various wine houses explain how they make typical Georgian wines, using qveris. These are clay pots that are permanently buried in the ground to store the wine in during winter time after harvest.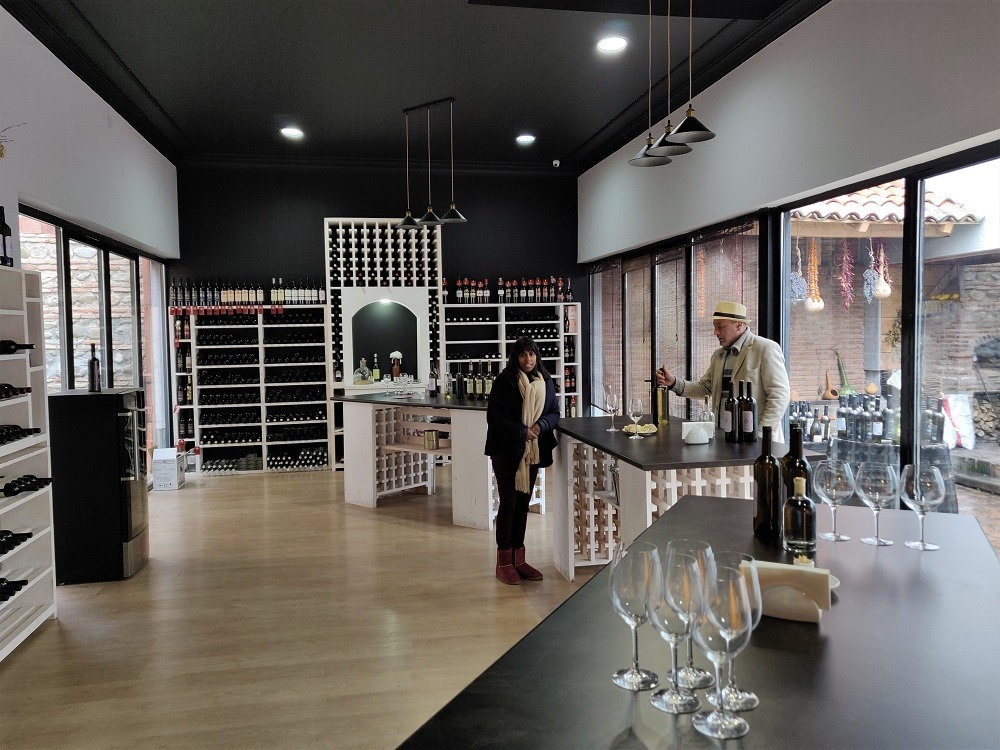 A nice restaurant/tasting room to learn about the Georgian winemaking process is Restaurant Mtvenani. Do stroll around the town with its small streets and hanging "balconies". Try some local delicacies and wines in the various restaurants. A good place to try typical food is Pheasant's Tears Winery.
Fun Fact: Georgia has more than 500 grape varieties, which is enormous given its relatively small size. Despite this, currently, Georgia is still hardly known as a wine country in the rest of the World… I have the feeling this will likely change soon!
Driving from and to Tbilisi you will come across a Bodbe Monastery, a great shortstop to enjoy the Georgian Orthodox architecture and scenery.
Stalin museum in Gori
Gori is the birthplace of Stalin. To say the least, this ruler of the soviet union did not have the best reputation when it came to human rights. However, in Gori, this is all forgotten, forgiven, or downright neglected. Here, Stalin is a hero! Therefore, they have built a large Museum in his honour. It displays various photos, models, furniture, uniforms, utensils and even his birth house and train wagon. Definitely worth a visit, albeit only for the "smell of propaganda". Do keep in mind the exposition is in the Georgian language only.
We were lucky as an English speaking tour guide arrived with his group at the same time. This meant he was supposed to also translate the lady from the museum for us, as she only spoke Georgian. The lady really adored Stalin. The Georgian tour guide from Tbilisi likely had more historical sources to draw knowledge from. This meant he sometimes (somewhat unfortunately) did not translate the lady literally or skipped some parts.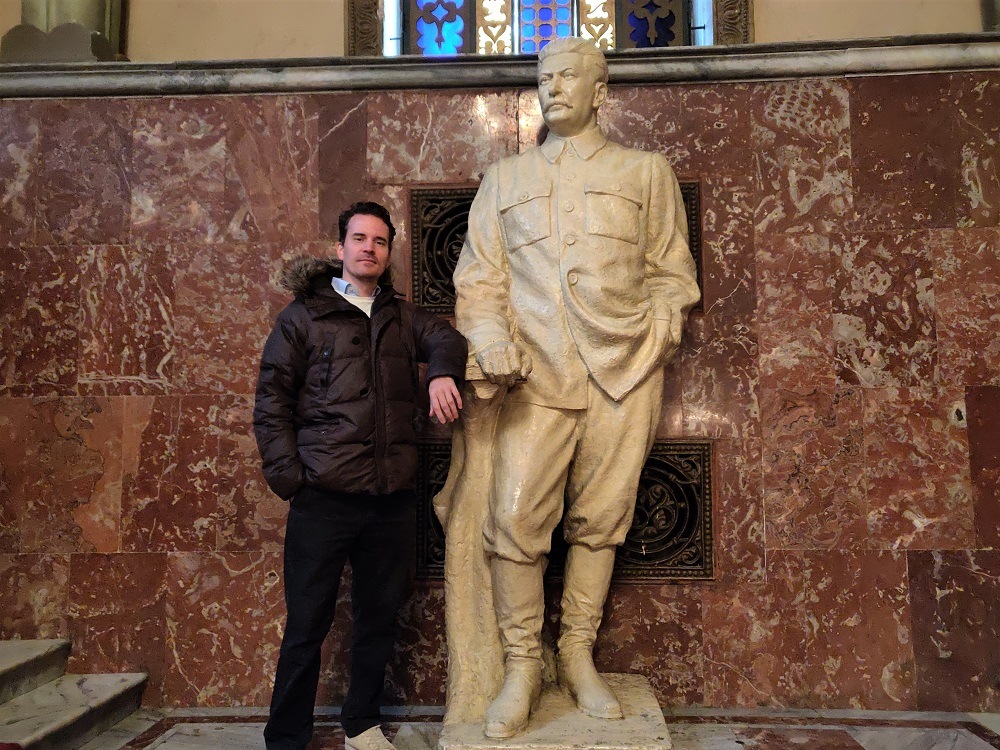 Gori itself is a poor town, nothing like "thriving" Tbilisi. There is a Fortress, which may also be worth a visit… However, we drove on to Uplistsikhe…
Uplistsikhe
Close to Gori lays Uplistsikhe, Uplistsikhe is identified by archaeologists as one of the oldest urban settlements in Georgia. It is built during the iron-age and consists of various rock-cut structures. When travelling to Gori, do also stop here as it is one of the more accessible settlements.
Top Tip: Another, likely more impressive ruin would be in Vardzia. We did not go here due to the long travel distance, and we visited during winter with the risk of closed roads. However, keep this place in mind when planning your travels to Georgia, as it looks impressive!
And that is where this Ghost around the Globe adventure ends!… Getting excited about Central Asia? What about visiting or combining your trip with Azerbaijan or Armenia!?