Dubrovnik, start of our ultimate Croatia itinerary!
Reading time: min | Published on:
Depending on how you count, Croatia is the 100th country I visited on my worldwide explorations!… A great milestone, which I am happy to celebrate amidst stunning mountainous and island-rich coastline, dotted with picture perfect medieval cities and towns, like Dubrovnik and Split. But Croatia has more to offer as we will see in later posts! For example Hvar Island, the magical waterfalls in Plitvice Lakes National Park and the Istrian region with Rovinj & Brijuni island… Follow the links for more info, but let's start with Beautiful Dubrovnik… 
Starting our Croatia road trip in Dubrovnik 
Coming from Bosnia & Herzegovina on this extensive Balkans road trip, we start our Croatia road trip in Dubrovnik and will continue North from here. The beautifully preserved medieval port city of Dubrovnik has become world famous over the years, especially due to functioning as King's Landing in the Game of Thrones series.
How to beat the crowds in Dubrovnik, Croatia?
This popularity also has its downsides… As according to various studies, Dubrovnik is the most visited (read: overcrowded) city in the Europe with visitor-resident ratios as high as 36:1, this is even beating other (over)popular places such as Venice, Italy. During the busiest summer months, this means beating the crowds is nearly impossible, with the many cruise ship passengers (and other tour group) flooding the tine walled city by the thousands.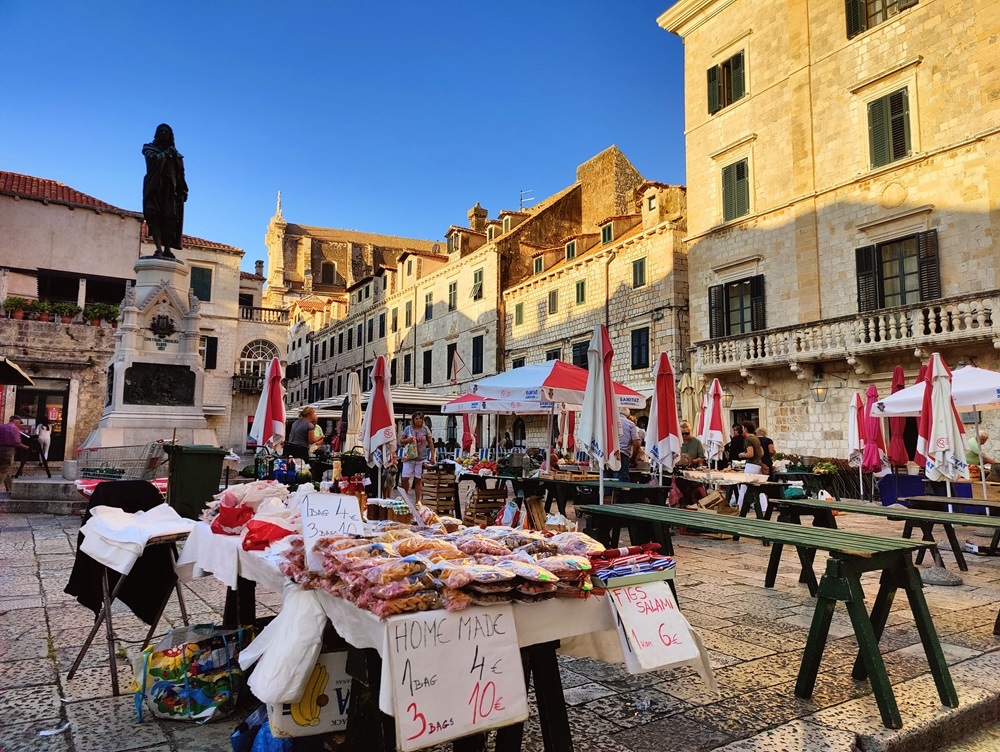 The best ways to (try to) beat Dubrovnik's crowds are:
Avoid the key summer months. We visited in start Oct, and still found the city 'crowded', but the city was 'empty' according to the locals we spoke to. (Just imagine the craziness in peak periods).
Book a night stay in the city center. Dubrovnik is tiny and you can easily explore the city in 1 or 2 days. If you stay within the old walled city center you avoid the (largest) crowds in early mornings and late afternoons. 
Plan a sunrise walk! As in other key destinations, I went for a (early) morning run. This is the moment to really have the city for yourself, with hardly anyone on the streets yet!…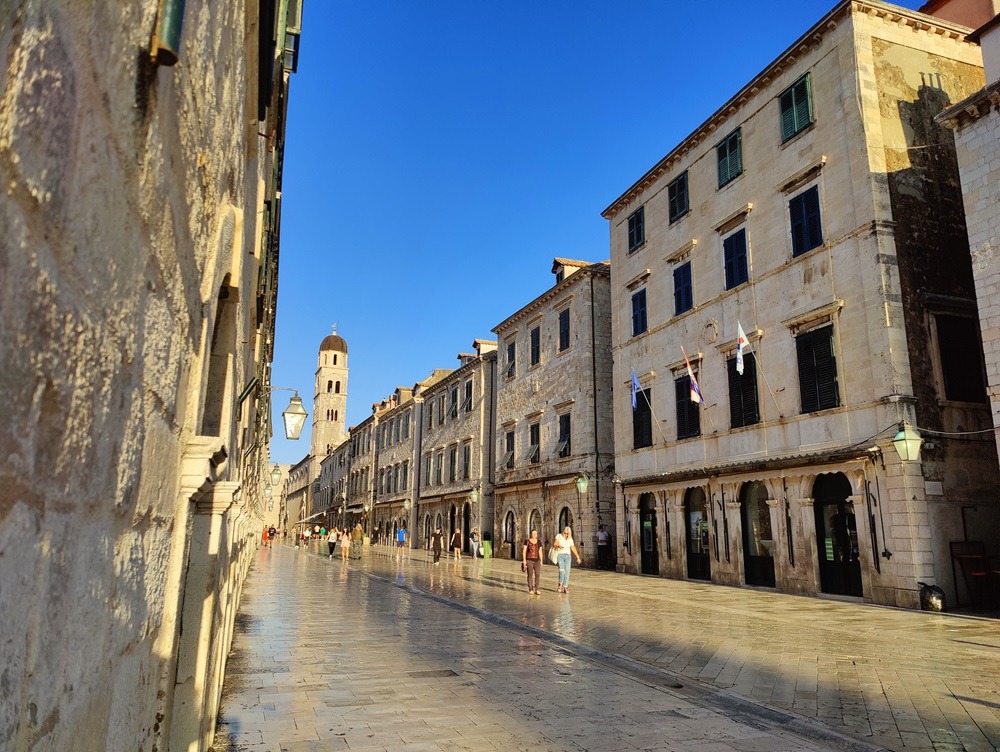 What to see in Dubrovnik?
What makes Dubrovnik special is its beautiful location on a cliff and how well the city is preserved… Dubrovnik is not much larger than many other similar medieval Mediterranean towns. This makes exploring many alleyways and key sights of the walled city center easy!… 
Once within the walls, it is impossible to miss the key sights of Dubrovnik. Follow the crowds and they will lead you past the Church of St. Ignatius (with the famous Game of Thrones) Jesuit staircase, St. Blaise's Church, the Rector's Palace, and the Marina. However, it is also nice to wander through the labyrinth of narrow alleyways and enjoy the bars and restaurants. 
Top Tip: As in many places, truckloads of tourists mean inflated prices… Food & drinks, accommodations and entry tickets are heavily (over)priced!… Do some research beforehand on what you like to see and potentially pay entry fees for. One thing I suggest you avoid, due to the absurd high entry price, is walking the city walls. (around 35 Euros at the time of writing). A great way to avoid these fees but have similar views is to go to the Basketball field next to the Northern Tower! This offers amazing views over the city… If this tastes like more, then you can always still proceed to the Northern Tower and buy an entry ticket for the walls.
Explore Dubrovnik's surroundings by boat
Various tour operators offer a range of boat tours around the Dubrovnik area. You could choose to make a day visit to Lokrum island, but we decided to take a half day boat tour to experience the Green & Blue cave. You find these types of cave snorkeling tours throughout Croatia, but boat ride durations are favorable here. 
Via this tour you get great views of Dubrovnik from the sea. The key experience is to swim and snorkel in 2 beautifully green and blue underwater caves, due to the reflection of the sunlight. In addition, you have some time to relax on a sandy beach of Lopud Island (which are rare, in the mainly cobble stoned Mediterranean shores). 
Where to eat & drink in Dubrovnik, Croatia?
If there is one thing Dubrovnik has no shortage of, it is restaurants and bars. The old town has completely changed into one Food & Beverage meets Bed & Breakfast venture… Best to wander around the city and pick & choose, but some of my top picks to check out:
Buza Bar

– Make sure you spot the small doorway through the southern city wall, as Buza Bar is located just outside of it, overlooking the Mediterranean Sea and Lokrum Island. Great for sun sets or to take a plunge in the water!

Rudjer Restaurant

– A nice restaurant, slightly outside of the busier streets and squares. Either sit in the walled garden, or on the terrace opposite of St. Ignicia church. 

Prijeko Ulica

– This street and all its narrow side alleyways are bursting with restaurants and bars… Make reservations (even in low season) in case you find a table to your liking.
Where to park in Dubrovnik, Croatia?
Well, now you know what to see, where to stay and where to eat & drink, you still need to get to Dubrovnik. As you may have guessed, fully in Dubrovnik style, this can be a costly endeavor as well. Especially if you travel with your own car, as parking in Dubrovnik is a nightmare!… 
You would expect tourism authorities to have come with a solution (e.g. park & rides) of some sorts by now. However, this is not the case. The few super tiny parking areas that happened to be somewhat nearby Dubrovnik's car-free old town have just exploded in price (expect to pay around 10 Euro per hour or 50 Euro per day), there almost seem to be no real good alternatives…
Top Tip: Luckily, I saw this Dubrovnik Parking disaster as a fun challenge and believe I found a solution! Therefore I suggest you do the following:
Park your car at the town of Bosanka, parking is FREE here

. Take only your key belongings in a

backpack

(assuming you only stay one night in the city center – if staying longer drop off your key luggage in the hotel before).

Walk the beautiful scenic (Dubrovnik-Bosanka) walking path down. This offers stunning views over Lokrum Island, Dubrovnik old town and the azure waters!… (Even without parking here, it is worth walking this trail)… The path leads all the way to the walled city center.
Treat yourself to a nice lunch or dinner from your savings on parking!…

To get back to your car, you could walk (but it is very steep), I suggest you

take a cheap uber ride

from the Pile Gate taxi stand. 
Top Tip: Dubrovnik also has an (over) expensive funicular ride, which end fairly close to Bosanka. But I would avoid this (especially when following my parking tip above). You rather take an uber ride up and walk down!
Should you visit Dubrovnik, Croatia?
Dubrovnik is definitely worth visiting! However, the crowds & inflated prices can be a bit disappointing… Hopefully with the tips above this will make your Dubrovnik experience a great start to your further Croatia or wider Balkan travels… 
Further reading on Croatia and the Balkans
Do also read other Croatian Ghost around the Globe adventures:
Combining Croatia with other Balkan countries? Find some travel inspiration below: