Romania Road Trip along all key highlights!
Reading time: min | Published on:
Our Eastern European road trip has led us through Czechia and Poland. Now via (earlier visited) Slovakia and Hungary, we have reached Romania! Let's explore this hidden gem of Europe!… 
Understanding Romania's challenges
Thus far our road trip zigzagged through EU countries without any border controls, and although Romania is part of the EU, it is not part of Schengen. Hence, do expect some waiting time at the Border! The first 'real' European land border that I have experienced in a very long time!
Romanian roads are work in progress
As soon as we crossed the border, the roads turned poor very quickly. Where before we drove over high quality autostradas (in Hungary), Romania is still in the planning & construction phase for most of these types of roads (with help of the EU). Just a few kilometers into the country we even hit a section of gravel road!? Luckily this proved to be an exception, as most of the roads are of decent quality. The trouble is most of Romania's main road network is single lane, crossing through cities and villages, resulting in much slower and more strenuous driving.
Top Tip: Romania's roads are (still) some of the worst in the EU! Plan your trip accordingly and expect delays! Crossing through a small village while driving on a 'Romanian highway' can easily cause a 45+ minute traffic jam.
Poverty in Romania
As per the Poverty Watch, Romania has both the highest poverty rate and the lowest relative poverty line of all EU member states. In 2017 to 2019 23.5% of the total resident population was at risk of poverty; this means that about 4.5 million people are at risk of income poverty. A clear example of this, are the many horse carriages you see in Romania's rural areas.
Enjoy Romania's hidden gem beauty
Although Romania has its challenges, these are in the process of being tackled! Yes, many of the (mostly) rural population in the small villages you cross are clearly living with limited means. However, as you will see below, the country also has a beautiful side. It is a shame there are so many wrong prejudices about Romania! We often we felt we were traveling through Italy (but with a discounted price tag).
And our thinking is not that far off, as Romania and Italy share a long history dating back to ancient times. Both countries were part of the Roman Empire, and Italy played a significant role in shaping the culture and language of Romania. Romania was also heavily influenced by the Italian Renaissance. 
Well, with those pieces of knowledge in our pocket, let's start exploring Romania! First stop: Cluj-Napoca…
Stay in Cluj-Napoca: Romania's second city
Entering Romania from the North West, a nice (overnight) stop is Cluj-Napoca (or simply Cluj). We spent 2 nights here to have some time to work on some (blog & travel) admin! Added bonus, we stayed in likely one of the best apartments, for one of the lowest prices on our travels (thanks Cocoon Inn!). 
With a population of around 300k it is the second city of Romania, albeit much smaller than Bucharest (1.8m). There is not too much to see in Cluj; you can easily explore the historic city center in a few hours. Depending on your travel plan you may just want to have lunch here and stay in (nicer) Sighisoara or Sibiu instead. 
Best things to do in Cluj Romania
When visiting Cluj, combine the below in your GPS, and zig-zag via your own walking tour through the city:
Saint Michel Church

– Large church at the main square

Main Square

– Here you find various nice restaurants (great for lunch)

Dormition of the Mother of God Cathedral

– Very impressive interior

National Opera of Cluj

– A nice stroll through the park, opposite the cathedral 

Steampunk Transylvania

– Unfortunately did not visit this, but seems a unique art display to check out!
During our visit, a 'Hungarians from Cluj' event took place. Complete with various processions, singing and dancing! Great to also try a Lángos; a typical deep-fried Hungarian flatbread, also very popular in wider Eastern Europe!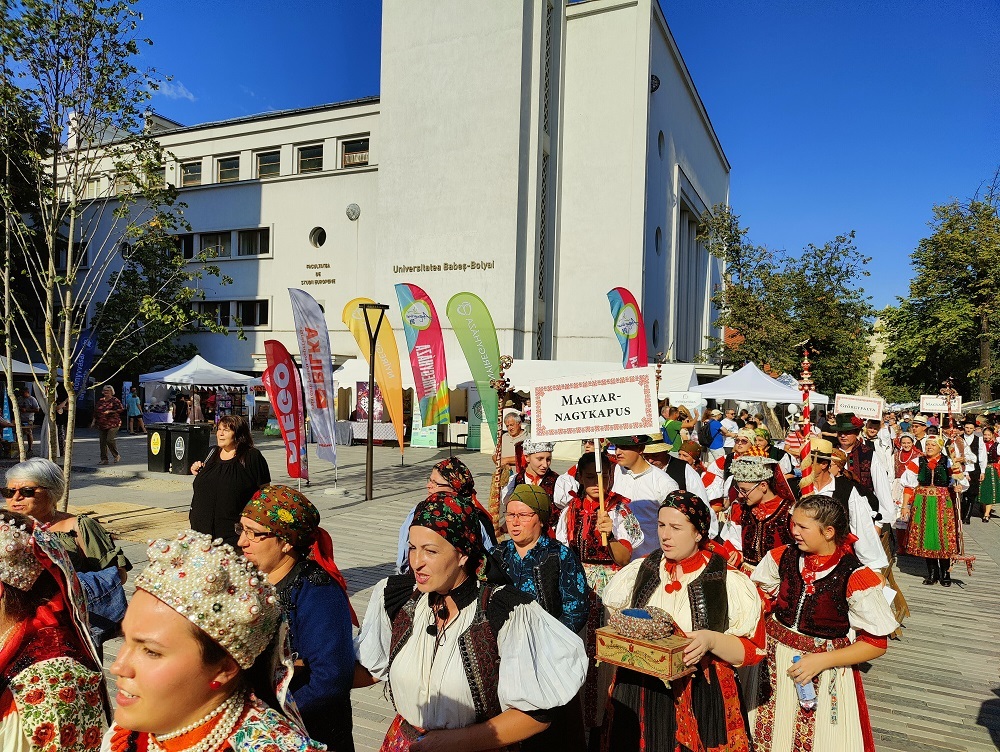 Make a Lunch Stop at Sighișoara
From Cluj you can drive directly to Sibiu, but I suggest to take a 1.5-hour detour via small picturesque Sighisoara! This historic Transylvanian town is where you find the Vlad Dracul house. The house of the father of Vlad the Impaler, a famous Romanian warlord. The latter, (mainly his name only) served as 'inspiration for the novel 'Dracula', by Bram Stoker in 1897. Although vampire-like stories have been recorded all around the world over the centuries, his novel inspired the modern Dracula & Vampire & Transylvania legend. 
Fun Fact: Imagine you were already a famous ruler, but centuries later someone 'borrowed' your name, wrote a book and you are instantly turned into a world-famous fictitious blood-drinking vampire.
What to visit in Sighisoara, Romania
As mentioned, Sighisoara is easily explored in a few hours, including a nice lunch break! The historic citadel is small and ideal to just browse the cobblestoned streets, enjoy the vistas over the surroundings, and make sure to climb the famous 'covered stairway' (Scara Acoperita) towards the Biserica din Deal.
Top Tip: Parking in the small historic citadel is not allowed (unless you book a spot with an overnight hotel stay). I suggest to park your car on/around Strada Anton Pann. There is a small area that is paid, obviously best to park just outside of this area in the surrounding streets. From here you take the stairway up to the citadel! 
Let Sibiu see you!
If pushed for time, Transylvanian highlight Sibiu could be your next stop after Cluj, by omitting Sighisoara (which would be a shame!). Sibiu is larger than Sighisoara and a definite must-visit on your Romanian Road Trip… 
Sibiu's nick-name is the 'city with eyes', as well as 'the city where houses don't sleep' and the blend word 'Seebiu'… At first I did not notice but most of the buildings do seem to have 'eyes'… Once seen, you cannot 'unsee' this anymore! The 'eyes' were originally built as ventilation for the attics, now they mainly serve as tourist attractions. 
The highlights of Sibiu, Romania
As with all the Transylvanian towns, their beauty is easily explored in a few hours. We combined both Sighisoara and Sibiu in 1 day. 
Similar to Sighișoara, the historic city is nice to just browse around, add the below handful of highlights to your GPS and you are good to go!…
Holy Trinity Orthodox Cathedral

– At the edge of the historic center but do visit! One of the most beautiful ceiling and wall paintings seen in Eastern Europe! (free entrance)

Piata Mara

– The main square, full of eateries, a church and a museum!

Small Square

– On the other side of the

Turnul Sfatalui

(a 13th century tower) you find the cozy small square – less busy and nice for drinks or dinner!
Stay in Brasov 
The highlights keep on coming, as Brasov is yet another picture perfect Transylvanian Town, double the size of Sibiu in population. Its lively cafes and restaurants are already reason enough to visit! We actually really liked the Moldovan restaurant Basarabia in Bucate. Great to get a taste of this small Eastern European Country, which was originally on our itinerary but we are saving for later.
On top of great food, there are various historic sights and activities to enjoy in Brasov, as listed below (get your GPS handy):
Poarta Ecaterinei

– Gateways to cities do not get more Transylvanian than this

Biserica Neagra

– The largest church (I would skip the inside, as the hefty entrance fee is a bit over the top, given most beautiful churches are free in Romania and wider Eastern Europe)

Piata Sfatului

– Brasov's main square (but do also check out the many side streets for nice terraces!)

Parcul Nicolae Titulescu

– A nice city park in front of the City Hall

Strada Sforii

– The town's narrowest  alleyway

Mount Tampa

– Mountain Peak where the Hollywood-like letters are placed. You can take a funicular ride up (and down). I climbed the top as a morning activity – anyway, I had no choice as on Monday's the funicular does not operate.

Tennis Club Olimpia

– On the edge of the old town you'll find a typical 'Transylvanian' tennis clubhouse
Visit Libearty Bear Sanctuary
Romania has Europe's largest wild bear population, with over 6,000 bears. Unfortunately over the years many bears were imprisoned and treated badly for people's amusement. The were caged at petrol stations, hotels and small zoos or performing tricks at circuses. Fortunately for the bears, when Romania joined the European Union around 2007/2008 this was banned. It resulted in a large influx in the (already existing) Libearty Bear Sanctuary just outside of Brasov.
During most mornings you can join a tour through the sanctuary, where the history of Bears (and other misplaced animals) is told in more details. It is a great way to get up close to bears of which some will hopefully be released back into nature again! Your entry ticket is helping them achieve this goal!…
How to buy tickets for Libearty Bear Sanctuary Romania?
You can buy tickets online easily via their millions of friends website. However, they do also ALWAYS sell tickets at the door! So you could just visit at the last minute and join a tour (in case they 'sold out' online). 
Top Tip: Try to join the first tour of the day, as the earlier and cooler it gets the more bears will be out in the open! Also, do research before you go, timing-wise! 
Top Tip: In general: Do not plan things on Mondays in Romania (and wider Eastern Europe)! Most activities, sights and tours do not operate. Without being able to compare, I expect this may also make attractions on Tuesdays slightly more crowded then other (week)days.
Why you should NOT visit Bran Castle
On your way towards Bucharest you find the 'famous' Bran Castle. This castle is heavily marketed as 'Dracula's castle'. However, Vlad Dracul (or his son Vlad the Impaler) have never ruled this place. 
We originally planned to only stop here for a photo, which I would definitely recommend you do (at most)! But once at the gate, as we had time we decided to visit it after all. That was a mistake! The large crowds that are literally being 'pushed' through this (fairly small) castle are just insane!… Also, as said the castle does not have any historical significance when it comes to the Dracula story! It is a fictional story, moreover the author Bram Stoker has most likely even never visited this castle! 
It all boils down to one giant tourist trap! The castle is (smartly) incorrectly marketed based on a Dracula 'hype'. This fuels an entire town, complete with hotels, restaurants, souvenir stalls and paid parking spots. And, also important, severely (over)priced tickets for just a simple (small) overcrowded castle. What a joke!
Top Tip: Do not visit Bran Castle! At most stop for a quick photo from afar (the outside is the most impressive aspect of the castle anyway). Then escape from this mega tourist trap as soon as possible!… Instead, save your time for the next castle and our next stop towards Bucharest!…
Visit Peles Castle
Forget about touristy Bran, instead focus on visiting Peles Castle! This is how castles and castle visits should work! No busloads of crowds, free entrance to the wide open forests, castle gardens & grounds. Relaxed restaurants and, most importantly, no overcrowding inside the castle. Check out the Peles Castle website for ticket types and opening times. Open on fewer days, also make a (brief) stop at Pelisor Castle, just next to Peles Castle on the same grounds!…
Top Tip: Parking can be a bit of hassle. We were cheeky and parked as close to the castle as possible. However, The official (overpriced) parking area is just after the gate. Therefore you rather park just outside the 'entry gate' at public parking spots. The walk is only slightly further, and this way you also avoid potential congestion with waiting cars at the entrance. 
Limit your time in Bucharest!
Originally my expectations about Romania were biased and low, then with every beautiful Transylvanian town and highlight they rose more and more… If these were only the small towns of Romania, what grandeur would await us in the large capital? Well, not that much I am afraid!… Especially compared to the other towns, Bucharest is just not a very appealing city. Many buildings have deteriorated into worn down ruins. Its city parks are not maintained and its key (touristic) highlights are scarce and scattered across the city. Therefore, limit your time in Bucharest! Your time is better spent elsewhere in Romania.
What are the key highlights of Bucharest?
I would limit your stay to 1 full day, this gives you more than enough time to visit (most of) the below. We walked most of it, but you can even save time (and your feet) by using an Uber, taxi or Metro.
Old Town

– For any tourist this is a Bucharest must-visit and should be the place to stay and place of focus. Most highlights, bars and restaurants are here! Great to roam the cobblestoned streets…

Stavropoleus Monastery

– A beautifully decorated monastery in Old Town
Caru' cu Bere

– Must-visit beautifully decorated old Romanian restaurant with typical Romanian food and beers! Right next to the Monastery.

Macca-Villacrosse Passage

– A beautiful covered passage in Old Town with various restaurants, bars and shisha lounges. 

National Bank of Romania – Great hidden gem, see below for more details!
Parliament Building

– A very large impressive building close to Old Town
National Museum of Art

– Not visited, but the outside and building opposite have impressive architecture

Roman Athenaeum

– Beautiful photo stop. Check if you can enter via the side entrance (only possible if no rehearsals).
Grigore Antipa National History Museum

– Not a must-visit but a  nice way to 'pass the time' in Bucharest (especially with children).

Arcul de Triumf – We only viewed this when entering the city (like the National History Museum) quite far away from the other items on this list. 

Dimitrei Gusti Museum

– This is a large park where many architectural houses are placed (or saved) from all over Romania. Could be a nice visit if 'only' staying in Bucharest (and if near Arcul de Triumf). Coming from a zig zag tour throughout Romania, we skipped this.

The Artist restaurant

– For Romanian standards, a bit of a splurge. A great fine dining experience and much better value-for-money compared to Western Europe!…  Owned by a Dutch-Romanian couple…
Visit the National Bank of Romania Museum
In the middle of Old Town you find the large National Bank of Romania. This institution is actually the reason that most beautiful buildings of Old Town exist! Most of the beautiful buildings are former bank buildings that over the years were converted to hotels, restaurants, shops or museums! For example we stayed in The Marmarosh Hotel, which used to be an important bank. 
You can only enter the building by registering for a (free!) 1-hour tour via the National Bank Museum website. The tour is very insightful about the history of Old Town, the building's architecture and the role a Central Bank plays. It also has various impressive items on display, of which even a real 13 kg Gold Bar that you can lift yourself!..
Top Tip: Visit the National Bank of Romania Museum in Old Town. This is a hidden gem highlight of Bucharest! Definitely register for a free tour to understand both Old Town's and Romania's financial history.
Some final Thoughts on Romania
Romania has been above my expectations!… The beautiful towns, the architectural highlights, and the level of English of the (mostly) friendly Romanians are amazing!… Only Bucharest was (to a large extent) similar to my (slightly biased) original expectations. Romania does have challenges, but is continuously overcoming these, which must make your visit even better! Do focus on on the Transylvanian towns of Romania and limit your time in Bucharest…
And that brings an end to this Romanian chapter in our Eastern Europe adventure, as we make our way to Bulgaria! Do also check out these other related Ghost around the Globe posts surrounding this Romania visit: