5-Day road trip through Bulgaria
Reading time: min | Published on:
I hear you thinking; "Bulgaria seems quite a large country, can I really see all its (key) highlights in only 5 days?" The answer is yes, we even did it in slightly less! We sped up our travel pace a bit on this Eastern European Road trip leg throughout Bulgaria, to be 'on time' to meet my parents in Albania!… For the size of its country, Bulgaria does not have that many key highlights, allowing for a higher travel pace. But of course, if you have time whilst traveling it is never a bad thing! So, I will also list a few places where you could spend a bit more time, or include as an optional stop on your journey! Let's explore Bulgaria!…
How are the roads in Bulgaria?
As mentioned, this Bulgaria visit is part of an extensive Eastern Europe adventure. Coming from Romania, one thing we noticed is that the roads are much better in Bulgaria! The key difference is that the main roads are not crossing cities and towns, but circling around them, through stunning nature! Breezing through the beautiful countryside definitely helps to cut down your A-to-B travel times. In addition, large parts of this trip are on well-maintained multi-lane autostradas!
How to cross the Romania-Bulgaria Border
Coming from Bucharest, we crossed the Giurgiu-Ruse Border. The process was quite straightforward and fast. However, it can get busy, especially during weekends so plan your trip wisely! First you queue to pay (in cash, can be Euro) for the border toll-bridge. Directly after you can buy your Bulgarian vignette (with cash, can be Euro). After which you cross the bridge over the Danube. Finally, you go through customs at the Bulgarian side.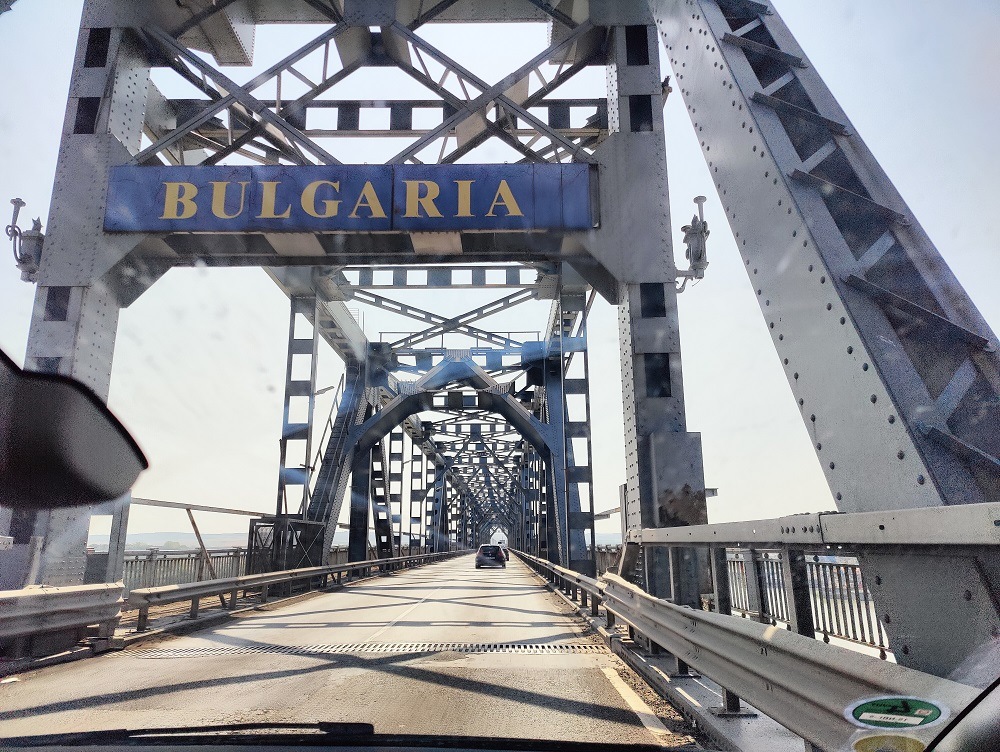 First stop in Bulgaria: Rock-Hewn Churches of Ivanovo
Just over the border, I suggest to make a first stop are the Rock-Hewn Churches of Ivanovo. A small hike uphill offers nice views over the surrounding Rusenski Lom Nature Park. The surroundings are perhaps more spectacular than the Rock-Hewn Churches. The Churches are more like caves, definitely do not expect anything near as spectacular as the Rock-Hewn churches in Ethiopia). For one of the (better maintained) churches a small entrance fee is charged, which in my opinion you can skip!… Expect to spend at most 1 hour here. This already includes your easy climb up and down, taking photos and a brief picnic!… 
Visit lovely Veliko Tarnovo, Bulgaria
At a nice driving distance of approximately 3 hours from Bucharest you arrive at the lovely town of Veliko Tarnovo. I suggest staying overnight for 1 night and enjoy the beautiful scenery! The terraces of the restaurants on the Nezavisimost Main Street offer the most stunning views over the town, the Tsarevets Fortress and its mountainous surroundings. It has a very Italian / Tuscan feel, but with a (much lower) Bulgarian price tag!…
Top Tip: In my opinion, the views over hillside town Veliko Tarnovo are (even) nicer than its main draw; The Tsarevets Fortress. So make sure to take in the views from one of the terraces (or perhaps via a hotel with balcony).
Should you visit Tsarevets Fortress in Bulgaria?
The original reason for visiting (and staying overnight) was the Tsarevets Fortress. It offers beautiful views over Veliko Tarnovo. A visit is definitely worth it, but as said, the town itself is perhaps (even) nicer!
What I found especially interesting are the 'graffiti' murals in the Ascension Cathedral at the top of the Fortress hill. Speaking of Murals, you can find more interesting street art around Veliko Tarnovo!… 
How long should you visit Plovdiv, Bulgaria?
From Veliko Tarnovo, it is a 2.5-hour drive to Plovdiv. With a cultural and historical heritage dating back 8000 years, Plovdiv is considered to be the oldest continuously inhabited city in Europe and one of the oldest in the world. 
The must-visits of Plovdiv, Bulgaria
Roman Forum of Philippopolis

– Depending on where you park, from the (small) Roman Forum you can walk onto the (modern) main shopping street.

Ancient Stadium of Plovdiv

– Easily located at the main shopping street.

Ancient Theatre of Philippopolis

– One of Plovdiv's most famous monument. The amphitheater is still used to host city events. 

Plovdiv Old Town – Wander the streets of Old Town. The main draw of the city, although a bit 'too quiet' for my taste. Yes, there are various nice old buildings and quaint streets to stroll through. And the the 'painted' houses and the 'golf-roofed' architecture I had not seen anywhere earlier. However, the streets are not very lively. Luckily Plovdiv has an 'answer' for this…

For 'fun and lively' streets you need to visit the small

Kapana district

! You find this creative area right next to Plovdiv Old Town. This artsy neighborhood has lots of bars, cafes and restaurants.

Kapana is where you should go for lunch

(what we did), drinks or dinner!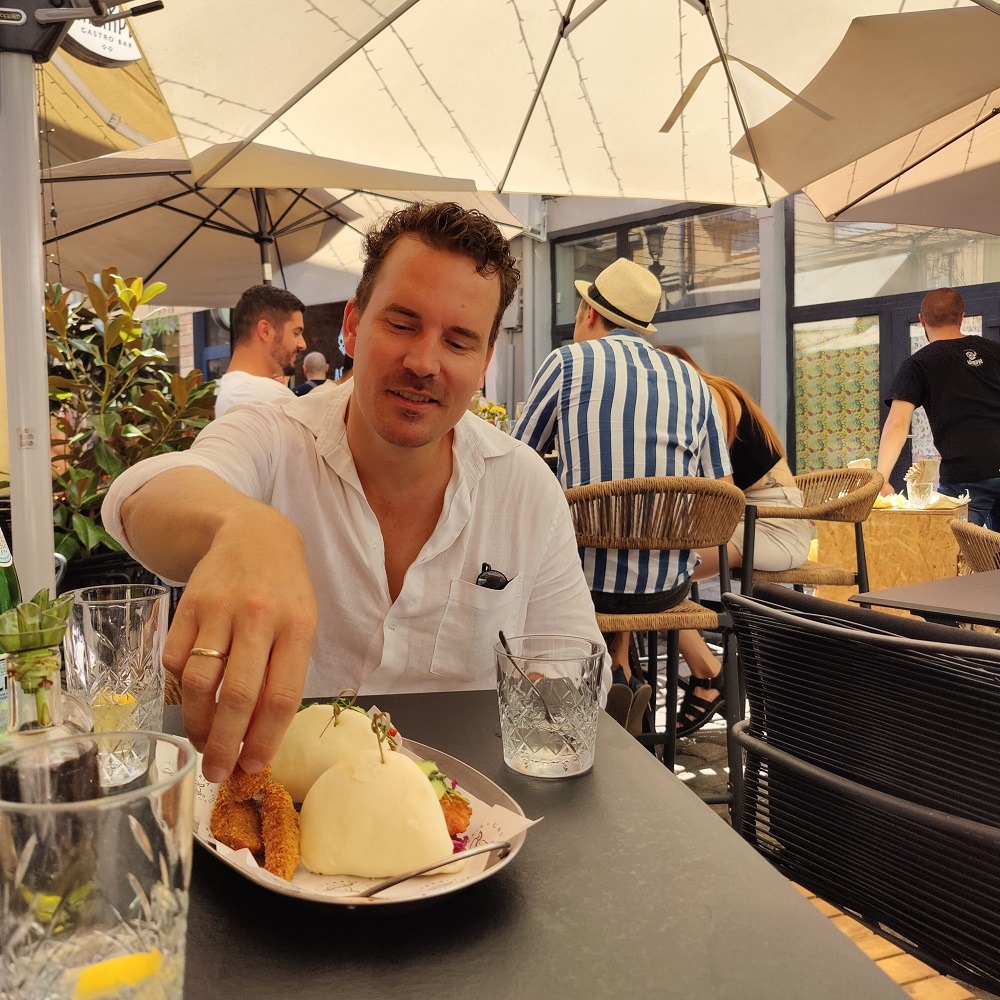 As mentioned, we tried to speed up our travels through Bulgaria. Hence, we turned our Plovdiv visit into a day-trip (as many from Sofia do). However, you could stay the night here if taking it easy! We found spending a few hours exploring Plovdiv more than enough and drove 1.5-hours onwards to Bulgaria's capital, Sofia!…
Optional stop in winter: Borovets, Bulgaria
If you are visiting during winter, you may want to check out Borovets resort town! I have heard good stories from multiple sources. However, we visited during hot summer days and so we decided to skip Borovets. Instead we saved our Bulgarian mountain experience for amazing Rila… See below for details on this must-visit highlight!
The highlights of Sofia, Bulgaria!
A visit to Bulgaria is not complete without visiting its capital Sofia! Depending on your travel pace and your interests, 2 nights in Sofia should be more than sufficient! There are not that many (key) highlights to visit, but do make sure to let the below highlights guide your walking tour through the city:
The best cultural highlights of Sofia, Bulgaria:
St. Nedelya Church

– The largest and most impressive church of Sofia

St. George Rotuna church

– Sofia's oldest building dating from the 4th century!

Banya Bashi Mosque

– Built during the 16th century during the Ottoman reign

Sofia Synagogue

– Just to emphasize the mix of religions of this city, yet another stone's throw away you find this 20th century Synagogue. 

Regional History Museum

– A bit deteriorated but a nice looking building (we did not visit inside as it was closed)

St. Sofia Church

– A 6th century church with a large brick interior

St. Alexander Nevsky Cathedral

– Must visit, very beautiful Iconic Bulgarian Orthodox church.

Ivan Vazov National Theatre

– Nice theatre (much nicer exterior than the Opera & Ballet Sofia). 
Where to eat & drink in Sofia, Bulgaria?
A visit to Sofia is not complete without trying some of the best food & drinks the capital of Bulgaria has to offer!.. A few I like to highlight and discuss:
The Cocktail Bar – This quaint venue in the small Rayko Daskalov park serves some of the best cocktails!
Hadjidraganov's Cellars – This is likely one of the best 'traditional' places to try Bulgaria's food and experience its culture. However, all clientele seem tourists, and most (without reservation) are placed on the (not so authentic) outside terrace. We did have a reservation, so we could enjoy the typical Bulgarian interior. Unfortunately the service was terrible,

also the 'promised'

Bulgarian live band was nowhere to be seen

!… So be warned: Good to 'pressure cook' some Bulgarian traditional food and folklore, but set your expectations low.

Vitosha Boulevard

– A nice street to stroll at night is Vitosha Boulevard. The busy main street of Sofia. There are many eateries here, most are 'simple' pizza & burger-type' venues, but nice to people-watch.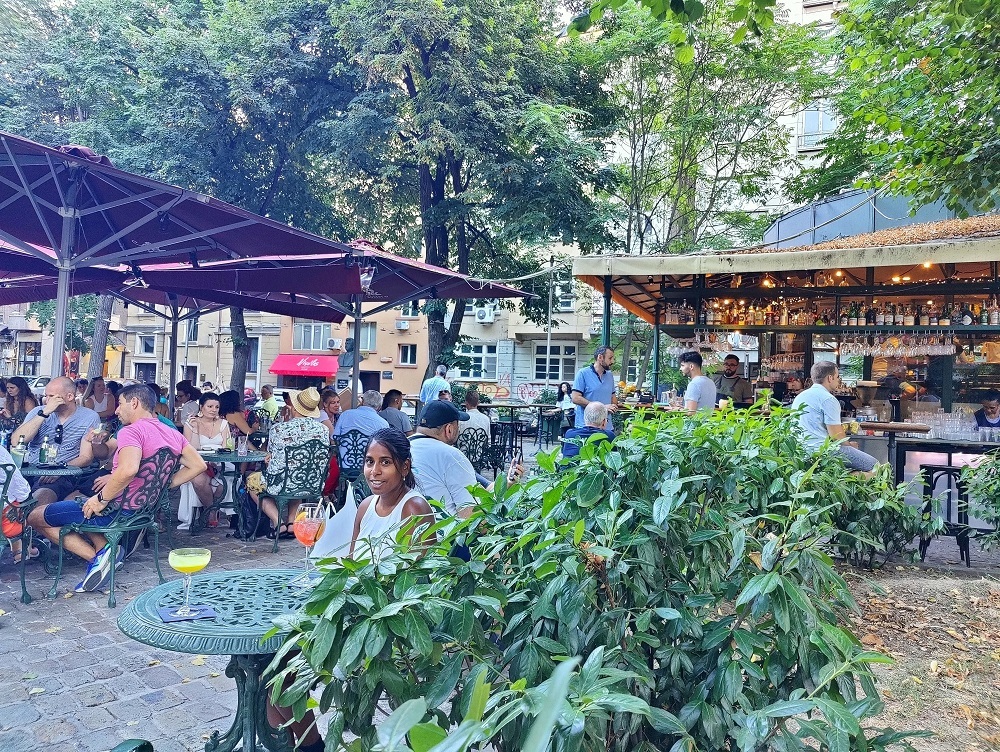 Where to stay in Sofia, Bulgaria?
Make sure to stay in the Old city center of Sofia! If you stay close to any of the above restaurant highlights you are all set location-wise! When traveling by car, make sure your hotel offers a (good value) parking opportunity, as Sofia has a very annoying 'few-hours' parking policy. Our (simple) Sofia Place Hotel had an ingenious car elevator (a first for me) to park in their basement. 
Top Tip: Sofia has a very annoying parking policy for longer-term visitors. Most zones only allow max 2-hour (sometimes 4-hour) parking per day (you can apparently not re-park as it is linked to your license plate). This obviously does not work for you as a multi-day road trip tourist. So best to check with your hotel if they offer parking. Another way around this: arrive Saturday after 18h or early-morning on Sunday and leave Monday morning (early), making use of the city's free parking timing. 
How to visit Rila seven lakes, Bulgaria's highlight #1?
The key highlight of Bulgaria must be Rila with its amazing Rila seven lakes and the Rila Monastery (see below). This is a must-visit when traveling to Bulgaria in summer months!
How to get to Rila Seven Lakes?
From Sofia, it is an easy 1.5 hours drive up to Rila seven lakes ski lift. Upon arrival you park your car (for a small fee if close to the lift) and queue up for the ski lift. You can also walk up to the ski-lift upper station, but that would be a waste of time and energy in my opinion. 
How much time do you spend at Rila Seven Lakes?
Excluding the drive from and to Sofia or Rila Monastery (see below), which are both around 1.5-hour away. It is safe to assume that you spend at least 5 hours from the moment you parked your car. We are fast travelers and fit, but still we spent around 40-60 minutes at the ski-lift queue. 40 minutes going up and down with the ski-lift and walked the entire loop, including the Rila Seven Lakes peak in about 2.5 to 3 hours (including various picnic breaks and photo stops). 
Top Tips for Rila seven lakes
Below are some great top tips to make your Rila Seven Lakes trip even more fun!
Top Tip: Bring cash (in Bulgarian Lev), otherwise you HAVE to walk up, as no other means of payment are accepted. Buy a return ticket; for 25 Lev. (You may want to have an extra 5 Lev for the parking guy, who seemingly disappeared in the less busy afternoon).
Top Tip: The lifts are slow, and the queues can have a 40 to 60min waiting time. When traveling with more people, start queuing in parallel. The first to arrive should queue for the ski lift (the longest wait). The second to arrive should queue for the (always shorter) ticket booth and join the ski-lift queue. 
Top Tip: Avoid weekends and summer. The busiest time (of any day) would be in morning, when most hikers go up. Instead, if you go in the afternoon (let's say around 12 noon) you will have enough time to hike the loop (around 3-hour) before the last lift returns. On our return at around 14h almost no one was coming up anymore.
Top Tip: Take the walking trail in the 'opposite' direction to beat most of the crowds! As soon as you reach the upper lift station turn left behind the restaurant hut, instead of following the crowds walking up. This way you beat 80%+ of the crowds (if any) and steadily walk up along the same highlights on the loop!…
How to visit Rila Monastery, Bulgaria's highlight #2?
Traveling from Romania towards North Macedonia, we are saving the best for last! First Rila Seven Lakes and now we end with Rila Monastery!… Although a bit out of your way (whichever direction you come from), you should definitely include this in your Bulgaria itinerary!
Marvelous white-and-black striped Rila monastery, beautifully set against the Rila Mountains reminded me of Bhutan's impressive temple complexes! 
Top Tip: After our Rila Seven Lakes hike we directly drove the 1.5-hour and stayed in one of the (very simple) hotels closeby the Rila Monastery. This meant we beat the crowds the next morning early!…
We were extra lucky! Not only did we beat the crowds, but we arrived on the 28th of August, where in the morning a special annual memorial takes place. The Bulgarian Royal family and some of the highest members of the Orthodox church were all present for the memorial of Boris III (who is buried in the church). Only a handful of tourists were present to witness the spectacle.
And with this Royal touch we end this Ghost around the Globe adventure in Bulgaria… From here it was only a short drive towards the (very quiet) Macedonian (Delchevo – Logodazh) border. Read all about North Macedonia here!… From Bulgaria you could also drive south and extend your road trip through Greece (follow the link to an earlier road trip all around Greece's highlights, full of tips & tricks)!… 
Also read all about: