Best things to do in Serbia & Belgrade
Reading time: min | Published on:
On our extensive Balkan explorations, coming from Montenegro we entered Serbia, with our main focus on the capital Belgrade! Unfortunately, roads and highway networks in Serbia are not the best, resulting in long travel times on relatively short distances. This meant we decided to forego on some otherwise included sights of interest, which I will still list below… Still, Serbia is one of the countries in which we drove the longest (time-wise), and yet only visited a limited amount of sights… Let me share our experience, itinerary and best things to do in Serbia and Belgrade!… 
Uvac Special Nature Reserve
As said, the roads in Serbia apart from the (limited) toll roads are not the best. They are not the worst we have seen either, but expect to mostly drive on winding, 2-lane, potholed, roads. This meant that driving from (already rural) Durmitor Montenegro, the roads stayed similar all the way to our first stop in Serbia; UVAC Special Nature reserve. To give an idea, this leg of 'only' 170 kilometers takes about 4 hours. 
Should you visit Uvac in Serbia?
When you just follow your GPS, chances are high that you reach the hydroelectric dam. The Dam and its view over the lake here are NOT very special and are not what makes the Uvac Nature Reserve so 'special'. There are also no restaurants, hotels or anything here. The only thing to make your visit 'special' is to take a 4-hour boat tour from here over the Uvac River (and include a cave and viewpoint hike). Obviously, this could be fun, but we planned our Uvac visit differently…
Where should you stay in Uvac Serbia?
We actually did some pre-research (not too much to find) and what makes Uvac 'special' is the very windy river system. You can only see from above (not so much from a boat). Hence, we checked google maps, found the viewpoint and found a very nice cabin right next to it! I highly recommend you do the same, as the views and experience are amazing (and you save time and money on a 4-hour return boat ride)…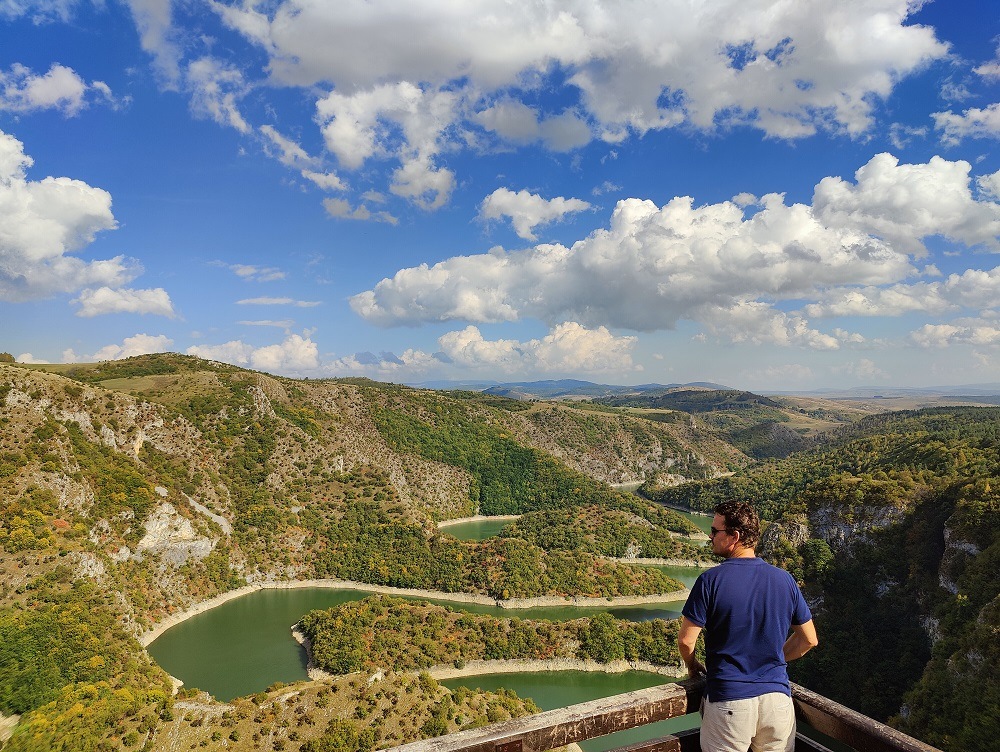 Top Tip: We stayed in one of the Markove Kolibe cabins. From here it is a short hike (or lazy drive) to the viewpoints, next to the curly river… You cannot miss it!… 
Optional Stop: Golubac Fortress
Originally we planned to check out Golubac Fortress, but ultimately we decided that we would not make a 3-hour detour to visit (yet another) Fortress on our Balkan Trip. Partially due to our 'fortress-fatigue' and partially due to the multi-hour detour. We will save Golubac Fortress for another cross-Europe trip. However, if you are visiting Serbia as a single destination, or are perhaps coming from Romania, or Bulgaria, I would definitely include this fortress, it looks amazing and it in that case ideally enroute towards Belgrade, which is our next stop!… 
Best things to do in Belgrade, Serbia
After almost 5 hours (to travel 'only' 270 kilometers) we arrived in Belgrade, the capital city of Serbia (and before this of Yugoslavia). Situated on the Donau it is our 4th and last European capital where this mighty river crosses (after Vienna, Budapest and Bratislava). 
Belgrade is a large city, where around 25% of the 7 Million Serbs are living. When entering the city's outskirts we witnessed some of the worst neighborhoods we have seen thus far on our trip, and reminded me most of the outskirts of Moscow. Which made us wonder what we should expect from Belgrade city center. However, very soon we saw modern malls appear within these suburbs and soon a lot of modern buildings started appearing along the Donau's shores. You can almost 'feel' the economic improvements taking place in Belgrade, but still with a long way to go to minimize its poverty problems. 
Don't let this worry you! Belgrade city center is a lot of fun and is very safe!… Let's dive into the best things to do in Serbia's capital!… 
Visit Belgrade Fortress
One thing you cannot, and should not, miss in Belgrade is the huge Belgrade Fortress complex. Entry is free (to most parts) and actually the entire grounds have more of a public park feel. People are walking their dogs, going for a run (me included) or playing their favorite sports at the tennis fields and basketball fields.. Belgrade Fortress also offers great views over the city and the connecting Donau and river Sava.
Check out Skadarlija neighborhood in Belgrade
By far the best place to stay in Belgrade is the Skadarlija neighborhood. Not only the lovely Skadarska street, but all the blocks around it are teeming with all kinds of bars, restaurants and nightlife fun… 
Top Tip: A very fun dining setting is the 'opera themed' Little Bay Restaurant. Try to make a reservation in one of the 'top-booths' for the best 'opera' experience! 
Top Tip: Another nice restaurant, just next to our apartment, is Smokvica. Only visit during nice weather to sit in the lovely garden (inside I found less charming). 
Checking out the neighborhood and nearby Republic Square and the shopping street are the top things to do in Belgrade. There are not too many other key sights in Belgrade, apart from the Fortress and the few listed below… 
Other sights to explore in Belgrade
Ideal if you have a car, due to the distance to these other Belgrade sights that are worthwhile to check out: 
National Museum of Serbia

– Ideally located at Republic Square (and worth a visit)!

St Mark Orthodox Church

– Nice church outside the city center

Nikola Tesla Museum

– Not visited, but we will learn more about Tesla later this Balkan trip 

Temple of Saint Sava

– Very impressive church dating from 1935

Museum of Yugoslavia – Definitely worth a visit to learn about the complex history of this split up nation. You also find the Mausoleum of Tito, Yugoslavia's ruler, here. 
Should you visit Belgrade, Serbia?
If you are looking for nice restaurants, fun nightlife, shopping and visit some cultural sights then Belgrade is a nice destination for a city trip. Depending where you come from, it can take some time to reach Belgrade by car, so perhaps better to fly in! 
However, if you are mainly looking for cultural sights, then other European cities may be of more interest to you. For example, Budapest, Prague or Tbilisi. They all have similar size, similar fun, but more cultural highlights and come with a (slightly) lower price tag… 
Top Tip: As with many Balkan cities, parking in Belgrade can be a bit of a hassle. Especially for tourists, as you need a local phone number to register your car via text message. In case you visit the city for a day or longer I recommend you park your car on or near the public parking space Dunavska. For short parking periods you could just try to find a spot near your place of interest.
Best things to do in Novi Sad, Serbia
Novi Sad is the second largest city in Serbia, and the largest city in the region Vojvodina, which like Kosovo (before its independence) is an autonomous province. The city is (finally) located only a short 1-hour drive away from Belgrade over a fast, and well maintained, toll highway road!…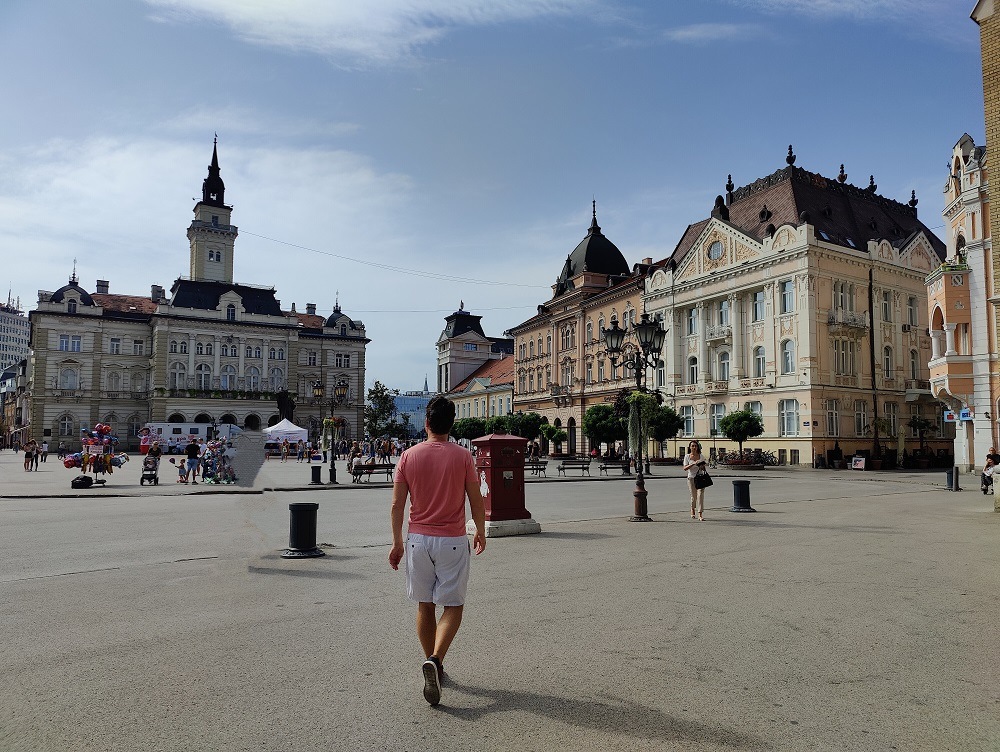 Despite being the second city, Novi Sad's city center is fairly small and great for an easy stroll around its key interests. The city is situated on the Danube River. Its key highlight is the Petrovaradin Fortress, which you can freely roam around. The Fortress dates to the 17th and 18th centuries, Check out the iconic clock tower and optionally the network of tunnels (for which you need a ticket).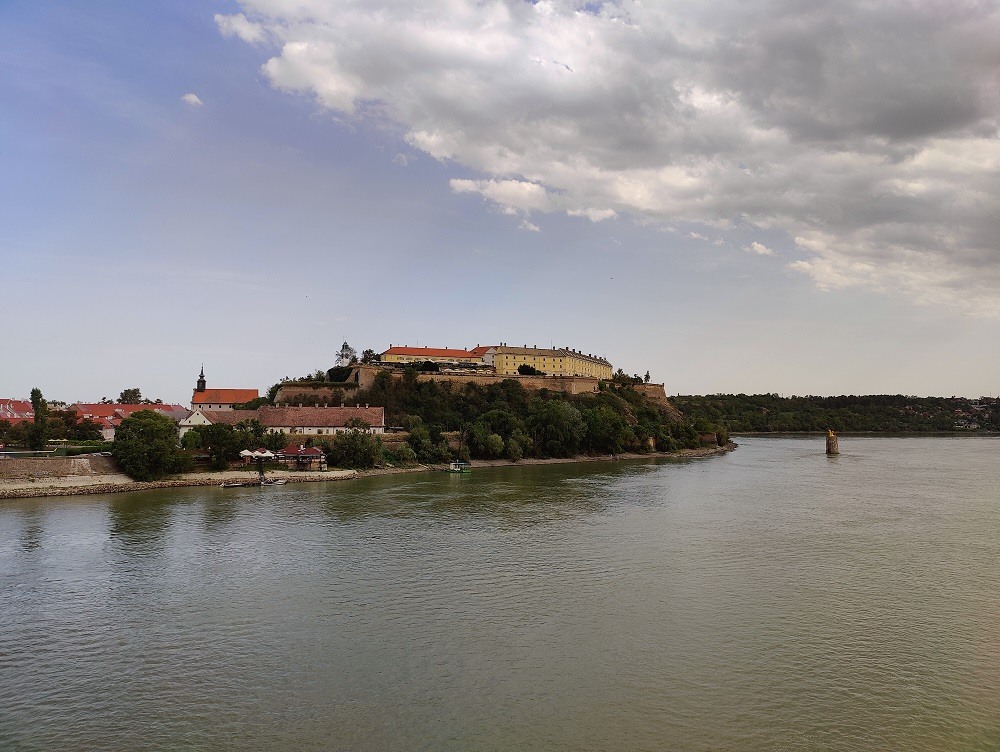 Across the river is the old quarter, Stari Grad. I recommend that staying here, as this is where you find lots of nice restaurants and narrow streets with colorful houses and shops to explore! Do visit the Revival Name of Mary Church, the City Hall and Republic Square (market square). 
Try the amazing Balkan food in Novi Sad
While roaming the quaint streets of Novi Sad, try some of the Balkan's best delicacies, like the Trdelnik, Cevab (Kebab & Gyros) or one of our favorite, the Pleskavica (burger).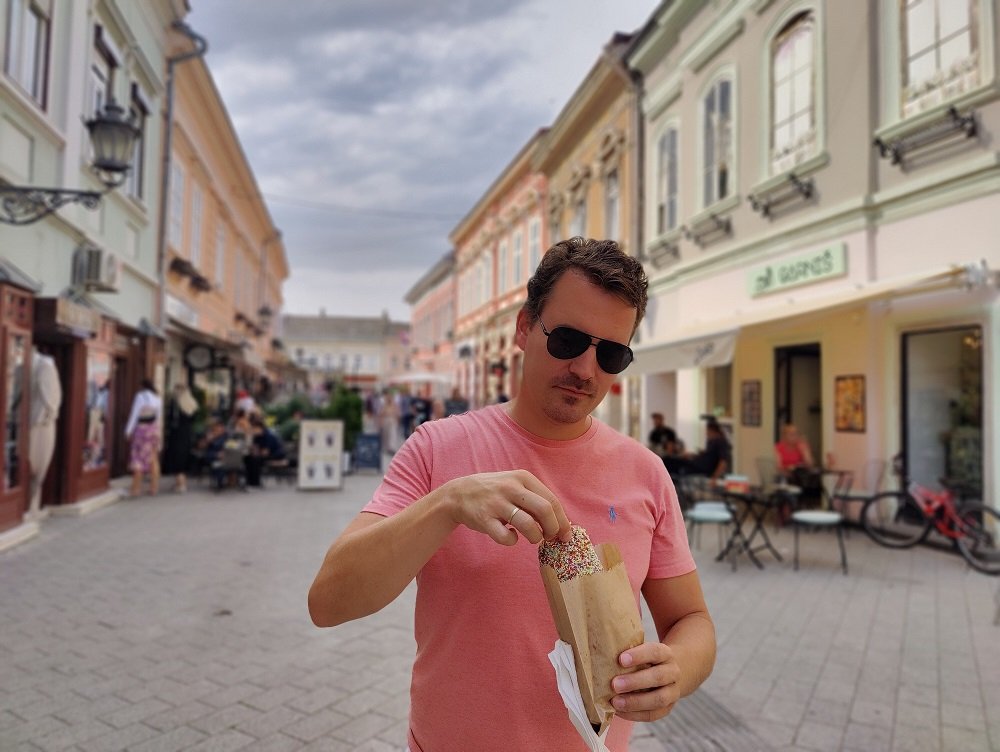 Driving from Serbia to Sarajevo
And with Novi Sad we come to an end of our Serbia visit… Originally, we planned to stop at Tara National park. This could be a nice addition if 'only' visiting Serbia. However with some bad weather crossing the Balkans, and avoiding yet another 3+ hour detour we decided to drive to Sarajevo, Bosnia & Herzegovina… And you guessed it… fully in Serbian-style, this 'rural 270 km drive' partially along the river Sava, takes about 5.5 hours (without any detour). 
Let's end this Ghost around the Globe adventure, with the hope that Serbia will further invest in its road network, so that it becomes easier to visit more of the country in the future!… 
Interested in other Balkan adventures? Follow the links below!…