Top things to do in Kosovo and Pristina
Reading time: min | Published on:
On our Eastern Europe & Balkans road trip we made it to Europe's youngest country; Kosovo! This tiny landlocked Balkan country is a fun and interesting addition to spend a few days as part of a larger itinerary! In this post I will share the handful of nice things to do in Wider Kosovo, including its hip capital Pristina, the beautiful Mountain regions and picturesque Prizren!… 
Important Kosovo Logistics
Before you travel to Kosovo, it is good to have a bit of knowledge about the (diplomatic) history and situation of the region. As in most of my Balkan posts, I will try to very briefly mention the key things you need to know. However it will help to read up yourself (also in case of recent changes and as it is impossible to capture the complex history).
Kosovo's recognition as a country
Where the former Yugoslavian countries already have a complex past, Kosovo's status as a country is still under debate and not fully recognized by some countries. As said, it helps to read up to the history of the break-up of Yugoslavia, so you have at least a certain (high-level) understanding of the various conflicts that led to split into the current 7 Balkan countries! 
In Kosovo, the population has always been mainly made up by Albanians. This is why they strived for independence from Yugoslavia (and later Serbia). However, Serbia is still not recognizing Kosovo as an independent country (and is supported by various diplomatic allies). Instead they still see Kosovo as an autonomous region of Serbia.  
How to travel between Kosovo and Serbia?
This dispute becomes especially important for you, in case you are planning to travel onwards to Serbia from Kosovo. As when you have entered Kosovo (or in Serbia's eyes their autonomous region) and want to travel onwards to Serbia, they see it as if you have not entered Serbia 'correctly'. Hence, you need to travel from Kosovo to Serbia via a 3rd country. 
This is the reason that we traveled to Kosovo via North Macedonia, and will later on our journey enter Serbia via another country. (I believe the same counts for air travel, which makes flying on Pristina Airport not ideal).
Kosovo's strong ties to Albania
What I found very interesting when traveling through Kosovo, is that you see the Albanian flag literally everywhere! On buildings, mountain tops, souvenir shops and even at the Kosovo border! 
I assumed that this newly independent country would rather proudly show their own (light blue) Kosovo flag everywhere, but you only rarely see this! When asking our waiter, he said "this was 'always' our flag, we are Albanians and the Kosovo flag does not hold much value, it was 'given' by Europe when we became independent."  
Also, while I am writing this post in Albania, Kosovo's president is arriving in our hotel for meetings with Albanian officials. Yet again indicating the very strong ties! Judging from what I have seen thus far, I would not be surprised that in a not so distant future Kosovo becomes part of (greater) Albania.
(Ahead of the press, and about to publish this post, I freshly added the below photo taken from our hotel room).
How are the roads in Kosovo?
Obviously biased, I assumed that newly independent Kosovo to have a road network in the early stages of development. However, I could not have been more wrong! The main highway network of Kosovo (and actually many other Balkan countries as you will see in my posts), are of very high standards! Only when driving into cities the traffic can get a bit 'messy', but nothing to get too worried about. 
Having said that, only when traveling into the mountain ranges (see below) you do need to take some extra care. These roads can get very narrow! Expect to back up once in a while for a truck or other traffic to get through!… 

Top Tip: When driving through Kosovo you need to get car insurance before you enter the country. It is not listed on your green card. Perhaps buy this in advance or easily buy this directly at the border!
Well, with that out of the way, let's dive into the key highlights of Kosovo!…
Top things to do in Pristina, Kosovo
As Kosovo is tiny, all sights are relatively near to each other. Add the amazing main highway network and it gets very easy to get from one place to the other. First on our list was Pristina, which we drove to from Skopje Macedonia, which takes at most 2 hours (including the border). 
Gracanica Monastery
Before heading into Pristina's city center we made a brief (photo) stop at the Gracanica Monastary. The monastery is nice to visit, but no need to go out of your way for it. However it nicely situated enroute to our next stop…
Bear Sanctuary Prishtina
On this Eastern Europe road trip we already visited a Bear sanctuary in Romania. Similar to Romania, due to growing concerns and since Kosovo became independent, the Austrian Embassy supported the Kosovo government in finding a solution for their 13 so-called 'restaurant bears'. They have now found a safe place in the Bear Sanctuary Prishtina. 
The Bear Sanctuary Prishtina is a nice place to get up close to these brown furry friends. Entrance fees are very low, so definitely worth spending some time and supporting the good cause! I must say I still found the Bear sanctuary a bit 'zoo-like'. Especially compared to the (much larger and more 'forest-like') sanctuary in Romania. Check out the Bear Sanctuary Prishtina website for ticket prices, opening times and (if interested in learning more about bear preservation) the guided tour timings.  
Are there no sights in Pristina?
This may be my shortest list of sights in any city I traveled to. There are actually almost no 'real' sights of interest in Pristina! Believe me I did try to find as many as I could! Most are just very brief photo stops. There are some museums, but they are no 'must-visits'.  In my view the best thing to do in Pristina is to mix with the friendly locals and enjoy the very nice hip bars & restaurant scene!…
To not make Pristina look too bad, add these sights to your GPS for a short walking tour, but make sure to hop in and out some of the nice bars & restaurants you find in between!… 
Ethnographic Museum – Nice to understand a bit more about the Ethnography (But you may find 'larger/better' ones in Albania or wider Balkan.)
Mother Theresa Square

– It is not really the square, but mostly the main pedestrian road and the surrounding streets full of bars and restaurants here that are a 'must' visit!… Especially walk on and around Qamil Hoxha street and Rexhep Luci Street. 

Newborn Monument – An artwork commemorating the independence of Kosovo
Biblioteka Kombetare / University Librar

y – Which appears on many 'ugliest buildings' ranking lists. I must say it is indeed

very interesting architecture

, do check it out!… 
Bill Clinton Statue

– No need to go out of your way, it is 'just a statue' of Bill Clinton who contributed to the independence of Kosovo. On that note, you will see many USA flags in Kosovo (and in the wider Balkan region). Something you do not see in the rest of Europe.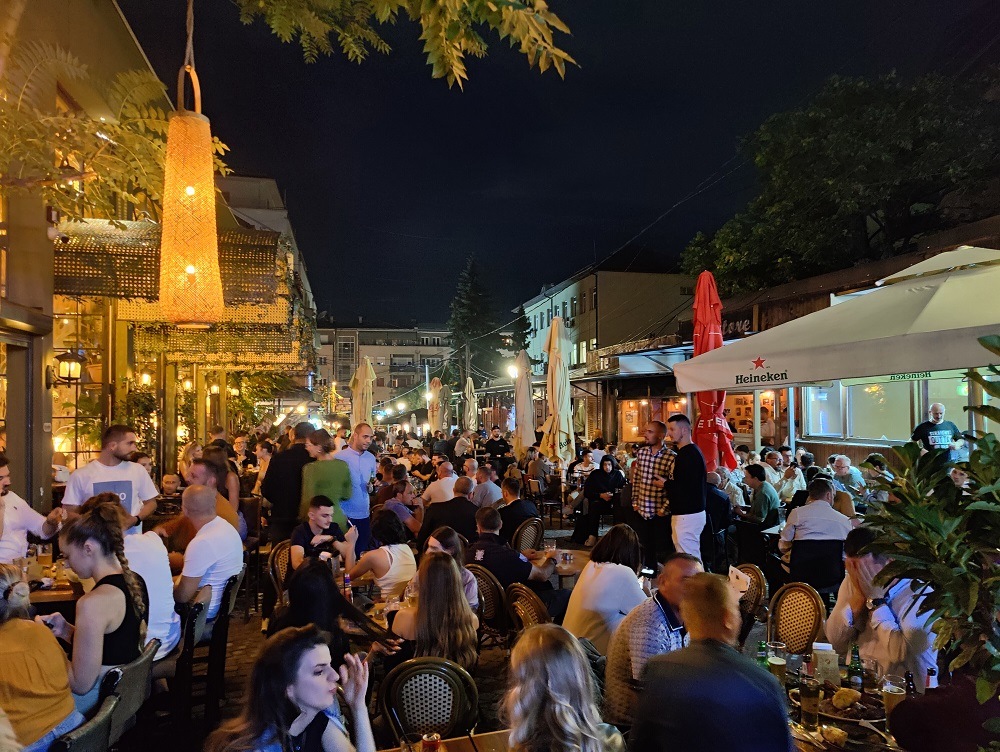 National Park of Bjeshket E Nemuna,
The best way to explore Kosovo's beautiful nature is to drive into the mountains of the National Park of Bjeshket E Nemuna. It lies in the regions of Peja and Gjakova. Both cities are not the most attractive cities to stay the night.  Hence, I suggest to stay outside in nature or (if not going on extensive hikes) just visit the National park as a day trip traveling from Pristina to Prizren.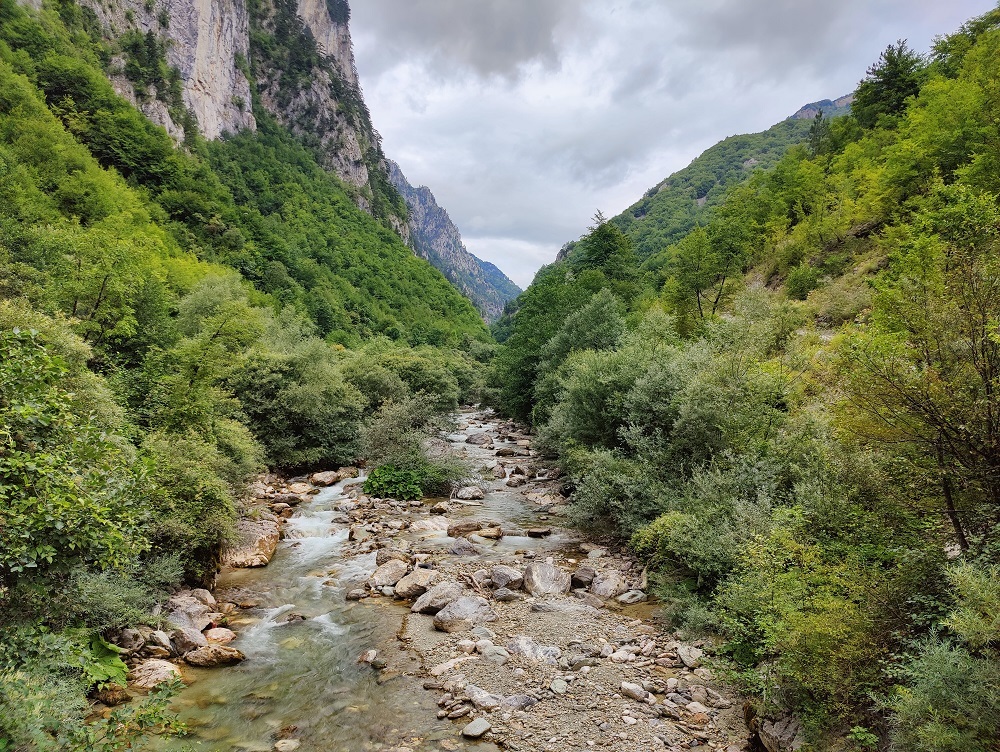 Best nature sights of Bjeshket E Nemuna, Kosovo
You can make your trip to Bjeshket E Nemuna park as extensive as you like. However, most key highlights are found close to Peja. Driving on this mountain road (the M9) is more adventurous than on the other (main) roads of Kosovo. Expect narrow winding roads where sometimes you have to back up a bit to let trucks and cars get through…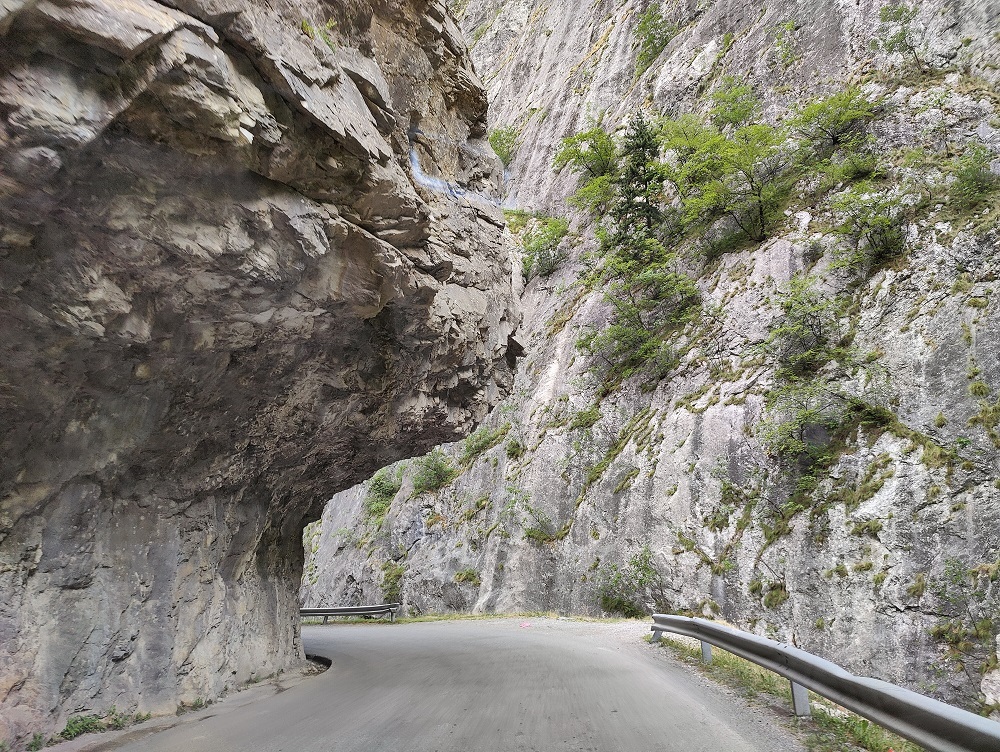 The views here are spectacular and do not let the (possible) traffic worry you! Some key sights and activities to check out when at Bjeshket E Nemuna are:
Patrikana E Pejes Monastery

– A very nice and serene (must-visit) monastery with a mountainous backdrop. Just arrive at the security guard office, who will let you drive onwards upon showing an ID card.
Panorama Restaurant

– A small winding path from the main road leads you up to the nice view of Panorama Restaurant, great to try some local delicacies!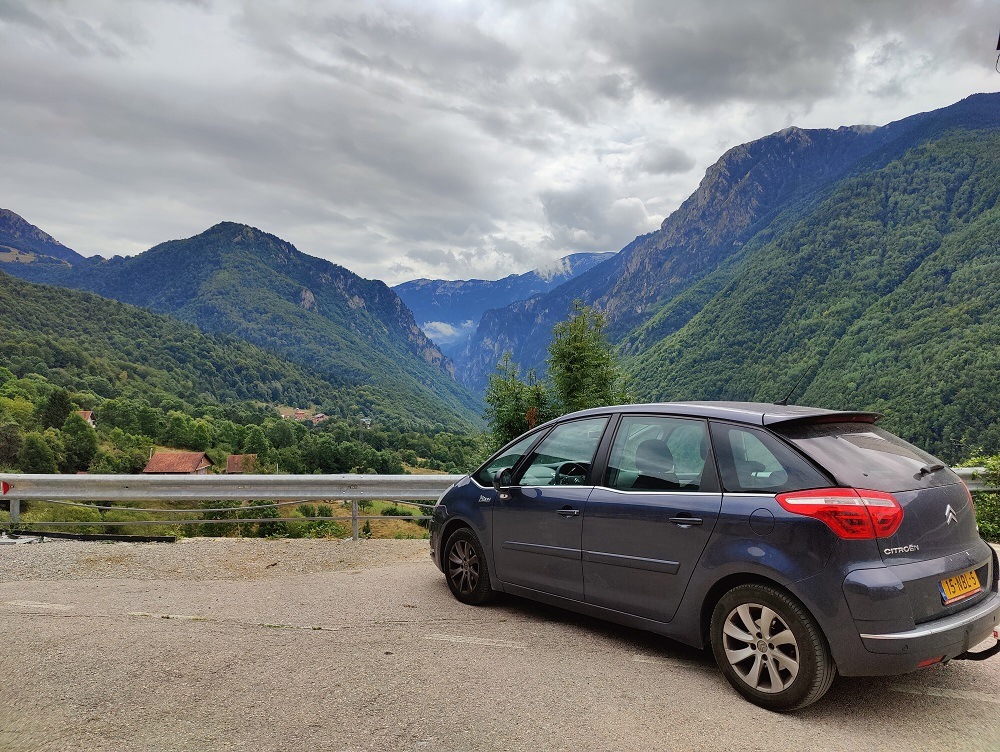 Lumi I Bardhe (Te Sharra) Restaurant

– If this winding road is too difficult, you can stay lower and closer to Peja via a stop at Te Sharra restaurant. 

Try the Zip line

! – At only 10 Euro the 650 meter long zipline is a fun way to enjoy the mountainous surroundings! They also provide mountain climbing activities (Via Ferrata) in case you like to spend more time here in the Rugova Valley. (You likely need to pre-book these types of activities, for the zipline you just arrive and go!).

Rugova Valley Tourist Information Cente

r – There are many other things to do in the regaion. I suggest to make a brief stop at the Rugova Valley tourist information center. This is where we found out about the Panorama restaurant, which we did not find anything about online.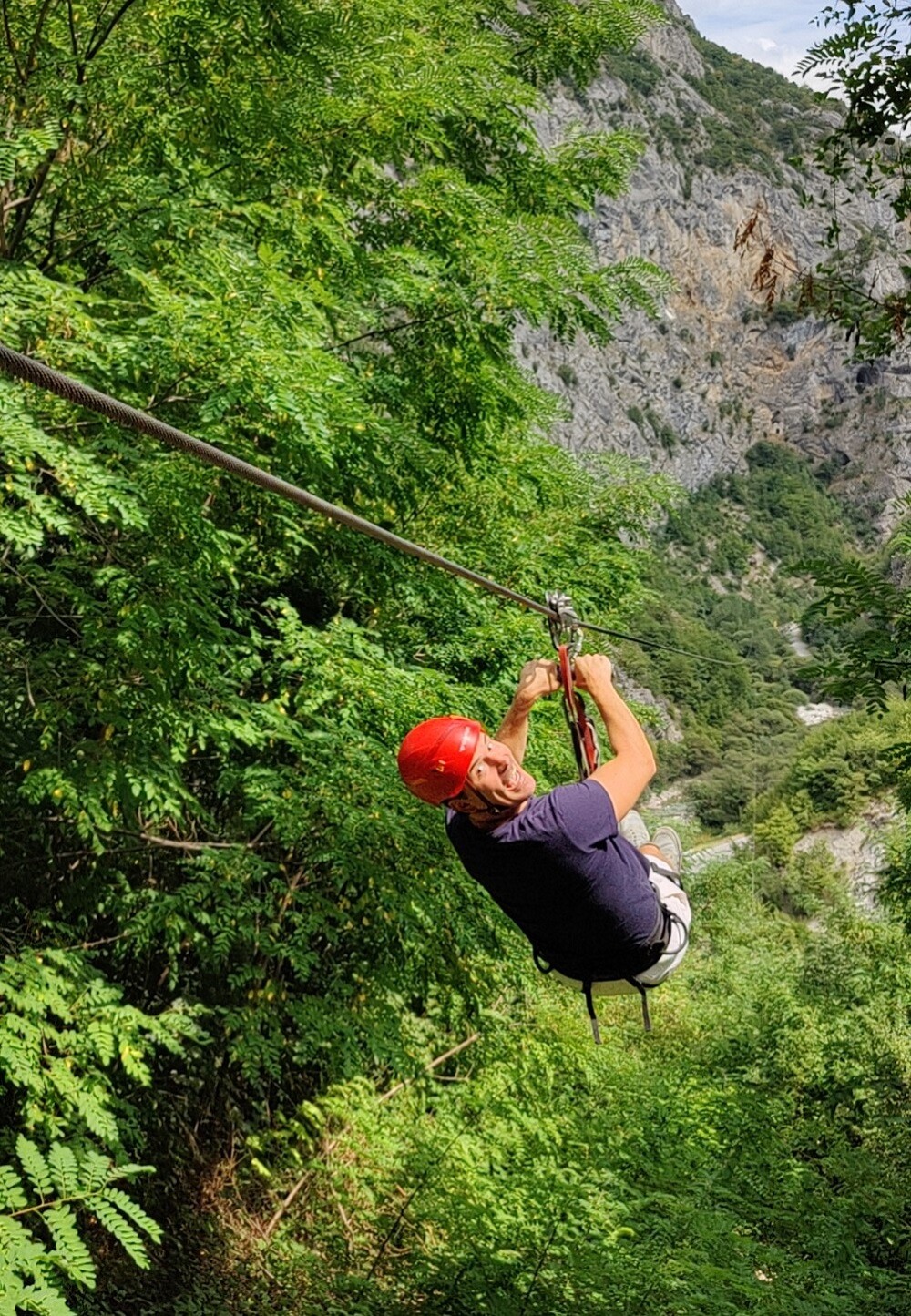 Ura E Shenjte & Ura E Fshajt, Kosovo
When traversing Kosovo, make a stop at Ura E Shenjte restaurant or the Ura E Fshajt bridge for a nice view over the White Drin river that runs all the way towards Northern Albania.
Prizren, Kosovo's picture perfect town
Every country needs a perfect picture town, and for Kosovo this is without a doubt Prizren! When in Kosovo, I recommend staying a night here! If you have only 1 night in Kosovo, you may want to stay here (instead of far less attractive Pristina)… There are not too many key sights, but it is just nice to stroll the cobble-stoned streets of old town. Visit one of the mosques, check out some of the stores and enjoy some of the many restaurants along the winding river or in the narrow streets. Go for a walk up to the fortress for some great views!…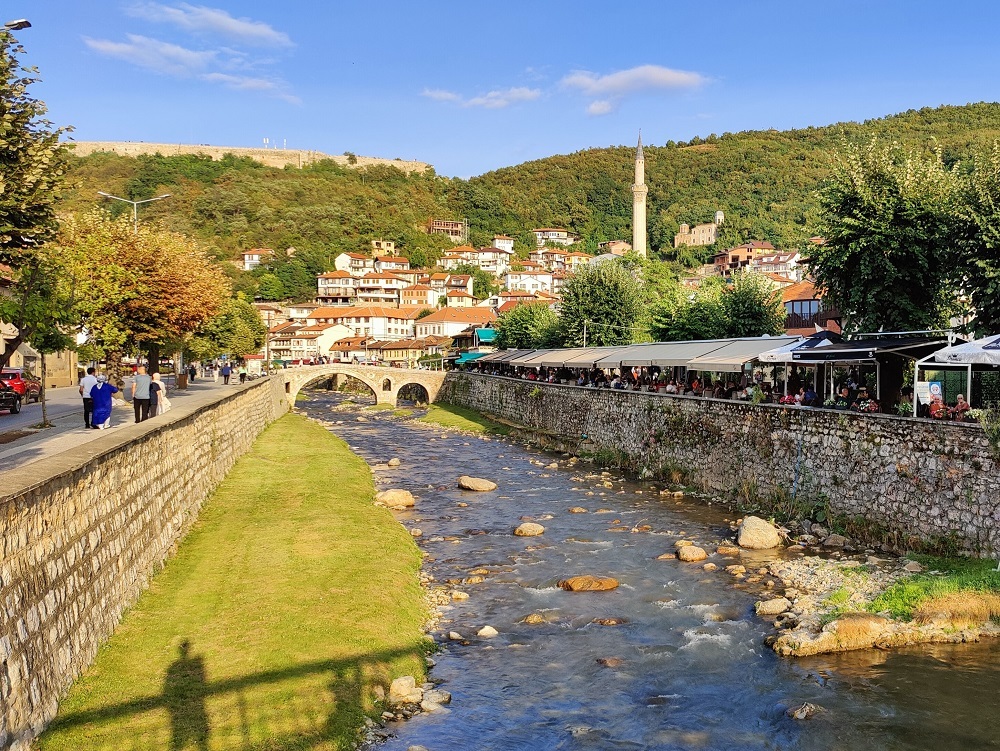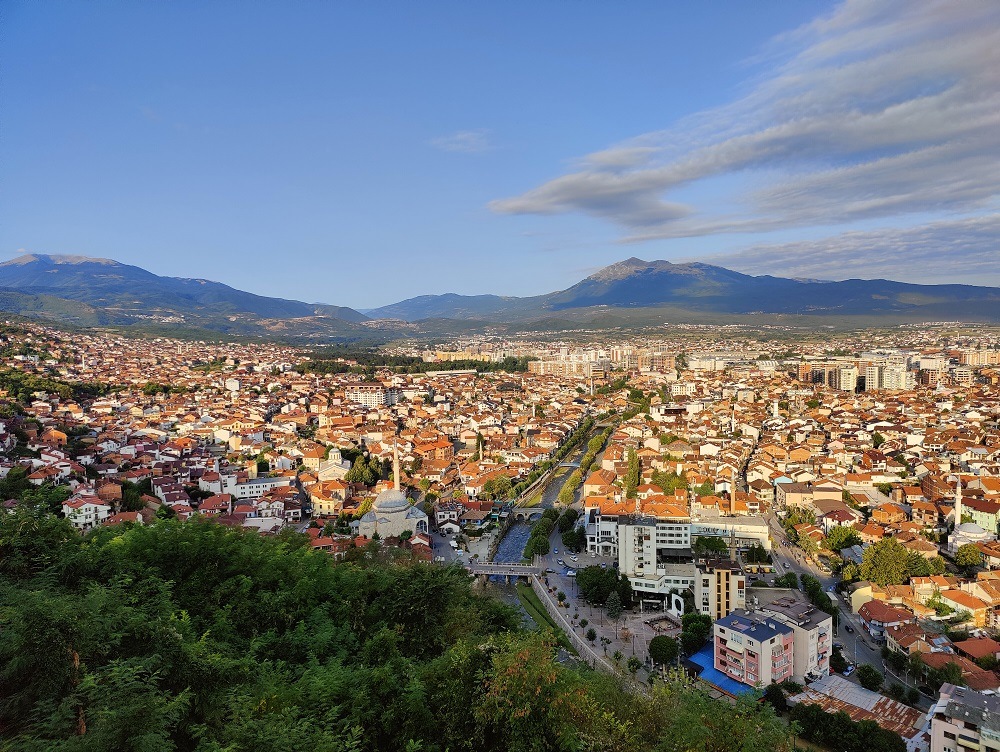 Should you visit Kosovo?
When traveling throughout the Balkans, Kosovo is a nice and interesting mini-stop in your wider itinerary and worth a visit. However, I would not visit Kosovo as a stand-alone destination as it does not have any 'major' sights. Moreover, the country has very strong Albanian roots and (almost) identifies as being part of Albania. Therefore, if you had to choose, you would rather visit Albania instead of (smaller) Kosovo.
Interested in other Balkan destinations, do read this other Ghost around the Globe adventures!