Dubai Ultimate 2-day itinerary
Reading time: min | Published on:
Amazing Dubai is a city of many world-record breaking sights! The tallest building, the largest mall, the largest man-made island, the list goes on and on… While living in Dubai, we have received many visitors over the years. Many of them travelling with Emirates Airlins and visited Dubai as a stop-over destination. The below itinerary is ideal for a 2 or 3 day (weekend) trip and includes all its must visit sights!… You can easily add and change the itinerary around to fit your schedule (or flight timing).
Top Tip: Dubai is ideal to visit during a stopover! Emirates, the world's largest airline, often has competitive airfares and literally connects the world via Dubai. Usually it is free, or very cheap, to include a stop-over of a few days in your flight itinerary!
Getting around in Dubai
Dubai has a metro system, which can be ideal for long distances (e.g. from Downtown to the Marina area or a cheap (but bit lengthy connection to DXB airport). However the system is merely a north-south line, and does not connect to many sites of interest. Hence, it is far better to take one of the many and cheap taxis!… Another way to get you around Dubai is to rent a car! Rental prices are cheap! Gasoline is priced low and (valet)parking is cheap or even free as well! Also, renting a car is ideal to explore other parts of the United Arab Emirates, like Abu Dhabi, Al Ain or Fujairah.
Top Tip: Taxis are cheap in Dubai, and an excellent way to navigate the city.
Top Tip: Also checkout my post on How to save money in the UAE and Oman, for all kinds of tips to not overspend in this relatively expensive region.
Day 0 – Arrival & first explorations
Weekends in Dubai are on Friday and Saturday, and thus ideal for us to show our guests around, given we work on the other days. If travelling on your own, you can visit any day, and do not have to limit yourself to (usually more busy) weekends.
Whenever we have guests over, we always advise them to arrive the afternoon before the weekend (on Thursday) on Day 0. This allows for an extra evening of night-time explorations. If arriving (too) late, or when possible, we even advise them to arrive even one day earlier on Wednesday (on Day -1). This way they can recover and relax and as soon as we are back from work we usually start venturing out!…
Sundowners at Dubai Marina & Jumeirah Beach Residences
Usually on our first evening we aim to get some sundowners and explore the Dubai Marina and Jumeirah Beach Residences area. The Dubai Marina is the largest man-made marina and is lined by luxury skyscrapers. It is close to the Jumeirah Beach Residences (claimed to be biggest residential quarter in the world with 35+ towers and 15000+ units).
It is great to browse around over the Dubai Marina walk, the Jumeirah Beach residences boulevard and visit the Dubai Marina Mall. The area is filled with food trucks, restaurants, fast food chains, shisha lounges, souvenir stalls, etc. So no shortage in food, drinks or entertainment!…
Top Tip: Have dinner or drinks at Pier 7, just next to Dubai Marina Mall. This round tower has 7 stories with 7 different restaurants & bars and provide a magnificent view over the Dubai Marina. (I advise to make reservations, to ensure a nice table outside).
Top Tip: Have sundowners at Bice Skybar in the Hilton at JBR. They usually have happy hour, and the Bice Skybar offers great panoramic views over the beach, Bluwaters Island and the Palm.
Bluewaters (Optional)
You could also decide to go for a nice stroll past the beach eventually leading you Bluewaters island, easily to spot, just walk towards Ain Dubai, the world's largest observation wheel.
Day 1 – Explore new Dubai
Make sure you are fit and well-rested, as this will be a busy day of sightseeing!… I will also add some optional sights to tailor, add or replace where you see fit!…
Mall of the Emirates
Let's start by visiting the Mall of the Emirates, one of Dubai's largest malls, and mainly known for Ski Dubai, the Middle East's first indoor ski resort and snow park.
Top Tip: Visit key sights during early morning, when it is nice and quiet!… In the Middle East people tend to be more active the later it gets. Hence, extremely busy evenings, very quiet mornings.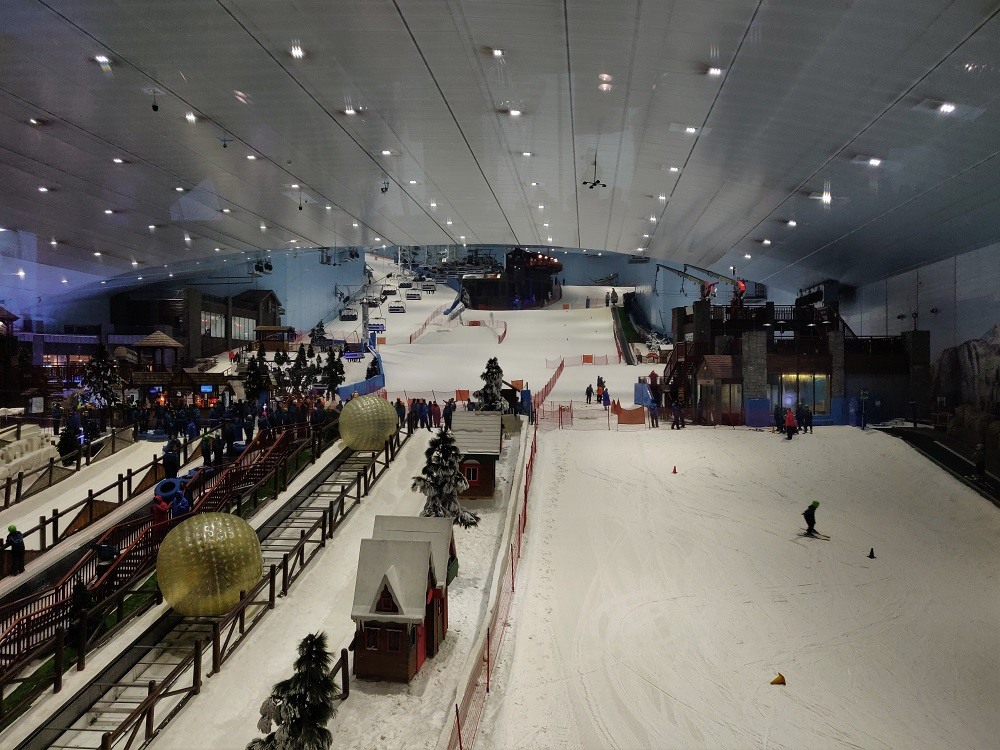 Atlantis on Palm Jumeirah
One of the key landmarks of Dubai are its large Palm Islands. You find many luxury hotels here, as well as upmarket apartment buildings and villas. One of the key highlight on this massive land reclamation is the Atlantis hotel.
Top Tip: Staying in Atlantis can be expensive, however when travelling off-season, during the (very) hot summer, it can be relatively cheap, especially as you also get complimentary access to Aquaventure Water park and the Atlantis Aquariums.
Burj Al Arab
Time for one the most iconic landmarks of Dubai, the 7-star Burj Al Arab Hotel. It's distinctive architecture represents a traditional Dhow (a sail boat). If you are not a hotel guest, you can only make a photo stop here.
Top Tip: If you really like to see Burj Al Arab from the inside, then make reservations at one of its hotels or bars, e.g. its cocktail bar Gold On 27. It has a minimum spend of around 100 AED per person, but you will get access to the Burj Al Arab lobby and enjoy some nice views while sipping your cocktail.
Another way of enjoying views of the Burj Al Arab is to visit the neighbouring Jumeirah Beach hotel, or visit the (slightly dated) Wild Wadi Water park.
Madinat Jumeirah
Closeby the Burj Al Arab (walking distance) you find Madinat Jumairah. This large complex is built in traditional Arabic style, and comprises 3 ultra-luxe 5-star resorts, private beach, souk-style souvenir shops and restaurants. All are connected with 'Venice-style' waterways. Ideal to roam around, do some souvenir shopping, have some lunch or have a drink!…
Visit the Dubai Mall & Burj Khalifa
Depending on your pace and when you started your sightseeing tour, it will likely be the end of the afternoon when you leave Madinat Jumeirah. Let's drive to Dubai Downtown, to visit the Dubai Mall and another iconic Dubai highlight: The Burj Khalifa.
The Dubai Mall
The Dubai Mall, is one of the largest and impressive malls in the world. Apart from its many flagship stores it has some highlights that you should not miss out on!.. Have a look at the Dubai Mall Aquarium, one of the largest in the world!… Also browse towards the Dubai Mall Waterfall, where the art works resemble Dubai's rich pearl diving past.
The Dubai Fountain
Time to make your way outside and enjoy one of the Dubai Fountain shows. Here you find the largest fountains shows in the world!… they play every 30 minutes, starting from 18.00h (so plan your visits to Dubai Mall in the end of the afternoon).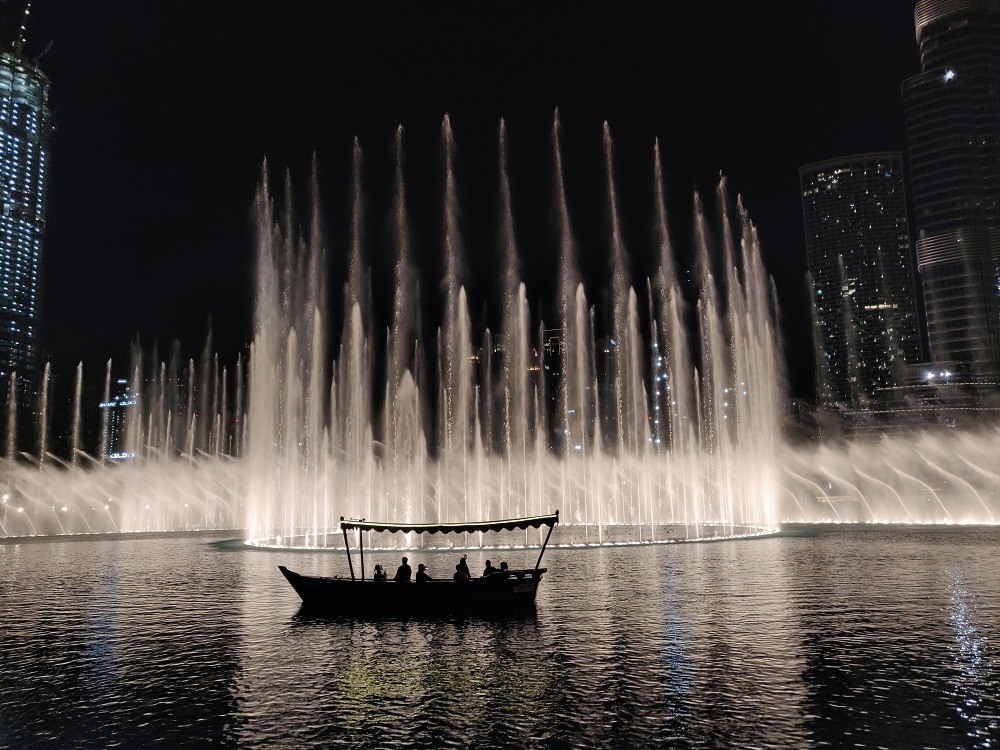 Another reason to visit Dubai Mall and the Dubai Fountains in the evening is to see the spectacular light show, displayed on the Burj Khalifa. If possible time your visit in the first few months of the year, as they usually repeat the New Year's Eve show a few nights a week!
Top Tip: How to avoid the crowds at the Dubai Fountain? You can reserve or get a table at one of the restaurants facing the fountain (a nice one is Din Tai Fung, an old time favourite from our time in Singapore). Perhaps an even nicer tip is to browse through Souk Al Bahar (souk-style mall next to Dubai Mall) into Dubai Palace hotel… from here browse your way to the Fountain lake and enjoy it in all quiet.
The Burj Khalifa
From the Dubai Mall you can also visit At the Top, the world's highest viewing platform of the world's tallest building, the Burj Khalifa.
Top Tip: In case you like to visit At the top (not a must in my opinion, but of course a nice experience) than best to reserve a time slot online, and avoid waiting, disappointments or re-visits on a later date. 
As mentioned, you can easily switch around this itinerary, so you could choose to plan your Dubai Marina & JBR visit here as well…
Day 2 – Discover Old dubai
Today we focus on Old Dubai, but as mentioned it is also a way to add any of the before mentioned sights, add any of the below optional sights, or if not able to stay any longer, fly off to your next destination!…
All other sights visited up to now were all fairly recent developments, it is amazing when you realize that 20-30 years ago nothing existed and all was barren desert and coastline… However, Dubai has existed for centuries as a trade & pearl diving hub, before the oil riches caused the city's recent boom.
Old Dubai is made up out of 2 key parts; Bur Dubai and Deira, split by the Dubai Creek.
Top Tip: Try to visit on Friday afternoons or Saturdays, as on Friday mornings it will be (too) quiet as most stalls are closed for Friday prayers.
Bur Dubai – Al Fahidi district
Let's start our journey in the artsy Al Fahidi district. A nicely renovated part of old Dubai, which alleyways are filled with boutique hotels and art galleries.
Top Tip: I highly recommend to have breakfast in The Arabian Teahouse, with its idyllic indoor garden, easily one of my favourite daytime restaurants. You can also switch around your Old Dubai explorations and travel in opposite direction, making this an ideal (late) lunch stop!… It is very popular and it is first come first serve, so go here first, and in case of a waiting time, put your name on the list and browse the Al Fahidi district while waiting for a table.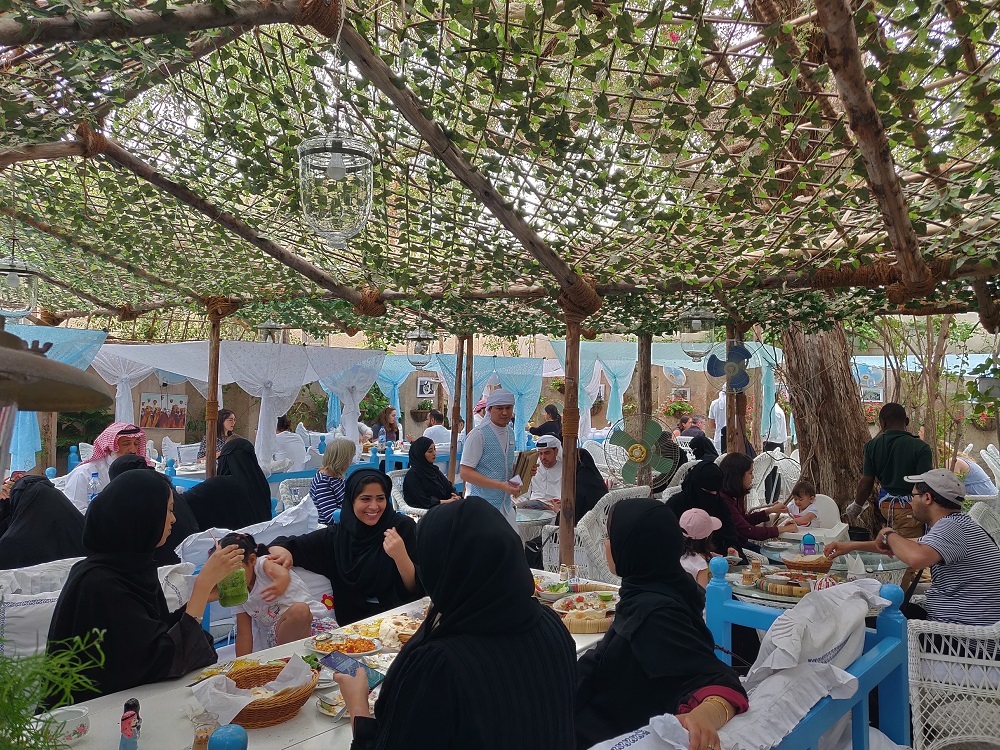 Bur Dubai – Dubai Fort and Souk
Browse along the creek in the direction of the sea and soon you will see Dubai Fort. A nice stop to learn more about Dubai and its history. When browsing a bit further towards the creek you will find some more alleyways eventually leading you to the (touristy) Bur Dubai Souk. Here you find many great souvenir items, like scarfs, parfume, bags and spices. If you like to buy anything, haggle hard!…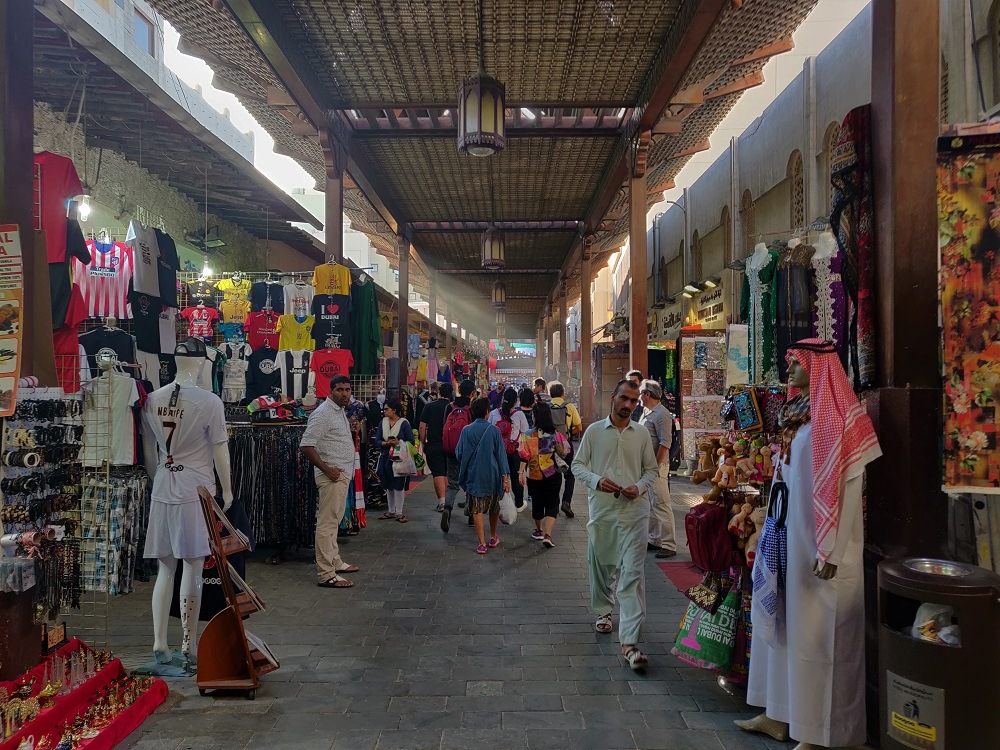 Bur Dubai – Shindagha district
Let's continue our walk on this side of the creek to the recently renovated Shindagha district. This is actually one large outdoor museum, where the many restored buildings provide you with various exhibitions of the life, past, nature and life in Dubai and the United Arab Emirates. You can literally spend hours (if not days) if you want to see all displays!
Top Tip: I highly recommend to visit the screening in the general visitor centre (every 15 minutes altering between Arabic and English). It provides a great summary of how Dubai developed over the centuries.
Abra ride to Deira
You could choose to not walk onwards to Shindagha (or walk a bit back) to the Abra terminal station. An abra is a traditional ferry service and a very fun way to travel to Deira on the other side of the creek!… The logistics are a bit messy, but the officials will guide you, just follow the crowd and before you know it you are on your way across… It only costs 1 Dirham per person for a single trip! Keep your camera handy, as great waterside pictures are guaranteed!…
Deira – Gold & Spice souks
Once you arrive on the Deira side of the DubaiCreek, make your way across the busy street and you find yourself within the hustle and bustle of Deira's souks. Just browse the various alleyways past all kinds of attributes, cooking wear, souvenirs, spices, cleaning products, toys, everything you can think of until you find yourself in the Gold Souk. This is one of the key attractions of Dubai, especially to visitors out of the region. A bit further you will find the Spice souk, and various other segments dedicated to specialty products…
Old Dubai is a fun way to experience the traditional middle eastern historic side of Dubai, which stands in stark contrast to its new metropolitan side of Dubai, just a few kilometres away!…
Far more to experience in Dubai!
Above we've seen the key highlights of Dubai, which I highly recommend especially for first time and/or short term visits. However, there is much more to explore in this amazing city!… Below a few sneak peaks of other sights and activities, to make your trip complete or tailor to your interests!…
Dubai Frame
Staying close to Old Dubai, the Dubai Frame, is holding the Guiness book of records title of 'Largest building in the form of a frame'. It will likely be hard to lose this title, unless any other place in the world decides to build an even bigger 'frame-resembling' building? The viewing platform provides panoramic views over old Dubai on one side, and new Dubai on the other, in essence Old Dubai looks 'through' the frame to New Dubai and vice versa…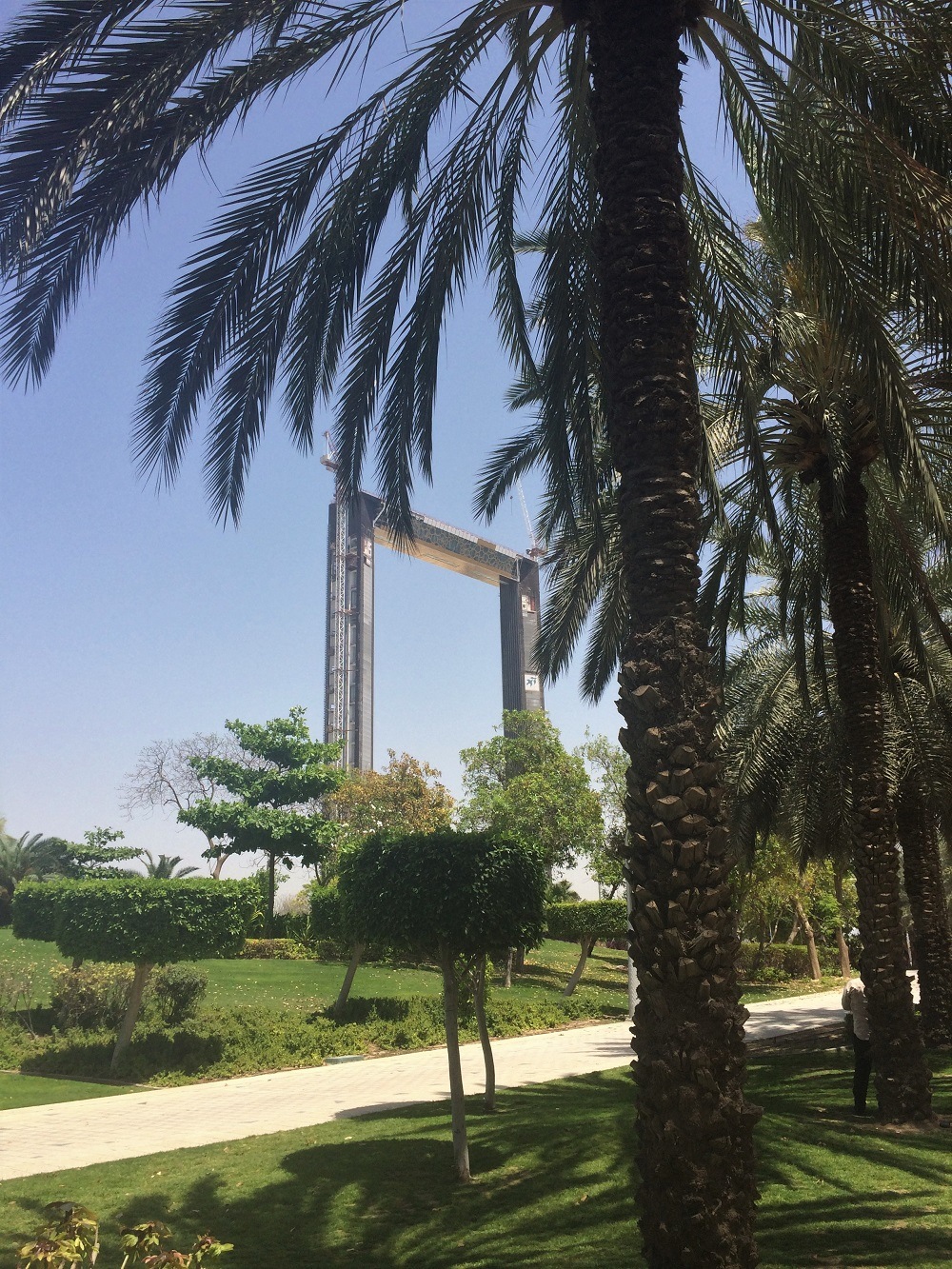 Go dune bashing during a Desert Safari
A great way to explore the natural side of Dubai is to book one of the many Desert Safaris and go dune bashing!.. A very fun experience, usually ended with dinner-show entertainment in a desert camp. Do haggle on the price and do not spend more than around 150-200 AED per person for a full package.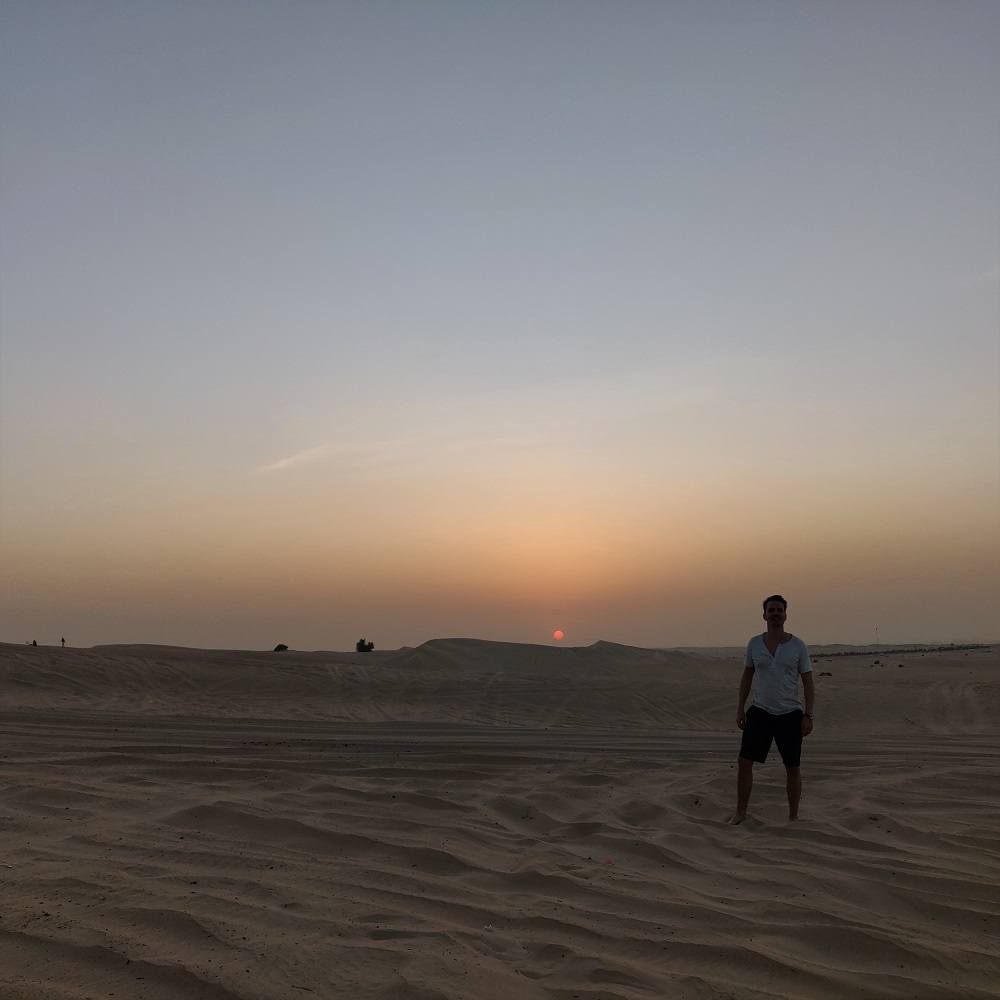 Top Tip: During your desert safari you are likely also able to optionally rent a quad bike… a fun experience to enjoy driving in the desert sand yourself!…
Visit Dubai's luxury Car Dealers
Dubai's relative rich population and low/no tax climate results in many car splurges!… There are not many places in the world where you see so many luxury cars as in Dubai. Especially at hotspots like Jumeirah Beach Residences boulevard, The Palm, but also at the valet parking lots of Malls and luxury hotels you will see all kinds of Ferraris, Lamborghinis, Rolls Royces, etc.   
Top Tip: The best way to awe at the many luxury cars is to simply visit Dubai's luxury car dealerships. Almost all brands, from Bugatti to McLaren, have a dedicated dealership, but in my opinion it is easiest to make a stops at one of the many luxury car resellers along Sheikh Zayed Road. They have all kinds of brands and models! Fun to check out if you are into cars!…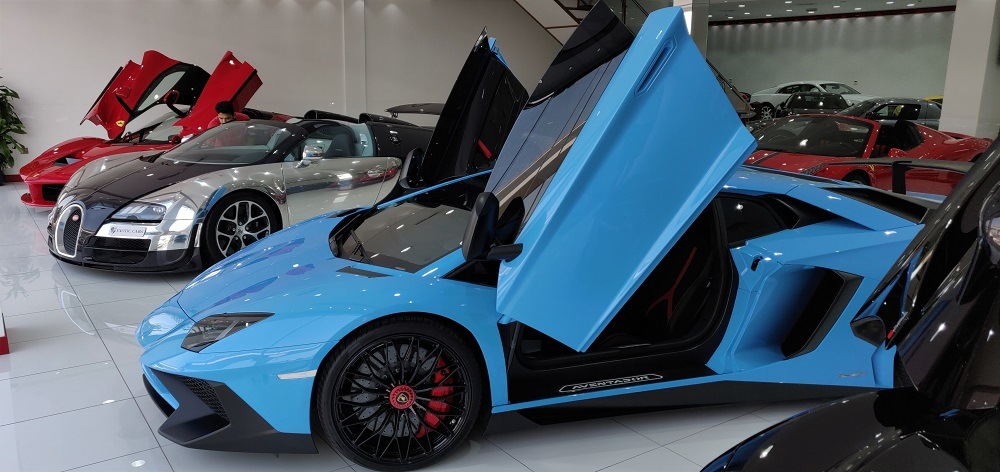 Dubai Parks & Resorts
Travelling with kids? Checkout Dubai Parks & Resorts, an area with various theme parks!… The parks are fairly new, and not too busy, which means almost no queues for attractions!…
Aquaventure & Wild Wadi water parks 
In need of cooling down? Checkout the, already mentioned, Aquaventure waterpark next to the Atlantis hotel. Or opt for the slightly outdated, but lower priced Wild Wadi Waterpark, next to the Burj Al Arab.
Go for Friday Brunch
More into party? Not to worry, Dubai is also the right place to be!... Dubai may be known as a conservative Muslim country in the middle east… that does not mean you cannot party here!… The large expat community, combined with the many tourists have resulted in a massive party scene, of which the Dubai Friday Brunches have become a phenomenon!
It has not much to do with the typical 'brunch' as you find in the dictionary. It is actually an 'all you can eat and drink' package for the duration of a few hours. These usually start around around noon, but you also have 'evening-brunches' that starting later…
Top Tip: One party brunch place to definitely checkout is Zero Gravity. This unique over-the-top pool-party-style beach-club setting offers a great all-in concept to enjoy a full day in the sun! It overlooks the Dubai Marina and JBR skyline, and is located next to skydive Dubai… 
Another famous party place (not per se for brunch) is Barasti, a large beach club complex with a sports bar, pool, shisha lounge and at night turns into a club. there is no entrance fee, no dress code, and therefore very accessible!..
Not into party? Do not worry not all brunches are large scale (buffet) 'party brunches'! You also find many brunches focused on laid-back culinary (a la carte) experiences. Do some online checking and find something that matches your style!… Usually we opt for the more 'civilized', a la carte options as well!… 2 of my favorites are Folly by Nick & Scott (Madinat Jumeirah) and Il Faro (Palm Jumeirah) – the last unfortunately closed recently, hopefully replaced by another great venue, as the location is amazing!..
Global Village
When visiting in the cooler October to April period, do check out Global Village. This is a theme park, where various countries sell food and items from the countries all over the world… It also has a fairground with some exciting attractions. Quite a fun evening activity (it opens around 16.00h). Entry fees are very low and, in my opinion, especially a nice family activity!…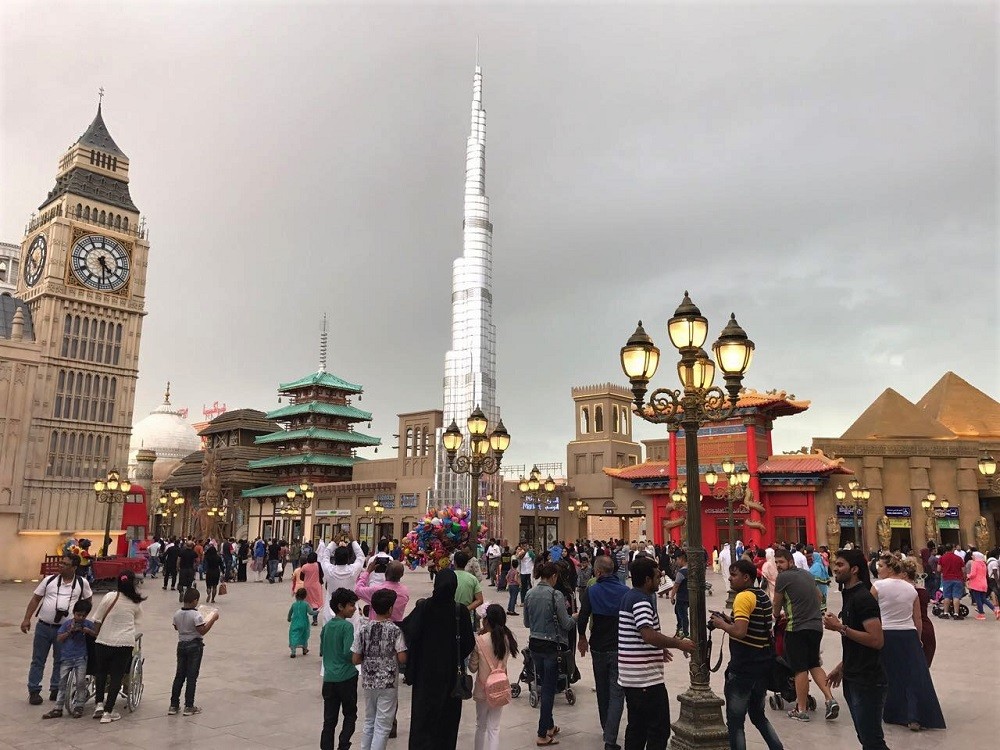 Ras Al Khor Wildlife Sanctuary
A fun off-the-beaten path is to visit the Ras Al Khor Wildlife Sanctuary. This is a swampy wetland area of Dubai and home to a large number of flamingos and other bird species. The view is quite scenic with the impressive Dubai Skyline on the background. If you like to visit, it is best to have a (rental) car or let your taxi wait for you.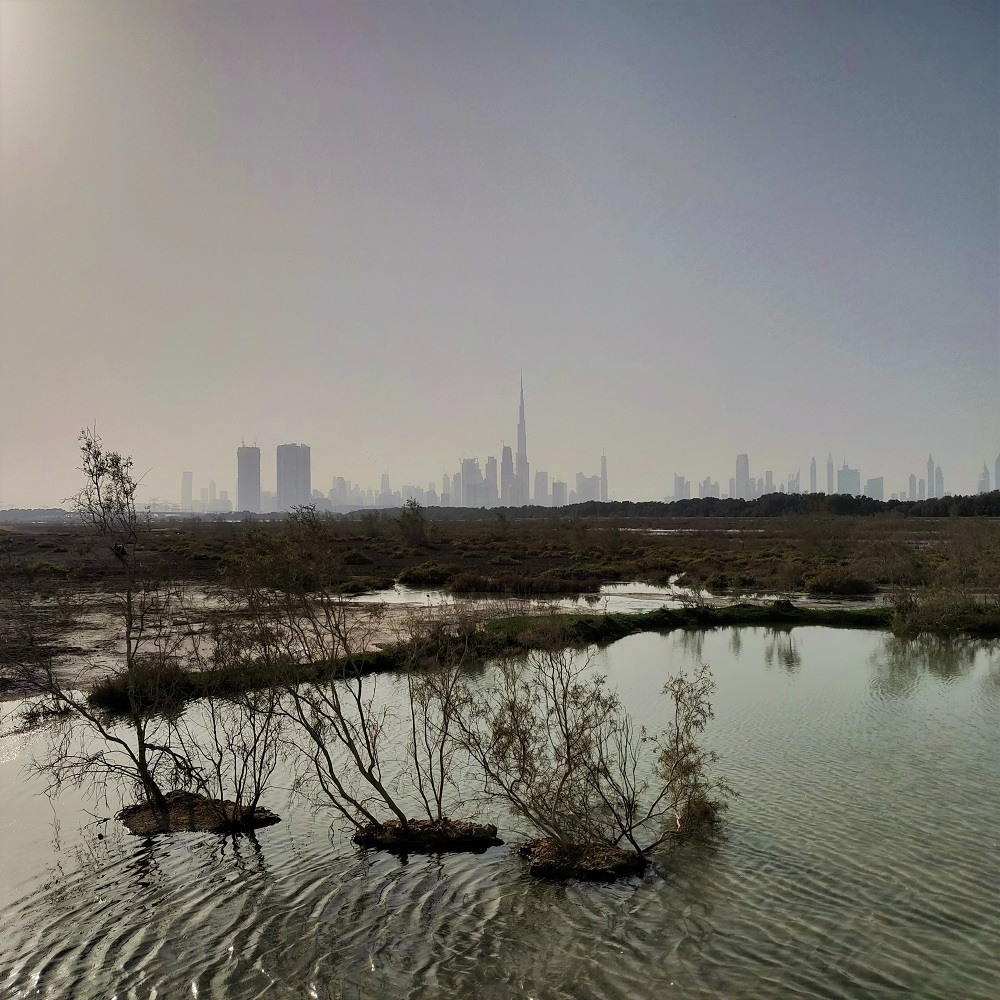 Bu Qtair restaurant
If you are a foodie and like off-the-beaten path local restaurants than definitely check-out Bu Qtair. This restaurant is tucked away behind the villas of the Umm Sequim district, quite close to the Burj Al Arab. What makes this place unique is that it caters to everyone from taxi drivers, to expats, to Emiratis… It serves deliciously fresh and very reasonably priced seafood!…
Seawings flight
I admit this is definitely a bit of a splurge, but if you like to have an aerial view of all of Dubai's highlights, than check out Seawings, a company that offers scenic seaplane flights!… Amazing views guaranteed!…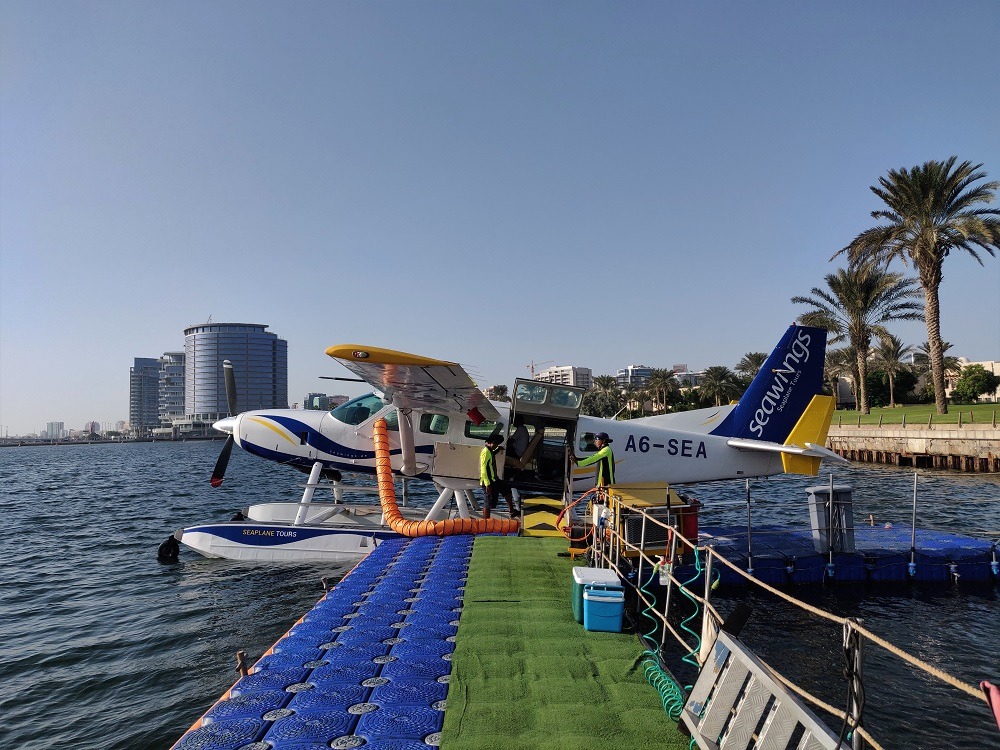 Dubai Skydive
Another great way to see Dubai from the air is to skydive over Palm Jumeirah!… For full details and tips & tricks see my detailed post about my Dubai Skydive experience!… 
Well this was an attempt to sum up the key sights of Dubai, there is still much more to explore and Dubai is constantly evolving. Therefore, I aim to keep adding and updating this post over time!…
Do also check out my Ghost around the Globe stories of the UAE's capital Abu Dhabi, the desert city of Al Ain, Our experience in Dubai's ultra-luxury Al Maha desert hotel or our snorkelling trip to Fujairah.
As mentioned, given Dubai's and the region's relative higher price tag, do also read my Money Saving Tips for UAE and Oman post.
Speaking about Oman, do check out our wild camping road trip through the country, our trip to the Musandam Peninsula, or our trip to the lesser known, but beautiful southern region of Salalah (especially nice in August / September).
Or combine your trip with other Middle East destinations, like Saudi Arabia, Bahrain, Qatar or Kuwait!