Oman Wild Camping Road Trip
Reading time: min | Published on:
Oman, perhaps not the first country you associate with wild camping. However, you probably would connect Oman (and the Arabian Peninsula) with Bedouins, roaming and camping in the desert? Here you go, perhaps not such a crazy idea after all?
But would it be safe, being in the Middle East and all? Yes, you will be safe, of course, you can stumble upon a crazy person anywhere in the world, but Oman is one of the safest countries in the World. On top of this, Omanis are one of the friendliest people we have come across! Not sure still?… Well according to SafeAround, which ranks destinations on many safety factors it puts Oman just after the UK and above Greece. Let's get to it!…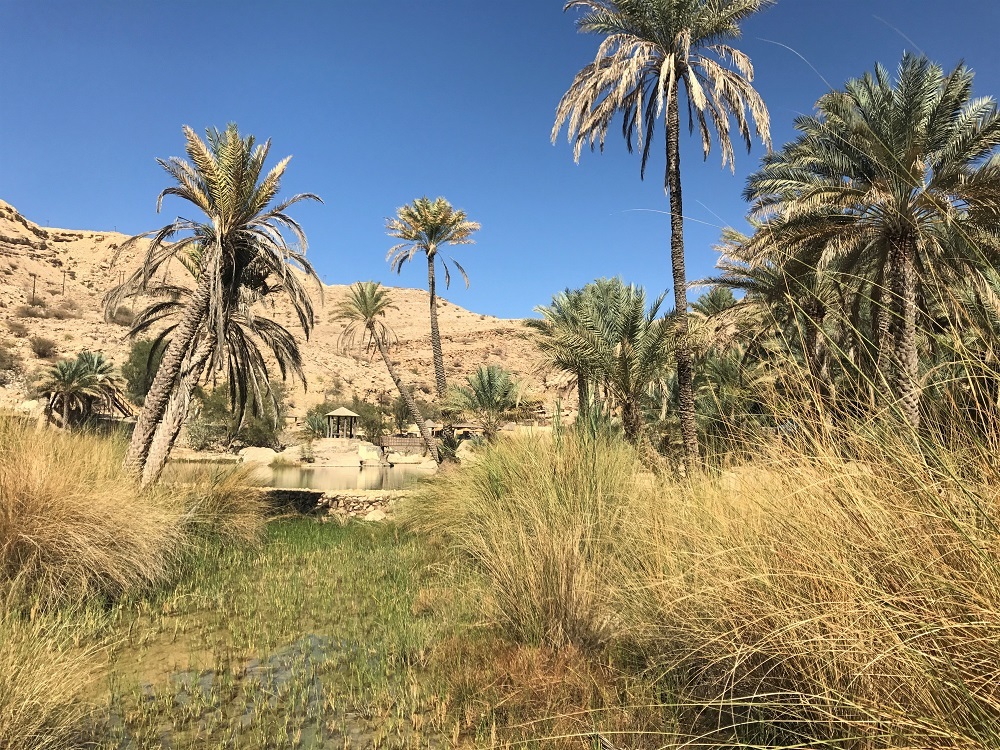 How to get your camping gear sorted out
We brought our own camping gear from the UAE (as at the time of writing we live in Dubai). But do not despair if you fly in from further away and can't bring your camping gear. You just have to do the following:
Fly to UAE or Oman (depending on your travel itinerary)
Rent a car at the airport (a tip on the side: When travelling cross borders make sure you inform/check with your rental company if this is possible and if they can provide the (simple) paperwork)
Drive to the nearest hypermarket; a few large chains are Lulu and Carrefour or find an outdoor specialist in one of the many malls in Muscat (or Dubai or Abu Dhabi)
Buy all the equipment you need, don't spend too much as it is likely you will not be taking anything back with you. I estimate you will not need to spend more than 200-300 USD for 2 persons:

Tent (go for a pop-up tent, one of my favourite inventions)
Aero bed (be sure that it fits your tent, I talk from experience)
Simple manual aero bed pump
2 camping chairs
Simple table (if required)
Simple Gas cooker, with small gas containers
A pan to prepare easy meals
Throw away barbecues
Light (if not brought from home – tip: take one with a USB charger, so you can charge in your car)
Some disposable cutlery, plates and cups

200-300USD for Camping gear may still sound like a quite a lot, but you need to realize that accommodation is not cheap in Oman. You can easily spend 150-200USD per night for a basic hotel. Taking this into account you must agree that spending a few of your nights in a tent will already easily save you hundreds of dollars. Obviously, on top of this, it is just fun to camp!
And there you are… All setup and ready to go… let's start our wild camping journey through Oman…
Top Tip: Do also check out my post about saving money in the UAE, Oman and the Gulf region!
Exploring Muscat
Let's start in Muscat, which will likely be your point of entry, or when travelling from Dubai the first major stop in Oman. The capital is a good example of how Oman spends its wealth differently than its neighbours (UAE, Qatar or Bahrain). It has no impressive skyline, it rather invested their oil proceeds in parks, Mosques, renovation of its old monuments and infrastructure. The latter you will see throughout the country with massive roadwork undertakings everywhere.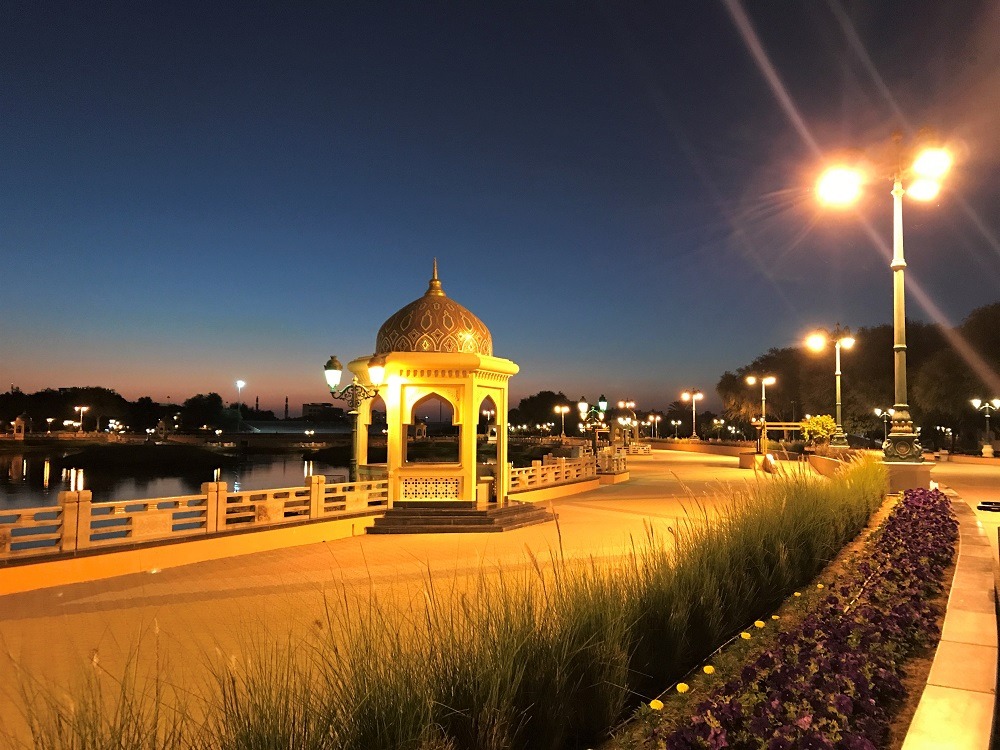 Muscat's sights are a bit scattered over the city, which is great if you have a car. Be sure to visit the Grand Mosque, the Royal Opera and Al Qurum Park in (new) Muscat before (or after) visiting the lovely Old Muscat, which you enter through Muscat Gate and holds the Palace of the Sultan, various ministries and museums.
If planning to wild camp, I would still advise staying in a hotel when staying in Muscat:
It is likely you just arrived and perhaps still need to sort out your camping gear.
There are no good options for wild camping in the city (unless you want to drive out the city to set up camp)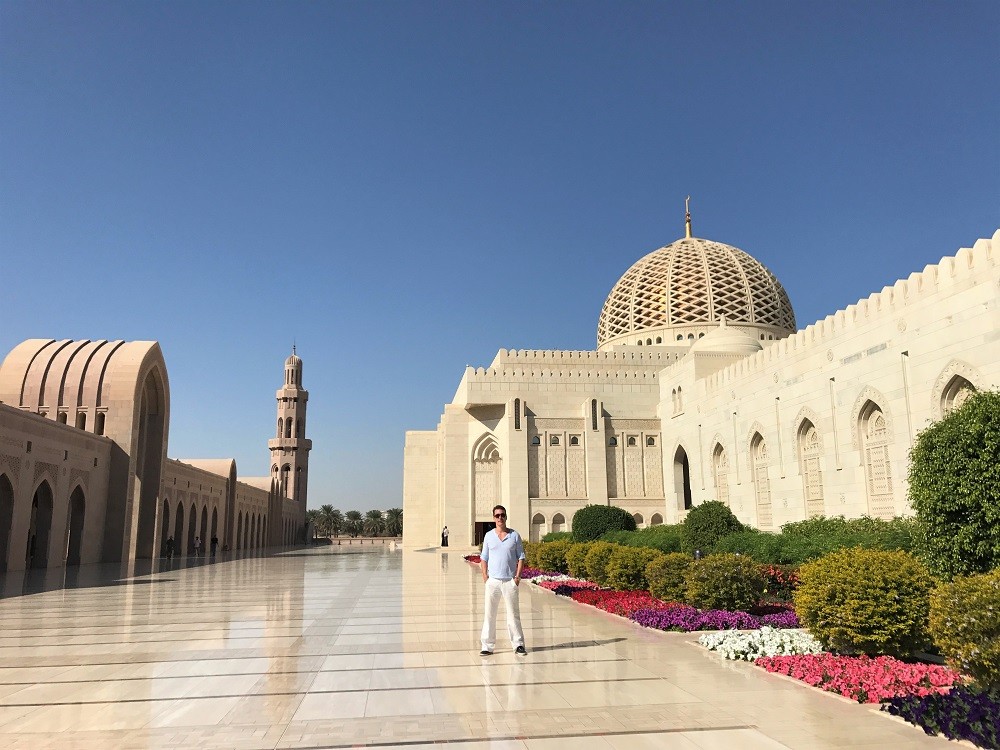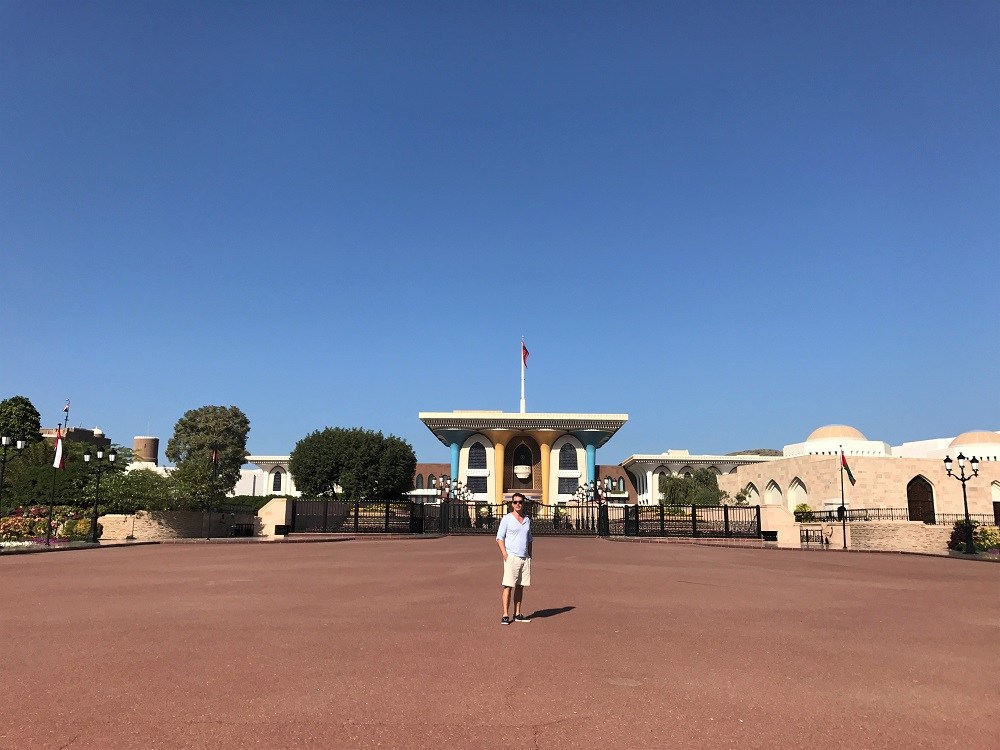 Enjoying the cool waters of Wadi Shab
After visiting our final sights in Muscat, we drove for approximately 1.5 hours and set up our first campsite along the shore, close to Bimmah Sinkhole.
The next morning we put on our swimming clothes and drove on to Wadi Shab for some hiking and water adventure.
Just park your car and pay a small fee to the boatmen who will drop you off on the other side. After an easy hike of a few kilometres, you can leave your bag at the start of the Wadi (so don't bring too many valuables, but again: Oman is pretty safe!). Take off your clothes and continue your journey in the refreshing water until you reach a waterfall within a cave (it will make sense when you reach it). You are even able to climb the (very slippery) waterfall and hike further into the Wadi.
Top Tip: We did not wear shoes in the water, which was a big mistake! Definitely bring water shoes or shoes that can get wet) as there are quite some shallow ponds which are not deep enough to swim and hurt when trying to walk through them! The extra grip will also be required if you aim to climb further up the (very slippery) waterfall as described above.
Turtle watching in Ras al Jinz
After this exciting adventure, we drove on to Ras Al Jinz, where we stayed in a hotel again. This hotel is part of the Turtle Reservation Center. This is one of the best places worldwide to come up close and see sea turtles lay their eggs on the beach at night.
Top Tip: As a hotel guest you have priority to join the daily tours to the turtle beach, over other visitors.
When we arrived at the beach it looked like a battlefield, giant holes everywhere which indicated lots of nightly activity. I did not expect the holes to be so large! Although we visited in October (the best season for Turtle watching is April May) we still saw a large turtle going about her business of digging giant holes. We also found a few small hatchlings trying to find their way to the sea.
I felt very fortunate to see this nightly wonder of nature and I would definitely suggest to include this in your Oman itinerary.
Immerse yourself in the Nizwa goat market
The next day we travelled via the green oasis of Wadi Bani Khalid and setup camp #2 close to the city of Nizwa. To find a nice camping spot we just checked google maps on small roads, drove our car there, moved a bit off-road behind a few bushes and set up camp.
The next morning we needed to wake up early (which is not too hard when camping anyway) to visit the Nizwa Goat market, a massive spectacle which draws many sellers and buyers from across Oman every Friday morning. This bustling place is ideal to watch Omanis of all ages showcase their goats, look for bargains and negotiate.
Top Tip: You have to be there early e.g. 7-8am! When we walked back to our car at 10 am there was hardly anything happening anymore. Obviously, this market only happens on Friday, so plan your itinerary wisely to be sure to visit!…
The goat market is located next to the large Nizwa Souk which is great to explore. In addition, there is also a fort and mosque which are worth a visit.
Visiting traditional Misfah
After visiting Nizwa's goat market and sights, we travelled further to Misfah. A very old and tranquil mountain village in a lush green oasis. You can walk in narrow alleys and enjoy the view from the various rooftop terraces. Great place to enjoy lunch!
Camping on Jebel Shams
After visiting Misfah we drove further up into the mountains, all the way to the top of Jebel Shams, the highest point of Oman (just under 3000m). Here we set up camp #3 where we enjoyed the stunning views while the sun was setting over the barren surroundings.
Top Tip 1: You do not need a 4×4 to reach the top, we reached it easily without. Some drivers downhill may want to persuade you. I would not accept their offer as it will likely be a bit pricy. (Only accept in case it has been very rainy weather, but this is quite unlikely in dry Oman). Also if planning on camping you have to move all your gear over to the 4×4.
Top Tip 2: Try to reach the top a bit early to be able to pick a nice camping spot, as it will be quite crowded with more and more wild-campers arriving the later it gets.
Top Tip 3: Do bring warm clothes and/or extra blankets if possible when you camp the night. It gets freezing cold (at least in October) at the top. In fact, it likely got close to the freezing point which meant we spent half the night in our car with the heating on!
And with our stay at Jebel Shams, we concluded our Ghost around the Globe road trip through Oman. Excited about other Oman destinations? What about Musandam's fjords or see Roaming Camels through the mist in Salalah? Also, do check out my road trip adventure through Saudi Arabia and my Dubai, Abu Dhabi, Al Ain or Fujairah posts, and find out how to best combine your Ariabian road trip adventures!…