Best guide to the top sights of Qatar
Reading time: min | Published on:
Time to explore Qatar, the small oil-rich nation in the Arabian golf that has been often in the news recently. Especially due to the country hosting the 2022 FIFA World Cup. Recently the (travel)restrictions by neighboring countries like Saudi Arabia and United Arab Emirates have been lifted. Hence, the timing seemed perfect to find out what this country, and in particular the capital Doha, has to offer! What makes things even better is that I got the best insider insights from my friend Arjan, who lived in Qatar for various year…. Making this the best guide when you aim to visit the World Cup or are planning a stopover with Qatar Airways… 
Qatar as a tourist destination
Qatar is a conservative Islamic country, which holds somewhere in the middle between Kuwait and the more progressive UAE. Until recently the country mainly focused on Oil & Gas income. Recently, it is slowly following the lead of neighboring UAE (Dubai and Abu Dhabi), Bahrain and recently even Saudi Arabia, to focus on attracting tourists and diversify the country's economy.
The country's focus lays predominantly on attracting visitors via hosting major sport events. The Formula 1 race the upcoming FIFA 2022 World Cup are likely the best examples. Especially in preparation for the latter mega event the country is currently undergoing a major infrastructural revamp and is building various hotels that will still serve a purpose after attracting tourists looking for Sun, Sea and Sand… So even if you are not planning to visit the World Cup you still may want to squeeze in a stopover when flying with Qatar Airways!…
Let's dive into the key highlights of Doha, the capital of Qatar. Depending on your time & interests you can easily mix and match! In any case, Doha is easy to explore via cheap (Uber) taxis… You would not need more than 24h to explore most of the below highlights!….
Souq Waqeef
Hard to miss and a definite must-visit is the vibrant Souq Waqeef. This is the old city center and after the Mubaraqiya souk in Kuwait, one of the most authentic souks in the gulf region. As with all souks it is great to walk through the narrow alleys, browse the squares, watch the locals sell and buy all kinds of goods, shop for souvenirs and try the local cuisine!…
Top Tip: People in the Middle-East seem to wake up at night! Therefore, plan your visit to Souq Waqeef from sunset onwards… The souk will be much more lively and fun!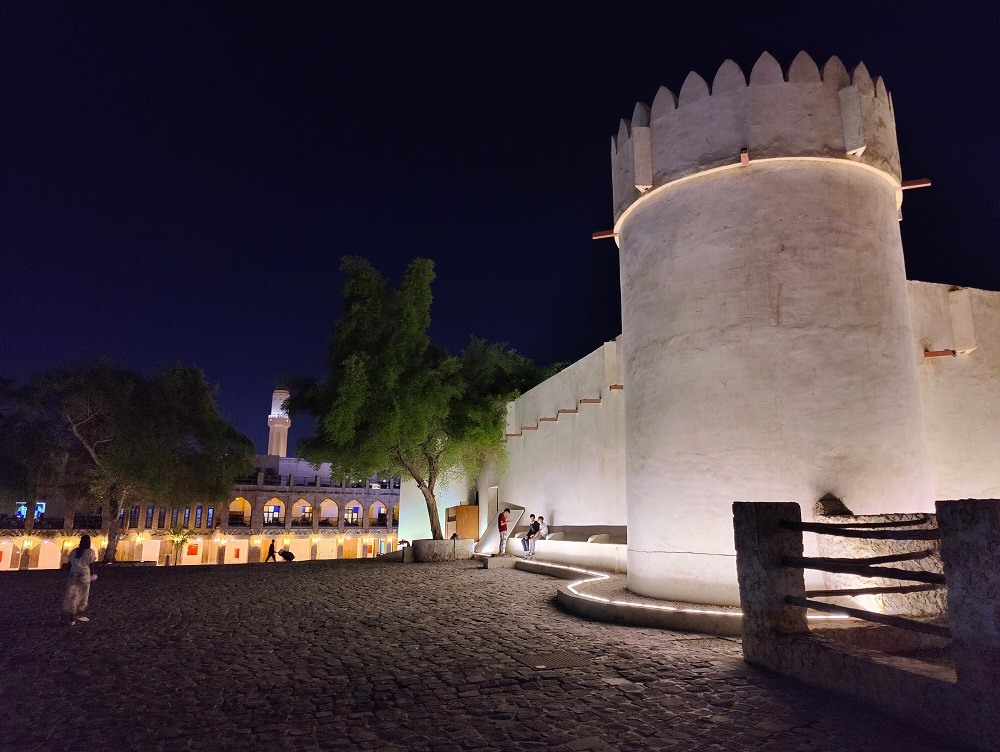 Top Tip: There are many nice restaurants, but one in particular to check out is Damasca One Restaurant.
Spiral Mosque: Abdullah Bin Zaid Al Mahmoud Islamic Cultural Center
A famous highlight along Doha's corniche is the Abdullah Bin Zaid Al Mahmoud Islamic Cultural Center, due to the interesting spiral architecture of the minaret. It is commonly known simply as Bin Zaid or Spiral Mosque. A great photo stop, and no wonder it is often depicted as Qatar's heritage landmark.
Qatar Museum of Islamic Arts
A bit further down the Corniche you find the Museum of Islamic arts. During our visit it was closed for renovations, but I understand that the exterior is the more impressive than the insides. Surrounded by MIA park overlooking the bay, with on the opposite side the skyline of Qatar's Business District.
Enjoy amazing views from MIA Park
Top Tip: Browse through the park (or take one of the complementary golf cart shuttles) to Voute Café or MIA Park Coffee Shop to have a drink, breakfast or lunch while enjoying amazing views of Qatar's skyline.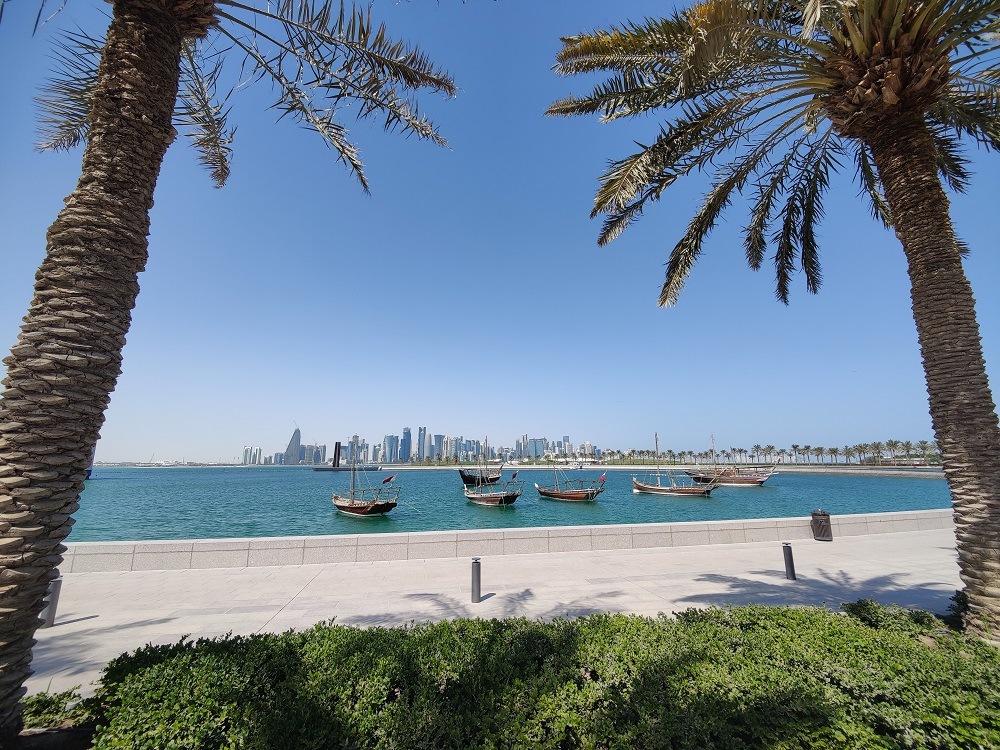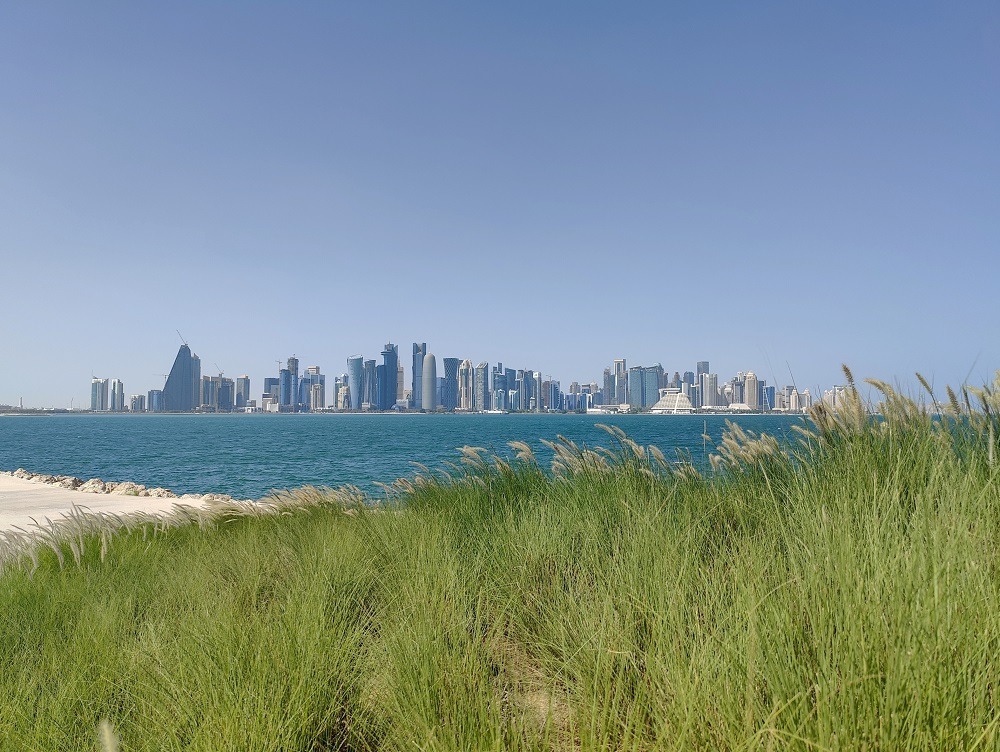 Browse Modern Qatar in West Bay
Time to leave the heritage behind and venture to West Bay, with its modern skyscrapers and some of the largest malls (Gate Mall and City Promenade Mall).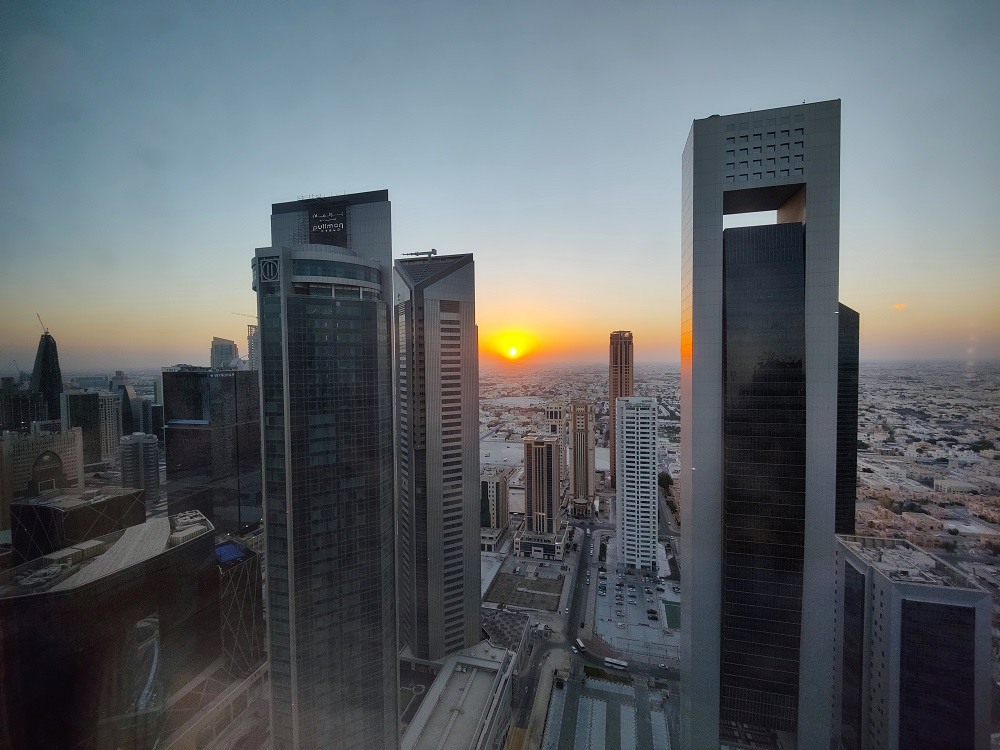 Top Tip: stroll to Sheraton Hotel Park, offering great views over the bay as well as great photo opportunities of Doha's skyline.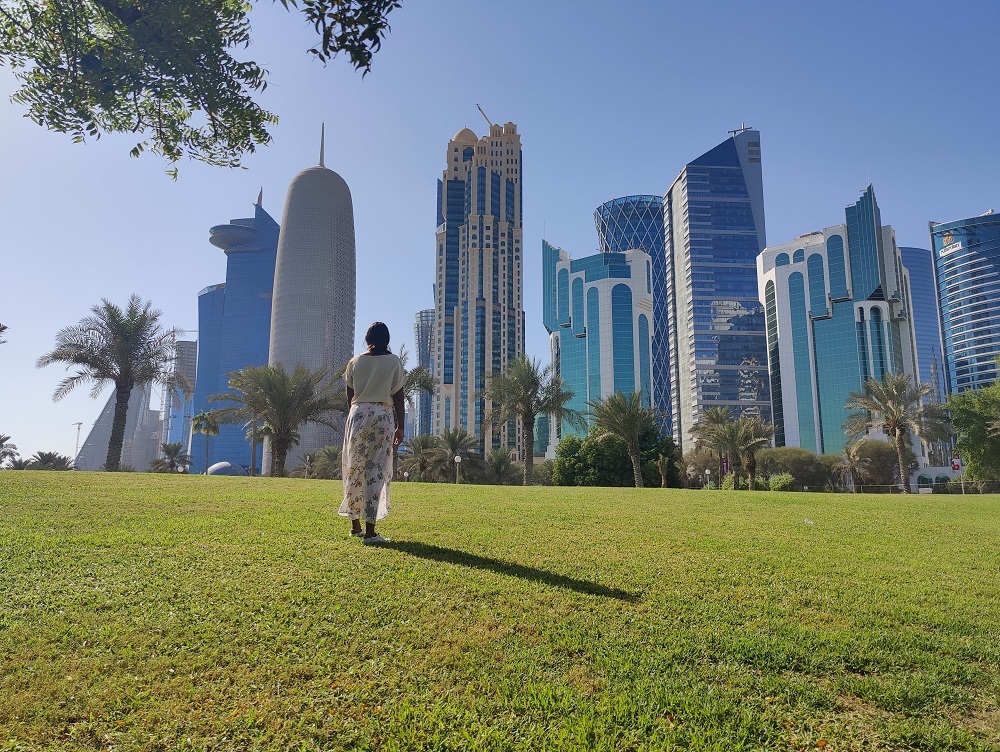 La Veranda Restaurant
In my opinion, La Veranda is one of the nicest – hidden gem feel – restaurants of Doha! Tucked away behind Sheraton's sport facilities, this restaurant offers amazing views over the bay with good value for money!…
Top Tip: depending on your day of visit, check out if they offer any nice promotion. We had an amazing 'detox lunch' with unlimited fresh juices, life cooking stations and much more… Call ahead and ask for a waterfront outside table for the best experience.
The Pearl
In case you have more time, then visit The Pearl, which in many ways resembles The Palm island of Dubai. Mainly catering to the (western) expats with a marina, boulevards with (chain) restaurants, malls and high-rise apartment buildings and hotels.
Top Tip: let yourself drop of at Port Arabia to browse the various cafes and shops alongside the marina. However, time wisely as outlets throughout Qatar close on Fridays between 11.30 and 13.00 due to the prayer time, after years in the UAE a new experience for us.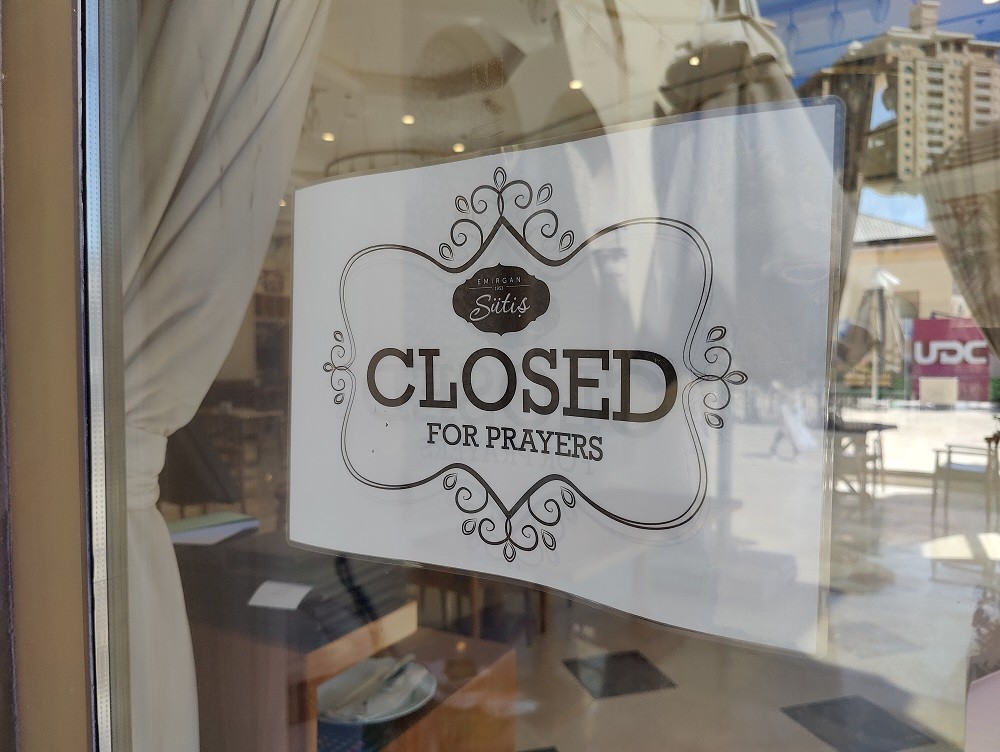 Katara Cultural Village
In between The Pearl and West Bay you'll find another (renovated) heritage site; Katara Cultural Village. I only very briefly visited this area. My time was mainly limited to enjoying fancy confectionary in the adjacent luxury shopping mall adjacent. (Complete with outside Air Conditioning vents in the floor!).
Katara Cultural Village is supposed to be especially nice to enjoy at night. In case I am back in Qatar this I aim to further explore and update this post!
Nobu Doha
Without a doubt, another must-visit bar & restaurant for the evening is Nobu Doha. The venue is located on a futuristic pier within the Four Seasons complex. This global high-end Japanese restaurant chain comes with a price tag, but in case not planning to spend on dinner (which I would recommend you try) you could limit your visit to enjoying the happy hour offers on the rooftop bar, offering the best views over Doha's skyline and bay.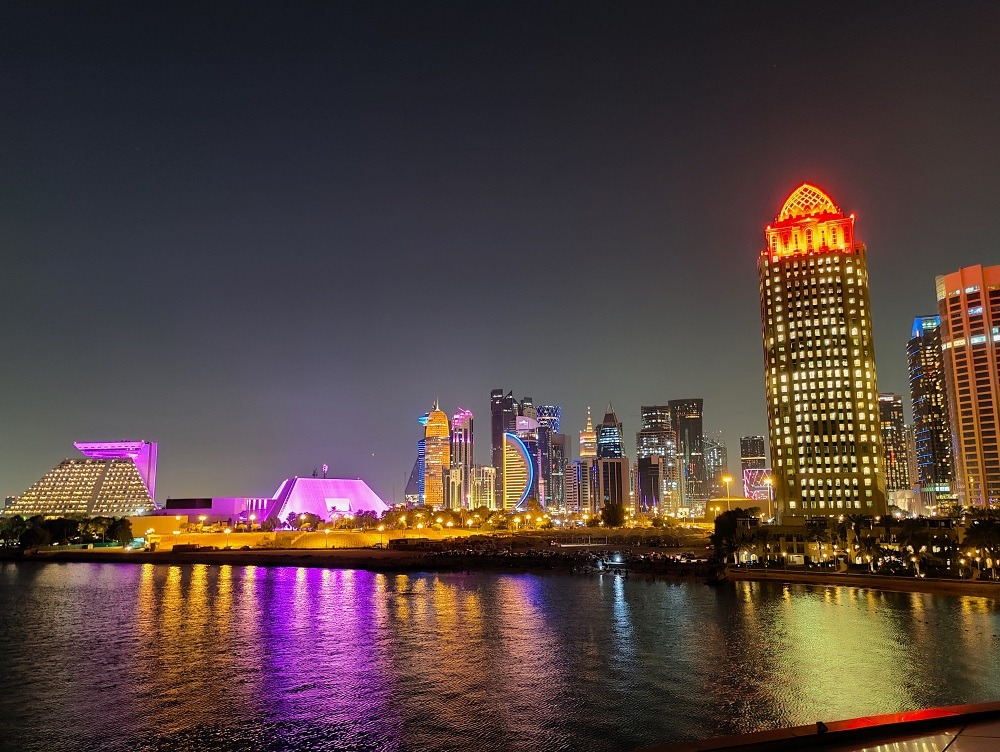 Qatar's nightlife
Again, Qatar is a more conservative Islamic country, hence the choice of venues is fairly limited. The nightlife is less vibrant when comparing to Dubai (or Bahrain). However, unlike Kuwait or Saudi Arabia,  Qatar is not a 'dry country' and does allow most (hotel) venues to serve alcoholic beverages.
Apart from visiting various bars & restaurants as mentioned above, we did not venture out in the nightlife much as we choose to also unwind and enjoy our hotel facilities and lounge… However, I did receive some tips you may want to check out in the late(r) hours!
Belgium Beer Café – This great venue I have visited and recommend!
Backyard – a nightclub in the Sheraton Grand
Monkey Tale – a beach club in the Grand Hyatt
Krossroads – a Filipino live entertainment bar in Best Western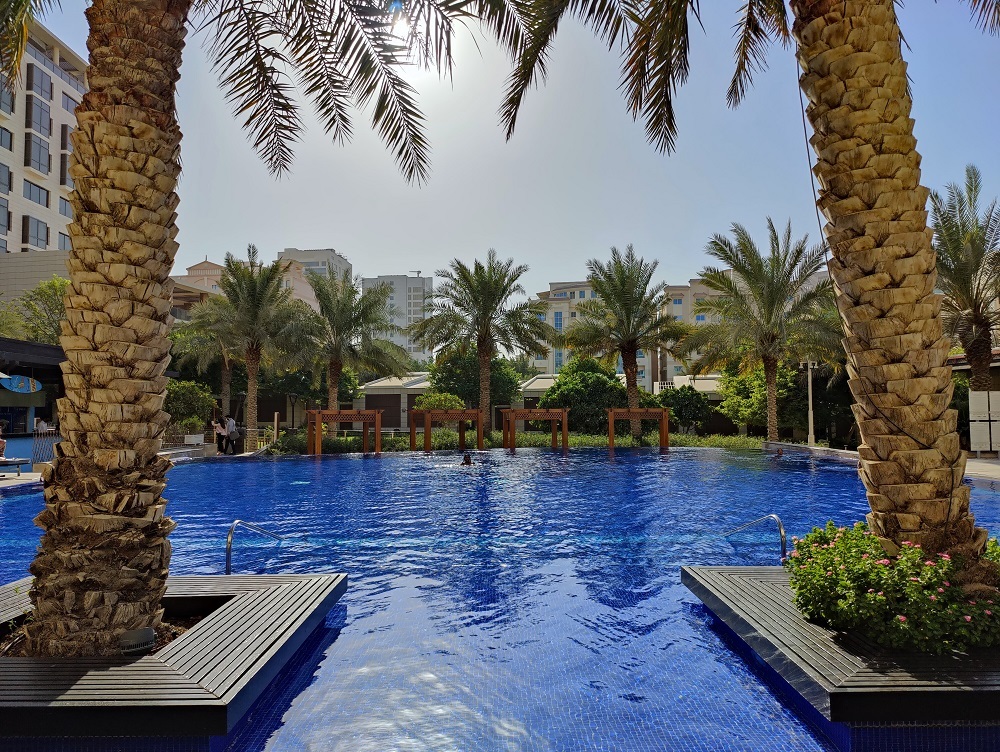 Key Qatar sights outside of Doha
When you have more time, you could also venture out of the Capital and explore the desert. Let me end with a few tips & tricks to take into consideration! I did not visit these (yet), but may add more info over time after a potential return visit!…
Top Tip: Hire an Uber for a day to get to these destinations, or book a (half) day tour via Welcome to the World!
Inland Sea or Khawr al Udayd – Next to Namibia the only place in the world where Desert Dunes meet the Sea
Qatar Film City – A recreation of a heritage desert village. It is nestled behind a canyon in the desert of the Zekreet peninsula, which was used as the set for the Star Wars movies
Pillars of Sand – A art project by the artist of Richard Serra. Here you find massive pillar-shaped sculptures in the middle of the desert
Well, this brings us to the end of our Ghost around the Globe trip to Qatar!… For now, you could consider to visit the country as a nice (short) stopover destination, but do not expect anything near the 'wow' experience that destinations like Dubai or Singapore can offer (yet)… In case your are planning to visit Qatar during a large (sport) event like the Formula1 race or the 2022 World Cup, you now should have a good idea what else is there to explore!…