How to best enjoy marvelous Madrid
Reading time: min | Published on:
Despite being Spain's capital and the country's largest city, Madrid is much less visited than Barcelona. A shame as Madrid is a wonderful city to explore! Let me share some great ways to enjoy marvelous Madrid!… 
Key highlights & top things to do in Madrid
I will not bore you with a long list of Madrid's highlights, you can find these on any city map. Instead, in this post I will share some of the must-visits and lesser known activities to include in your wider Madrid itinerary!… 
Enjoy the San Isidro festivities in Madrid
We arrived in Madrid following the Ghost around the Globe post about La Mancha, where we celebrated the San Isidro festival. Madrid's celebrations concluded a few days later and its processions and festivities are a true spectacle to witness. Especially as here most visitors dress in traditional garments. 
As described in my La Mancha post, the San Isidro festivities take place around mid May, I highly recommend visiting Madrid (and the surrounding region) around that time, just before the hot summer starts.
Should you explore Madrid by bicycle?
Usually we explore cities by foot, but to mix things up a bit we booked a cycling tour through Madrid. As with many other cities (for example Berlin or Bangkok) exploring by bicycle is always fun! However, unfortunately Madrid does not have the most convenient infrastructure for cyclists. This results in a lot of waiting time at traffic lights. There are various cycle tour operators, but from what I witnessed the vast majority of clients are Dutch. (What can I say? We Dutch just love our bicycles!)
Top Tip: A cycling tour through Madrid is a nice activity and lets you easily explore all highlights and neighborhoods. However, in Madrid's case it is likely better to discover by foot (potentially combined with metro). 
Some of the key highlights you will definitely pass on your cycling tour (and can visit later) are Palacio Real de Madrid, Catedral de la Almudena, Gran Via, Plaza Mayor, Madrid City Hall, various Museums and likely the (mainland) Europe's oldest barbershop (El Kinze de Cuchilleros) next to the World's oldest restaurant (Botin).
Top Tip: Various attractions with paid entry fees are free during the last hour(s) of the day (and on public holidays)! So do research and, if there are no crazy cues, save up for some extra tapas money! For example we visited the Palacio Real for free at the end of the day!
Find the Devil in El Retiro Park
A nice part of the cycling tour is riding through El Retiro Park. When visiting in May the Rose Garden is growing beautifully!…The park also houses the Palacio de Cristal and The Great Pond which served as the setting for mock Sea Battles. 
However, what I found most interesting is that El Retiro Park houses the World's only prominent sculpture dedicated to the Devil, which stands at 666 meters above sea level. The statue represents the Fallen Angel being exiled from paradise, sculpted in 1878 for the Paris World Fair. The true reasons why Duke of Fernan Nunes in 1877 ordered the placement here seem unknown. The base of the statue depicts a snake with 7 heads, symbolizing the 7 sins. This statue could be straight out of a Dan Brown Novel…
Live on Tapas and Vermouth 
When in Spain, it is no punishment to adjust to the local cuisine!… So make sure to get your fair share of tapas and vinos in! Some of the best places to enjoy your hora de tapas:
Calle de la Cava Baja (y Alta)

– Lovely street(s) with many nice tapas & vermouth bars

Mercado de San Miguel

– Must visit food market! Bit touristy but great!

Plaza del Dos de Mayo area

–  in hip & rougher Malasana neighborhood 
Top tip: We stayed in La Latina Neighbourhood – Which by far is the nicest and liveliest neighborhood for Tapas, Bars and Restaurants (including Calle de Cava Baja y Alta)
Top Tip: In Madrid (and wider Spain) vermouth is typically served before or after lunch time. They call this time of day La Hora de Vermut. So, don't be a stranger and join the culture! You can drink it any day! Ask for Vermouth from the barrel.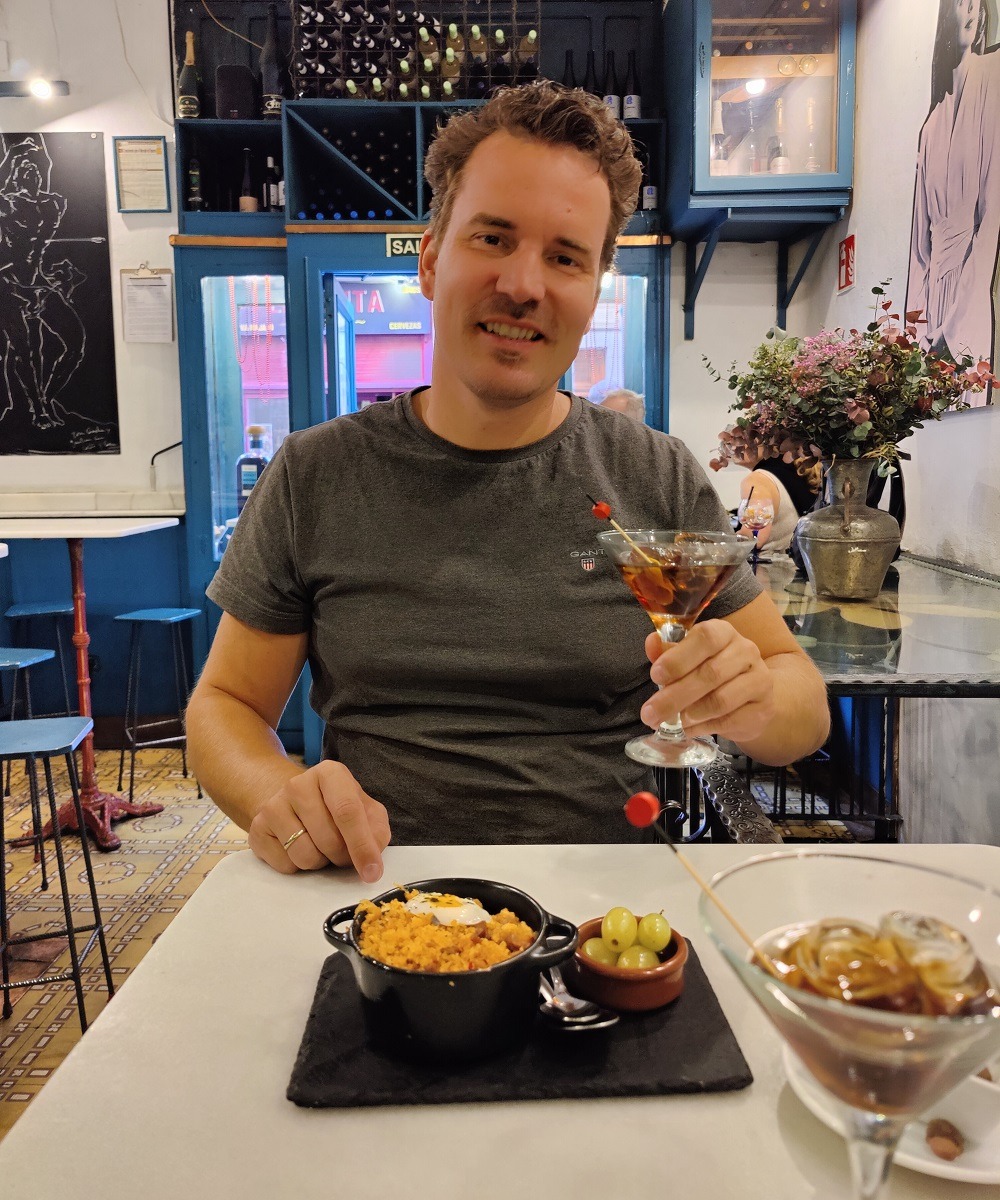 Visit the House of Saint Nicolas
Especially for the Dutch readers, make sure to visit the house of Sinterklaas (Saint Nicolas). You clearly see his depiction above the large doors on Calle de San Nicolas and Plaza de San Nicolas. 
At least as interesting is the small church right next to it, where you find Monasterio del Corpus Christi. The nuns that live here do not speak (only in emergencies). What makes this monastery extra special is they sell cookies from a side door (check the note on the alleyway door). Also, when the church is open (usually in end of afternoon) keep an eye out for the separate (barred) section at the back of the Church, where nuns have their private section. 
Well with a visit to house of the children's friend Sinterklaas this we conclude this Ghost around the Globe visit to Madrid!… A great city, that I could even see myself living in for a few months!… Do also check out my La Mancha post where we discover Toledo and Cuenca and celebrate San Isidro!…
Can't get enough of Iberian Peninsula? Do also check out my Portugal and Tenerife posts!…