San Marino: a marvellous microstate
Let's explore tiny San Marino!… This mountain-top microstate is a great destination and a nice addition to your Italian or Tuscan road trip! Where most people visit as a day-trip, we stayed the night to discover all this tiny country has to offer!…
The 3 towers on Monte Titano
San Marino is the oldest republic in the world. Its capital, also called San Marino, sits on top of the Monte Titano, towering over the surrounding North-West Italian landscape. San Marino's famous 3 medieval citadels can be seen from afar, driving up to the old city.
The 3 citadels are obviously one of the key highlights of the city and are conveniently linked by walkways, offering stunning views of the surrounding hilly landscape and the Adriatic coastline. From Guaita Torre, a path and bridge leads past some restaurants and souvenir shops to Seconda Torre and further slightly out of the city to Terza Torre, from which a hiking trail takes you further into Monte Titano's forest.
Palazzo Pubblico
The Palazzo Pubblico is the town hall and the place where official state ceremonies take place. As everywhere in San Marino the square offers beautiful views of the hilly in-land surroundings.
Basilica di San Marino
This is the main church of the nation and is it is dedicated to Saint Marinus, the founder and patron of the Republic.
Interact with the Sammarinese
The people Sammarinese people we met were all very friendly. Perhaps no wonder, given San Marino is a tight community where the country takes care of its citizens. Taxes are low, incomes are high, social security is of high standards and the country is one of the few with a national income surplus, instead of a deficit.
We had a few long chats with restaurant and shop owners… Likely the best way to understand this tiny country!… During our breakfast, many schoolchildren were coming in to buy specially baked tiny pizzas. A tradition that already goes on for decades… Interesting to realize that with a tiny population of only 30.000 people everyone knows each other within each generation (or school year)!…
Dine with a view
As mentioned, it is almost impossible to not eat or drink anywhere without a view… so make the most of it and enjoy a nice coffee, lunch, aperitivo or dinner on one of the terraces.
Day trip or overnight stay?
The vast majority of visitors to San Marino are day-trippers. Many of which from close by Rimini. This means that San Marino becomes very quiet from the end afternoon onwards. Most restaurants stay open, but shops and small cafeterias close… Given the high altitude it gets more chilly and before you know it you seem the only person left to guard the citadel.
Don't get me wrong, we did enjoy our time and seeing the twinkling lights pop on the surrounding hills is definitely no punishment… However, you certainly do not miss out on much when only visiting during the day! Prices tend to be a bit higher in San Marino than in Italy and your evening may be livelier than in silent San Marino.
How to reach San Marino?
With a total population of around 30.000 people, San Marino does not have its own airport. You will likely arrive by car (or perhaps with an organized tour group or bus line from nearby Rimini).
Assuming you arrive by car, I would recommend parking at one of the parking spots close to the city! Note that the parking ticket machines close to the old city it is only possible to buy same-day tickets. Fine if you only plan to visit for the day. However, if you plan to stay over it means you have to return to your car at 8 am to pay again. Not very convenient…
Top Tip: When you stay the night, your accommodation can provide you with a 'scratch' card, on which you can indicate which day(s) you are parking, saving you unnecessary early morning car park visits!…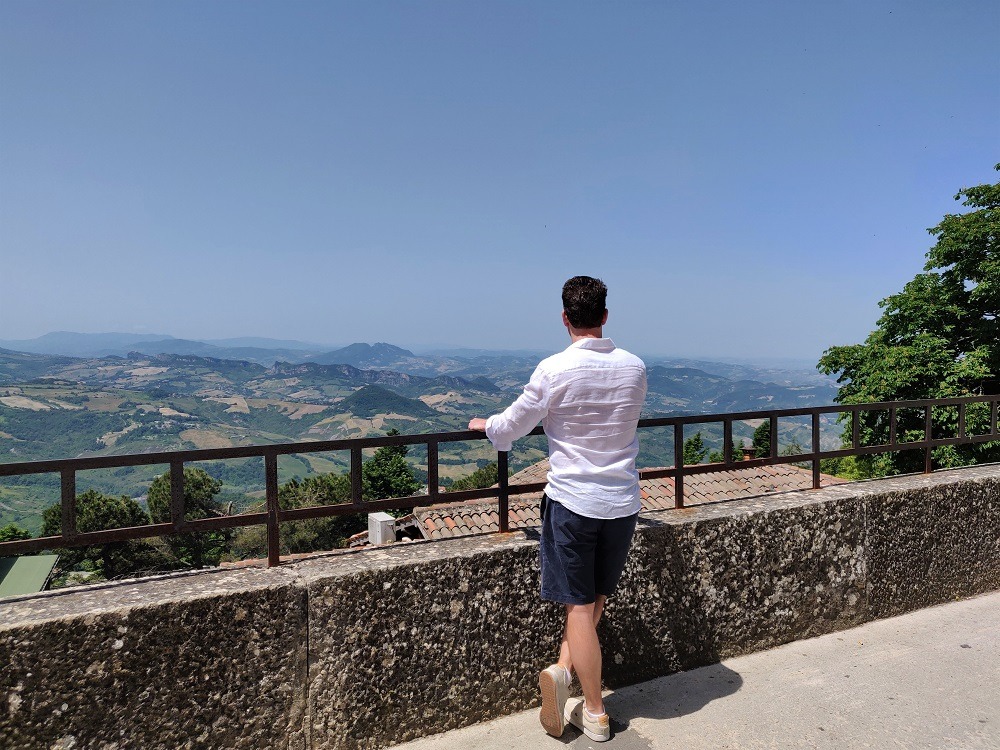 Funivia Borgo Maggiore Cable cart
Another possibility is to take the cable cart up to the mountain top! Price-wise will most likely be a bit more expensive than parking your car. However, it may be a nice experience. It operates every 15 minutes. Check the website for information on prices and maintenance outages.  It also does not operates until very late in the evening.
Well, those were my Ghost around the Ghost tips for San Marino! Excited about combining San Marino with Italy? Do check out my posts on Tuscany or Venice… Interested in microstates? What about my post about Liechtenstein?