Melbourne to Sydney Road Trip: top highlights
Reading time: min | Published on:
This post provides you the best places to stop on your Melbourne to Sydney Road Trip. Starting from Melbourne and leaving the Great Ocean Road behind us, let's explore the key highlights along the coastal highway on this Melbourne to Sydney Road Trip!… Get ready for Penguins, Koalas, beautiful beaches, quaint little towns and stunning vistas!… Let's make our way to Sydney via the below places!…
Phillip Island – Koala & Penguin place to be!
In case you already visited the Mornington Peninsula (see my Melbourne post), your first stop on your coastal road trip towards Sydney should be Phillip Island!… A 1.5 to 2-hour drive from Melbourne, I suggest to leave Melbourne end of the morning to leave enough time for the blow 3 highlights!… You can book tickets upfront, but should not be a problem to buy at the door!
Philip Island – Koala Conservation Reserve
Something to definitely include is the Koala Conservation Reserve! (No online tickets required, and you can directly buy your tickets for the Penguin parade here as well)… Seemingly the best eucalyptus leaves are to be found at the top of the trees. Hence, it is not surprise that the koalas are found here most often as well, making it difficult to see the Koalas. This Koala Conservation Reserve has solved this issue with various walkways leading you around the treetops!… Likely one of the best ways to see Koalas up close!…
Philipp Island – Nobbies Viewpoint & Wildlife spotting
Around the Nobbies Centre (home to of the Antarctic Journey) there are various walkways with beautiful views!… For the best views ideal to visit before the Penguin Parade at the end of the afternoon!… We did not see any seals, but there are so many grey geese, wallabies, birds and other wildlife roaming this place it is one of the nicest short 'wildlife' drives we did anywhere… Almost like you are on a mini-safari!… Do include!…
Top Tip: from Nobbies Centre have a look out for 'alternative route to Penguin Parade' and make sure to take this stunning coastal route along legions of Wallabies and wildlife!…
Philipp Island – Penguin Parade
The highlight of Phillip Island is the Penguin Parade. Every evening thousands of penguins make their way to shore at sunset. Book your tickets online (or at the door).
Top Tip: This is how you make the most of your Penguin Parade visit:
Just buy a standard ticket, best value for money (unless you are a penguin lover).
Be there 30 minutes before sunset (earlier not required).
Be sure to sit at the EDGE of the stages, as this is where the penguins will walk past.
When you have seen a few penguins made their way to shore, walk towards the entrance of the (much more expensive) Penguin Plus entrance. This is where the majority of the penguins come to shore and walk right past you.
Then roam the grounds and slowly make your way to the exit at your own pace.
Officially you are not allowed to make photos, but it is almost too tempting… so I made a few quick snaps… (Be sure that you do NOT use flash if you cannot resist)…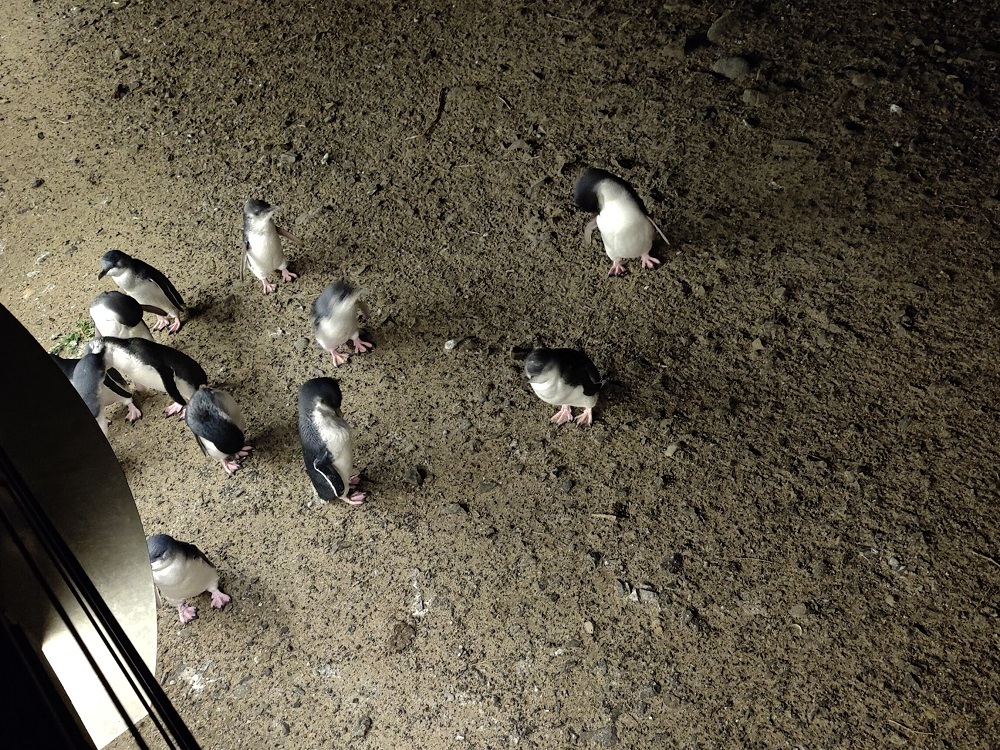 Wilson's Promontory – Melbourne to Sydney Road Trip highlight #2
A few hours drive from Philipp Island lays the Wilson's Promontory. This is a hiker's paradise! Various (long) trails lead you through the stunning nature of forest, beautiful rock formations and deserted beaches!…
Literally a few paces into our first beach explorations we almost stumbled over a snake (likely a copperhead – no antivenom). As Amanda is terrified for snakes, this cut our (or better her) Wilson's Promontory explorations short. Hence, we were back at the car before we knew it. Unfortunately, I did not have time to make a photo to share with you…
Top Tip: In case you come across a snake (you are lucky as they are quite shy) just stump the ground (vibrations make it go away). Just wait from a safe distance until it passes!…
Wilson's Promontory – Mt Oberon Lookout
You can hike up to Mt Oberon. One of the shortest hikes in the park (But will still take around 3 hours to return). Do still make your way to the parking lot, as from here you will also have magnificent views already over Wilson's Promontory! 
Wilson's Promontory – Whisky Bay and Picnic Bay Look out
A very nice stop is the short Picnic Bay lookout trail (from where you can also see Whisky Bay). Perhaps some of the most beautiful beaches and surroundings I have seen anywhere!… The setting, with the large builders, reminded me most of Seychelles!…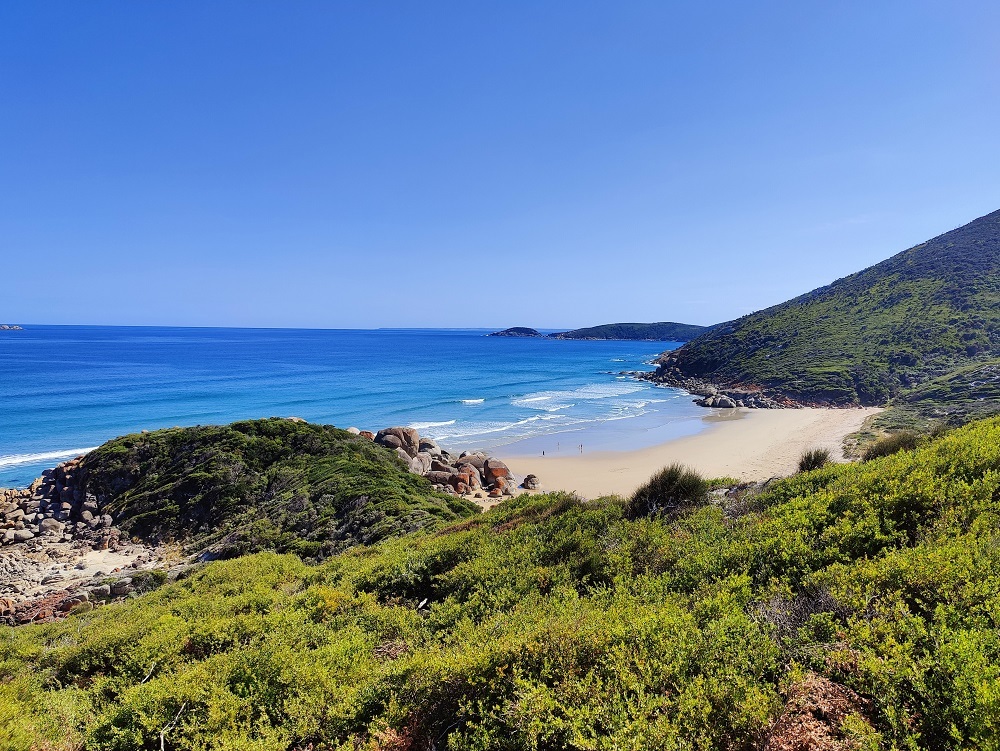 Gippsland Lakes District
From Wilson's Promontory westwards you will drive through the Gippsland Lakes District, until you reach New South Wales. This part of the coast is beautiful yet again!… Depending on your travel pace, you could make a slight detour (and perhaps camp) around Seaspray (slight detour) to enjoy the deserted 90-mile beach!…
Stay at Lakes Entrance
We were (poorly) advised by Lonely Planet, which advises to stay in Metung. However, there is not much fun in this sleepy town… Instead, stay in the far more buzzing (and touristy) Lakes Entrance town!… Here you find much more food outlets, cruises, tours, activities and you can take a short hike on one of the Gippsland islands via the walking bridge!….
Halfway your Melbourne to Sydney Road Trip – Stay in Eden or Bermagui
A few nice towns to stay in are the coastal towns of Mallacoota (VIC) or, like us, in Eden (NSW). There are various (similar) towns like these, so depending on your pace you may just drive past/through these heading north towards Sydney. Another town we liked very much is Merimbula (perhaps go for breakfast or lunch here next to the beautiful lake)!
A bit down the road you find the nice coastal town of Bermagui, this could also be a nice place to overnight!… Plenty of towns to choose from.
Make a slight inland detour to lovely Tilba!…
A must-do detour on this route is to take the inland route towards Tilba Tilba, and even nicer, Central Tilba!… This picturesque quaint little historic mining town is amazing!… Roam along the small central street. Great stop for breakfast, lunch, afternoon tea or an ice cream!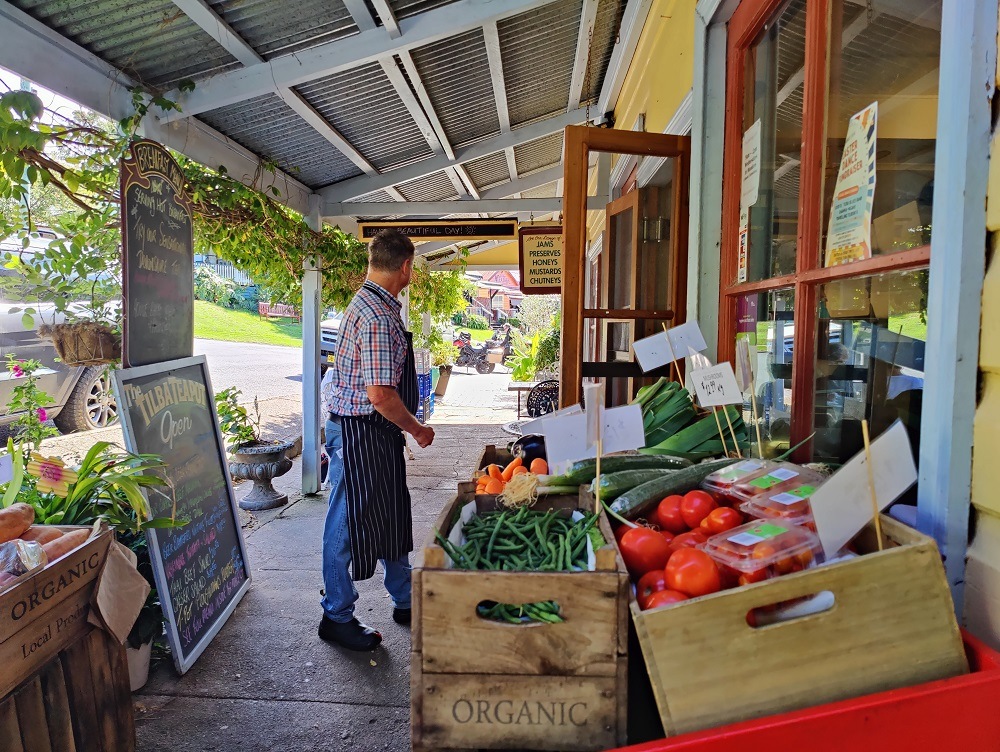 Stay at Narooma Surf Beach
A camp site with one of the nicest views must have been Narooma Surf Beach! (Ask for plot C40, with magnificent views over the Bay and beach).  
One of the key draws of Narooma is Bar Rock Lookout. Walk around this area and you are quite certain to spot some seals (or if you lucky dolphins or even whales!). The silent bay behind rock bay is a fishermen's heaven. When getting some breakfast in town I came across this fisherman who was cleaning his fresh catch of the day!…
Try some Oysters on your Melbourne to Sydney Road Trip!
The town of Narooma and this Coastal region of Australia, is famous for its Oysters. We had some at Wray Street Oyster Shed. Just across the bridge in Batemans Bay, nicely overlooking the river…
Jervis Bay
When driving further north make sure to stop at various towns and beaches around Jervis Bay. My top picks would be Hyams Beach and a good second Huskisson Beach!…
Fun Fact: In case you are a bit of a 'check lister' and did not visit Canberra (the Australian Territory Capital – ACT) here is your chance to 'make up for it'. Jervis Bay has its own Territory (JBT). It is a bit more complex, but this region is governed by the ACT to ensure coastal access to the capital. A small Natural Park access fee is charged when entering JBT. However, the views are similar to the ones already seen at Hyams Beach! Therefore, a visit to JBT would be more for 'fun', but not required!…
Kiama Blowhole
A fun photo stop is the Kiama Blowhole… Depending on sea & tide conditions this blowhole can apparently spray water up to 60 meters high. During our visit it did not get higher than 10 or 15 meters at most. Nevertheless, a nice brief stop on your Melbourne Sydney Road Trip, located in the middle of a quaint little coastal town.
We also stayed the night in Kiama. The next day we checked if the blowhole would be more active, since it was a bit windier and the sea bit rougher, but it did not seem to make much of a difference.
Drive up to Sydney!
We planned our trip so that we would be driving during a rainy morning, and arrive in Sydney on a wonderful sunny afternoon, which worked perfectly! There are a few larger towns between Kiama and Sydney, but not worth exploring if you ask me. Better to drive North and enjoy the amazing capital of New South Wales!… Read all about it in my Sydney post!…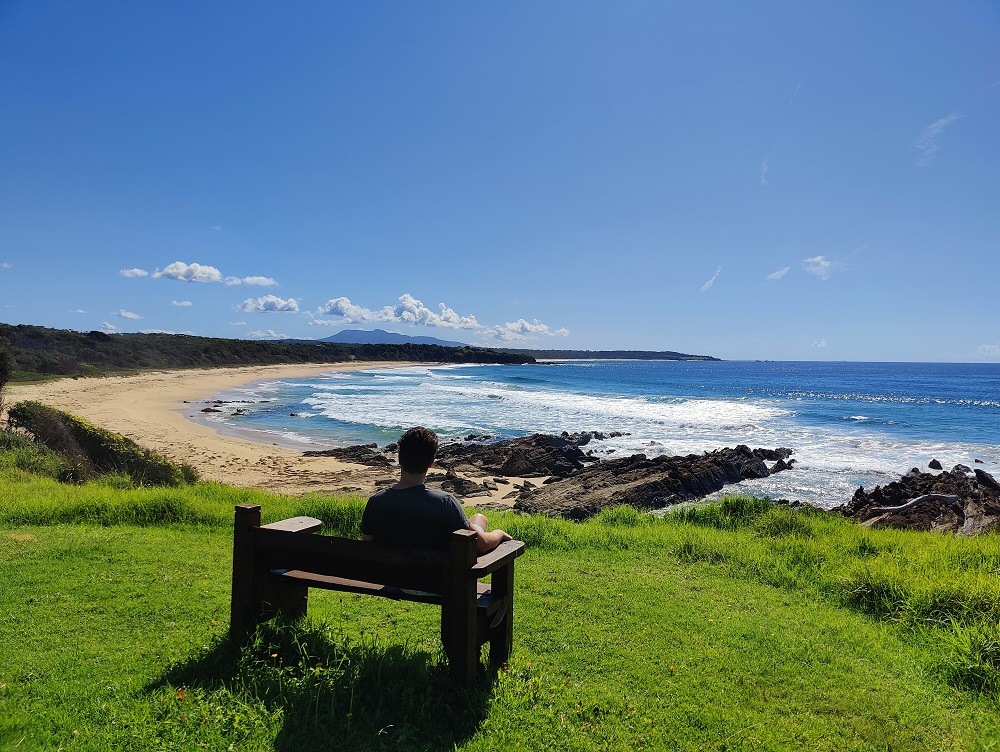 This is where this Melbourne to Sydney Road trip ends!… With these Ghost around the Globe tips & highlights in your pocket, I am sure you will have an amazing journey ahead!… Read my other Australia posts as well via the links below!…